by Gary Alexander
August 8, 2023
Today is August 8, or 8-8, and that's the luckiest day of the year in China, since 8 is pronounced "ba" in Mandarin – sounding much like the word for "fortune" or "prosperity," making 8 an auspicious number.
Doubling or tripling your eights can double or triple your fortune. The Beijing Summer Olympics, for instance, opened at 8:08 pm on August 8, 2008, a five-fold "8" link, like the 5-loop Olympic logo. About 10,000 Chinese couples got married that day and hour to ensure the good fortune of their partnership.
When our investment group toured China in 1996, every room in our Wuhan hotel, on every floor, began with the number 8. Cell phone numbers without 8's are cheap, but an investor reportedly bid $2,788 for the cellphone number 2008-0808, and a cellphone with six consecutive eights reportedly sold for $6,750.
Alas, China has had bad luck on August 8 in history (see below), but that doesn't seem to stop them from honoring the digit 8. This week, I'd like to address another superstition – the fear of negative growth.
Since the end of the Cultural Revolution and death of Mao Zedong on September 9, 1976 (that's 9-9, not 8-8), and then the emergence of the reform-minded Deng Xiaoping in December 1978, China has apparently delivered 45 straight years of positive GDP, and GDP growth of 14,500% in those 45 years!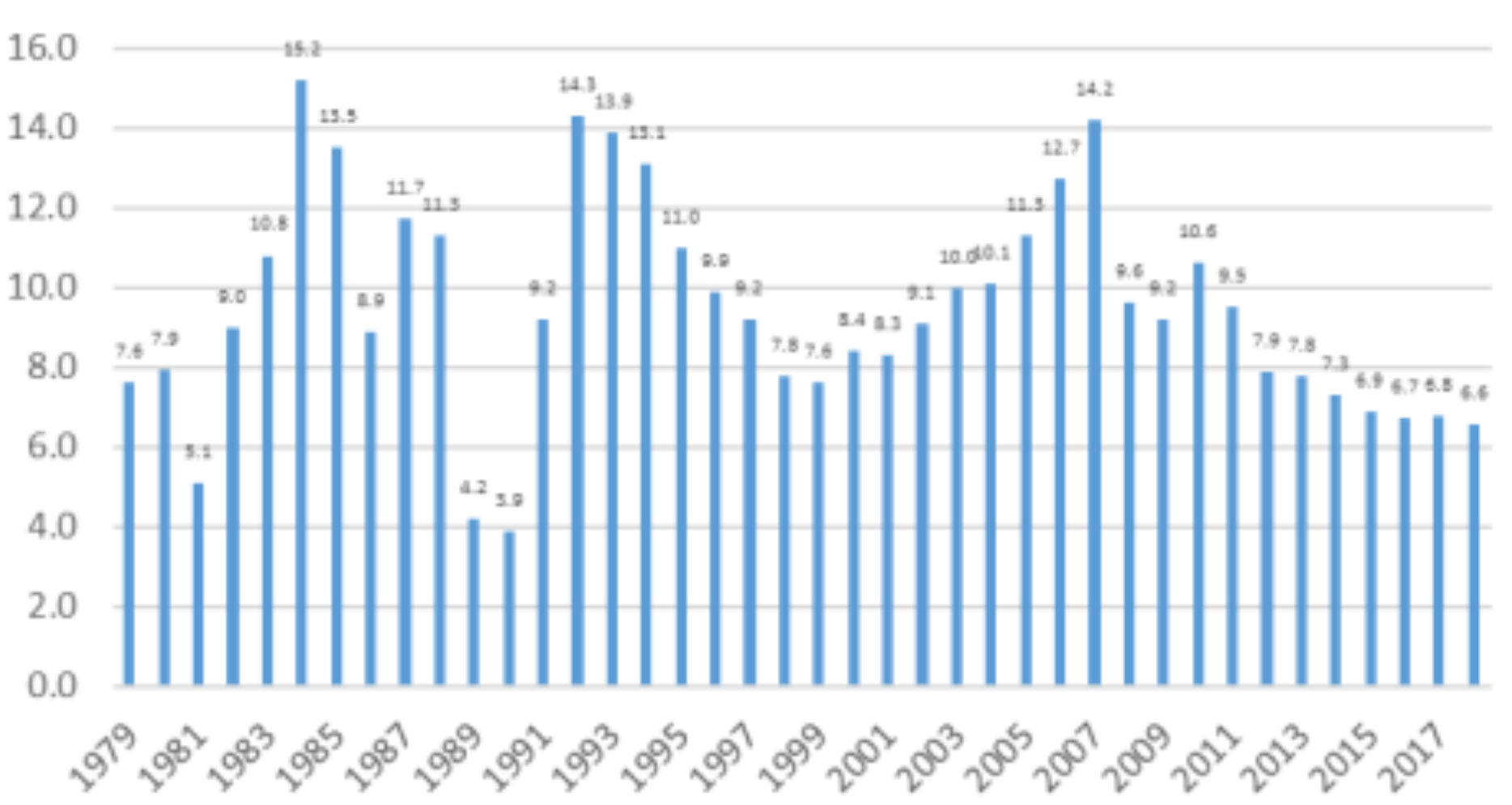 Graphs are for illustrative and discussion purposes only. Please read important disclosures at the end of this commentary.
What's more, those are HUGE growth numbers, for the most part, with 15 of 45 years in double-digit rates. Most of those numbers are probably accurate. Anyone who has seen China in the 1980s or 1990s vs. today can testify to the massive growth in wealth and infrastructure there. Anyone monitoring the trade dominance of China can verify the "Made in China" label monopoly. Trade statistics don't lie.
China's GDP has mushroomed from $150 billion in 1978 to $22 trillion in 2022, over 146-fold gains, or a compounded +11.5% per year for those 45 years, but the pace has slowed decidedly in the last decade: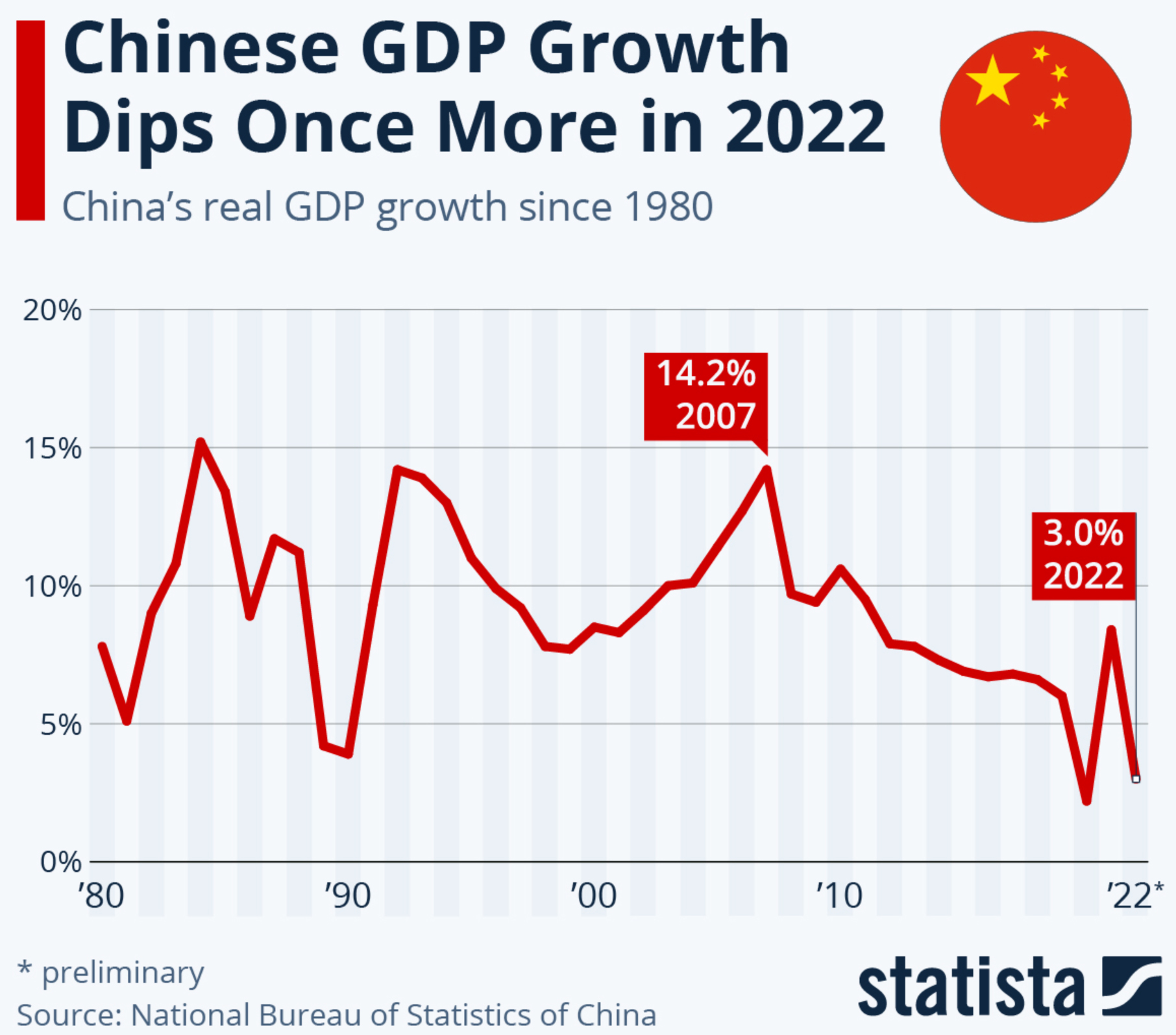 Graphs are for illustrative and discussion purposes only. Please read important disclosures at the end of this commentary.
Before the COVID years of 2020-22, the closest China came to a recession was in the post-Tiananmen Square year of 1990 at +3.9%, and if there were ever some fudging of official statistics, that would be the time that China put its collectivist hands on the scales, but the overall record of growth is unprecedented.
Well, let me say it is ALMOST unprecedented. Such growth happened once before China, in Japan.
Japan Travelled This 45-Year Rocket Ride Before China
I wrote my first series of economic articles right out of college, over 55 years ago, after studying Japanese ship-building documents in late 1967. It became a series of three articles in a national magazine in early 1968 on the coming economic colossus, Japan. From the depths of the first atomic bombs exploded there on August 6 and 9, 1945, Japan in 1967 was in the early stages of becoming the kind of global economic powerhouse in the 1980s that China is now. All the stories you read about China becoming #1 soon, replacing America, were the same stories we read about Japan replacing America "by the year 2000."
Here's a log-scale graph of the phenomenal growth of Japan, 1945-1990, bypassing once-Great Britain: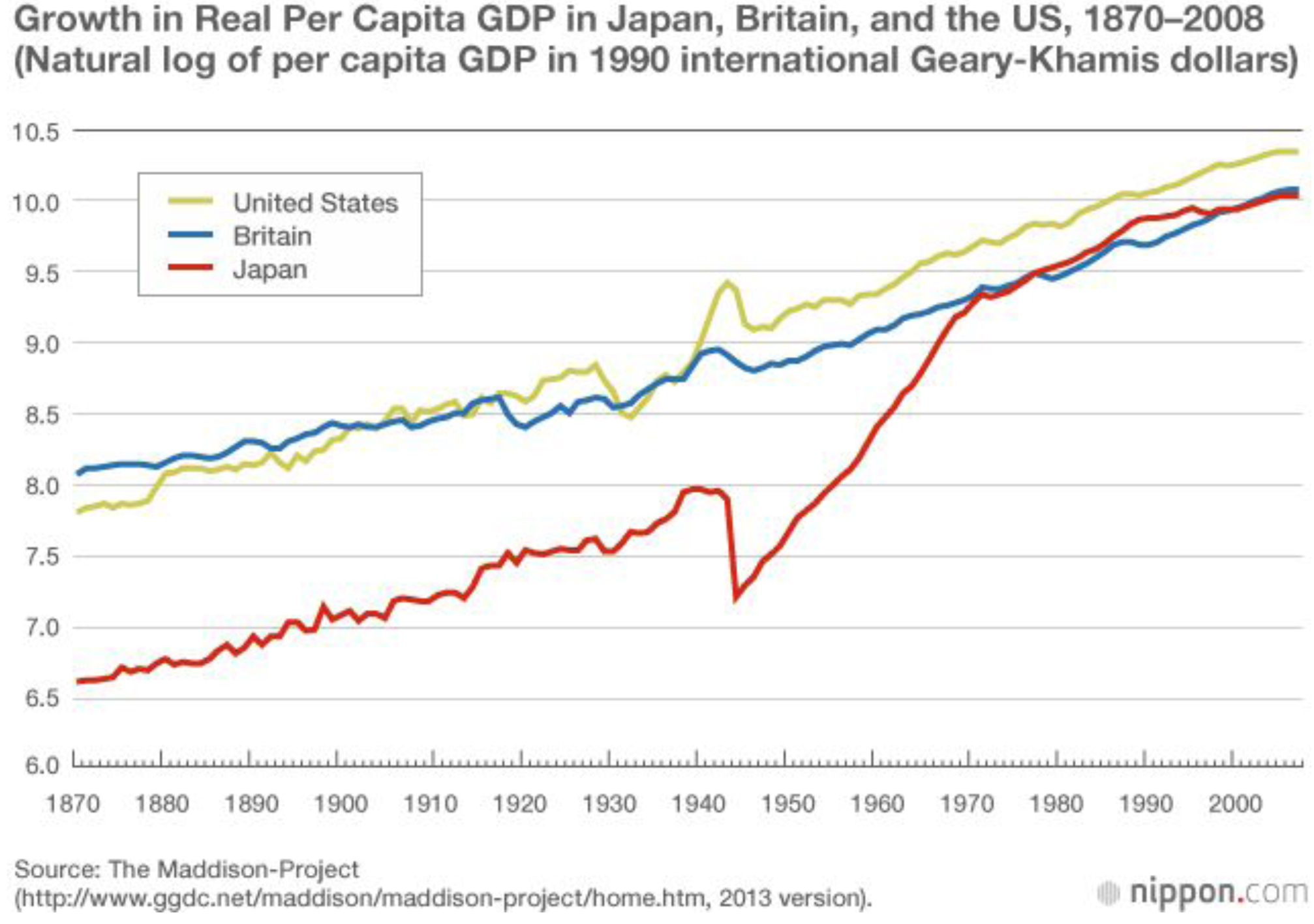 Graphs are for illustrative and discussion purposes only. Please read important disclosures at the end of this commentary.
From the depths of America's bombing raids in 1945 to the generosity of American businessmen helping rebuild that nation, Japan enjoyed 45 years of growth (1946-1990), similar to China's last 45-year spurt.
Like China recently, Japan built its growth on exports, fueled by shipping. Over 55 years ago, I wrote:
"Japan's sun has once again risen – and it is bigger and brighter than ever before! From the rubble and ruin of World War II, a New Japan has emerged. A mighty economic Supergiant…. For 12 consecutive years, Japan has led the world in [shipping] tons launched, amounting to 47 percent of all world production…. Only Japanese shipyards have the present capacity to construct tankers between 200,000 and 300,000 deadweight tons…. Once launched, these ships run themselves… The two largest ships in the world –both Japanese built–have a crew of 29 and 32, respectively!"
"Japan – Industrial Supergiant" by Gary Alexander, Plain Truth magazine, January 1968
By 1989, the Japanese market peaked and so did their economy. Japan fell into a 34-year deflationary malaise. In 1989, some said, "One square mile of land in Tokyo is worth all the land in California," but I and any rational soul said, "No, it's not." Could the fate of Japan now be the future of China? Many fundamental factors point in that direction – including a 300% debt-to-GDP ratio, a huge demographic time bomb of fewer youthful workers coming up to service that debt and support the elderly, and a loss of trading partners due to a high-cost workforce and an arrogant dictator-for-life demanding total obedience.
The Wall Street Journal (on Monday, July 31, 2023, "Fear of Deflation Deepens in China as Growth Stalls") shows how deflation has rapidly overtaken inflation in China and threatens its growth streak:
Graphs are for illustrative and discussion purposes only. Please read important disclosures at the end of this commentary.
China's GDP grew at just 0.8% in the second quarter (vs. the first quarter, seasonally adjusted), so we'll see if 2023 breaks China's 45-year winning streak. The next mega-trend in China may replicate Japan's.
August 8 is Not so Fortunate in China's Last 50 Years
Despite the 2008 Beijing Olympics, three recent disasters struck China on August 8, the worst in 1975:
The 1975 Banqiao Dam failure was the biggest of 62 dam failures in Henan province after Typhoon Nina struck in August. It was the third-deadliest flooding in history, putting over 10 million people in 30 cities and counties (in 3 million acres) under water, with a wide-ranging death count of from 26,000 to 240,000. Between 5.0 and 6.8 million houses collapsed, without warning, due to censorship at the time.
At 1:00am on August 8, 1975, flood waters at Banqiao crested at 387 feet above sea level, or one foot higher than the wave protection wall on the dam, and it failed. Over 700 million cubic meters (7.55 billion cubic feet) of water were released within six hours, while 18 billion cubic feet of water were released in 5.5 hours at an upriver Shimantan Dam, and 170 billion cubic feet were released in all 62 dam failures.
The resulting wave of water was 10 kilometers (6.2 miles) wide and 3-7 meters (10-23 feet) high, rushing into the plains below at 30 miles per hour, wiping out a region 34 miles long and nearly 10 miles wide, creating a temporary lake the size of Connecticut. Seven county seats were inundated. This and the Tangshan quake a year later (July 28, 1976), killing 242,679, were taken as a "Mandate from Heaven" for a change in rulership. Sure enough, China's top two leaders, Mao Zedong and Zhao En Lai, died in 1976.
Two more "not-so-natural" disasters – the first one mostly man-made – also fell on August 8:
The 2010 Gansu mudslide was caused by decades of clear-cut logging, reducing the watershed's ability to absorb heavy rainfall. The 2010 China floods ran from May to September, killing 3,189 with at least 1,056 missing and presumed dead. The worst slides began August 8, with 1,471 dying as of August 21.
On August 8, 2017, a devastating earthquake in Sichuan Province killed 25, injured 525, with 6 missing.
So… 8-8 isn't such a great date in China, after all.
All content above represents the opinion of Gary Alexander of Navellier & Associates, Inc.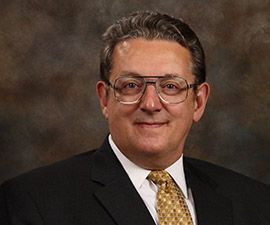 Gary Alexander
SENIOR EDITOR
Gary Alexander has been Senior Writer at Navellier since 2009.  He edits Navellier's weekly Marketmail and writes a weekly Growth Mail column, in which he uses market history to support the case for growth stocks.  For the previous 20 years before joining Navellier, he was Senior Executive Editor at InvestorPlace Media (formerly Phillips Publishing), where he worked with several leading investment analysts, including Louis Navellier (since 1997), helping launch Louis Navellier's Blue Chip Growth and Global Growth newsletters.
Prior to that, Gary edited Wealth Magazine and Gold Newsletter and wrote various investment research reports for Jefferson Financial in New Orleans in the 1980s.  He began his financial newsletter career with KCI Communications in 1980, where he served as consulting editor for Personal Finance newsletter while serving as general manager of KCI's Alexandria House book division.  Before that, he covered the economics beat for news magazines. All content of "Growth Mail" represents the opinion of Gary Alexander
Important Disclosures:
Although information in these reports has been obtained from and is based upon sources that Navellier believes to be reliable, Navellier does not guarantee its accuracy and it may be incomplete or condensed. All opinions and estimates constitute Navellier's judgment as of the date the report was created and are subject to change without notice. These reports are for informational purposes only and are not a solicitation for the purchase or sale of a security. Any decision to purchase securities mentioned in these reports must take into account existing public information on such securities or any registered prospectus.To the extent permitted by law, neither Navellier & Associates, Inc., nor any of its affiliates, agents, or service providers assumes any liability or responsibility nor owes any duty of care for any consequences of any person acting or refraining to act in reliance on the information contained in this communication or for any decision based on it.
Past performance is no indication of future results. Investment in securities involves significant risk and has the potential for partial or complete loss of funds invested. It should not be assumed that any securities recommendations made by Navellier. in the future will be profitable or equal the performance of securities made in this report. Dividend payments are not guaranteed. The amount of a dividend payment, if any, can vary over time and issuers may reduce dividends paid on securities in the event of a recession or adverse event affecting a specific industry or issuer.
None of the stock information, data, and company information presented herein constitutes a recommendation by Navellier or a solicitation to buy or sell any securities. Any specific securities identified and described do not represent all of the securities purchased, sold, or recommended for advisory clients. The holdings identified do not represent all of the securities purchased, sold, or recommended for advisory clients and the reader should not assume that investments in the securities identified and discussed were or will be profitable.
Information presented is general information that does not take into account your individual circumstances, financial situation, or needs, nor does it present a personalized recommendation to you. Individual stocks presented may not be suitable for every investor. Investment in securities involves significant risk and has the potential for partial or complete loss of funds invested. Investment in fixed income securities has the potential for the investment return and principal value of an investment to fluctuate so that an investor's holdings, when redeemed, may be worth less than their original cost.
One cannot invest directly in an index. Index is unmanaged and index performance does not reflect deduction of fees, expenses, or taxes. Presentation of Index data does not reflect a belief by Navellier that any stock index constitutes an investment alternative to any Navellier equity strategy or is necessarily comparable to such strategies. Among the most important differences between the Indices and Navellier strategies are that the Navellier equity strategies may (1) incur material management fees, (2) concentrate its investments in relatively few stocks, industries, or sectors, (3) have significantly greater trading activity and related costs, and (4) be significantly more or less volatile than the Indices.
ETF Risk: We may invest in exchange traded funds ("ETFs") and some of our investment strategies are generally fully invested in ETFs. Like traditional mutual funds, ETFs charge asset-based fees, but they generally do not charge initial sales charges or redemption fees and investors typically pay only customary brokerage fees to buy and sell ETF shares. The fees and costs charged by ETFs held in client accounts will not be deducted from the compensation the client pays Navellier. ETF prices can fluctuate up or down, and a client account could lose money investing in an ETF if the prices of the securities owned by the ETF go down. ETFs are subject to additional risks:
ETF shares may trade above or below their net asset value;
An active trading market for an ETF's shares may not develop or be maintained;
The value of an ETF may be more volatile than the underlying portfolio of securities the ETF is designed to track;
The cost of owning shares of the ETF may exceed those a client would incur by directly investing in the underlying securities; and
Trading of an ETF's shares may be halted if the listing exchange's officials deem it appropriate, the shares are delisted from the exchange, or the activation of market-wide "circuit breakers" (which are tied to large decreases in stock prices) halts stock trading generally.
Grader Disclosures: Investment in equity strategies involves substantial risk and has the potential for partial or complete loss of funds invested. The sample portfolio and any accompanying charts are for informational purposes only and are not to be construed as a solicitation to buy or sell any financial instrument and should not be relied upon as the sole factor in an investment making decision. As a matter of normal and important disclosures to you, as a potential investor, please consider the following: The performance presented is not based on any actual securities trading, portfolio, or accounts, and the reported performance of the A, B, C, D, and F portfolios (collectively the "model portfolios") should be considered mere "paper" or pro forma performance results based on Navellier's research.
Investors evaluating any of Navellier & Associates, Inc.'s, (or its affiliates') Investment Products must not use any information presented here, including the performance figures of the model portfolios, in their evaluation of any Navellier Investment Products. Navellier Investment Products include the firm's mutual funds and managed accounts. The model portfolios, charts, and other information presented do not represent actual funded trades and are not actual funded portfolios. There are material differences between Navellier Investment Products' portfolios and the model portfolios, research, and performance figures presented here. The model portfolios and the research results (1) may contain stocks or ETFs that are illiquid and difficult to trade; (2) may contain stock or ETF holdings materially different from actual funded Navellier Investment Product portfolios; (3) include the reinvestment of all dividends and other earnings, estimated trading costs, commissions, or management fees; and, (4) may not reflect prices obtained in an actual funded Navellier Investment Product portfolio. For these and other reasons, the reported performances of model portfolios do not reflect the performance results of Navellier's actually funded and traded Investment Products. In most cases, Navellier's Investment Products have materially lower performance results than the performances of the model portfolios presented.
This report contains statements that are, or may be considered to be, forward-looking statements. All statements that are not historical facts, including statements about our beliefs or expectations, are "forward-looking statements" within the meaning of The U.S. Private Securities Litigation Reform Act of 1995. These statements may be identified by such forward-looking terminology as "expect," "estimate," "plan," "intend," "believe," "anticipate," "may," "will," "should," "could," "continue," "project," or similar statements or variations of such terms. Our forward-looking statements are based on a series of expectations, assumptions, and projections, are not guarantees of future results or performance, and involve substantial risks and uncertainty as described in Form ADV Part 2A of our filing with the Securities and Exchange Commission (SEC), which is available at www.adviserinfo.sec.gov or by requesting a copy by emailing info@navellier.com. All of our forward-looking statements are as of the date of this report only. We can give no assurance that such expectations or forward-looking statements will prove to be correct. Actual results may differ materially. You are urged to carefully consider all such factors.
FEDERAL TAX ADVICE DISCLAIMER: As required by U.S. Treasury Regulations, you are informed that, to the extent this presentation includes any federal tax advice, the presentation is not written by Navellier to be used, and cannot be used, for the purpose of avoiding federal tax penalties. Navellier does not advise on any income tax requirements or issues. Use of any information presented by Navellier is for general information only and does not represent tax advice either express or implied. You are encouraged to seek professional tax advice for income tax questions and assistance.
IMPORTANT NEWSLETTER DISCLOSURE:The hypothetical performance results for investment newsletters that are authored or edited by Louis Navellier, including Louis Navellier's Growth Investor, Louis Navellier's Breakthrough Stocks, Louis Navellier's Accelerated Profits, and Louis Navellier's Platinum Club, are not based on any actual securities trading, portfolio, or accounts, and the newsletters' reported hypothetical performances should be considered mere "paper" or proforma hypothetical performance results and are not actual performance of real world trades.  Navellier & Associates, Inc. does not have any relation to or affiliation with the owner of these newsletters. There are material differences between Navellier Investment Products' portfolios and the InvestorPlace Media, LLC newsletter portfolios authored by Louis Navellier. The InvestorPlace Media, LLC newsletters contain hypothetical performance that do not include transaction costs, advisory fees, or other fees a client might incur if actual investments and trades were being made by an investor. As a result, newsletter performance should not be used to evaluate Navellier Investment services which are separate and different from the newsletters. The owner of the newsletters is InvestorPlace Media, LLC and any questions concerning the newsletters, including any newsletter advertising or hypothetical Newsletter performance claims, (which are calculated solely by Investor Place Media and not Navellier) should be referred to InvestorPlace Media, LLC at (800) 718-8289.
Please note that Navellier & Associates and the Navellier Private Client Group are managed completely independent of the newsletters owned and published by InvestorPlace Media, LLC and written and edited by Louis Navellier, and investment performance of the newsletters should in no way be considered indicative of potential future investment performance for any Navellier & Associates separately managed account portfolio. Potential investors should consult with their financial advisor before investing in any Navellier Investment Product.
Navellier claims compliance with Global Investment Performance Standards (GIPS). To receive a complete list and descriptions of Navellier's composites and/or a presentation that adheres to the GIPS standards, please contact Navellier or click here. It should not be assumed that any securities recommendations made by Navellier & Associates, Inc. in the future will be profitable or equal the performance of securities made in this report.
FactSet Disclosure: Navellier does not independently calculate the statistical information included in the attached report. The calculation and the information are provided by FactSet, a company not related to Navellier. Although information contained in the report has been obtained from FactSet and is based on sources Navellier believes to be reliable, Navellier does not guarantee its accuracy, and it may be incomplete or condensed. The report and the related FactSet sourced information are provided on an "as is" basis. The user assumes the entire risk of any use made of this information. Investors should consider the report as only a single factor in making their investment decision. The report is for informational purposes only and is not intended as an offer or solicitation for the purchase or sale of a security. FactSet sourced information is the exclusive property of FactSet. Without prior written permission of FactSet, this information may not be reproduced, disseminated or used to create any financial products. All indices are unmanaged and performance of the indices include reinvestment of dividends and interest income, unless otherwise noted, are not illustrative of any particular investment and an investment cannot be made in any index. Past performance is no guarantee of future results.