Navellier is a money management firm that finds and exploits inefficiency in the market, uncovers what we believe to be the market's best growth stocks and utilizes a disciplined quantitative and fundamental analysis system to deliver customized portfolio strategies for individual investors.
We've guided individual and institutional clients for over 30 years with a disciplined, style-consistent investment approach designed to maximize returns while controlling excessive risk.
Our dynamic system is designed to adapt to market trends which can be very rewarding for investors. While some of our competitors try to emulate indexes; we focus on outperforming them. Our portfolios typically have a low correlation with their benchmarks, thereby increasing diversification and decreasing risk for index, core and satellite, and multi-manager investment structures.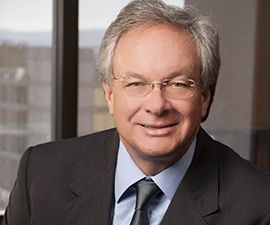 Louis Navellier
CHIEF INVESTMENT OFFICER
For most of our portfolios, we use a highly disciplined, "bottom up" stock-selection process:
The first step employs quantitative analysis of market and individual stock statistics using a proprietary screening process. This allows us to measure reward (alpha) and risk (standard deviation) indicators for the appropriate market capitalization range for each product. We then rank stocks on the reward/risk measure and reduce the initial investment universe to only those stocks in the upper percentiles of the reward/risk measure.
In the second step, we apply fundamental variable screens to the stocks with the highest reward/risk measures. This process typically highlights stocks that are best characterized as companies with exceptional profit margins, excellent earnings growth, and reasonable price/earnings ratios (based on expected future earnings).
In the third step, we use a proprietary optimization model to maximize portfolio alpha while minimizing portfolio standard deviation. We believe this efficiently allocates the stocks and creates portfolios that are well diversified across sectors and industries.
Our strategies are best suited for long-term investors.
Navellier was founded in 1987 by growth analyst Louis Navellier. We are an independent firm with a dedicated staff, including a seasoned portfolio management team. Our top portfolios are still managed by the very same professionals who launched them many years ago. We are committed to providing exceptional client service, innovative online investment tools, and leading market research.
Navellier's home base is Reno, Nevada and in addition to providing financial advice, we are hikers, bikers, golfers, skiers, world-travelers, and parents—we share many common interests and life goals with our clients.
Our team is here to ensure you have the best possible experience.
For more information on our Private Client Group, and how we may be able to put together a custom asset allocation strategy designed to fit your specific investment goals, please call us at (800) 887-8671 or fill out our Portfolio Review Request for a personal portfolio review and confidential assessment.
Investment in equity strategies involves substantial risk and has the potential for partial or complete loss of funds invested.
A Closer Look at Navellier
Our Directors, Portfolio Managers, Strategists and the entire staff at Navellier are here to create custom solutions for individual investors like you.
Get the latest updates on what's happening with Navellier, our portfolios and other important information.
At Navellier, we spend a significant amount of time on the road so we can meet with as many people as possible. See where we'll be next.
It takes a lot of dedicated people to deliver high-quality research and management. Check to see if we have any openings and join us.