5 Reasons Why the Market Should Continue to Climb in 2023
"Our system is dynamic, always shifting gears.
What I do is I build models with the intention to beat the market."
– Louis Navellier, Chief Investment Officer
Navellier & Associates
As we close the books on 2022, it's time to look ahead to what the New Year may have in store. And after the horrific ride investors were on for most of 2022, we believe there is a ton of money sitting on the sidelines waiting for the right time to pour back into the market.
In market conditions like these, when the money starts moving back into the market it can create a windfall market rally.
But there must be a catalyst and market clarity to make this market move.
In my just-released report, I'll dig into some of the market trends that could turn into that spark that ignites the market or at least provide the foundational support needed for a meaningful market rally in 2023.
But you don't have to take my word for it. I'm going to tap the shoulders of the writers, strategists, and advisers at Navellier & Associates to bring you the hard data of what is really happening in this market and what history tells us can happen when these forces combine.
The talking heads on Wall Street won't be happy with this research, but we're here to reveal all of our findings.
I detail it all in my just released report: 5 Reasons Why the Market Should Continue to Climb in 2023.
Take an in-depth look at the seasonal factors impacting the market.
Reveal the truth about the 2022 selloff and how it is impacting expectations for 2023.
Explain what is in store for the Fed and interest rates.
Discuss why the impact of the election cycle and what history tells us about these events.
Plus, take a hard look at what a potential recession could look like if it materializes in 2023.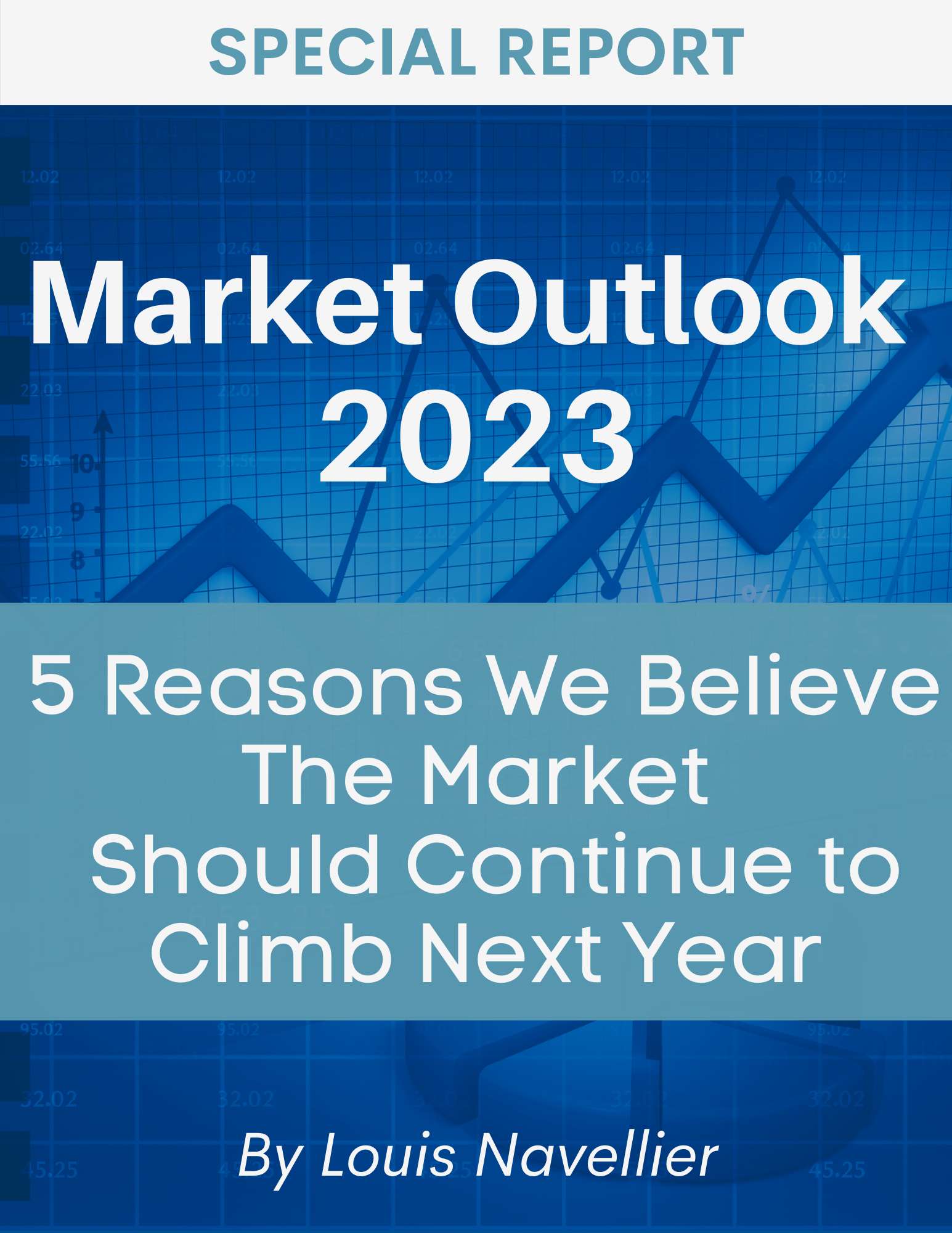 Get Your No-Obligation Copy Today
Available Until December 31, 2022
Yes! I want to get my copy of Louis Navellier's just-released report, 5 Reasons Why the Market
Should Continue to Climb in the New Year.

---
By submitting this form, you are consenting to receive marketing emails from: . You can revoke your consent to receive emails at any time by using the SafeUnsubscribe® link, found at the bottom of every email.
Emails are serviced by Constant Contact
About Louis Navellier
My name is Louis Navellier and I'm most widely known as an investment adviser and market analyst. Since 1980, I've been publishing my quantitative analysis on growth stocks and I've made it my life's work to continuously refine and develop my analysis for investors like you.
My research and analysis have led to regular appearances on CNBC and Fox Business News and I am frequently quoted by MarketWatch and Bloomberg.
I also manage money for private and institutional clients through my money management company, Navellier & Associates, Inc.
Wealthy individuals and institutional investors want access to my 30+ years of quantitative research experience.
Our work with these professionals requires tight controls on investment risk and an exhaustive due diligence process.
The overall goal for our clients focuses on how we will achieve steady, long-term returns in up and down markets.
At Navellier & Associates, our proprietary quantitative models are designed to balance stocks, mutual funds, and income producing investments to maximize returns while controlling risk.
And today, I'm thrilled to give you the opportunity to put this same rigorous screening criteria and quantitative and fundamental analysis to work for your portfolio. For U.S.-based portfolios from $250,000 to $100+ million — my firm is here to help.
I acknowledge and represent that Navellier & Associates, Inc. is authorized and has my consent to call me at the phone number I provided in the registration.
Please note that Navellier & Associates and The Navellier Private Client Group are managed completely independent of the newsletters owned and published by InvestorPlace Media, LLC and written by Louis Navellier, and investment performance of the newsletters should in no way be considered indicative of potential future investment performance for any Navellier & Associates product.
I acknowledge that I have read the Disclosure Language above. Also I give Navellier and Associates, Inc. express written consent to contact me with any offers or promotions via the phone number listed, which may be a cell phone, business line, or residential line (including use of automated dialing equipment and pre-recorded calls). This consent is not a condition of receiving services from Navellier & Associates Inc.
Past performance does not guarantee future results. Investment in equity strategies involves substantial risk and has the potential for partial or complete loss of funds invested. Investment in fixed income components has the potential for the investment return and principal value of an investment to fluctuate so that an investor's shares, when redeemed, may be worth less than their original cost.
IMPORTANT NEWSLETTER DISCLOSURE: The hypothetical performance results for investment newsletters that are authored or edited by Louis Navellier, including Louis Navellier's Growth Investor, Louis Navellier's Breakthrough Stocks, Louis Navellier's Accelerated Profits, and Louis Navellier's Platinum Club, are not based on any actual securities trading, portfolio, or accounts, and the newsletters reported hypothetical performances should be considered mere "paper" or proforma hypothetical performance results and are not actual performance of real world trades. Navellier & Associates, Inc. does not have any relation to or affiliation with the owner of these newsletters. There are material differences between Navellier Investment Products' portfolios and the InvestorPlace Media, LLC newsletter portfolios authored by Louis Navellier. The InvestorPlace Media, LLC newsletters contain hypothetical performance that do not include transaction costs, advisory fees, or other fees a client might incur if actual investments and trades were being made by an investor. As a result, newsletter performance should not be used to evaluate Navellier Investment services which are separate and different from the newsletters. The owner of the newsletters is InvestorPlace Media, LLC and any questions concerning the newsletters, including any newsletter advertising or hypothetical Newsletter performance claims, (which are calculated solely by Investor Place Media and not Navellier) should be referred to InvestorPlace Media, LLC at (800) 718-8289.