The Navellier Covered Call Strategies are based on the popular "buy-write" approach to investing in the equity markets. The buy-write trading strategy involves the simultaneous purchase of equity securities and the writing of call options on these same securities, and the subsequent collection of the call premium income.
The Navellier strategies combine the innovative Navellier Large Cap Core Tactical strategy with a buy-write option overlay. Because the U.S. markets are enormous, most stocks have monthly options, giving the strategies flexibility.
The Navellier Covered Call Strategies utilize a strategy of buying stocks and the simultaneous writing of call options against them (also known as a "buy-write" strategy).
We offer two portfolio styles ("Income" and "Growth") in either a fully-diversified version (25 – 30 positions) or a concentrated version (7 – 15 positions).
Two benefits of the portfolios are the ability to generate income (via the premiums earned on the calls and the dividends) and the ability to limit overall portfolio volatility.
The portfolios typically consist of well-known companies spanning the market capitalization range. In addition, the portfolios seek companies with low debt levels and high dividends.
The Growth portfolio's call premium income goal is 3% – 6% per year. The Income portfolio's call premium income goal is 6% – 12% per year.
Most stocks contained in the portfolios pay dividends, generating additional income.
In a further attempt to limit the volatility of the portfolios, a higher level of cash can be held (up to 40%) if conditions warrant.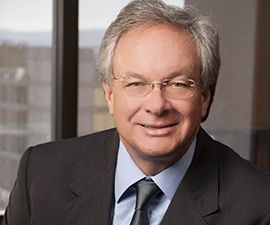 Louis Navellier
CHIEF INVESTMENT OFFICER
Mr. Navellier's stock selection process focuses on quantitative analysis, fundamental analysis, and optimization of the securities selected for the portfolio.
Michael Borgen
PORTFOLIO MANAGER
Mr. Borgen manages the Small Cap Growth Strategy, Mid Cap Growth Strategy, Large Cap Tactical Strategy, Covered Call Strategies as well as the Small-to-Mid Cap Growth strategy.
Performance results presented herein do not necessarily indicate future performance; investment in equity strategies involves substantial risk and has the potential for partial or complete loss of funds invested. Results presented include reinvestment of dividends and other earnings. None of the stock information, data and company information presented herein constitutes a recommendation by Navellier or a solicitation of any offer to buy or sell any securities.