5 Reasons Why the Market Should Continue to Climb in 4Q
In this special report, we will:
Take an in-depth look at the seasonal factors impacting the market.
Reveal the truth about the 2022 selloff and how deeply oversold the market is today.
Explain what is in store for the Fed and interest rates.
Discuss why the impact of the upcoming mid-term elections and what history tells us about these events.
Plus, take a look at how earnings may have already lit the fire than could ignite a yearend rally.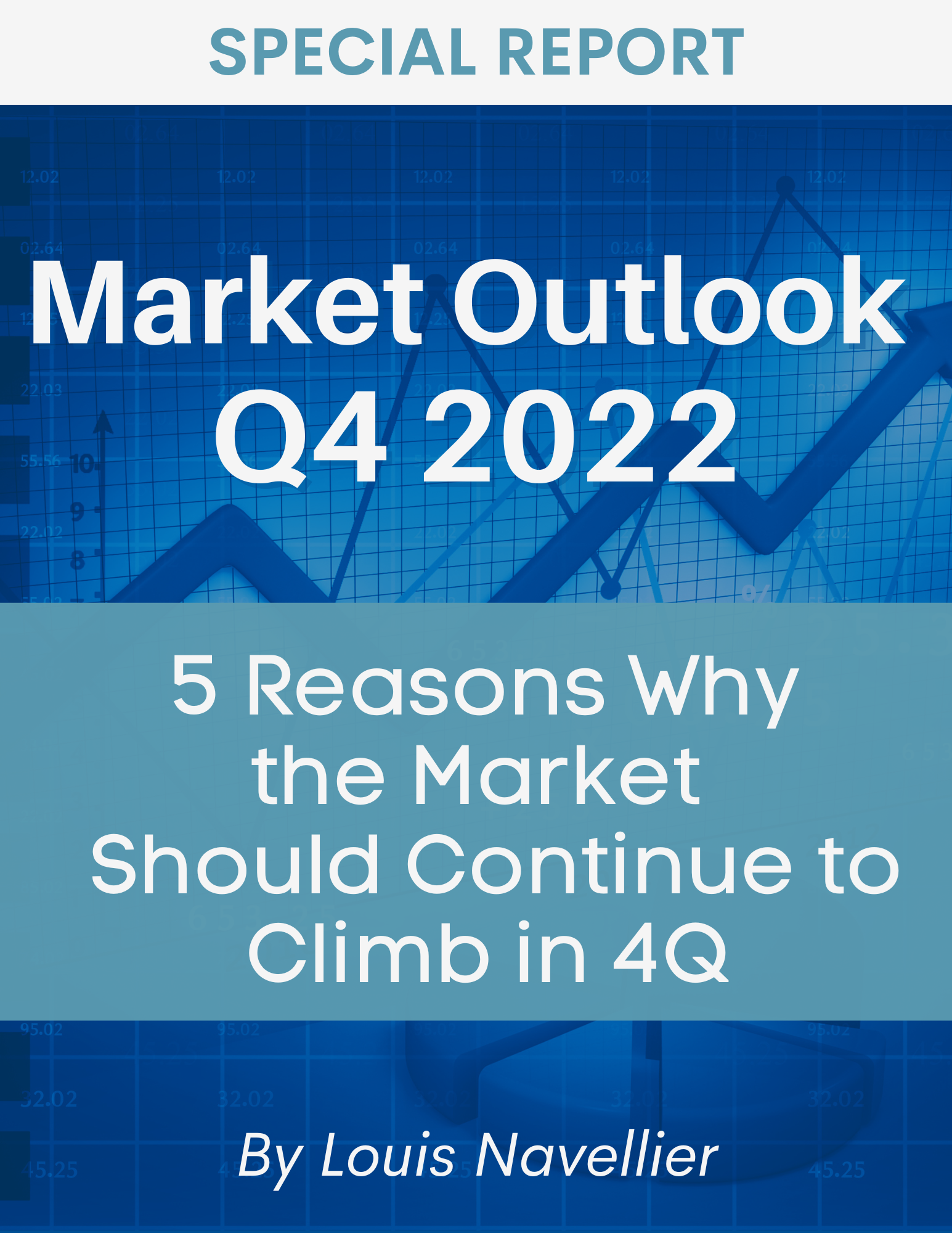 "Our system is dynamic, always shifting gears. What I do is I build models with the intention to beat the market."
– Louis Navellier, Chief Investment Officer
Navellier & Associates
After the horrific first nine months of the year, there's a lot of money sitting on the sidelines waiting for the right time to pour back into the market. Well, folks, based on recent market action and historical precedence, I believe now is the time to put this money back to work.
The stock market has been long overdue for a big rebound—and the bounce that started in October is now gaining momentum and should continue in the fourth quarter and well into the New Year.
But you don't just have to take my word for it; these writers, strategists and advisers at Navellier & Associates agree the market is heading higher.
The talking heads on Wall Street won't be happy with this research, but we're here to reveal all of our findings.
I detail it all in my just released report: 5 Reasons Why the Market Should Continue to Climb in 4Q.
Download Your No-Obligation Copy Today
Available Until November 30, 2022
Yes! I want to get my copy of Louis Navellier's just-released report, 5 Reasons Why the Market Should Continue to Climb in 4Q
My name is Louis Navellier and I'm most widely known as an investment adviser and market analyst. Since 1980, I've been publishing my quantitative analysis on growth stocks and I've made it my life's work to continuously refine and develop my analysis for investors like you.
My research and analysis have led to regular appearances on CNBC and Fox Business News and I am frequently quoted by MarketWatch and Bloomberg.
I also manage money for private and institutional clients through my money management company, Navellier & Associates, Inc.
Wealthy individuals and institutional investors want access to my 30+ years of quantitative research experience.
Our work with these professionals requires tight controls on investment risk and an exhaustive due diligence process.
The overall goal for our clients focuses on how to achieve steady, long-term returns in up and down markets.
At Navellier & Associates, our proprietary quantitative models are designed to balance stocks, mutual funds, and income-producing investments to maximize returns while controlling risk.
I'm thrilled to be able to offer you the same rigorous screening criteria and quantitative and fundamental analysis that I provide to institutions so you can put it to work for your portfolio. My firm is here to listen to your goals and create a custom portfolio plan built just for you.
Here's what you can expect when you sign up today:
1. Contact Us
Simply provide us with your basic contact information so we can get in touch to schedule your no-obligation portfolio review.
2. Connect With Us
A senior Navellier member will be in touch to talk investments and goals.
3. Have a Real Conversation About Your Financial Goals
We will complete and discuss our customized suggestions for your portfolio.