September 24, 2019
As I drove north to Vancouver, BC, to take a week's vacation on a cruise to Alaska three weeks ago, it seemed like every other 18-wheeler sported a huge bumper sticker for "DRIVERS WANTED." There is a great and growing shortage of truck drivers in North America. According to the American Trucking Association, the U.S. trucker shortage will double over the next decade as the industry needs to replace aging rig-jockeys with young men and women who (for now) resist the romance of the open road.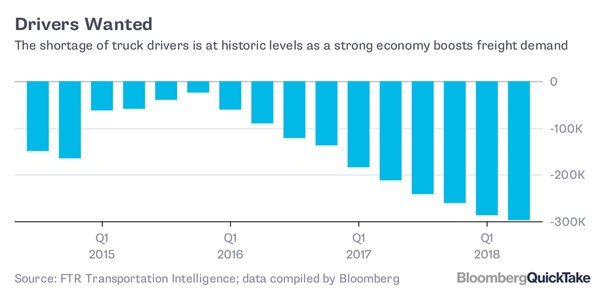 Graphs are for illustrative and discussion purposes only. Please read important disclosures at the end of this commentary.
That's only one profession going begging. According to the latest monthly survey by the National Federation of Independent Businesses, "A record percentage of small business owners reported having difficulties finding qualified workers in August." Among firms "hiring or trying to hire" workers, 89% found "few or no qualified applicants for the positions they were trying to fill." Construction workers were in shortest supply for business owners reporting hiring difficulties, followed by manufacturing.
Truck drivers, construction, manufacturing: What do these businesses have in common? Manual labor. (Manual = Latin for working with hands.) These are jobs historically dominated by strong young men, but men, women, and boys shun these jobs now. With limits on immigration, these jobs go begging.
Graphs are for illustrative and discussion purposes only. Please read important disclosures at the end of this commentary.
When President Trump took his oath of office in 2017, there were 1.9 million more people unemployed than there were job openings. That comparison has now flipped. Over the past 17 consecutive months, job openings have exceeded the number of unemployed. In July, the most recent month for which we have data, job openings stood at 7.2 million – nearly a million more than the number looking for work.
Graphs are for illustrative and discussion purposes only. Please read important disclosures at the end of this commentary.
This is an amazing development, considering the fact that just before the 2016 presidential election, when economic stagnation was the order of the day, the Congressional Budget Office's 10-year forecast predicted that the economy would add only two million net new jobs from the end of 2016 through the end of 2019 (about 55,000 per month). Due to Trump's pro-growth agenda, however, we've actually gained 6.1 million new jobs in 31 months (200,000 per month) and two million in the last 12 months.
In simple terms, everybody who wants a job has a job. Those who don't have a job don't want to work.
A welcome sidebar to the current data is that black unemployment has declined from 7.7% when Trump took office to an all-time low of 5.5% in the latest monthly report (for August 2019), dropping 0.5% in one month, even though the overall unemployment rate remained level. These aren't just part-time jobs. According to the Census Bureau, the number of full-time, year-round workers increased by 2.3 million in 2018, and gains were biggest among minority female-led households with full-time year-round jobs.
Graphs are for illustrative and discussion purposes only. Please read important disclosures at the end of this commentary.
From the latest jobs report, the Bureau of Labor Statistics (BLS) said that total employment reached a record-high of nearly 157.9 million. The percentage of the population that was employed rose to 60.9 percent, the highest percentage since December 2008. With full employment, average hourly earnings are rising at a healthy rate, up 3.2% in the last year, and rising each month for the last 13 months.
The number of new jobs added each month is declining a bit this year, but only because there are so few willing workers left without a job. There is an acute worker shortage in America. We either need new immigrants to come to America, or we need the unwilling workers to "man up" and get back to work.
More Divided Than Ever? Not by a Long Shot
I was struck by an article in Friday's Wall Street Journal that said, "America's Political Polarization is Almost Complete." There were charts galore, showing how we are two nations, completely polarized. If you check your Internet feed, you might believe this, since we tend to watch the cable news that we like, the newspaper that supports our belief system, the writers we agree with, and the politicians we support.
But are we more divided than ever? I beg to differ. In 1969-70, I worked in a news bureau with a huge wall map of the USA. We put a pin in every city with a race riot, anti-war riot, or a terrorist bombing. We ran out of pins and had to order more boxes. Then it got worse. In his book, "Days of Rage," Bryan Burroughs documents more than 2,500 domestic bombings in just 18 months in 1971 and 1972. (During my vacation, I read a chilling novel about that unsettling period, Phillip Roth's "American Pastoral.")
But a century ago, the divide was even worse. Last week, I showed you the results of an anarchist attack on Wall Street on September 16, 1920. Such attacks were fairly common then. Bill Bryson (in "One Summer") talks about the Anarchists that terrorized America, at least mentally, in World War I and just after. In 1917 and 1918, Congress enacted the Espionage Act and the Sedition Act, which provided severe penalties for anyone found guilty of displaying any disrespect to the American government.
Some examples: (1) A clergyman in Vermont was given a 15-year jail term for handing out half a dozen pacifist leaflets. (2) In Indiana, a jury took just two minutes to acquit a man who had shot an immigrant for speaking ill of America. (3) A filmmaker was sentenced to 12 years in prison for showing Britain in a bad light in a movie about the War of Independence, since "in this hour of national emergency," he had "no right to subvert the purposes and destiny of the nation" in our alliance with Britain in World War I.
Anarchist bombs were as common in 1919-20 as 1971-72. The "Red Scare" crowd blamed immigrants, since by 1920, immigrants and their children made up almost 75% of the population in cities like New York, Chicago, Cleveland, and Boston. This was also a time of great labor unrest, strikes, and the rise of J. Edgar Hoover's FBI. It was a time of great fear – far more fear and division than we face today.
Those who keep bemoaning today's great political divide need to crack a history book now and then.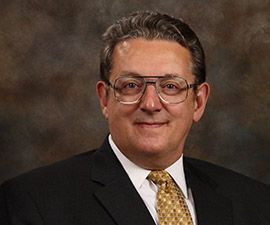 Gary Alexander
SENIOR EDITOR
Gary Alexander has been Senior Writer at Navellier since 2009.  He edits Navellier's weekly Marketmail and writes a weekly Growth Mail column, in which he uses market history to support the case for growth stocks.  For the previous 20 years before joining Navellier, he was Senior Executive Editor at InvestorPlace Media (formerly Phillips Publishing), where he worked with several leading investment analysts, including Louis Navellier (since 1997), helping launch Louis Navellier's Blue Chip Growth and Global Growth newsletters.
Prior to that, Gary edited Wealth Magazine and Gold Newsletter and wrote various investment research reports for Jefferson Financial in New Orleans in the 1980s.  He began his financial newsletter career with KCI Communications in 1980, where he served as consulting editor for Personal Finance newsletter while serving as general manager of KCI's Alexandria House book division.  Before that, he covered the economics beat for news magazines. All content of "Growth Mail" represents the opinion of Gary Alexander
Although information in these reports has been obtained from and is based upon sources that Navellier believes to be reliable, Navellier does not guarantee its accuracy and it may be incomplete or condensed. All opinions and estimates constitute Navellier's judgment as of the date the report was created and are subject to change without notice. These reports are for informational purposes only and are not intended as an offer or solicitation for the purchase or sale of a security. Any decision to purchase securities mentioned in these reports must take into account existing public information on such securities or any registered prospectus.
Past performance is no indication of future results. Investment in securities involves significant risk and has the potential for partial or complete loss of funds invested. It should not be assumed that any securities recommendations made by Navellier. in the future will be profitable or equal the performance of securities made in this report.
Dividend payments are not guaranteed. The amount of a dividend payment, if any, can vary over time and issuers may reduce dividends paid on securities in the event of a recession or adverse event affecting a specific industry or issuer.
None of the stock information, data, and company information presented herein constitutes a recommendation by Navellier or a solicitation of any offer to buy or sell any securities. Any specific securities identified and described do not represent all of the securities purchased, sold, or recommended for advisory clients. The reader should not assume that investments in the securities identified and discussed were or will be profitable.
Information presented is general information that does not take into account your individual circumstances, financial situation, or needs, nor does it present a personalized recommendation to you. Individual stocks presented may not be suitable for you. Investment in securities involves significant risk and has the potential for partial or complete loss of funds invested. Investment in fixed income securities has the potential for the investment return and principal value of an investment to fluctuate so that an investor's holdings, when redeemed, may be worth less than their original cost.
One cannot invest directly in an index. Results presented include the reinvestment of all dividends and other earnings.
Past performance is no indication of future results.
FEDERAL TAX ADVICE DISCLAIMER: As required by U.S. Treasury Regulations, you are informed that, to the extent this presentation includes any federal tax advice, the presentation is not intended or written by Navellier to be used, and cannot be used, for the purpose of avoiding federal tax penalties. Navellier does not advise on any income tax requirements or issues. Use of any information presented by Navellier is for general information only and does not represent tax advice either express or implied. You are encouraged to seek professional tax advice for income tax questions and assistance.
IMPORTANT NEWSLETTER DISCLOSURE: The hypothetical performance results for investment newsletters that are authored or edited by Louis Navellier, including Louis Navellier's Growth Investor, Louis Navellier's Breakthrough Stocks, Louis Navellier's Accelerated Profits, and Louis Navellier's Platinum Club, are not based on any actual securities trading, portfolio, or accounts, and the newsletters' reported hypothetical performances should be considered mere "paper" or proforma hypothetical performance results and are not actual performance of real world trades.  Navellier & Associates, Inc. does not have any relation to or affiliation with the owner of these newsletters. There are material differences between Navellier Investment Products' portfolios and the InvestorPlace Media, LLC newsletter portfolios authored by Louis Navellier. The InvestorPlace Media, LLC newsletters contain hypothetical performance that do not include transaction costs, advisory fees, or other fees a client might incur if actual investments and trades were being made by an investor. As a result, newsletter performance should not be used to evaluate Navellier Investment services which are separate and different from the newsletters. The owner of the newsletters is InvestorPlace Media, LLC and any questions concerning the newsletters, including any newsletter advertising or hypothetical Newsletter performance claims, (which are calculated solely by Investor Place Media and not Navellier) should be referred to InvestorPlace Media, LLC at (800) 718-8289.
Please note that Navellier & Associates and the Navellier Private Client Group are managed completely independent of the newsletters owned and published by InvestorPlace Media, LLC and written and edited by Louis Navellier, and investment performance of the newsletters should in no way be considered indicative of potential future investment performance for any Navellier & Associates separately managed account portfolio. Potential investors should consult with their financial advisor before investing in any Navellier Investment Product.
Navellier claims compliance with Global Investment Performance Standards (GIPS). To receive a complete list and descriptions of Navellier's composites and/or a presentation that adheres to the GIPS standards, please contact Navellier or click here. It should not be assumed that any securities recommendations made by Navellier & Associates, Inc. in the future will be profitable or equal the performance of securities made in this report. Request here a list of recommendations made by Navellier & Associates, Inc. for the preceding twelve months, please contact Tim Hope at (775) 785-9416.