September 17, 2019
Through last Friday, the S&P 500 and NASDAQ are up 2.75% in September. The Dow is up 3.1% and is on an 8-day winning streak after an initial sinking spell on Tuesday, September 3. Last week was also a time of momentum reversal, with four formerly out-of-favor indexes up sharply in a mediocre week:
By comparison, the S&P 500 and NASDAQ gained less than 1% last week, so small caps outperformed the blue-chip S&P index and NASDAQ by over 5-to-1. Jason Zweig, writing in the Wall Street Journal's weekend "Intelligent Investor" column, wrote, "In one of the sharpest swings in years, cheap 'value' stocks outperformed fast-moving 'momentum' shares up to 8 percentage points in a single day…"
Still, with all the talk of "reversal" and "underperformance" by the S&P 500, it is only 0.6% below its all-time high, and the Dow is just 0.5% below its all-time peak (both set in July) – hardly correction territory.
I prefer to look at history for greater perspective. Last week, I wrote about 9-11. This week, I want to recall the re-opening of Wall Street a week after 9-11, and a similar terrorist attack almost 100 years ago.
On Monday, September 17, 2001, six days after the 9-11's Attack on America, Wall Street re-opened to a selling panic. The DJIA fell 685 points (-7.13%), the largest daily point drop to that date, but within two months, the Dow had recovered all its losses after the worst-ever foreign attack on American soil.
Graphs are for illustrative and discussion purposes only. Please read important disclosures at the end of this commentary.
Wall Street also reopened on September 17, 1920, the day after a bomb exploded there, killing 38 and wounding hundreds. A wagon loaded with dynamite and 500 pounds of small iron weights was parked in front of 23 Wall Street, the headquarters of J.P. Morgan & Co. The bomb exploded at 12:01 pm, as many employees emerged for their lunch break. Fear of anarchists (the term for terrorists then) swept the land.
Soldiers and police restrain terrified onlookers after the bombing of Wall Street on September 16, 1920.
(Photo credit: New York World-Telegram – now stored in the Library of Congress in the public domain.)
This anarchist attack on Wall Street exacerbated what was already a long and painful 1919-21 bear market, but the anarchists couldn't kill capitalism, as the DJIA rose nearly 6-fold from 1921 to 1929.
September 17 is also Constitution Day in America, so let us pause to honor that venerable document. We may even find a hidden investment blueprint in the "divided powers" theme within the Constitution.
Happy 232nd Birthday, U.S. Constitution
"The American Constitution is, so far as I can see, the most wonderful work ever struck off by the brain and purpose of man." – British Prime Minster William Gladstone, writing in 1878.
On September 17, 1787, the Constitution of The United States was signed by 38 of the 41 delegates present at the sweltering Constitutional Convention in Philadelphia. It was ratified nine months later.
On September 17, 1952, "I Am an American Day" and "Constitution Day" were renamed in honor of America's immigrants, as "Citizenship Day."  Alas, all three names have faded into history, but perhaps 'We the People' should take time to read or at least scan this "most wonderful work" at this time of year.
Any unbiased reading of the Constitution reveals that it prohibits most of what our federal government is doing today. When I campaigned for political office in 1997, my favorite gag line was: "The Constitution may not be perfect, but it sure beats the type of government we have now in Washington, DC."
The role of the President was one of the most contentious elements of the Constitutional Convention. It was only decided on Day 105 of the 116-day convention. There were 30 votes on the subject of how to appoint a President, with no delegate advocating election by popular vote. In six of those votes, attendees voted unanimously for a President appointed by Congress. F.H. Buckley, author of Once & Future King (2014) said, "They did not want a president elected by the people. That question was put to them four times and they lost each time." To this day, the president is not elected by popular vote but by electors.
The Founders sought a balance of power – or "gridlock," in today's terminology. They were more concerned with what our federal government must not do than what it must do. The French philosopher Montesquieu (1689-1755) influenced many of our Founders. He wrote that "When legislative power is united with executive power in a single person or in a single body of the magistracy, there is no liberty."
Echoing Montesquieu, James Madison said, "The accumulation of all powers, legislative, executive and the judiciary, in the same hands, whether of one, a few, or many, and whether hereditary, self-appointed, or elective, may justly be pronounced the very definition of tyranny."  When one political party or the other controls all the levers of government, the concentration of power has often come close to tyranny.
Graphs are for illustrative and discussion purposes only. Please read important disclosures at the end of this commentary.
Perhaps that's why stocks tend to do better when we see more gridlock and less "unity" in Washington. That was true under Republican Ronald Reagan and a Democratic Congress, or Democratic Bill Clinton and a Republican Congress. Once again, we've had a great market year 2019 with Republican Trump and a Democratic House, because few new laws are passed, due to split levers of power in Washington, DC.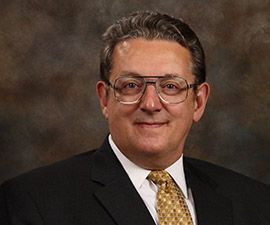 Gary Alexander
SENIOR EDITOR
Gary Alexander has been Senior Writer at Navellier since 2009.  He edits Navellier's weekly Marketmail and writes a weekly Growth Mail column, in which he uses market history to support the case for growth stocks.  For the previous 20 years before joining Navellier, he was Senior Executive Editor at InvestorPlace Media (formerly Phillips Publishing), where he worked with several leading investment analysts, including Louis Navellier (since 1997), helping launch Louis Navellier's Blue Chip Growth and Global Growth newsletters.
Prior to that, Gary edited Wealth Magazine and Gold Newsletter and wrote various investment research reports for Jefferson Financial in New Orleans in the 1980s.  He began his financial newsletter career with KCI Communications in 1980, where he served as consulting editor for Personal Finance newsletter while serving as general manager of KCI's Alexandria House book division.  Before that, he covered the economics beat for news magazines. All content of "Growth Mail" represents the opinion of Gary Alexander
Although information in these reports has been obtained from and is based upon sources that Navellier believes to be reliable, Navellier does not guarantee its accuracy and it may be incomplete or condensed. All opinions and estimates constitute Navellier's judgment as of the date the report was created and are subject to change without notice. These reports are for informational purposes only and are not intended as an offer or solicitation for the purchase or sale of a security. Any decision to purchase securities mentioned in these reports must take into account existing public information on such securities or any registered prospectus.
Past performance is no indication of future results. Investment in securities involves significant risk and has the potential for partial or complete loss of funds invested. It should not be assumed that any securities recommendations made by Navellier. in the future will be profitable or equal the performance of securities made in this report.
Dividend payments are not guaranteed. The amount of a dividend payment, if any, can vary over time and issuers may reduce dividends paid on securities in the event of a recession or adverse event affecting a specific industry or issuer.
None of the stock information, data, and company information presented herein constitutes a recommendation by Navellier or a solicitation of any offer to buy or sell any securities. Any specific securities identified and described do not represent all of the securities purchased, sold, or recommended for advisory clients. The reader should not assume that investments in the securities identified and discussed were or will be profitable.
Information presented is general information that does not take into account your individual circumstances, financial situation, or needs, nor does it present a personalized recommendation to you. Individual stocks presented may not be suitable for you. Investment in securities involves significant risk and has the potential for partial or complete loss of funds invested. Investment in fixed income securities has the potential for the investment return and principal value of an investment to fluctuate so that an investor's holdings, when redeemed, may be worth less than their original cost.
One cannot invest directly in an index. Results presented include the reinvestment of all dividends and other earnings.
Past performance is no indication of future results.
FEDERAL TAX ADVICE DISCLAIMER: As required by U.S. Treasury Regulations, you are informed that, to the extent this presentation includes any federal tax advice, the presentation is not intended or written by Navellier to be used, and cannot be used, for the purpose of avoiding federal tax penalties. Navellier does not advise on any income tax requirements or issues. Use of any information presented by Navellier is for general information only and does not represent tax advice either express or implied. You are encouraged to seek professional tax advice for income tax questions and assistance.
IMPORTANT NEWSLETTER DISCLOSURE: The hypothetical performance results for investment newsletters that are authored or edited by Louis Navellier, including Louis Navellier's Growth Investor, Louis Navellier's Breakthrough Stocks, Louis Navellier's Accelerated Profits, and Louis Navellier's Platinum Club, are not based on any actual securities trading, portfolio, or accounts, and the newsletters' reported hypothetical performances should be considered mere "paper" or proforma hypothetical performance results and are not actual performance of real world trades.  Navellier & Associates, Inc. does not have any relation to or affiliation with the owner of these newsletters. There are material differences between Navellier Investment Products' portfolios and the InvestorPlace Media, LLC newsletter portfolios authored by Louis Navellier. The InvestorPlace Media, LLC newsletters contain hypothetical performance that do not include transaction costs, advisory fees, or other fees a client might incur if actual investments and trades were being made by an investor. As a result, newsletter performance should not be used to evaluate Navellier Investment services which are separate and different from the newsletters. The owner of the newsletters is InvestorPlace Media, LLC and any questions concerning the newsletters, including any newsletter advertising or hypothetical Newsletter performance claims, (which are calculated solely by Investor Place Media and not Navellier) should be referred to InvestorPlace Media, LLC at (800) 718-8289.
Please note that Navellier & Associates and the Navellier Private Client Group are managed completely independent of the newsletters owned and published by InvestorPlace Media, LLC and written and edited by Louis Navellier, and investment performance of the newsletters should in no way be considered indicative of potential future investment performance for any Navellier & Associates separately managed account portfolio. Potential investors should consult with their financial advisor before investing in any Navellier Investment Product.
Navellier claims compliance with Global Investment Performance Standards (GIPS). To receive a complete list and descriptions of Navellier's composites and/or a presentation that adheres to the GIPS standards, please contact Navellier or click here. It should not be assumed that any securities recommendations made by Navellier & Associates, Inc. in the future will be profitable or equal the performance of securities made in this report. Request here a list of recommendations made by Navellier & Associates, Inc. for the preceding twelve months, please contact Tim Hope at (775) 785-9416.