September 17, 2019
At the end of August and into the first week of September, the yield on the 10-year Treasury traded between 1.45% and 1.50%, down from 2.55% back in early May. A full point drop in the benchmark bond over a three-month period is dramatic. It can only be explained by either the economy fast-tracking towards a recession or the collapse of global yields in developed sovereign countries sparked by a massive flood of capital into the U.S. Treasury market to lock in rates that are substantially higher.
From the most recent economic data that has crossed the tape in the past two weeks, it is clear that the latter scenario is the impetus for the dramatic rally in the bond market. Retail sales, consumer sentiment, business inventories, core inflation, factory orders, the ISM Non-Manufacturing Index, average hourly earnings, and private business hires all came in above forecast. It was a parade of upbeat data points that clearly disproved the base case for a recession and the bearish sentiment that ruled the month of August.
When it became crystal clear to the bond market that the domestic economy was on solid footing – and then came news of trade talks being restarted in October – a sharp sell-off in the Treasury market ensued after Labor Day. As of last Friday's close, the 10-year Treasury Note yield had risen sharply to 1.90%.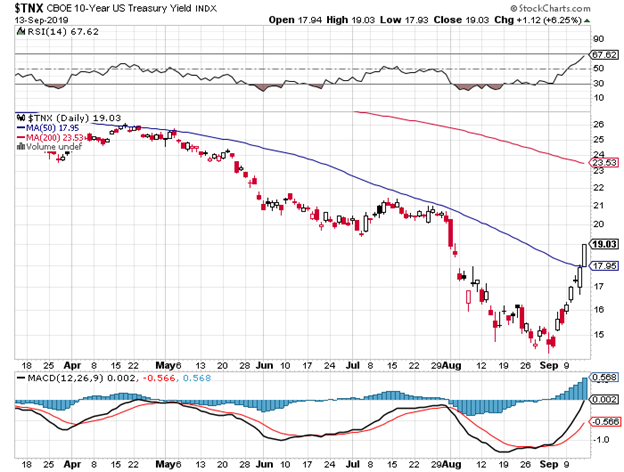 Graphs are for illustrative and discussion purposes only. Please read important disclosures at the end of this commentary.
he narrative about where U.S. bond yields are headed has taken a stunning change of course in just the past week. There was widespread consensus that U.S. bond yields were headed to zero. For a time, that seemed all but certain, until a stunning sell-off crushed the stampede of late-August bond buyers.
Even as the ECB lowered its deposit rate to -0.5% and re-launched its QE bond-buying program to the tune of $20 billion per month in euro-denominated bonds, it didn't stop the mad rush out of U.S. bonds. All this comes as the Fed is all but guaranteed to cut the Fed Funds Rate by a quarter point to 2.0%.
Correction in Hot Growth REITS is a Buying Opportunity
The rotation out of bonds and bond proxy sectors was also highly evident last week. Where REITS, utilities, consumer staples, and assorted high-dividend stocks and ETFs were delivering very steady returns year-to-date for income investors, they have been subject to widespread selling pressure since the beginning of September. The hardest hit of these assets has been the high-growth REITS within the logistics, self-storage, data center, industrial cannabis greenhouses, and cell tower sub-categories.
Just when it seemed the REIT train had left the station, income investors have suddenly been given, in my view, a truly attractive entry point in the leading growth REITS. For instance, the cannabis greenhouse operator Innovative Industrial Properties (IIPR) has corrected from $139 to $91, and cell tower and 5G pure-play operator American Tower REIT (AMT) has corrected from $242 to $215.
(Navellier & Associates does not own IIPR and AMT in managed accounts and our sub-advised mutual fund.  Bryan Perry does not own IIPR and AMT in personal accounts.)
It's also my view that the current correction in the secular bond market rally is just that, a correction, and not the beginning of a bear market. Bond prices rallied way too high and way too fast last month to avoid undergoing a radical bout of consolidation on the heels of better-than-expected U.S. economic data, fresh trade talks, and the upcoming Fed easing that is often preceded by buying the rumor and selling the news.
The chart below is that of the broad REIT sector, iShares S&P TSX Capped REIT Index ETF (XRE).
Graphs are for illustrative and discussion purposes only. Please read important disclosures at the end of this commentary.
For all those that admire and respect technical analysis, shares of XRE broke out of a five-month base in late August that coincided with the 10-year T-Note trading at 1.45%. As the 10-year yield rose back up to 1.90%, shares of XRE have pulled back to key support, where buyers should emerge by month-end. By the way, shares of XRE sport a 4.20% dividend yield and pay out dividends on a monthly basis.
This investment falls into the "keep it simple, stupid" category, meaning it is ideal for retirees or anyone else looking to own a real estate portfolio with pristine balance sheets paying 2.2 times that of the 10-year T-Note, 2.3-times that of the SPDR S&P 500 ETF (SPY) while posting a year-to-date return of +15.6%, not including dividends. And it's accessible with the simplicity of a click of a mouse.
From the many domestic and global investment scenarios that are colliding for space within the various distribution channels of financial news, opinion, and information, this back-and-fill situation in the REIT space is what jumped out most to me. Against the current investing landscape, where wild sector rotation, Fed policy, trade talks, Brexit, and election politics are dominating the financial media, income investors have what I believe is a unique opportunity in the crème de la crème real estate market to "buy the dip."
Bryan Perry
SENIOR DIRECTOR
Bryan Perry is a Senior Director with Navellier Private Client Group, advising and facilitating high net worth investors in the pursuit of their financial goals.
Bryan's financial services career spanning the past three decades includes over 20 years of wealth management experience with Wall Street firms that include Bear Stearns, Lehman Brothers and Paine Webber, working with both retail and institutional clients. Bryan earned a B.A. in Political Science from Virginia Polytechnic Institute & State University and currently holds a Series 65 license. All content of "Income Mail" represents the opinion of Bryan Perry
Although information in these reports has been obtained from and is based upon sources that Navellier believes to be reliable, Navellier does not guarantee its accuracy and it may be incomplete or condensed. All opinions and estimates constitute Navellier's judgment as of the date the report was created and are subject to change without notice. These reports are for informational purposes only and are not intended as an offer or solicitation for the purchase or sale of a security. Any decision to purchase securities mentioned in these reports must take into account existing public information on such securities or any registered prospectus.
Past performance is no indication of future results. Investment in securities involves significant risk and has the potential for partial or complete loss of funds invested. It should not be assumed that any securities recommendations made by Navellier. in the future will be profitable or equal the performance of securities made in this report.
Dividend payments are not guaranteed. The amount of a dividend payment, if any, can vary over time and issuers may reduce dividends paid on securities in the event of a recession or adverse event affecting a specific industry or issuer.
None of the stock information, data, and company information presented herein constitutes a recommendation by Navellier or a solicitation of any offer to buy or sell any securities. Any specific securities identified and described do not represent all of the securities purchased, sold, or recommended for advisory clients. The reader should not assume that investments in the securities identified and discussed were or will be profitable.
Information presented is general information that does not take into account your individual circumstances, financial situation, or needs, nor does it present a personalized recommendation to you. Individual stocks presented may not be suitable for you. Investment in securities involves significant risk and has the potential for partial or complete loss of funds invested. Investment in fixed income securities has the potential for the investment return and principal value of an investment to fluctuate so that an investor's holdings, when redeemed, may be worth less than their original cost.
One cannot invest directly in an index. Results presented include the reinvestment of all dividends and other earnings.
Past performance is no indication of future results.
FEDERAL TAX ADVICE DISCLAIMER: As required by U.S. Treasury Regulations, you are informed that, to the extent this presentation includes any federal tax advice, the presentation is not intended or written by Navellier to be used, and cannot be used, for the purpose of avoiding federal tax penalties. Navellier does not advise on any income tax requirements or issues. Use of any information presented by Navellier is for general information only and does not represent tax advice either express or implied. You are encouraged to seek professional tax advice for income tax questions and assistance.
IMPORTANT NEWSLETTER DISCLOSURE: The hypothetical performance results for investment newsletters that are authored or edited by Louis Navellier, including Louis Navellier's Growth Investor, Louis Navellier's Breakthrough Stocks, Louis Navellier's Accelerated Profits, and Louis Navellier's Platinum Club, are not based on any actual securities trading, portfolio, or accounts, and the newsletters' reported hypothetical performances should be considered mere "paper" or proforma hypothetical performance results and are not actual performance of real world trades.  Navellier & Associates, Inc. does not have any relation to or affiliation with the owner of these newsletters. There are material differences between Navellier Investment Products' portfolios and the InvestorPlace Media, LLC newsletter portfolios authored by Louis Navellier. The InvestorPlace Media, LLC newsletters contain hypothetical performance that do not include transaction costs, advisory fees, or other fees a client might incur if actual investments and trades were being made by an investor. As a result, newsletter performance should not be used to evaluate Navellier Investment services which are separate and different from the newsletters. The owner of the newsletters is InvestorPlace Media, LLC and any questions concerning the newsletters, including any newsletter advertising or hypothetical Newsletter performance claims, (which are calculated solely by Investor Place Media and not Navellier) should be referred to InvestorPlace Media, LLC at (800) 718-8289.
Please note that Navellier & Associates and the Navellier Private Client Group are managed completely independent of the newsletters owned and published by InvestorPlace Media, LLC and written and edited by Louis Navellier, and investment performance of the newsletters should in no way be considered indicative of potential future investment performance for any Navellier & Associates separately managed account portfolio. Potential investors should consult with their financial advisor before investing in any Navellier Investment Product.
Navellier claims compliance with Global Investment Performance Standards (GIPS). To receive a complete list and descriptions of Navellier's composites and/or a presentation that adheres to the GIPS standards, please contact Navellier or click here. It should not be assumed that any securities recommendations made by Navellier & Associates, Inc. in the future will be profitable or equal the performance of securities made in this report. Request here a list of recommendations made by Navellier & Associates, Inc. for the preceding twelve months, please contact Tim Hope at (775) 785-9416.