by Gary Alexander
September 15, 2020
Today marks the six month anniversary of the coronavirus lockdown – plus the 12-year anniversary of the "Lehman moment" (September 15, 2008), when the Great Recession began, and the 19th anniversary of post-9/11 market crash – the three 21st century crises that hit America, hitting New York the hardest.
Graphs are for illustrative and discussion purposes only. Please read important disclosures at the end of this commentary.
It took longer for the stock market to recover after the 2008-09 crash, but we reached the previous highs by February 2013 and went on to set a record for the longest bull market – reaching 11 years this year.
Graphs are for illustrative and discussion purposes only. Please read important disclosures at the end of this commentary.
As for 2020, "Beware the Ides of March" is a warning that goes back to the times of Julius Caesar, and he was indeed murdered March 15, 44 B.C. This year, March 15 was supposed to be "Selection Sunday" for the NCAA Basketball Tournament in March Madness, but the corona virus had another madness planned.
That Sunday, March 15, the Federal Reserve held an emergency meeting and reduced their key short-term interest rate by a full 100 basis points from 1.0% down to zero, and pledged to buy at least $700 billion in government and mortgage-related bonds as part of a wide-ranging emergency action to protect the U.S. economy, but it didn't work. The Dow fell a record 3,000 points the next day, and the VIX (volatility index) hit an all-time peak of 82.69 on Monday, March 16, 2020, eclipsing its previous record of 79.13 from 2008. Later that week, various states began locking down their major industries and Congress passed its $2.2 trillion Coronavirus Aid Relief and Economic Security (CARES) act for financial relief.
Overall, the Atlanta GDPNow model now shows a third-quarter GDP annualized growth rate over 30%, which would represent an all-time record rise after the worst quarterly decline in the second quarter.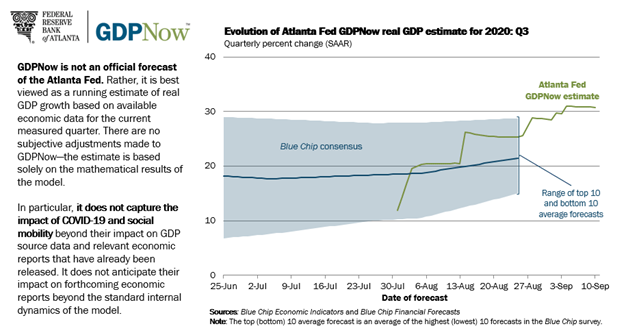 Graphs are for illustrative and discussion purposes only. Please read important disclosures at the end of this commentary.
We're now exactly six months into this crisis and the stock market has come all the way back, and the economy is recovering rapidly, but we've suffered major damage. All three of these major 21st Century crises cost a huge market downdraft in the beginning and trillions of dollars in accrued government debt.
The debt from 9/11 came via the costs of endless wars in Afghanistan and Iraq. The 2008-09 crises cost trillion-dollar deficits every year in President Obama's first term, and this coronavirus has cost at least $3 trillion in deficit spending for relief checks and support for states, health care, and targeted businesses.
During the coronavirus shutdown, Americans squirreled up a lot of cash – reaching $6.4 trillion in April. A lot of that money flowed into stocks and other financial assets since then. While that nest egg is cut in half to $3.2 trillion now, it's still well above the previous $1.1 trillion, so we still have plenty of cash.
Graphs are for illustrative and discussion purposes only. Please read important disclosures at the end of this commentary.
Much of that $6.4 billion in savings went into the stock market, pushing the capitalization of the Wilshire 5000 up $12.5 trillion since March 23 (through September 4). The economic indicators seem to point to a V-shaped recovery, but there is also risk of a K-shaped recovery that favors well-off knowledge workers but leaves behind many in the lower rungs of the service economy, who have suffered the most this year.
As with the previous crisis, New York was hit hardest: "Only" about 2,500 died in the Twin Towers on 9/11 but 50,000 natives of New York and New Jersey have been felled by coronavirus so far, 25% of all COVID deaths for only 12.5% of America's population – and also a higher concentration of the jobless.
Not all those suffering are poor. As a long-time jazz DJ, I'm in touch with several New York musicians who are top-rated in their instrument by both fans and critics but are suffering in their "gig" economy (the word "gig" was born in jazz argot.) They live off Broadway show income, club dates, recording sessions, teaching, touring or studio sessions, all of which are gone until mid-2021. Some top recording artists are in danger of losing their homes, in deep arrears for rent. I'm trying to help drum up support, but maybe some of those with deep pockets can find and help those in need make it through tough times like these.
A New Look at the "Roaring '20s" in American History – All Four of Them
I have already written much about 1920's problems and the subsequent Roaring 20s as a hopeful example of how today's dark days can become a prelude to a historically strong economic and market bonanza. The 1920s gave us a wide array of new technologies: Radios grew from a high-tech hobby to commonplace companion – same with cars, starting with hundreds of bold brands. Silent movies flourished, then began to talk. Jazz music was born, but there were also practical appliances: The Frigidaire replaced the icebox.
But now let me survey to the 1820s, 1720s, and America's birth in 1620 for some other Roaring '20s:
The 1820s were dominated by the building of the Erie Canal and the emergence of a powerful new tool for transporting goods and people – the railroad. First came the Erie Canal, which ran 363 miles, dropping 555 feet through 83 locks. It was 40 feet wide, four feet deep, and dug entirely by hand. It was like a "moon shot" that everyone thought would take decades to build, but New York Governor DeWitt Clinton sounded like JFK when he said, "The day will come in less than 10 years when we will see Erie water flowing into the Hudson." The canal opened in 1825. His boosterism caused a mania in canal securities, which put the young NYSE on the map, but soon after the canal turned a profit, the New York legislature granted a charter to the Great Erie Railroad to run a 483-mile line from the Hudson River to Lake Erie.
By the 1890s, railroads dominated (over 60%) the New York Stock Exchange's total capitalization.
1720 was the peak year of the "Mississippi Bubble" in European markets, but it was based on a very real land deal centered around the new metropolis of New Orleans, founded in 1718 and named after the Duke of Orleans, the Regent of France, who allowed renegade Scottish economist John Law free reign to create a scheme for over-subscribing New World land claims to generate population in and around New Orleans. The French had high hopes to be the reigning European power in America, intending the port of New Orleans to be their entrée to the riches up river, but Law's bubble burst in May and by the end of 1720 Law had to sneak out of France by night, leaving behind his 21 luxury-filled chateaux.
September 16, 1620 could be called America's second birth, after Jamestown in 1607: 400 years ago, 102 English settlers set sail from Plymouth, England, in the Mayflower, including 35 religious dissenters, 67 other settlers, and a crew of 25. After 57 days at sea, 41 family heads met off Cape Cod and drafted the Mayflower Compact, which established a democratic Bay colony to operate under "just and equal laws."
Within decades, Pilgrims and Puritans formed the core of abolitionist rhetoric that eventually freed the slaves. I say this because much has been made of the arrival of the first slaves to Virginia in 1619. The New York Times has made slavery the central moment in American history through their "1619 Project," now taught in many schools.  With schools now teaching via Internet, let me make a modest proposal that we add a valuable counterweight: "The 1620 Project." The story of America is one of growing into truth, a battle of conflicting ideas, with better ideas constantly replacing outdated ideas. In history, our "1620 Project" (just laws) defeated the "1619 Project," costing over 600,000 lives in a Civil War and a century of legal battles. Teach all of American history, from all angles, not just the negative worst-case scenario.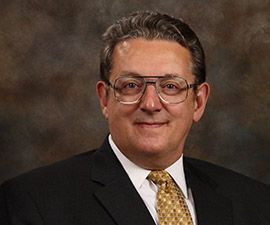 Gary Alexander
SENIOR EDITOR
Gary Alexander has been Senior Writer at Navellier since 2009.  He edits Navellier's weekly Marketmail and writes a weekly Growth Mail column, in which he uses market history to support the case for growth stocks.  For the previous 20 years before joining Navellier, he was Senior Executive Editor at InvestorPlace Media (formerly Phillips Publishing), where he worked with several leading investment analysts, including Louis Navellier (since 1997), helping launch Louis Navellier's Blue Chip Growth and Global Growth newsletters.
Prior to that, Gary edited Wealth Magazine and Gold Newsletter and wrote various investment research reports for Jefferson Financial in New Orleans in the 1980s.  He began his financial newsletter career with KCI Communications in 1980, where he served as consulting editor for Personal Finance newsletter while serving as general manager of KCI's Alexandria House book division.  Before that, he covered the economics beat for news magazines. All content of "Growth Mail" represents the opinion of Gary Alexander
All content above represents the opinion of Gary Alexander of Navellier & Associates, Inc.
Important Disclosures:
Although information in these reports has been obtained from and is based upon sources that Navellier believes to be reliable, Navellier does not guarantee its accuracy and it may be incomplete or condensed. All opinions and estimates constitute Navellier's judgment as of the date the report was created and are subject to change without notice. These reports are for informational purposes only and are not a solicitation for the purchase or sale of a security. Any decision to purchase securities mentioned in these reports must take into account existing public information on such securities or any registered prospectus.To the extent permitted by law, neither Navellier & Associates, Inc., nor any of its affiliates, agents, or service providers assumes any liability or responsibility nor owes any duty of care for any consequences of any person acting or refraining to act in reliance on the information contained in this communication or for any decision based on it.
Past performance is no indication of future results. Investment in securities involves significant risk and has the potential for partial or complete loss of funds invested. It should not be assumed that any securities recommendations made by Navellier. in the future will be profitable or equal the performance of securities made in this report. Dividend payments are not guaranteed. The amount of a dividend payment, if any, can vary over time and issuers may reduce dividends paid on securities in the event of a recession or adverse event affecting a specific industry or issuer.
None of the stock information, data, and company information presented herein constitutes a recommendation by Navellier or a solicitation to buy or sell any securities. Any specific securities identified and described do not represent all of the securities purchased, sold, or recommended for advisory clients. The holdings identified do not represent all of the securities purchased, sold, or recommended for advisory clients and the reader should not assume that investments in the securities identified and discussed were or will be profitable.
Information presented is general information that does not take into account your individual circumstances, financial situation, or needs, nor does it present a personalized recommendation to you. Individual stocks presented may not be suitable for every investor. Investment in securities involves significant risk and has the potential for partial or complete loss of funds invested. Investment in fixed income securities has the potential for the investment return and principal value of an investment to fluctuate so that an investor's holdings, when redeemed, may be worth less than their original cost.
One cannot invest directly in an index. Index is unmanaged and index performance does not reflect deduction of fees, expenses, or taxes. Presentation of Index data does not reflect a belief by Navellier that any stock index constitutes an investment alternative to any Navellier equity strategy or is necessarily comparable to such strategies. Among the most important differences between the Indices and Navellier strategies are that the Navellier equity strategies may (1) incur material management fees, (2) concentrate its investments in relatively few stocks, industries, or sectors, (3) have significantly greater trading activity and related costs, and (4) be significantly more or less volatile than the Indices.
ETF Risk: We may invest in exchange traded funds ("ETFs") and some of our investment strategies are generally fully invested in ETFs. Like traditional mutual funds, ETFs charge asset-based fees, but they generally do not charge initial sales charges or redemption fees and investors typically pay only customary brokerage fees to buy and sell ETF shares. The fees and costs charged by ETFs held in client accounts will not be deducted from the compensation the client pays Navellier. ETF prices can fluctuate up or down, and a client account could lose money investing in an ETF if the prices of the securities owned by the ETF go down. ETFs are subject to additional risks:
ETF shares may trade above or below their net asset value;
An active trading market for an ETF's shares may not develop or be maintained;
The value of an ETF may be more volatile than the underlying portfolio of securities the ETF is designed to track;
The cost of owning shares of the ETF may exceed those a client would incur by directly investing in the underlying securities; and
Trading of an ETF's shares may be halted if the listing exchange's officials deem it appropriate, the shares are delisted from the exchange, or the activation of market-wide "circuit breakers" (which are tied to large decreases in stock prices) halts stock trading generally.
Grader Disclosures: Investment in equity strategies involves substantial risk and has the potential for partial or complete loss of funds invested. The sample portfolio and any accompanying charts are for informational purposes only and are not to be construed as a solicitation to buy or sell any financial instrument and should not be relied upon as the sole factor in an investment making decision. As a matter of normal and important disclosures to you, as a potential investor, please consider the following: The performance presented is not based on any actual securities trading, portfolio, or accounts, and the reported performance of the A, B, C, D, and F portfolios (collectively the "model portfolios") should be considered mere "paper" or pro forma performance results based on Navellier's research.
Investors evaluating any of Navellier & Associates, Inc.'s, (or its affiliates') Investment Products must not use any information presented here, including the performance figures of the model portfolios, in their evaluation of any Navellier Investment Products. Navellier Investment Products include the firm's mutual funds and managed accounts. The model portfolios, charts, and other information presented do not represent actual funded trades and are not actual funded portfolios. There are material differences between Navellier Investment Products' portfolios and the model portfolios, research, and performance figures presented here. The model portfolios and the research results (1) may contain stocks or ETFs that are illiquid and difficult to trade; (2) may contain stock or ETF holdings materially different from actual funded Navellier Investment Product portfolios; (3) include the reinvestment of all dividends and other earnings, estimated trading costs, commissions, or management fees; and, (4) may not reflect prices obtained in an actual funded Navellier Investment Product portfolio. For these and other reasons, the reported performances of model portfolios do not reflect the performance results of Navellier's actually funded and traded Investment Products. In most cases, Navellier's Investment Products have materially lower performance results than the performances of the model portfolios presented.
This report contains statements that are, or may be considered to be, forward-looking statements. All statements that are not historical facts, including statements about our beliefs or expectations, are "forward-looking statements" within the meaning of The U.S. Private Securities Litigation Reform Act of 1995. These statements may be identified by such forward-looking terminology as "expect," "estimate," "plan," "intend," "believe," "anticipate," "may," "will," "should," "could," "continue," "project," or similar statements or variations of such terms. Our forward-looking statements are based on a series of expectations, assumptions, and projections, are not guarantees of future results or performance, and involve substantial risks and uncertainty as described in Form ADV Part 2A of our filing with the Securities and Exchange Commission (SEC), which is available at www.adviserinfo.sec.gov or by requesting a copy by emailing info@navellier.com. All of our forward-looking statements are as of the date of this report only. We can give no assurance that such expectations or forward-looking statements will prove to be correct. Actual results may differ materially. You are urged to carefully consider all such factors.
FEDERAL TAX ADVICE DISCLAIMER: As required by U.S. Treasury Regulations, you are informed that, to the extent this presentation includes any federal tax advice, the presentation is not written by Navellier to be used, and cannot be used, for the purpose of avoiding federal tax penalties. Navellier does not advise on any income tax requirements or issues. Use of any information presented by Navellier is for general information only and does not represent tax advice either express or implied. You are encouraged to seek professional tax advice for income tax questions and assistance.
IMPORTANT NEWSLETTER DISCLOSURE:The hypothetical performance results for investment newsletters that are authored or edited by Louis Navellier, including Louis Navellier's Growth Investor, Louis Navellier's Breakthrough Stocks, Louis Navellier's Accelerated Profits, and Louis Navellier's Platinum Club, are not based on any actual securities trading, portfolio, or accounts, and the newsletters' reported hypothetical performances should be considered mere "paper" or proforma hypothetical performance results and are not actual performance of real world trades.  Navellier & Associates, Inc. does not have any relation to or affiliation with the owner of these newsletters. There are material differences between Navellier Investment Products' portfolios and the InvestorPlace Media, LLC newsletter portfolios authored by Louis Navellier. The InvestorPlace Media, LLC newsletters contain hypothetical performance that do not include transaction costs, advisory fees, or other fees a client might incur if actual investments and trades were being made by an investor. As a result, newsletter performance should not be used to evaluate Navellier Investment services which are separate and different from the newsletters. The owner of the newsletters is InvestorPlace Media, LLC and any questions concerning the newsletters, including any newsletter advertising or hypothetical Newsletter performance claims, (which are calculated solely by Investor Place Media and not Navellier) should be referred to InvestorPlace Media, LLC at (800) 718-8289.
Please note that Navellier & Associates and the Navellier Private Client Group are managed completely independent of the newsletters owned and published by InvestorPlace Media, LLC and written and edited by Louis Navellier, and investment performance of the newsletters should in no way be considered indicative of potential future investment performance for any Navellier & Associates separately managed account portfolio. Potential investors should consult with their financial advisor before investing in any Navellier Investment Product.
Navellier claims compliance with Global Investment Performance Standards (GIPS). To receive a complete list and descriptions of Navellier's composites and/or a presentation that adheres to the GIPS standards, please contact Navellier or click here. It should not be assumed that any securities recommendations made by Navellier & Associates, Inc. in the future will be profitable or equal the performance of securities made in this report.
FactSet Disclosure: Navellier does not independently calculate the statistical information included in the attached report. The calculation and the information are provided by FactSet, a company not related to Navellier. Although information contained in the report has been obtained from FactSet and is based on sources Navellier believes to be reliable, Navellier does not guarantee its accuracy, and it may be incomplete or condensed. The report and the related FactSet sourced information are provided on an "as is" basis. The user assumes the entire risk of any use made of this information. Investors should consider the report as only a single factor in making their investment decision. The report is for informational purposes only and is not intended as an offer or solicitation for the purchase or sale of a security. FactSet sourced information is the exclusive property of FactSet. Without prior written permission of FactSet, this information may not be reproduced, disseminated or used to create any financial products. All indices are unmanaged and performance of the indices include reinvestment of dividends and interest income, unless otherwise noted, are not illustrative of any particular investment and an investment cannot be made in any index. Past performance is no guarantee of future results.