September 10, 2019
I'm in the middle of Glacier Bay, Alaska, and there is spotty Internet service today, so I'm flying blind, living on my memory of history alone (plus a few stored memories from my ample historical data files).
It makes me wonder if we would worry so much about the markets if there were no Internet service…
This week was remarkably placid in stock market history 20 years ago, until a dramatic event happened in 2001: In 1999, the Dow centered around 11,000 all week long (September 7-10). The next year (2000), the market enjoyed a second peak around Labor Day (a double top), and then the Dow was eerily calm, not changing more than 45 points in any day, staying right around 11,230 for the first half of September.
The stock market was also unusually placid on Monday, September 10, 2001. The Dow changed less than half a point that day, falling from 9605.9 to 9605.5. (Then came disaster the following morning.)
Going into September 2001, America had enjoyed three straight years of federal budget surpluses, but in the 18 years since 9-11, American boots have been on the ground in Afghanistan for nearly 18 years and in Iraq 16+ years, draining our Treasury and costing thousands of lives and denting our global reputation.
We're coming up to Constitution Day (more on that next week). In the 230 years since our first President and Congress took power, America became #1 by (mostly) avoiding foreign conflicts and reaping the fruits of Europe's folly in their own endless warfare. The Louisiana Purchase (1803) doubled the nation's size for a song ($15 million) due to Napoleon's need for fast cash to fight wars. President Jefferson then sent Lewis & Clark to explore the West. So vast and forbidding was the far West that Jefferson predicted it would take 1,000 years to populate the frontier to the Pacific Ocean, but it took less than a century.
We laugh at President Trump's bid to buy Greenland from Denmark, but in 1917 America bought the U.S. Virgin Islands from Denmark for $25 million in gold during World War I, so there is a precedent….
After World War I, in the 1920s, America owned the majority of the world's automobiles, radios, and other consumer items, because we weren't devastated by World War I. The same held true for the two bounteous decades after World War II, and then the high-tech 1990s, after the end of the Cold War.
In the 18 years since 9-11, however, we have drained our Treasury. In that way, perhaps, the terrorists scored a victory. Now, 18 years later, we need to decide whether or not we intend to police the planet.
America is (or Was?) the Land of Exploration and Innovation
"Go West, young man, Go West"
– John L. B. Soule, writing in the Terre Haute Express in 1851.
The rallying cry to young men to "go west" was famously picked up by Horace Greeley in the New York Tribune. It overtly referred to "men," not women, and that is what happened. Almost 100,000 East coast American males answered the gold call in 1849. Another 90,000 men made the difficult trek in 1850. This meant that almost 2% of American males headed west via three very dangerous routes: Panama, the Cape, or overland. After California became a state in 1850, its first official census showed that 92% of the state's population was male. Gold lured Argonauts from all over the globe. Over 2.5 million immigrants came to America in the 1850s. Then, America bought "Seward's Folly," aka Alaska, for just $7.2 million.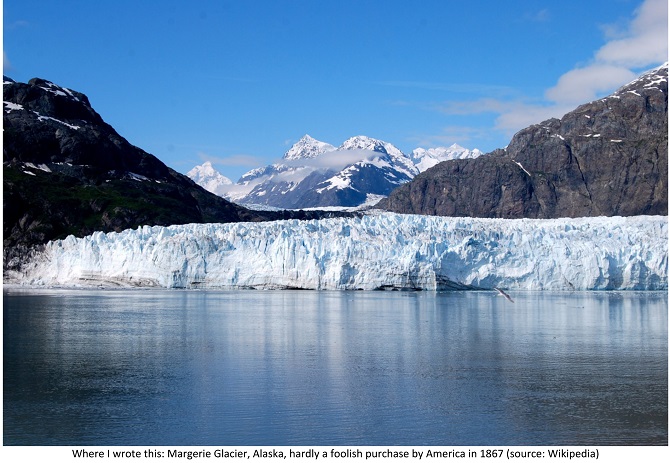 Today's trade war revolves around the question of property rights. America is a land of invention, while China is a land of intellectual property theft. America invents things. In the 19th and 20th centuries, most of the major technological innovations came out of America, in part because our copyright laws protected rights of ownership (and hence financial royalties), and in part due to our innovative national spirit.
Here are just a few of the "famous firsts" that fell on this date alone – September 10 in American history:
1608: The first American election: John Smith was elected as the first president of Jamestown, Virginia.
1623: The first export: Lumber and furs were sent from New Plymouth, Massachusetts to England.
1776: Our first spy: George Washington needed information. Nathan Hale volunteered to be our first spy.
1846: The first sewing machine: Elias Howe patented the first practical lock stitch sewing machine.
1897: The first DWI: George Smith drove a car into a building, becoming the first-ever DWI conviction.
1913: The first paved coast-to-coast highway opened, when the Lincoln Highway was completed.
1953: Swanson marketed its first TV dinner.
1982: The first edition of USA Today was published.
Now, physical frontiers are deep under the ocean or land, or in space, while most inventions are in micro-technology, but we need to keep rewarding inventors and punishing thieves, if we wish to remain great.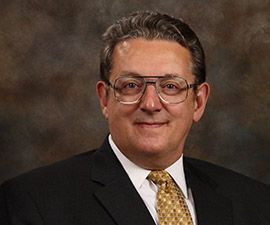 Gary Alexander
SENIOR EDITOR
Gary Alexander has been Senior Writer at Navellier since 2009.  He edits Navellier's weekly Marketmail and writes a weekly Growth Mail column, in which he uses market history to support the case for growth stocks.  For the previous 20 years before joining Navellier, he was Senior Executive Editor at InvestorPlace Media (formerly Phillips Publishing), where he worked with several leading investment analysts, including Louis Navellier (since 1997), helping launch Louis Navellier's Blue Chip Growth and Global Growth newsletters.
Prior to that, Gary edited Wealth Magazine and Gold Newsletter and wrote various investment research reports for Jefferson Financial in New Orleans in the 1980s.  He began his financial newsletter career with KCI Communications in 1980, where he served as consulting editor for Personal Finance newsletter while serving as general manager of KCI's Alexandria House book division.  Before that, he covered the economics beat for news magazines. All content of "Growth Mail" represents the opinion of Gary Alexander
Although information in these reports has been obtained from and is based upon sources that Navellier believes to be reliable, Navellier does not guarantee its accuracy and it may be incomplete or condensed. All opinions and estimates constitute Navellier's judgment as of the date the report was created and are subject to change without notice. These reports are for informational purposes only and are not intended as an offer or solicitation for the purchase or sale of a security. Any decision to purchase securities mentioned in these reports must take into account existing public information on such securities or any registered prospectus.
Past performance is no indication of future results. Investment in securities involves significant risk and has the potential for partial or complete loss of funds invested. It should not be assumed that any securities recommendations made by Navellier. in the future will be profitable or equal the performance of securities made in this report.
Dividend payments are not guaranteed. The amount of a dividend payment, if any, can vary over time and issuers may reduce dividends paid on securities in the event of a recession or adverse event affecting a specific industry or issuer.
None of the stock information, data, and company information presented herein constitutes a recommendation by Navellier or a solicitation of any offer to buy or sell any securities. Any specific securities identified and described do not represent all of the securities purchased, sold, or recommended for advisory clients. The reader should not assume that investments in the securities identified and discussed were or will be profitable.
Information presented is general information that does not take into account your individual circumstances, financial situation, or needs, nor does it present a personalized recommendation to you. Individual stocks presented may not be suitable for you. Investment in securities involves significant risk and has the potential for partial or complete loss of funds invested. Investment in fixed income securities has the potential for the investment return and principal value of an investment to fluctuate so that an investor's holdings, when redeemed, may be worth less than their original cost.
One cannot invest directly in an index. Results presented include the reinvestment of all dividends and other earnings.
Past performance is no indication of future results.
FEDERAL TAX ADVICE DISCLAIMER: As required by U.S. Treasury Regulations, you are informed that, to the extent this presentation includes any federal tax advice, the presentation is not intended or written by Navellier to be used, and cannot be used, for the purpose of avoiding federal tax penalties. Navellier does not advise on any income tax requirements or issues. Use of any information presented by Navellier is for general information only and does not represent tax advice either express or implied. You are encouraged to seek professional tax advice for income tax questions and assistance.
IMPORTANT NEWSLETTER DISCLOSURE: The hypothetical performance results for investment newsletters that are authored or edited by Louis Navellier, including Louis Navellier's Growth Investor, Louis Navellier's Breakthrough Stocks, Louis Navellier's Accelerated Profits, and Louis Navellier's Platinum Club, are not based on any actual securities trading, portfolio, or accounts, and the newsletters' reported hypothetical performances should be considered mere "paper" or proforma hypothetical performance results and are not actual performance of real world trades.  Navellier & Associates, Inc. does not have any relation to or affiliation with the owner of these newsletters. There are material differences between Navellier Investment Products' portfolios and the InvestorPlace Media, LLC newsletter portfolios authored by Louis Navellier. The InvestorPlace Media, LLC newsletters contain hypothetical performance that do not include transaction costs, advisory fees, or other fees a client might incur if actual investments and trades were being made by an investor. As a result, newsletter performance should not be used to evaluate Navellier Investment services which are separate and different from the newsletters. The owner of the newsletters is InvestorPlace Media, LLC and any questions concerning the newsletters, including any newsletter advertising or hypothetical Newsletter performance claims, (which are calculated solely by Investor Place Media and not Navellier) should be referred to InvestorPlace Media, LLC at (800) 718-8289.
Please note that Navellier & Associates and the Navellier Private Client Group are managed completely independent of the newsletters owned and published by InvestorPlace Media, LLC and written and edited by Louis Navellier, and investment performance of the newsletters should in no way be considered indicative of potential future investment performance for any Navellier & Associates separately managed account portfolio. Potential investors should consult with their financial advisor before investing in any Navellier Investment Product.
Navellier claims compliance with Global Investment Performance Standards (GIPS). To receive a complete list and descriptions of Navellier's composites and/or a presentation that adheres to the GIPS standards, please contact Navellier or click here. It should not be assumed that any securities recommendations made by Navellier & Associates, Inc. in the future will be profitable or equal the performance of securities made in this report. Request here a list of recommendations made by Navellier & Associates, Inc. for the preceding twelve months, please contact Tim Hope at (775) 785-9416.