September 10, 2019
The topic of whether the U.S. will see the issuance of 50- and 100-year Treasuries in the next few years, if not sooner, has started to become a genuine dialogue. What was reserved for very special emerging market situations, like the 7.9% 100-year government bond that Argentina sold in 2017 to raise $2.75 billion amid optimism about a new administration, is now commonplace among developed countries.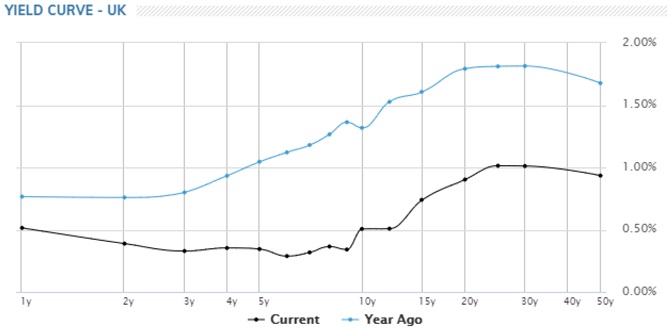 Graphs are for illustrative and discussion purposes only. Please read important disclosures at the end of this commentary.
Case in point, the UK issued a 50-year Gilt in July 2018 with a 3.50% coupon at a lofty premium. It matures in 2068. As European sovereign yields have gone negative, the yield on this particular issue has plummeted by -69.25% YTD – trading with a current yield of just 0.934% as of last Friday (source: Bloomberg.com). Bear in mind that UK 10-year Gilts are yielding 0.50%, meaning that investors are buying the century bonds at a hefty premium to par value just to capture a 3.50% coupon rate in government-backed debt while only getting less than half of one percent difference in current yield.
The advent of QE among every major central bank around the globe that has fashioned skyrocketing sovereign debt loads is seeing an historic opportunity to take advantage of record-low borrowing costs to finance their ongoing deficit spending in efforts to thwart macro recessionary and deflationary pressures. The global bond markets have been pricing in slowing global growth for several quarters now, with yields at levels that seem just too good to pass up for issuing what are called "century bonds."
It was only a few years ago that the U.S. Treasury poo-pooed the notion of 50- and 100-year debt, citing slack market demand for the size of issuance that actually moves the needle in a weekly Treasury auction – but that aversion to ultra-long-term debt has changed against the current crashing of bond yields.
So, during the last week of August, the U.S. Treasury noted that they are canvassing their largest buyers to measure the appetite for interest in such long-dated paper. The primary buyers of such debt are corporate pension plans and insurance companies. There are many bond pundits that are now forecasting zero to negative interest rates for the U.S. and the long-term chart below argues well for such a scenario.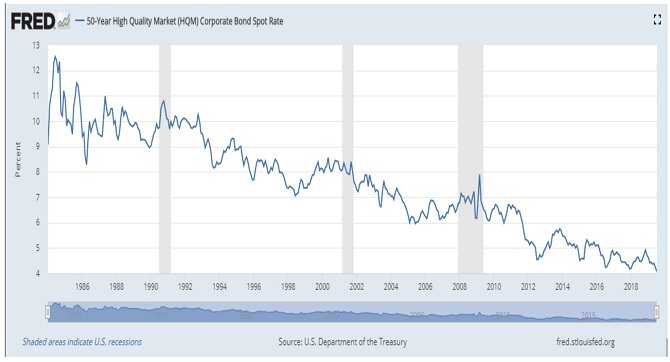 Graphs are for illustrative and discussion purposes only. Please read important disclosures at the end of this commentary.
50-Year and 100-Year U.S. Corporate Bonds are Alive and Well
This will likely be new information for most readers, but a handful of corporations, healthcare networks, and deep-pocket universities have already issued century debt. Walt Disney has a 7.55% 100-year bond outstanding that matures in 2093. At the time Disney issued the bonds in 2013, the company planned on selling $150 million worth of the issue, but demand was strong enough that Disney was able to raise $300 million. In recent years, the Cleveland Clinic and University of Pennsylvania also issued century bonds.
Ford Motor, Boeing, and McDonalds have all sold bonds with 50-year maturities since 2013. 100-year bonds were common among railroad operators when they were building their lines and leasing land under long-term contracts. The last railroad to sell 100-year bonds may have been the Chicago & Eastern Illinois, a subsidiary of Union Pacific, which peddled a 5% issue in 1954 (see: LA Times, July 22, 2013).
(Navellier & Associates does not own MCD, F, WMT or DIS in managed accounts and our sub-advised mutual fund but does own BA in the Sub-Advised mutual Fund.  Bryan Perry does not own MCD, F, WMT, BA or DIS in personal accounts.)
Driving the fresh interest in ultra-long debt is the flat yield curve, as it costs relatively little more to borrow for two to three times what it costs for 20- or 30-year debt. "Already, 14 countries within the 34-country OECD have issued debt with maturities ranging from 40-100 years, and Austria, Belgium, and Ireland have all issued century-bonds within the past two years" (source: Fortune – August 23, 2019).
While it may be some time before the first century bond is auctioned by the U.S. Treasury, I suspect some small trial issues will be floated to test the waters so as to determine the level of widespread interest. The U.S. has this nagging problem of a ballooning federal debt held by the public that is expected to top $16.6 trillion at the end of this year, representing 78% of GDP and nearly twice its average over the past 50 years. Come 2029, federal debt is forecast to hit $28.7 trillion, or 93% of GDP and keep growing to reflect 150% of GDP by 2049 (source: www.cbo.gov, The Budget and Economic Outlook: 2019 to 2029).
Graphs are for illustrative and discussion purposes only. Please read important disclosures at the end of this commentary.
A lot can and probably will change these estimates going forward, but the concern is they will be adjusted radically higher. Just over one month ago, on August 1, deficit hawks from the Freedom Caucus lost out as Congress passed a budget deal that increased government spending by $320 billion for the next two years while allowing continued borrowing as needed. Basically, it's an open checkbook courtesy of the U.S. taxpayer, which is why I think hundred-year bonds will eventually make their way to public auction.
Just for the record, President Trump never met a king-sized bond deal that he didn't like, and he blessed the zealous budget deal after the Senate pushed it through. With large stresses on Social Security and Federal benefits programs looming, that just happens to coincide with bi-partisan support for an up to $3 trillion infrastructure deal in the works, the idea of taking out a $10 trillion line of credit for the next 100 years at or under 3.0% is probably too attractive to a free-spending Trump and Congress to pass up.
Bryan Perry
SENIOR DIRECTOR
Bryan Perry is a Senior Director with Navellier Private Client Group, advising and facilitating high net worth investors in the pursuit of their financial goals.
Bryan's financial services career spanning the past three decades includes over 20 years of wealth management experience with Wall Street firms that include Bear Stearns, Lehman Brothers and Paine Webber, working with both retail and institutional clients. Bryan earned a B.A. in Political Science from Virginia Polytechnic Institute & State University and currently holds a Series 65 license. All content of "Income Mail" represents the opinion of Bryan Perry
Although information in these reports has been obtained from and is based upon sources that Navellier believes to be reliable, Navellier does not guarantee its accuracy and it may be incomplete or condensed. All opinions and estimates constitute Navellier's judgment as of the date the report was created and are subject to change without notice. These reports are for informational purposes only and are not intended as an offer or solicitation for the purchase or sale of a security. Any decision to purchase securities mentioned in these reports must take into account existing public information on such securities or any registered prospectus.
Past performance is no indication of future results. Investment in securities involves significant risk and has the potential for partial or complete loss of funds invested. It should not be assumed that any securities recommendations made by Navellier. in the future will be profitable or equal the performance of securities made in this report.
Dividend payments are not guaranteed. The amount of a dividend payment, if any, can vary over time and issuers may reduce dividends paid on securities in the event of a recession or adverse event affecting a specific industry or issuer.
None of the stock information, data, and company information presented herein constitutes a recommendation by Navellier or a solicitation of any offer to buy or sell any securities. Any specific securities identified and described do not represent all of the securities purchased, sold, or recommended for advisory clients. The reader should not assume that investments in the securities identified and discussed were or will be profitable.
Information presented is general information that does not take into account your individual circumstances, financial situation, or needs, nor does it present a personalized recommendation to you. Individual stocks presented may not be suitable for you. Investment in securities involves significant risk and has the potential for partial or complete loss of funds invested. Investment in fixed income securities has the potential for the investment return and principal value of an investment to fluctuate so that an investor's holdings, when redeemed, may be worth less than their original cost.
One cannot invest directly in an index. Results presented include the reinvestment of all dividends and other earnings.
Past performance is no indication of future results.
FEDERAL TAX ADVICE DISCLAIMER: As required by U.S. Treasury Regulations, you are informed that, to the extent this presentation includes any federal tax advice, the presentation is not intended or written by Navellier to be used, and cannot be used, for the purpose of avoiding federal tax penalties. Navellier does not advise on any income tax requirements or issues. Use of any information presented by Navellier is for general information only and does not represent tax advice either express or implied. You are encouraged to seek professional tax advice for income tax questions and assistance.
IMPORTANT NEWSLETTER DISCLOSURE: The hypothetical performance results for investment newsletters that are authored or edited by Louis Navellier, including Louis Navellier's Growth Investor, Louis Navellier's Breakthrough Stocks, Louis Navellier's Accelerated Profits, and Louis Navellier's Platinum Club, are not based on any actual securities trading, portfolio, or accounts, and the newsletters' reported hypothetical performances should be considered mere "paper" or proforma hypothetical performance results and are not actual performance of real world trades.  Navellier & Associates, Inc. does not have any relation to or affiliation with the owner of these newsletters. There are material differences between Navellier Investment Products' portfolios and the InvestorPlace Media, LLC newsletter portfolios authored by Louis Navellier. The InvestorPlace Media, LLC newsletters contain hypothetical performance that do not include transaction costs, advisory fees, or other fees a client might incur if actual investments and trades were being made by an investor. As a result, newsletter performance should not be used to evaluate Navellier Investment services which are separate and different from the newsletters. The owner of the newsletters is InvestorPlace Media, LLC and any questions concerning the newsletters, including any newsletter advertising or hypothetical Newsletter performance claims, (which are calculated solely by Investor Place Media and not Navellier) should be referred to InvestorPlace Media, LLC at (800) 718-8289.
Please note that Navellier & Associates and the Navellier Private Client Group are managed completely independent of the newsletters owned and published by InvestorPlace Media, LLC and written and edited by Louis Navellier, and investment performance of the newsletters should in no way be considered indicative of potential future investment performance for any Navellier & Associates separately managed account portfolio. Potential investors should consult with their financial advisor before investing in any Navellier Investment Product.
Navellier claims compliance with Global Investment Performance Standards (GIPS). To receive a complete list and descriptions of Navellier's composites and/or a presentation that adheres to the GIPS standards, please contact Navellier or click here. It should not be assumed that any securities recommendations made by Navellier & Associates, Inc. in the future will be profitable or equal the performance of securities made in this report. Request here a list of recommendations made by Navellier & Associates, Inc. for the preceding twelve months, please contact Tim Hope at (775) 785-9416.