September 3, 2019
Markets and individual stocks need to take breathers every now and then. When I think of great stocks, they often pause and gather strength before spring-boarding higher. Sometimes the lags are brief. Other times they are longer. The Earth itself had a similar lag period in its own evolution. Activity stalled for about a billion years, a period that scientists dubbed "the boring billion." During that Big Yawn, the Earth became a slimy, near-static world of algae and microbes. Then boom! Evolution exploded and flourished.
I think we are in such a breather for the U.S. stock market.
August has lived up to my expectations of a bumpy, unpredictable ride. Bad and good news seem to come from nowhere and the trajectory of the market is hard to see in the immediate term.
This is a lot like what I am seeing with this unprecedented storm headed my way.
Hurricane Dorian is bearing down and coming uncomfortably close to where I live.
Uncertainty and volatility can never be removed from life, nor can it be removed from markets, so the best we can hope for is to make sense from it and try to adjust for when some predictability returns; so as we bid farewell to a volatile August and welcome a potentially volatile September, where do we stand?
Last Week's Rally Was a Low-Volume Head-Fake
First off, the major onslaught of selling has slowed down into a light volume going into the Labor Day holiday weekend. The good news is that the market has been rallying. The bad news is that it's been rallying on very low volume. That means that the recent rally should be treated as suspect – a head-fake.
The low-volume week just past brought us low signal counts. The distribution of buying and selling was in favor of selling, while Utilities and Staples saw a spike in their buying. This is still defensive action.
Graphs are for illustrative and discussion purposes only. Please read important disclosures at the end of this commentary.
The other thing to make note of is that the MAP Big Money Index keeps falling. That's a ratio of buying to selling. When buying dries up and selling picks up, that index falls. When it falls below 45%, we typically see lower market prices ahead. That spells "caution."  That's the bad news: We may be in for more bumps and discomfort. The good news, though, is that when we see a drop below 45%, it typically means we are close to the end of selling. It's like the seventh inning in baseball: the game is nearly over, but there's a lot of game left to play, with some decisive end-game strategies to be worked out.
Graphs are for illustrative and discussion purposes only. Please read important disclosures at the end of this commentary.
But here's the thing: Great stocks go up over time. It's an observable fact. The trick is to find the best stocks that big money is pouring into. Zero in on those and get positioned. When they "go on sale," that is a great time to pounce. But fear often gets in our way. We fear "it could go lower," or "I could lose money." No one likes to lose money or feel in danger. But losing is a part of winning. There are countless stories of failure preceding greatness. Athletes, playwrights, composers, creators, politicians, and any other walk of life is dominated by stories of failure preceding great success.
Michael Jordan said, "I have failed time and time again, and that is why I succeed." Colin Powell said, "There are no secrets to success. It is the result of preparation, hard work, and learning from failure." Steve Jobs said, "If you are not willing to fail, you are not going to get very far."
As the market bobs and weaves, we need to focus on the data. Earnings reports were very good for the second quarter. Interest rates are low and likely going lower. Europe has political headwinds, causing capital flight out of equities there. Latin America is rife with major issues. China is reporting a slowing economy. Amid all this doom and gloom, the United States remains the bright spot. We are the safe haven in a world of uncertainty. And as the dividend yield of the S&P 500 is now more than the 30-year bond before taxes, the after-tax treatment makes owning stocks far more compelling.
This means that if we see a market dip, you should have your shopping list ready. When you've had your eye on a coat, or a car, or a computer, and there's a price slash, you wouldn't hesitate to dive in and seize the opportunity. But when stocks go on sale, people question why, or how much lower can it go?
I suggest you research your stock wish-list and get it honed and ready. The market is providing you with entry points and will continue to provide opportunities to take advantage. Our data suggests one is lining up, and should it come, it's a great chance to grab some stocks. Should it not come, then logic is starting to prevail, and investors are starting to realize there is no better place to put your money than U.S. stocks.
So, as I hunker down and prepare to ride out whatever Hurricane Dorian delivers, I am also thinking about when hurricanes rip through markets. In the past, each correction has invariably proven to be a great buying opportunity. It almost makes you want to see some red ink…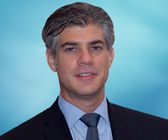 Jason Bodner
MARKETMAIL EDITOR FOR SECTOR SPOTLIGHT
Jason Bodner writes Sector Spotlight in the weekly Marketmail publication and has authored several white papers for the company. He is also Co-Founder of Macro Analytics for Professionals which produces proprietary equity accumulation/distribution research for its clients. Previously, Mr. Bodner served as Director of European Equity Derivatives for Cantor Fitzgerald Europe in London, then moved to the role of Head of Equity Derivatives North America for the same company in New York. He also served as S.V.P. Equity Derivatives for Jefferies, LLC. He received a B.S. in business administration in 1996, with honors, from Skidmore College as a member of the Periclean Honors Society. All content of "Sector Spotlight" represents the opinion of Jason Bodner
Although information in these reports has been obtained from and is based upon sources that Navellier believes to be reliable, Navellier does not guarantee its accuracy and it may be incomplete or condensed. All opinions and estimates constitute Navellier's judgment as of the date the report was created and are subject to change without notice. These reports are for informational purposes only and are not intended as an offer or solicitation for the purchase or sale of a security. Any decision to purchase securities mentioned in these reports must take into account existing public information on such securities or any registered prospectus.
Past performance is no indication of future results. Investment in securities involves significant risk and has the potential for partial or complete loss of funds invested. It should not be assumed that any securities recommendations made by Navellier. in the future will be profitable or equal the performance of securities made in this report.
Dividend payments are not guaranteed. The amount of a dividend payment, if any, can vary over time and issuers may reduce dividends paid on securities in the event of a recession or adverse event affecting a specific industry or issuer.
None of the stock information, data, and company information presented herein constitutes a recommendation by Navellier or a solicitation of any offer to buy or sell any securities. Any specific securities identified and described do not represent all of the securities purchased, sold, or recommended for advisory clients. The reader should not assume that investments in the securities identified and discussed were or will be profitable.
Information presented is general information that does not take into account your individual circumstances, financial situation, or needs, nor does it present a personalized recommendation to you. Individual stocks presented may not be suitable for you. Investment in securities involves significant risk and has the potential for partial or complete loss of funds invested. Investment in fixed income securities has the potential for the investment return and principal value of an investment to fluctuate so that an investor's holdings, when redeemed, may be worth less than their original cost.
One cannot invest directly in an index. Results presented include the reinvestment of all dividends and other earnings.
Past performance is no indication of future results.
FEDERAL TAX ADVICE DISCLAIMER: As required by U.S. Treasury Regulations, you are informed that, to the extent this presentation includes any federal tax advice, the presentation is not intended or written by Navellier to be used, and cannot be used, for the purpose of avoiding federal tax penalties. Navellier does not advise on any income tax requirements or issues. Use of any information presented by Navellier is for general information only and does not represent tax advice either express or implied. You are encouraged to seek professional tax advice for income tax questions and assistance.
IMPORTANT NEWSLETTER DISCLOSURE: The hypothetical performance results for investment newsletters that are authored or edited by Louis Navellier, including Louis Navellier's Growth Investor, Louis Navellier's Breakthrough Stocks, Louis Navellier's Accelerated Profits, and Louis Navellier's Platinum Club, are not based on any actual securities trading, portfolio, or accounts, and the newsletters' reported hypothetical performances should be considered mere "paper" or proforma hypothetical performance results and are not actual performance of real world trades.  Navellier & Associates, Inc. does not have any relation to or affiliation with the owner of these newsletters. There are material differences between Navellier Investment Products' portfolios and the InvestorPlace Media, LLC newsletter portfolios authored by Louis Navellier. The InvestorPlace Media, LLC newsletters contain hypothetical performance that do not include transaction costs, advisory fees, or other fees a client might incur if actual investments and trades were being made by an investor. As a result, newsletter performance should not be used to evaluate Navellier Investment services which are separate and different from the newsletters. The owner of the newsletters is InvestorPlace Media, LLC and any questions concerning the newsletters, including any newsletter advertising or hypothetical Newsletter performance claims, (which are calculated solely by Investor Place Media and not Navellier) should be referred to InvestorPlace Media, LLC at (800) 718-8289.
Please note that Navellier & Associates and the Navellier Private Client Group are managed completely independent of the newsletters owned and published by InvestorPlace Media, LLC and written and edited by Louis Navellier, and investment performance of the newsletters should in no way be considered indicative of potential future investment performance for any Navellier & Associates separately managed account portfolio. Potential investors should consult with their financial advisor before investing in any Navellier Investment Product.
Navellier claims compliance with Global Investment Performance Standards (GIPS). To receive a complete list and descriptions of Navellier's composites and/or a presentation that adheres to the GIPS standards, please contact Navellier or click here. It should not be assumed that any securities recommendations made by Navellier & Associates, Inc. in the future will be profitable or equal the performance of securities made in this report. Request here a list of recommendations made by Navellier & Associates, Inc. for the preceding twelve months, please contact Tim Hope at (775) 785-9416.