August 27, 2019
Last week's tumultuous market conditions put a number of investing strategies to the test – specifically, as to their viability to produce positive results against an inverted yield curve, a strong dollar, spiking gold prices, algorithmic sell programs, geopolitical tensions, the rising prospect of a hard Brexit, a Fed that is behind the curve, Presidential temper tantrums, and most of all an expanding trade war with China.
For all its current dislocation, the market has held up rather well, with the S&P 500 holding above its key 200-day moving average. Bear in mind, I'm penning this column before Monday's opening bell, so this might well not be the case if Friday's waterfall sell-off continues to build on itself. Mondays have been weak lately, but the strong consumer and retail earnings data of late should help attract buyers after this fresh round of selling, as we also anticipate a rate cut at the upcoming FOMC meeting on September 18.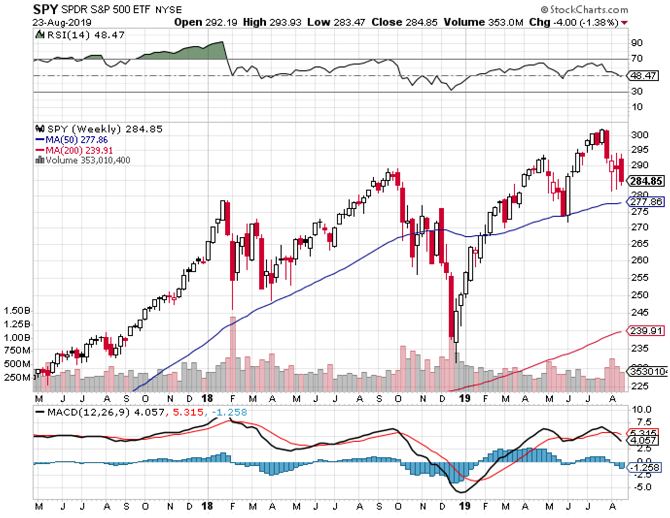 Graphs are for illustrative and discussion purposes only. Please read important disclosures at the end of this commentary.
I noted last week that passive investing for the past 18 months has produced zero in the way of portfolio returns (in the S&P 500), and that against the current market landscape, these sideways conditions would persist indefinitely without a breakthrough in the trade war. I also noted that savvy money managers have a fantastic opportunity to win back passive investors as specific stock selection is the key to future profits.
Here is a prime opportunity for outsized profits in leading stocks in a specific sector.
A Once-in-a-Decade Technology Explosion – Retiring on 5G Technology Profits
One sector where the promise of savvy stock picking will pay off huge is 5G technology. Janusz Bryzek, the "father of the sensors," calls the 5G revolution taking place from 2020 to 2025 "the largest growth in the history of humans" and a once-in-a-decade opportunity. It is what I call a "stealth bull market" within a very mature and extended bull market, which makes this investment proposition so compelling.
By "stealth," I mean resistant to slowing S&P profit growth, lagging Fed policy, the overreach of government regulation, political influence, commodity risk, inflation risk, deflation risk, environmental risk, and corporate budget and business investment risk. The current estimates are up to $300 billion being spent on the great 5G rollout over the next five years.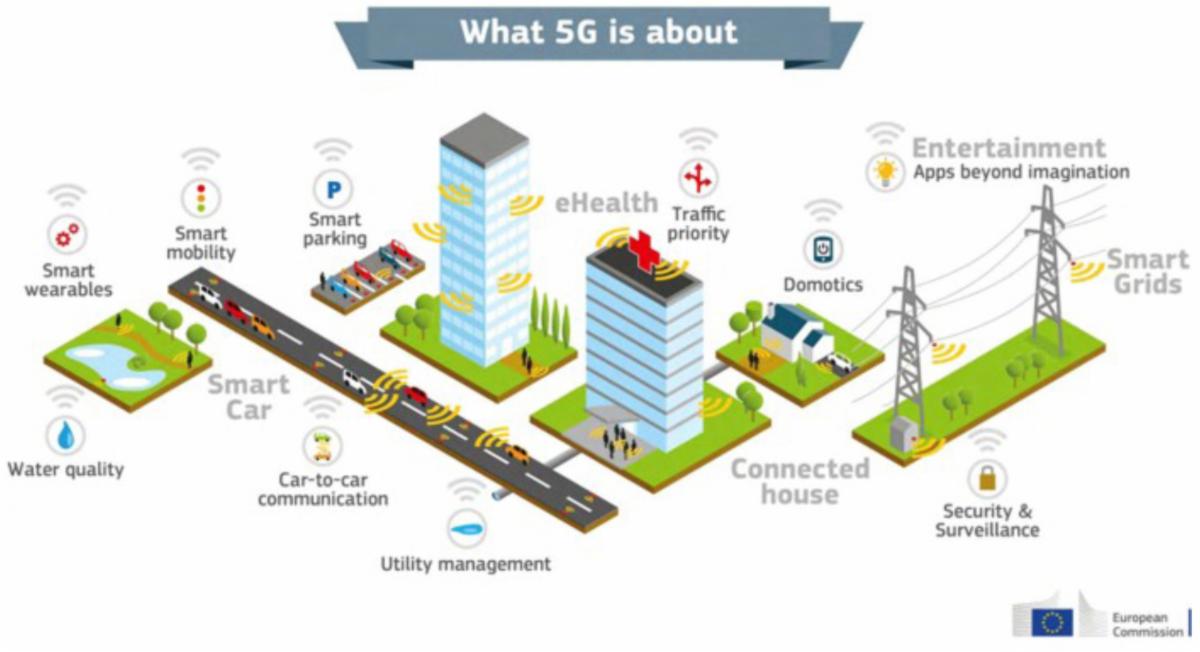 The 5G market is expected to deliver a compounded annual growth rate (CAGR) of 111% in the next five years! (source: www.globalnewswire.com). To put this number into context, the smartphone market will enjoy a CAGR of 7.9% for the next five years, the cancer therapy market a CAGR of 8.4%, public cloud computing a CAGR of 17.4%, Internet of Things (IoT) a CAGR 21.1%, big data analytics market 30.9%.
Graphs are for illustrative and discussion purposes only. Please read important disclosures at the end of this commentary.
The specific sub-sectors of the 5G rollout that will flourish during this period of hyper growth include: Service providers, land-based network infrastructure, wireless network infrastructure, semiconductors, testing equipment, contract manufacturing, and smartphones.
I've constructed a list of 25 companies, all blue-chip, big-cap stocks with liquid option chains. Investors can consider a few strategies to play the 5G boom – buy and hold, create lucrative income streams selling covered calls, selling naked puts, or buying some Long-Term Equity Anticipation Securities (LEAPS) on a basket of leading 5G stocks to leverage the 5G revolution. This isn't a single best idea story, or a top five picks theme. It's a broad-based investment proposition that has to happen if the Internet of Things, autonomous driving, advanced computing, or the second Internet can be constructed and realized.
According to Accenture, 5G technology alone will add an additional $14 trillion to the global economy by the year 2030.The current estimate is that global revenues from wireless Internet of Everything (IoE) devices will grow from $7.1 trillion in 2020 to a staggering $39 trillion four years later. Compared to the PC revolution in the 1980s or the smartphone revolution of the 2000s, the growth of the 5G rollout of the early 2020s will dwarf all previous disruptive technologies in history.
If investors can grasp the essence of how phenomenal the next five years of massive spending will impact the top and bottom lines of those leading companies that will bring 5G technology to its full fruition, it's my view that investors can boost their retirement nest eggs substantially. Such a windfall of capital spending in such a short period of time within a specific tech sub-sector has never occurred before.
The best part of the 5G investment theme is that it is early, and the volatile stock market has brought down the prices of many of the leading 5G stocks. 5G is here and right now – we're in maybe the top of the second inning, in baseball terms. The explosion in spending and stock appreciation for the 5G pure plays is yet to come but very imminent, concentrated in 2020-2025.
For many of us who are approaching retirement (or already retired) and need a big win to secure our nest eggs, this may be the last "once in a lifetime opportunity" to accomplish that goal. Do your research, pay close attention to Navellier 5G stock recommendations and maintain a 5-year focus to capture the move.
Bryan Perry
SENIOR DIRECTOR
Bryan Perry is a Senior Director with Navellier Private Client Group, advising and facilitating high net worth investors in the pursuit of their financial goals.
Bryan's financial services career spanning the past three decades includes over 20 years of wealth management experience with Wall Street firms that include Bear Stearns, Lehman Brothers and Paine Webber, working with both retail and institutional clients. Bryan earned a B.A. in Political Science from Virginia Polytechnic Institute & State University and currently holds a Series 65 license. All content of "Income Mail" represents the opinion of Bryan Perry
Although information in these reports has been obtained from and is based upon sources that Navellier believes to be reliable, Navellier does not guarantee its accuracy and it may be incomplete or condensed. All opinions and estimates constitute Navellier's judgment as of the date the report was created and are subject to change without notice. These reports are for informational purposes only and are not intended as an offer or solicitation for the purchase or sale of a security. Any decision to purchase securities mentioned in these reports must take into account existing public information on such securities or any registered prospectus.
Past performance is no indication of future results. Investment in securities involves significant risk and has the potential for partial or complete loss of funds invested. It should not be assumed that any securities recommendations made by Navellier. in the future will be profitable or equal the performance of securities made in this report.
Dividend payments are not guaranteed. The amount of a dividend payment, if any, can vary over time and issuers may reduce dividends paid on securities in the event of a recession or adverse event affecting a specific industry or issuer.
None of the stock information, data, and company information presented herein constitutes a recommendation by Navellier or a solicitation of any offer to buy or sell any securities. Any specific securities identified and described do not represent all of the securities purchased, sold, or recommended for advisory clients. The reader should not assume that investments in the securities identified and discussed were or will be profitable.
Information presented is general information that does not take into account your individual circumstances, financial situation, or needs, nor does it present a personalized recommendation to you. Individual stocks presented may not be suitable for you. Investment in securities involves significant risk and has the potential for partial or complete loss of funds invested. Investment in fixed income securities has the potential for the investment return and principal value of an investment to fluctuate so that an investor's holdings, when redeemed, may be worth less than their original cost.
One cannot invest directly in an index. Results presented include the reinvestment of all dividends and other earnings.
Past performance is no indication of future results.
FEDERAL TAX ADVICE DISCLAIMER: As required by U.S. Treasury Regulations, you are informed that, to the extent this presentation includes any federal tax advice, the presentation is not intended or written by Navellier to be used, and cannot be used, for the purpose of avoiding federal tax penalties. Navellier does not advise on any income tax requirements or issues. Use of any information presented by Navellier is for general information only and does not represent tax advice either express or implied. You are encouraged to seek professional tax advice for income tax questions and assistance.
IMPORTANT NEWSLETTER DISCLOSURE: The hypothetical performance results for investment newsletters that are authored or edited by Louis Navellier, including Louis Navellier's Growth Investor, Louis Navellier's Breakthrough Stocks, Louis Navellier's Accelerated Profits, and Louis Navellier's Platinum Club, are not based on any actual securities trading, portfolio, or accounts, and the newsletters' reported hypothetical performances should be considered mere "paper" or proforma hypothetical performance results and are not actual performance of real world trades.  Navellier & Associates, Inc. does not have any relation to or affiliation with the owner of these newsletters. There are material differences between Navellier Investment Products' portfolios and the InvestorPlace Media, LLC newsletter portfolios authored by Louis Navellier. The InvestorPlace Media, LLC newsletters contain hypothetical performance that do not include transaction costs, advisory fees, or other fees a client might incur if actual investments and trades were being made by an investor. As a result, newsletter performance should not be used to evaluate Navellier Investment services which are separate and different from the newsletters. The owner of the newsletters is InvestorPlace Media, LLC and any questions concerning the newsletters, including any newsletter advertising or hypothetical Newsletter performance claims, (which are calculated solely by Investor Place Media and not Navellier) should be referred to InvestorPlace Media, LLC at (800) 718-8289.
Please note that Navellier & Associates and the Navellier Private Client Group are managed completely independent of the newsletters owned and published by InvestorPlace Media, LLC and written and edited by Louis Navellier, and investment performance of the newsletters should in no way be considered indicative of potential future investment performance for any Navellier & Associates separately managed account portfolio. Potential investors should consult with their financial advisor before investing in any Navellier Investment Product.
Navellier claims compliance with Global Investment Performance Standards (GIPS). To receive a complete list and descriptions of Navellier's composites and/or a presentation that adheres to the GIPS standards, please contact Navellier or click here. It should not be assumed that any securities recommendations made by Navellier & Associates, Inc. in the future will be profitable or equal the performance of securities made in this report. Request here a list of recommendations made by Navellier & Associates, Inc. for the preceding twelve months, please contact Tim Hope at (775) 785-9416.