August 13, 2019
June is the official beginning of hurricane season, but June is for statistical wimps. Real hurricanes begin in August and peak in September. This chart for hurricane season also applies to stock market volatility:
Graphs are for illustrative and discussion purposes only. Please read important disclosures at the end of this commentary.
In recent years, we've seen greater volatility in pre-election-year Augusts, if the last three pre-election Augusts are any guide. Some pretty dramatic week-long market hurricanes struck during those months.
The first instance, in 2007, was a minor break in a five-year bull market, but it was the first sputter in the Great Recession of 2008. The real estate bubble had already popped by 2007. Home prices had already begun to decline, so their leveraged derivatives were declining faster. On August 9, 2007, the French bank BNP Paribas announced that it could not fairly value the underlying assets in three funds because of their exposure to U.S. subprime mortgages. The ECB immediately opened up nearly 100 billion euros ($130 billion) in credit and the Federal Reserve followed with $38 billion in "temporary reserves" to meet any credit crunch. The Dow dropped 5.83% in a week. On August 17, Fed Chairman Ben Bernanke decided to lower the discount rate 50 basis points to 5.75% and the market resumed rising, peaking in October.
The 2011 market hurricane was twice as long and deep as the 2007 "tropical storm." The brouhaha began with a debt downgrade of U.S. sovereign bonds and a vicious debate in Congress over raising the debt ceiling – something the current Congress has ignored, waiving the debt ceiling in an orgy of spending.
The maximum decline of the Dow in July-August 2011 reached 2,180 points – or 17%.
Graphs are for illustrative and discussion purposes only. Please read important disclosures at the end of this commentary.
The most notable characteristic of August 2011 was daily volatility. The days alternated up and down in jarring contrast. After the market had declined 10.9% from August 8 to 12, look at what happened next:
The net for the week was -175.59 points, but the ride was spectacular. At the same time, gold was soaring, as it is now. From a low of $1,483 per ounce on July 1, gold surpassed $1,900 by September 5, with the bulk of the rise (+$255) happening during the stock market chaos during the first three weeks of August.
The latest pre-election hurricane season was also a doozy, including a low-pressure system for the ages:
A Record "Low-Pressure System" Hit the Markets in August 2015
"A negative move of this magnitude has only been seen on two prior occasions since 1900 – on October 19, 1987 (Black Monday) and on May 13-14, 1940, when Germany invaded France (WWII)."
–JPMorgan Global Equity Strategy, "Equites Sell Off…" (August 25, 2015)
The August 2015 correction included a sudden 1,089-point drop on a computer glitch, as bids disappeared from the board in a scary opening. Here is the weekly summary, then I'll get into the gory daily details:
On the seventh day, the Journal rested. Friday was a ho-hum day, with the Dow falling 11 points, but after a two-day 988-point rise, the only top-of-page-1 Wall Street Journal headlines on Friday, August 28 were old news, on Hurricane Katrina (2005) and the economy: "A President Stops By to Celebrate the Resilience of New Orleans" and "Economy Shows Glimmers, Strains." A third big story covered a labor ruling. There was NOTHING about the stock market after a shockingly strong recovery. (Amazingly, the major indexes were up for the week: The Dow rose 1.1%, the S&P 500 rose 0.9%, and NASDAQ +2.6%.)
The Journal's weekend headline was positive, but far from accurate: "Swings Don't Shake Investors." Unfortunately, that was not true: A huge number of investors were "shaken" that week. For the week ending August 20, the August 21 Journal reported that "global equities suffered $8.3 billion of outflows in the week ended Thursday, representing the worst week in almost four months, according to data from Bank of America Merrill Lynch." But that was just the start. The selloff grew far worse the next week: $29.5 billion in equity funds were sold, according to Marketwatch ("Total Risk Surrender," August 28).
The greatest volume of fund sales came on the exact day the market bottomed out, August 25: "Investors pulled more money out of stocks funds in one day during the past week – Tuesday – than they did in any day in roughly the last eight years…. Tuesday's outflow was $19 billion…." So, the Journal's headline would have been more accurate to read: "Investors Bail out at Market Bottom." … as they usually do.
One big takeaway from this news: Don't sell in the middle of a low-volume, high-volatility market panic!
Here's what the low-pressure system of August 2015 looked like in context:
Graphs are for illustrative and discussion purposes only. Please read important disclosures at the end of this commentary.
Now we come to 2019. There may be greater declines later this month, but this August began with a bang:
The stated reason for the latest decline is a threat of tariffs to be instituted on September 1, and China's response with a currency devaluation and threatened trade retaliations, but these are all bargaining chips which could be resolved by September. We'll have to monitor the negotiations as they groan along, but history shows that anything crazy can happen during these lazy, hazy, crazy Augusts in pre-election years.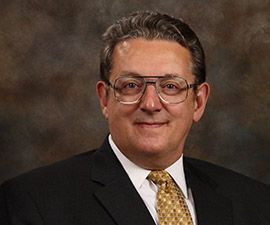 Gary Alexander
SENIOR EDITOR
Gary Alexander has been Senior Writer at Navellier since 2009.  He edits Navellier's weekly Marketmail and writes a weekly Growth Mail column, in which he uses market history to support the case for growth stocks.  For the previous 20 years before joining Navellier, he was Senior Executive Editor at InvestorPlace Media (formerly Phillips Publishing), where he worked with several leading investment analysts, including Louis Navellier (since 1997), helping launch Louis Navellier's Blue Chip Growth and Global Growth newsletters.
Prior to that, Gary edited Wealth Magazine and Gold Newsletter and wrote various investment research reports for Jefferson Financial in New Orleans in the 1980s.  He began his financial newsletter career with KCI Communications in 1980, where he served as consulting editor for Personal Finance newsletter while serving as general manager of KCI's Alexandria House book division.  Before that, he covered the economics beat for news magazines. All content of "Growth Mail" represents the opinion of Gary Alexander