August 6, 2019
The hit series "Game of Thrones" had a warning, "Winter is coming." I also had one: "August is coming."
On July 21st, I told you that August would bring lower prices and choppy markets. Here's a sample:
Last Friday, the S&P 500 closed at 2932.05, down 3.1% from its peak.
I also said that it was a good time to trim risk, take some profits, while not touching core positions. Why not? Because the market was just "overheated," not overvalued, and I wanted cash ready for when the market would inevitably pull back, a time when the market would likely resume its march higher.
Ten days later, I filmed an updated video for a publication of mine. It said: Buckle up; August is here; Wall Street should close the market and go away for the month. You can't always set your clocks to the market, but on August 1st, you usually can. Sure enough, the volatility started on cue.
Last week we saw buying early in the week, followed by heavy selling later in the week. Energy, especially Oil & Gas, saw huge selling. Nearly 80% of the universe of Energy stocks saw unusual institutional selling. Materials, Industrials, and Telecom also saw sell signals above 25%. Growth sectors like Tech and Consumers saw selling, but not at prices low enough to warrant signals – not yet.

Graphs are for illustrative and discussion purposes only. Please read important disclosures at the end of this commentary.
Bumpy August is here, and people are selling stocks. What does it mean for the market, and what do we do about it?
I'll boil it down for you in four words: Don't get shaken out.
It would be a Blockbuster mistake to let August (a normally volatile month) sway you from owning stocks.
By using the word Blockbuster, I'm referring to the fact that back in the year 2000, Netflix CEO Reed Hastings approached Blockbuster CEO John Antioco and offered to sell Netflix to him for $50 million. Antico thought Netflix was a cute idea but a small niche market, so he declined in favor of doing business with an Enron broadband-provider instead.
Ouch!
Imagine if he had ponied up $50 million instead. Netflix is now worth about $140 billion.
Well, don't let a choppy summer market cause you to have regrets later on about what you sold.
A Listen-in to our Weekly Friday Morning Conference Call
Every week, I discuss my column ideas with multi-billion-dollar money manager Louis Navellier and our editor Gary Alexander, who has edited Louis for 20+ years and also follows the gold market closely.
We address many topics, but we ultimately relate our reading to how the market sets up for the medium term. Near term, we agree that we wish we could close the market in August and return after Labor Day.
Here's what we talked about last Friday, August 2:
The market was back near highs when Trump dropped a tweet-bomb – tariffs on $300 billion of Chinese goods starting September 1. It's curious how he always reignites a trade war when the markets are at or near highs. I think he wants leverage and bargaining power at the trade talks. It's a strong-arm tactic that Trump relies on fairly often. China and America still need each other as trade partners and China's weakening economy and precarious political situation in Hong Kong weaken their position a touch. China may just be stalling toward the 2020 elections.
Trump's well-timed tweet was a great excuse for Europeans to flee equity risk and hide out in bonds so they can vacation in August worry-free! On Friday, the entire German bond yield curve went negative for the first time ever. That's right: no matter what maturity German bond you buy, you must pay to service the investment. That's how much people want "safety" over there.
The supply of rare gold coins is drying up dramatically. Why? European coin dealers (like most shop keepers) close their doors to go on vacation for, you guessed it, all of August. Incidentally, gold popped to a 6-year high of over $1,440 last week, with the biggest surge coming since last May:
Graphs are for illustrative and discussion purposes only. Please read important disclosures at the end of this commentary.
Stock buy-backs continue at a huge pace. S&P 500 companies are on pace for another $940 billion of stock buy-backs in 2019, according to Goldman Sachs. That should blow out the record buy-backs last year, courtesy of Trump's tax cut. And companies are shrewd about how they buy their shares.
The dividend-yield of the S&P 500 is way better than U.S. bonds, after taxes. The 10-year yield slipped to 1.855% on Friday. You get 37% more money in your pocket owning stocks vs. bonds.
Graphs are for illustrative and discussion purposes only. Please read important disclosures at the end of this commentary.
What was the consensus on our call? Louis summed it up: "Any time yields are this low: "Buy, buy, buy!"
Don't have a Blockbuster moment. Active traders may maneuver around summer air pockets, but the long game is just that – staying long. Hold the best stocks out there and ride through the chop. The underlying picture is bullish for stocks. Don't get shaken out of your best positions.
You may say, "What if there is no trade deal?" or "I heard the market is poised for a crash?" or … a bunch of other bearish what-ifs? It takes courage to stand pat in times of uncertainty. But as Winston Churchill said: "Courage is what it takes to stand up and speak; courage is also what it takes to sit down and listen."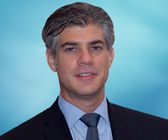 Jason Bodner
MARKETMAIL EDITOR FOR SECTOR SPOTLIGHT
Jason Bodner writes Sector Spotlight in the weekly Marketmail publication and has authored several white papers for the company. He is also Co-Founder of Macro Analytics for Professionals which produces proprietary equity accumulation/distribution research for its clients. Previously, Mr. Bodner served as Director of European Equity Derivatives for Cantor Fitzgerald Europe in London, then moved to the role of Head of Equity Derivatives North America for the same company in New York. He also served as S.V.P. Equity Derivatives for Jefferies, LLC. He received a B.S. in business administration in 1996, with honors, from Skidmore College as a member of the Periclean Honors Society. All content of "Sector Spotlight" represents the opinion of Jason Bodner
Although information in these reports has been obtained from and is based upon sources that Navellier believes to be reliable, Navellier does not guarantee its accuracy and it may be incomplete or condensed. All opinions and estimates constitute Navellier's judgment as of the date the report was created and are subject to change without notice. These reports are for informational purposes only and are not intended as an offer or solicitation for the purchase or sale of a security. Any decision to purchase securities mentioned in these reports must take into account existing public information on such securities or any registered prospectus.
Past performance is no indication of future results. Investment in securities involves significant risk and has the potential for partial or complete loss of funds invested. It should not be assumed that any securities recommendations made by Navellier. in the future will be profitable or equal the performance of securities made in this report.
Dividend payments are not guaranteed. The amount of a dividend payment, if any, can vary over time and issuers may reduce dividends paid on securities in the event of a recession or adverse event affecting a specific industry or issuer.
None of the stock information, data, and company information presented herein constitutes a recommendation by Navellier or a solicitation of any offer to buy or sell any securities. Any specific securities identified and described do not represent all of the securities purchased, sold, or recommended for advisory clients. The reader should not assume that investments in the securities identified and discussed were or will be profitable.
Information presented is general information that does not take into account your individual circumstances, financial situation, or needs, nor does it present a personalized recommendation to you. Individual stocks presented may not be suitable for you. Investment in securities involves significant risk and has the potential for partial or complete loss of funds invested. Investment in fixed income securities has the potential for the investment return and principal value of an investment to fluctuate so that an investor's holdings, when redeemed, may be worth less than their original cost.
One cannot invest directly in an index. Results presented include the reinvestment of all dividends and other earnings.
Past performance is no indication of future results.
FEDERAL TAX ADVICE DISCLAIMER: As required by U.S. Treasury Regulations, you are informed that, to the extent this presentation includes any federal tax advice, the presentation is not intended or written by Navellier to be used, and cannot be used, for the purpose of avoiding federal tax penalties. Navellier does not advise on any income tax requirements or issues. Use of any information presented by Navellier is for general information only and does not represent tax advice either express or implied. You are encouraged to seek professional tax advice for income tax questions and assistance.
IMPORTANT NEWSLETTER DISCLOSURE: The hypothetical performance results for investment newsletters that are authored or edited by Louis Navellier, including Louis Navellier's Growth Investor, Louis Navellier's Breakthrough Stocks, Louis Navellier's Accelerated Profits, and Louis Navellier's Platinum Club, are not based on any actual securities trading, portfolio, or accounts, and the newsletters' reported hypothetical performances should be considered mere "paper" or proforma hypothetical performance results and are not actual performance of real world trades.  Navellier & Associates, Inc. does not have any relation to or affiliation with the owner of these newsletters. There are material differences between Navellier Investment Products' portfolios and the InvestorPlace Media, LLC newsletter portfolios authored by Louis Navellier. The InvestorPlace Media, LLC newsletters contain hypothetical performance that do not include transaction costs, advisory fees, or other fees a client might incur if actual investments and trades were being made by an investor. As a result, newsletter performance should not be used to evaluate Navellier Investment services which are separate and different from the newsletters. The owner of the newsletters is InvestorPlace Media, LLC and any questions concerning the newsletters, including any newsletter advertising or hypothetical Newsletter performance claims, (which are calculated solely by Investor Place Media and not Navellier) should be referred to InvestorPlace Media, LLC at (800) 718-8289.
Please note that Navellier & Associates and the Navellier Private Client Group are managed completely independent of the newsletters owned and published by InvestorPlace Media, LLC and written and edited by Louis Navellier, and investment performance of the newsletters should in no way be considered indicative of potential future investment performance for any Navellier & Associates separately managed account portfolio. Potential investors should consult with their financial advisor before investing in any Navellier Investment Product.
Navellier claims compliance with Global Investment Performance Standards (GIPS). To receive a complete list and descriptions of Navellier's composites and/or a presentation that adheres to the GIPS standards, please contact Navellier or click here. It should not be assumed that any securities recommendations made by Navellier & Associates, Inc. in the future will be profitable or equal the performance of securities made in this report. Request here a list of recommendations made by Navellier & Associates, Inc. for the preceding twelve months, please contact Tim Hope at (775) 785-9416.