July 30, 2019
"…members of the S&P 500 index of big companies are forecast to say that second-quarter earnings per-share dropped by 3% compared with the prior year, the second consecutive quarter of mild decline."
–From an editorial in The Economist, July 20, 2019, "Soaring Stock Market, Peaking Profits"
The editors of The Economist seem puzzled by the U.S. stock market's soaring first half performance amid temporarily "peaking profits." While admitting that "America Inc. mints $1 billion every five hours" and "firms based there account for 33 cents of every dollar made by listed companies worldwide," they say "the underlying trend is one of stagnation." Maybe they are just trying to sell magazines among their generally anti-American audience, but they should know that the market looks forward, not backward.
Corporate profits are only flat now because they were up 24% last year, due mostly to lower tax rates, so year-over-year comparisons are tough. It's tempting to watch today's parade of earnings announcements for the second quarter or mixed guidance for the current quarter and then gulp over today's lofty prices, but it's far more profitable to look a year or two into the future. After all, that's what the market usually does. Remember, 2018 was a great year for earnings but a negative year for stocks. This year is the exact opposite – a great year for stocks but a negative year for earnings, so far. It all balances out in the end.
Instead, focus on the superb list of business fundamentals now lined up – very low interest rates and low inflation, super-low business tax rates, high corporate profit levels (12%), and rising sales revenues.
Looking out five years, analysts at the Institutional Brokers' Estimate System (I/B/E/S) use a Thomson Reuters database to track long-term earnings growth (LTEG). Their latest consensus median five-year annualized earnings growth rate for the S&P 500 was 14.4% during the week of July 11, 2019.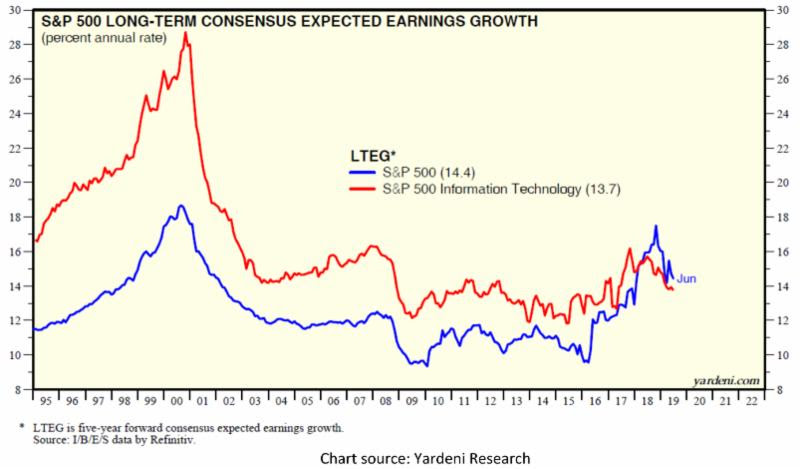 Graphs are for illustrative and discussion purposes only. Please read important disclosures at the end of this commentary.
The latest weekly reading is down from a recent peak of 17.5%, set in October 2018, during the previous market peak. The all-time high was 18.7% set in August 2000, when the Tech bubble was bursting. As you can see, tech's LTEG previously exceeded the S&P 500's LTEG until February of 2018, but in the week of July 11, 2019, Information Tech was slightly below the S&P 500's LTEG reading, at 13.7%.
Broken down by sector, the S&P 500's LTEG scorecard is now led strongly by Consumer Discretionary:
While the headlines have been warning us about a global slowdown all year, smart investors have heard all this before. (The "global slowdown" was a big story in early 2016. Must I dig out all the old headlines yet again?) Smart investors will ignore this top-down "wall of worry" story and focus on the bottom-up "slope of hope" for individual stocks and industries. That's why smart investors are buying good stocks.
What about Those High P/E Ratios?
With the S&P 500 around 3000 and current-year earnings estimated at $176.27, the forward P/E is about 17. That's high compared to the market's low P/E of 13.5 on December 24, 2018, but it's below the recent high of 18.6 on January 23, 2018. The historical average is about 15, but that is only an average, and it can vacillate depending on market and macro-economic conditions, which are now quite favorable.
Put simply, a P/E multiple tells you how many years of current earnings it would take to retrieve your purchase price. But if you flip the number over to an E/P ratio and apply it to income investments, a 2% yield would take you about 35 years to double your money (using the "rule of 70" for compound yields: 70 divided by two equals 35), so today's 2% interest rate environment delivers an "even playing field" between bonds and stocks, all things being equal, at a P/E ratio of a lofty 35-to-1, double today's level.
This theory doesn't always work out in practice due to the volatility of stocks and differing tax rates for stocks and bonds over time, but it is a rough way to evaluate tradeoffs between income and equity plays.
In addition, earnings tend to grow over time, while interest income has tended to shrink over the last 38 years, as bond yields have generally fallen since reaching their all-time peak at 21%+ in early 1981.
Earnings may look negative, for now, but earnings for Q4'2019 are expected to be up 6.6%, bringing the full year up to +2.5%, while all of 2020 is currently projected to show earnings growth of +10.5%.
And here's something else to keep in mind during the next election year. Who is better for earnings?

In conclusion, the U.S. remains the oasis for both positive interest rates (vs. Europe or Japan) and for equities due to our stable economic growth. The U.S. weathered the Great Recession better than other major economies. The U.S. economy has chronic trade deficits, but the flip side is that the U.S. enjoys capital surpluses and is not reliant on exports, as many Asian economies are. As a result, our capital market is the biggest in the world and routinely finances start-up companies that dominate global markets (try to name a great European startup in the last 30 years). The U.S. economy and markets are more diversified than other national economies. Another positive sign is that corporate profit margins have remained above 12% all year long, despite rising labor costs, higher tariffs, and a strong dollar.
Graphs are for illustrative and discussion purposes only. Please read important disclosures at the end of this commentary.
As economist Ed Yardeni wrote, "The combination of low inflation and interest rates with slow growth may result in a longer-than-usual economic expansion. The current one became the longest one on record just this month. If it keeps going, even at a slow pace, maybe it makes sense to pay relatively high P/Es."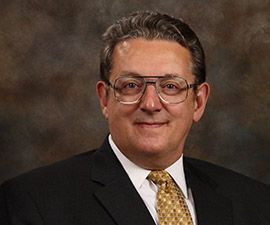 Gary Alexander
SENIOR EDITOR
Gary Alexander has been Senior Writer at Navellier since 2009.  He edits Navellier's weekly Marketmail and writes a weekly Growth Mail column, in which he uses market history to support the case for growth stocks.  For the previous 20 years before joining Navellier, he was Senior Executive Editor at InvestorPlace Media (formerly Phillips Publishing), where he worked with several leading investment analysts, including Louis Navellier (since 1997), helping launch Louis Navellier's Blue Chip Growth and Global Growth newsletters.
Prior to that, Gary edited Wealth Magazine and Gold Newsletter and wrote various investment research reports for Jefferson Financial in New Orleans in the 1980s.  He began his financial newsletter career with KCI Communications in 1980, where he served as consulting editor for Personal Finance newsletter while serving as general manager of KCI's Alexandria House book division.  Before that, he covered the economics beat for news magazines. All content of "Growth Mail" represents the opinion of Gary Alexander
Although information in these reports has been obtained from and is based upon sources that Navellier believes to be reliable, Navellier does not guarantee its accuracy and it may be incomplete or condensed. All opinions and estimates constitute Navellier's judgment as of the date the report was created and are subject to change without notice. These reports are for informational purposes only and are not intended as an offer or solicitation for the purchase or sale of a security. Any decision to purchase securities mentioned in these reports must take into account existing public information on such securities or any registered prospectus.
Past performance is no indication of future results. Investment in securities involves significant risk and has the potential for partial or complete loss of funds invested. It should not be assumed that any securities recommendations made by Navellier. in the future will be profitable or equal the performance of securities made in this report.
Dividend payments are not guaranteed. The amount of a dividend payment, if any, can vary over time and issuers may reduce dividends paid on securities in the event of a recession or adverse event affecting a specific industry or issuer.
None of the stock information, data, and company information presented herein constitutes a recommendation by Navellier or a solicitation of any offer to buy or sell any securities. Any specific securities identified and described do not represent all of the securities purchased, sold, or recommended for advisory clients. The reader should not assume that investments in the securities identified and discussed were or will be profitable.
Information presented is general information that does not take into account your individual circumstances, financial situation, or needs, nor does it present a personalized recommendation to you. Individual stocks presented may not be suitable for you. Investment in securities involves significant risk and has the potential for partial or complete loss of funds invested. Investment in fixed income securities has the potential for the investment return and principal value of an investment to fluctuate so that an investor's holdings, when redeemed, may be worth less than their original cost.
One cannot invest directly in an index. Results presented include the reinvestment of all dividends and other earnings.
Past performance is no indication of future results.
FEDERAL TAX ADVICE DISCLAIMER: As required by U.S. Treasury Regulations, you are informed that, to the extent this presentation includes any federal tax advice, the presentation is not intended or written by Navellier to be used, and cannot be used, for the purpose of avoiding federal tax penalties. Navellier does not advise on any income tax requirements or issues. Use of any information presented by Navellier is for general information only and does not represent tax advice either express or implied. You are encouraged to seek professional tax advice for income tax questions and assistance.
IMPORTANT NEWSLETTER DISCLOSURE: The hypothetical performance results for investment newsletters that are authored or edited by Louis Navellier, including Louis Navellier's Growth Investor, Louis Navellier's Breakthrough Stocks, Louis Navellier's Accelerated Profits, and Louis Navellier's Platinum Club, are not based on any actual securities trading, portfolio, or accounts, and the newsletters' reported hypothetical performances should be considered mere "paper" or proforma hypothetical performance results and are not actual performance of real world trades.  Navellier & Associates, Inc. does not have any relation to or affiliation with the owner of these newsletters. There are material differences between Navellier Investment Products' portfolios and the InvestorPlace Media, LLC newsletter portfolios authored by Louis Navellier. The InvestorPlace Media, LLC newsletters contain hypothetical performance that do not include transaction costs, advisory fees, or other fees a client might incur if actual investments and trades were being made by an investor. As a result, newsletter performance should not be used to evaluate Navellier Investment services which are separate and different from the newsletters. The owner of the newsletters is InvestorPlace Media, LLC and any questions concerning the newsletters, including any newsletter advertising or hypothetical Newsletter performance claims, (which are calculated solely by Investor Place Media and not Navellier) should be referred to InvestorPlace Media, LLC at (800) 718-8289.
Please note that Navellier & Associates and the Navellier Private Client Group are managed completely independent of the newsletters owned and published by InvestorPlace Media, LLC and written and edited by Louis Navellier, and investment performance of the newsletters should in no way be considered indicative of potential future investment performance for any Navellier & Associates separately managed account portfolio. Potential investors should consult with their financial advisor before investing in any Navellier Investment Product.
Navellier claims compliance with Global Investment Performance Standards (GIPS). To receive a complete list and descriptions of Navellier's composites and/or a presentation that adheres to the GIPS standards, please contact Navellier or click here. It should not be assumed that any securities recommendations made by Navellier & Associates, Inc. in the future will be profitable or equal the performance of securities made in this report. Request here a list of recommendations made by Navellier & Associates, Inc. for the preceding twelve months, please contact Tim Hope at (775) 785-9416.