May 7, 2019
There are 25 billion chickens on earth. What's cooler is that the chicken is the closest living relative of the Tyrannosaurus Rex. But the bird made news for a ridiculous reason last week. House Democrat Steve Cohen was trying to skewer Attorney General Barr for blowing off his hearing, so he sat down and started eating a bucket of KFC. His performance got mostly sour reviews, but I think that misses the point. He knew that an old dude crushing some fried chicken is entertainment, so he would make the evening news!
There are many perma-bears on the market, but I'm a perma-bearish on the financial media. I think it does the same thing as putting cameras on the "finger-lickin'" publicity stunt. Most daily noise takes away from what is really going on behind the scene, so let's put the drumsticks down and take a good look.
I just spent a week at a conference where bright minds gave their best investment ideas. I'll get to mine in a moment, but a main theme was that many people are bearish on stocks. I heard many reasons – like high valuations, historical analogs, and simply "the bull market is 10 years old," which was stated as a foregone conclusion, like "everyone knows the market has to fall pretty soon; it's only a matter of when, right?"
I heard this right before I told a room filled with 100+ people why this big bull is just getting started!
On a conference call with Louis Navellier on Friday morning, he said it best: "There's just nowhere else to go!" He's right. Europe is a mess. Germany and Italy teeter in and out of recession. Brexit is a major ulcer. China has made progress but hasn't resolved its trade issues with the U.S. Latin America is just downright ugly, especially with the woes in Argentina and Venezuela. (Talk of civil war is never a good thing for investors' nerves.) These pain points help lure trillions in capital here to the U.S.
When foreign capital arrives, Treasuries don't offer as compelling returns as equities. Dividends earned on U.S. stocks are taxed at long-term capital gains rates, while bond interest is taxed at ordinary income (higher) rates. Bonds also don't offer the capital appreciation potential of stocks. With 78% the S&P 500 reporting earnings, 76% beat estimates and 60% beat revenue estimates. That isn't bearish, people.
Semiconductors and Software Lead the Tech Charge
My investment idea at the conference came from the big buying I see in the market. I've been talking about this for a long time here. Without going over the same ground, the biggest buying I am seeing is in Semiconductors and Software. I think these two groups are raw fuel for the bull market. When big investors, like hedge funds and institutions, plow cash into these groups, it's very bullish for stocks.
Last week saw broad strength, especially small caps, despite turbulence under the surface. Earnings season is seeing outsized reactions to reports. Some companies meet or beat earnings, but if lower guidance is issued, they pay the price – literally. Stocks have been routinely seeing 10%-20% downside reactions to lower guidance warnings. But here's the thing: I think good stocks will bounce right back.
Graphs are for illustrative and discussion purposes only. Please read important disclosures at the end of this commentary.
In our MAP Score, we saw big buying again last week in Tech, Industrials, and Financials. Selling hit Energy, Health Care, Telecom, and Materials. This general theme has been playing out since the Christmas lows. Looking below, based on MAP scoring methodology, Infotech is our strongest sector, but Semis and Software are the standout tech industry groups. This is the power of the current tech rally.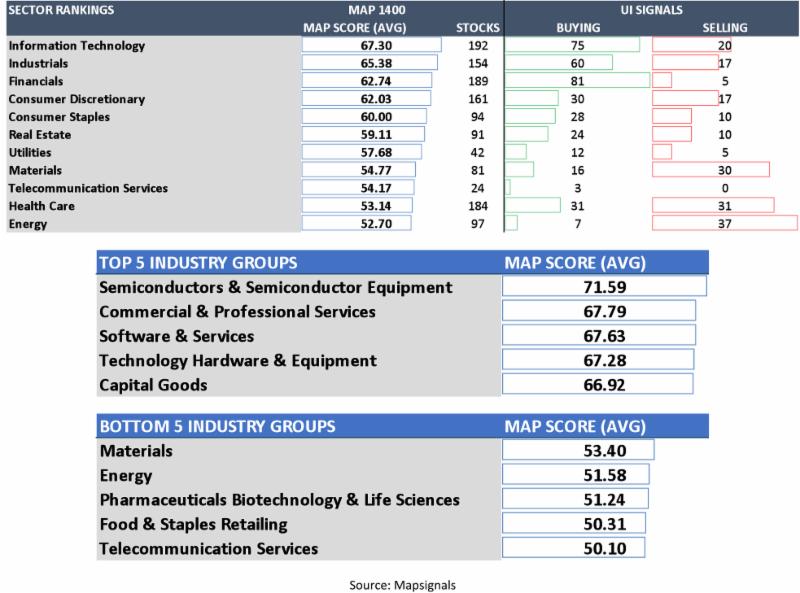 Graphs are for illustrative and discussion purposes only. Please read important disclosures at the end of this commentary.
I decided to comb through our 30 years of data to see how the current buying in Software and Semis compared to our nearly 650,000 overall signals since January 1, 1990. The first thing you should know is that big buying outnumbered big selling for all stocks in that time period by 58.5% to 41.5%. That makes sense, reflecting the overall bullish trend in that time period. Looking at the sectors, I noticed that Health Care, Infotech, and Utilities saw the biggest imbalance of buying versus selling. The weakest sectors in terms of unusual buying were Real Estate, Energy, and Telecom.
So let's focus on Information Technology: When we dig for what accounted for that buy imbalance, we see (you guessed it): Software and Semiconductors. What's significant is 62% of signals in Software and semis since 1990 were buys. But when you get to the bottom of the table, your eyes should pop. Since New Year's 2019, Semis saw 95% buy signals and Software saw 90% – that's unprecedented.
Graphs are for illustrative and discussion purposes only. Please read important disclosures at the end of this commentary.
Don't let the market's chicken-eaters distract you from the real trend. The game is Software and Semis. The biggest players have been fanning the flames for a bullish growth trend. Pay attention to the big stuff.
As Mark Zuckerberg said: "Figuring out what the next big trend is tells us what we should focus on."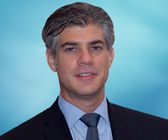 Jason Bodner
MARKETMAIL EDITOR FOR SECTOR SPOTLIGHT
Jason Bodner writes Sector Spotlight in the weekly Marketmail publication and has authored several white papers for the company. He is also Co-Founder of Macro Analytics for Professionals which produces proprietary equity accumulation/distribution research for its clients. Previously, Mr. Bodner served as Director of European Equity Derivatives for Cantor Fitzgerald Europe in London, then moved to the role of Head of Equity Derivatives North America for the same company in New York. He also served as S.V.P. Equity Derivatives for Jefferies, LLC. He received a B.S. in business administration in 1996, with honors, from Skidmore College as a member of the Periclean Honors Society. All content of "Sector Spotlight" represents the opinion of Jason Bodner
Although information in these reports has been obtained from and is based upon sources that Navellier believes to be reliable, Navellier does not guarantee its accuracy and it may be incomplete or condensed. All opinions and estimates constitute Navellier's judgment as of the date the report was created and are subject to change without notice. These reports are for informational purposes only and are not intended as an offer or solicitation for the purchase or sale of a security. Any decision to purchase securities mentioned in these reports must take into account existing public information on such securities or any registered prospectus.
Past performance is no indication of future results. Investment in securities involves significant risk and has the potential for partial or complete loss of funds invested. It should not be assumed that any securities recommendations made by Navellier. in the future will be profitable or equal the performance of securities made in this report.
Dividend payments are not guaranteed. The amount of a dividend payment, if any, can vary over time and issuers may reduce dividends paid on securities in the event of a recession or adverse event affecting a specific industry or issuer.
None of the stock information, data, and company information presented herein constitutes a recommendation by Navellier or a solicitation of any offer to buy or sell any securities. Any specific securities identified and described do not represent all of the securities purchased, sold, or recommended for advisory clients. The reader should not assume that investments in the securities identified and discussed were or will be profitable.
Information presented is general information that does not take into account your individual circumstances, financial situation, or needs, nor does it present a personalized recommendation to you. Individual stocks presented may not be suitable for you. Investment in securities involves significant risk and has the potential for partial or complete loss of funds invested. Investment in fixed income securities has the potential for the investment return and principal value of an investment to fluctuate so that an investor's holdings, when redeemed, may be worth less than their original cost.
One cannot invest directly in an index. Results presented include the reinvestment of all dividends and other earnings.
Past performance is no indication of future results.
FEDERAL TAX ADVICE DISCLAIMER: As required by U.S. Treasury Regulations, you are informed that, to the extent this presentation includes any federal tax advice, the presentation is not intended or written by Navellier to be used, and cannot be used, for the purpose of avoiding federal tax penalties. Navellier does not advise on any income tax requirements or issues. Use of any information presented by Navellier is for general information only and does not represent tax advice either express or implied. You are encouraged to seek professional tax advice for income tax questions and assistance.
IMPORTANT NEWSLETTER DISCLOSURE: The hypothetical performance results for investment newsletters that are authored or edited by Louis Navellier, including Louis Navellier's Growth Investor, Louis Navellier's Breakthrough Stocks, Louis Navellier's Accelerated Profits, and Louis Navellier's Platinum Club, are not based on any actual securities trading, portfolio, or accounts, and the newsletters' reported hypothetical performances should be considered mere "paper" or proforma hypothetical performance results and are not actual performance of real world trades.  Navellier & Associates, Inc. does not have any relation to or affiliation with the owner of these newsletters. There are material differences between Navellier Investment Products' portfolios and the InvestorPlace Media, LLC newsletter portfolios authored by Louis Navellier. The InvestorPlace Media, LLC newsletters contain hypothetical performance that do not include transaction costs, advisory fees, or other fees a client might incur if actual investments and trades were being made by an investor. As a result, newsletter performance should not be used to evaluate Navellier Investment services which are separate and different from the newsletters. The owner of the newsletters is InvestorPlace Media, LLC and any questions concerning the newsletters, including any newsletter advertising or hypothetical Newsletter performance claims, (which are calculated solely by Investor Place Media and not Navellier) should be referred to InvestorPlace Media, LLC at (800) 718-8289.
Please note that Navellier & Associates and the Navellier Private Client Group are managed completely independent of the newsletters owned and published by InvestorPlace Media, LLC and written and edited by Louis Navellier, and investment performance of the newsletters should in no way be considered indicative of potential future investment performance for any Navellier & Associates separately managed account portfolio. Potential investors should consult with their financial advisor before investing in any Navellier Investment Product.
Navellier claims compliance with Global Investment Performance Standards (GIPS). To receive a complete list and descriptions of Navellier's composites and/or a presentation that adheres to the GIPS standards, please contact Navellier or click here. It should not be assumed that any securities recommendations made by Navellier & Associates, Inc. in the future will be profitable or equal the performance of securities made in this report. Request here a list of recommendations made by Navellier & Associates, Inc. for the preceding twelve months, please contact Tim Hope at (775) 785-9416.