by Gary Alexander
April 7, 2020
The market will return, as it always has after all previous crises, so let me cover more lessons of history.
In reading a book last week ("Freedom's Forge: How American Business Produced Victory in World War II," by Arthur Herman), I'm reminded how American families and businesses won freedom for the world. It didn't start in 1940. The "Minutemen" of 1775 were private citizens available at a minute's notice. At sea, our "privateers" were entrepreneurs, and our first Army was mostly funded by private investors.
Between the two World Wars, America's military might virtually disappeared, but Robert Goddard, a private citizen, invented rocketry, several flyboys were perfecting airplane flight, and a private donor, Alfred Loomis, was funding research for both RADAR and enriching uranium. President Roosevelt later said Loomis contributed more to Allied victory than any other civilian except perhaps Winston Churchill.
As Hitler invaded France and bombed Britain in mid-1940, there were only two major democracies left, Britain and the U.S., and London was holding on by its fingernails, with the U.S. ill-prepared to help.
"Ships were scrapped or mothballed; fleet exercises were curtailed by a lack of fuel and support vessels .…From the fourth-biggest military force in the world in 1918, the United States Army shrank to #18, just ahead of tiny Holland. By 1939, the Army Air Corps, forerunner of the U.S Air Force, consisted of some 1600 planes, all fighters and trainers, and fewer than 20,000 officers and enlisted men."
–from "Freedom's Forge: How American Business Produced Victory in World War II," by Arthur Herman
We face coronavirus with a deficit much like we faced Germany and Japan in 1940, so this is relevant.
At Fort Benning, Georgia, in the summer of 1939, Brigadier General George S. Patton had 325 tanks "but no reliable nuts and bolts to hold them together." He couldn't get these simple supplies through regular government channels, so he ordered them "at his own expense from the Sears and Roebuck catalogue."
When President Roosevelt announced plans for making 50,000 planes a year (which he soon exceeded), Hitler scoffed, saying, "What is America but beauty queens, millionaires, stupid records and Hollywood?"
In 1940, General George C. Marshall confided to President Roosevelt that, "If five German divisions landed anywhere on the coast, they could go anywhere they wished. If you don't do something and do it right away, I don't know what is going to happen to this country." Meanwhile, on the other front, Japan's admiral Yamamoto famously said he feared the attack on Pearl Harbor had "awakened a sleeping giant."
That's what happened. From 1940 to 1945, American businesses retooled their factories and "produced two thirds of all Allied military equipment used in World War II. That included 86,000 tanks, 2.5 million trucks and a half million jeeps, 286,000 warplanes, 8,800 naval vessels, 5,600 merchant ships, 434 million tons of steel, 2.6 million machine guns, and 41 billion rounds of ammunition – not to mention the greatest super bomber of the war, the B-29, and the atomic bomb," winning two wars across two oceans.
FDR drafted businessmen like William Signius Knudsen, a Danish immigrant who worked his way up from the shop floor to become president of General Motors. In 1940, FDR asked Knudsen to leave GM and accept a commission as a lieutenant general to head up industrial production for the U.S. Army.  
Navellier & Associates does not own GM in managed accounts and a sub-advised mutual fund.  Gary Alexander does not own GM in personal accounts.
On the naval side, FDR enlisted construction giant Henry Kaiser, who built the bulk of America's ships.
Many executives volunteered to work at a salary of $1 per year. Many of these "dollar-a-year men" had never been to college – they hadn't even heard of the term "MBA." According to Herman, their biggest foes weren't German or Japanese soldiers, but "Washington politicians, and bureaucrats, shrill journalists, military martinets, the denizens of Big Labor as well as Big Government," who fought daily turf wars.
Think these executives' jobs were softer than a soldier's lot? Not necessarily so. As Herman points out:
"Many paid a terrible price. American workers in war-related industries in 1942-43 died or were injured in numbers 20 times greater than the American servicemen killed or wounded in those same years. At General Motors alone, 189 senior executives died on the job during the war." (Explanation: Most U.S. battle deaths were in 1944-45, since 1942-43 were mostly years of training and staging.)
The Same is True Today – We've Fallen Behind in Medical Supplies and Must Catch Up Fast
Just as the U.S. had fallen in military might from 1920 to 1940, America fell behind in the production of medical supplies and equipment since 2000.  We had sub-contracted our pharmaceutical production to China and had become short of emergency care hospital beds. In the last 20 years, 20 hospitals were closed in New York City, and New York state hospital beds have fallen 13% per capita since 2010.
Private donations and voluntarism have always been central to the development of the U.S. health care system. FDR initiated the March of Dimes to help cure the polio which afflicted him, and that led to the Salk vaccine. Private gifts by Johns Hopkins (an entrepreneur and abolitionist), GM executives Alfred Sloan and Charles Kettering (for the Memorial Sloan-Kettering clinic), and founding gifts by (like 'em or not) John D. Rockefeller, Howard Hughes, and David Koch helped build leading medical research centers.
On the micro-level, our little clinic on our small island was founded by private donations in the 1970s, and my wife's friends' quilting circles are busy stitching facial masks for friends and family to fill the shortage of masks for private citizens so that medical workers and emergency workers get N95 masks.
On March 25, The New York Times noted this trend ("A Sewing Army, Making Masks for America"):
"They are scrounging for fabric, cutting it up, stitching it together. They are repurposing drapes, dresses, bra straps, shower curtains, even coffee filters. They are building supply chains, organizing workers, managing distribution networks. Most of all, they are sewing. All over the country, homebound Americans are crafting thousands upon thousands of face masks to help shield doctors, nurses and many others from the coronavirus… They are working in living rooms, at kitchen tables and inside shuttered storefronts. They are making masks for America, much as a previous generation manufactured ammunition and tended victory gardens during World War II."
Corporations like "My Pillow" are currently making 10,000 surgical masks a day, and 3M is producing millions, although the company has come under criticism for selling them to "foreigners" like Canada.
I have no problem with 3M trading by contract with Canada. After all, the U.S. was armorer to the entire Allied nations in World War II, not to our own GIs. As a Canadian friend wrote me last Friday:
"President Trump's decision to block 3M from filling its order from Canada is causing a major upset here.  The whole basis of integrated free trade is called into question if this is the direction things go. 'America First' rather than working together means 'Canada First' too, and every other nation doing the same. Apparently, the sole source of paper for the top-end respirator masks so needed by doctors and nurses comes from a paper mill in Nanaimo, BC. 3M imports that and manufactures masks to supply customers."
We just passed a new North American trade deal, so why not honor it with our friendly neighbors? We need to seek all the facts in any situation before reacting emotionally based on biased news reporting. 
Navellier & Associates does not own MMM in managed accounts and a sub-advised mutual fund.  Gary Alexander does not own MMM in personal accounts.
In the meantime, we can all help. In some cases, younger people are volunteering to shop for shut-ins and older people. It's time for businesses and private citizens once again to seek ways to help solve this crisis.
If I could close on a lighter note, I research historic popular music of the mid-20th century for my weekly radio programs. There are some obviously patriotic songs (like "God Bless America"), but Eddie Cantor sang this comic ode to the blackouts in New York that may resonate with today's stay-at-home regimen:
"We're Staying Home Tonight
My baby and me
Doing the patriotic thing.
I've got my income-tax return to hurdle,
And she'll be saving mileage on her girdle.
Don't want to roam tonight,
We're snug as can be,
Being alone is so sublime.
While I sit in my slippers, and munch a piece of fruit,
She'll iron out the wrinkles in my Victory Suit.
We're staying home tonight, my baby and me
Doing the patriotic thing."
–Lyrics by Frank Loesser for the movie, "Thank Your Lucky Stars" (1943)
Check out some old black-and-white World War II movies and catch the spirit.
All content above represents the opinion of Gary Alexander of Navellier & Associates, Inc.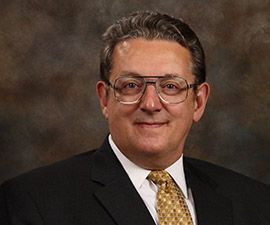 Gary Alexander
SENIOR EDITOR
Gary Alexander has been Senior Writer at Navellier since 2009.  He edits Navellier's weekly Marketmail and writes a weekly Growth Mail column, in which he uses market history to support the case for growth stocks.  For the previous 20 years before joining Navellier, he was Senior Executive Editor at InvestorPlace Media (formerly Phillips Publishing), where he worked with several leading investment analysts, including Louis Navellier (since 1997), helping launch Louis Navellier's Blue Chip Growth and Global Growth newsletters.
Prior to that, Gary edited Wealth Magazine and Gold Newsletter and wrote various investment research reports for Jefferson Financial in New Orleans in the 1980s.  He began his financial newsletter career with KCI Communications in 1980, where he served as consulting editor for Personal Finance newsletter while serving as general manager of KCI's Alexandria House book division.  Before that, he covered the economics beat for news magazines. All content of "Growth Mail" represents the opinion of Gary Alexander
Important Disclosures:
Although information in these reports has been obtained from and is based upon sources that Navellier believes to be reliable, Navellier does not guarantee its accuracy and it may be incomplete or condensed. All opinions and estimates constitute Navellier's judgment as of the date the report was created and are subject to change without notice. These reports are for informational purposes only and are not a solicitation for the purchase or sale of a security. Any decision to purchase securities mentioned in these reports must take into account existing public information on such securities or any registered prospectus.To the extent permitted by law, neither Navellier & Associates, Inc., nor any of its affiliates, agents, or service providers assumes any liability or responsibility nor owes any duty of care for any consequences of any person acting or refraining to act in reliance on the information contained in this communication or for any decision based on it.
Past performance is no indication of future results. Investment in securities involves significant risk and has the potential for partial or complete loss of funds invested. It should not be assumed that any securities recommendations made by Navellier. in the future will be profitable or equal the performance of securities made in this report. Dividend payments are not guaranteed. The amount of a dividend payment, if any, can vary over time and issuers may reduce dividends paid on securities in the event of a recession or adverse event affecting a specific industry or issuer.
None of the stock information, data, and company information presented herein constitutes a recommendation by Navellier or a solicitation to buy or sell any securities. Any specific securities identified and described do not represent all of the securities purchased, sold, or recommended for advisory clients. The holdings identified do not represent all of the securities purchased, sold, or recommended for advisory clients and the reader should not assume that investments in the securities identified and discussed were or will be profitable.
Information presented is general information that does not take into account your individual circumstances, financial situation, or needs, nor does it present a personalized recommendation to you. Individual stocks presented may not be suitable for every investor. Investment in securities involves significant risk and has the potential for partial or complete loss of funds invested. Investment in fixed income securities has the potential for the investment return and principal value of an investment to fluctuate so that an investor's holdings, when redeemed, may be worth less than their original cost.
One cannot invest directly in an index. Index is unmanaged and index performance does not reflect deduction of fees, expenses, or taxes. Presentation of Index data does not reflect a belief by Navellier that any stock index constitutes an investment alternative to any Navellier equity strategy or is necessarily comparable to such strategies. Among the most important differences between the Indices and Navellier strategies are that the Navellier equity strategies may (1) incur material management fees, (2) concentrate its investments in relatively few stocks, industries, or sectors, (3) have significantly greater trading activity and related costs, and (4) be significantly more or less volatile than the Indices.
ETF Risk: We may invest in exchange traded funds ("ETFs") and some of our investment strategies are generally fully invested in ETFs. Like traditional mutual funds, ETFs charge asset-based fees, but they generally do not charge initial sales charges or redemption fees and investors typically pay only customary brokerage fees to buy and sell ETF shares. The fees and costs charged by ETFs held in client accounts will not be deducted from the compensation the client pays Navellier. ETF prices can fluctuate up or down, and a client account could lose money investing in an ETF if the prices of the securities owned by the ETF go down. ETFs are subject to additional risks:
ETF shares may trade above or below their net asset value;
An active trading market for an ETF's shares may not develop or be maintained;
The value of an ETF may be more volatile than the underlying portfolio of securities the ETF is designed to track;
The cost of owning shares of the ETF may exceed those a client would incur by directly investing in the underlying securities; and
Trading of an ETF's shares may be halted if the listing exchange's officials deem it appropriate, the shares are delisted from the exchange, or the activation of market-wide "circuit breakers" (which are tied to large decreases in stock prices) halts stock trading generally.
Grader Disclosures: Investment in equity strategies involves substantial risk and has the potential for partial or complete loss of funds invested. The sample portfolio and any accompanying charts are for informational purposes only and are not to be construed as a solicitation to buy or sell any financial instrument and should not be relied upon as the sole factor in an investment making decision. As a matter of normal and important disclosures to you, as a potential investor, please consider the following: The performance presented is not based on any actual securities trading, portfolio, or accounts, and the reported performance of the A, B, C, D, and F portfolios (collectively the "model portfolios") should be considered mere "paper" or pro forma performance results based on Navellier's research.
Investors evaluating any of Navellier & Associates, Inc.'s, (or its affiliates') Investment Products must not use any information presented here, including the performance figures of the model portfolios, in their evaluation of any Navellier Investment Products. Navellier Investment Products include the firm's mutual funds and managed accounts. The model portfolios, charts, and other information presented do not represent actual funded trades and are not actual funded portfolios. There are material differences between Navellier Investment Products' portfolios and the model portfolios, research, and performance figures presented here. The model portfolios and the research results (1) may contain stocks or ETFs that are illiquid and difficult to trade; (2) may contain stock or ETF holdings materially different from actual funded Navellier Investment Product portfolios; (3) include the reinvestment of all dividends and other earnings, estimated trading costs, commissions, or management fees; and, (4) may not reflect prices obtained in an actual funded Navellier Investment Product portfolio. For these and other reasons, the reported performances of model portfolios do not reflect the performance results of Navellier's actually funded and traded Investment Products. In most cases, Navellier's Investment Products have materially lower performance results than the performances of the model portfolios presented.
This report contains statements that are, or may be considered to be, forward-looking statements. All statements that are not historical facts, including statements about our beliefs or expectations, are "forward-looking statements" within the meaning of The U.S. Private Securities Litigation Reform Act of 1995. These statements may be identified by such forward-looking terminology as "expect," "estimate," "plan," "intend," "believe," "anticipate," "may," "will," "should," "could," "continue," "project," or similar statements or variations of such terms. Our forward-looking statements are based on a series of expectations, assumptions, and projections, are not guarantees of future results or performance, and involve substantial risks and uncertainty as described in Form ADV Part 2A of our filing with the Securities and Exchange Commission (SEC), which is available at www.adviserinfo.sec.gov or by requesting a copy by emailing info@navellier.com. All of our forward-looking statements are as of the date of this report only. We can give no assurance that such expectations or forward-looking statements will prove to be correct. Actual results may differ materially. You are urged to carefully consider all such factors.
FEDERAL TAX ADVICE DISCLAIMER: As required by U.S. Treasury Regulations, you are informed that, to the extent this presentation includes any federal tax advice, the presentation is not written by Navellier to be used, and cannot be used, for the purpose of avoiding federal tax penalties. Navellier does not advise on any income tax requirements or issues. Use of any information presented by Navellier is for general information only and does not represent tax advice either express or implied. You are encouraged to seek professional tax advice for income tax questions and assistance.
IMPORTANT NEWSLETTER DISCLOSURE:The hypothetical performance results for investment newsletters that are authored or edited by Louis Navellier, including Louis Navellier's Growth Investor, Louis Navellier's Breakthrough Stocks, Louis Navellier's Accelerated Profits, and Louis Navellier's Platinum Club, are not based on any actual securities trading, portfolio, or accounts, and the newsletters' reported hypothetical performances should be considered mere "paper" or proforma hypothetical performance results and are not actual performance of real world trades.  Navellier & Associates, Inc. does not have any relation to or affiliation with the owner of these newsletters. There are material differences between Navellier Investment Products' portfolios and the InvestorPlace Media, LLC newsletter portfolios authored by Louis Navellier. The InvestorPlace Media, LLC newsletters contain hypothetical performance that do not include transaction costs, advisory fees, or other fees a client might incur if actual investments and trades were being made by an investor. As a result, newsletter performance should not be used to evaluate Navellier Investment services which are separate and different from the newsletters. The owner of the newsletters is InvestorPlace Media, LLC and any questions concerning the newsletters, including any newsletter advertising or hypothetical Newsletter performance claims, (which are calculated solely by Investor Place Media and not Navellier) should be referred to InvestorPlace Media, LLC at (800) 718-8289.
Please note that Navellier & Associates and the Navellier Private Client Group are managed completely independent of the newsletters owned and published by InvestorPlace Media, LLC and written and edited by Louis Navellier, and investment performance of the newsletters should in no way be considered indicative of potential future investment performance for any Navellier & Associates separately managed account portfolio. Potential investors should consult with their financial advisor before investing in any Navellier Investment Product.
Navellier claims compliance with Global Investment Performance Standards (GIPS). To receive a complete list and descriptions of Navellier's composites and/or a presentation that adheres to the GIPS standards, please contact Navellier or click here. It should not be assumed that any securities recommendations made by Navellier & Associates, Inc. in the future will be profitable or equal the performance of securities made in this report.
FactSet Disclosure: Navellier does not independently calculate the statistical information included in the attached report. The calculation and the information are provided by FactSet, a company not related to Navellier. Although information contained in the report has been obtained from FactSet and is based on sources Navellier believes to be reliable, Navellier does not guarantee its accuracy, and it may be incomplete or condensed. The report and the related FactSet sourced information are provided on an "as is" basis. The user assumes the entire risk of any use made of this information. Investors should consider the report as only a single factor in making their investment decision. The report is for informational purposes only and is not intended as an offer or solicitation for the purchase or sale of a security. FactSet sourced information is the exclusive property of FactSet. Without prior written permission of FactSet, this information may not be reproduced, disseminated or used to create any financial products. All indices are unmanaged and performance of the indices include reinvestment of dividends and interest income, unless otherwise noted, are not illustrative of any particular investment and an investment cannot be made in any index. Past performance is no guarantee of future results.