by Gary Alexander
December 7, 2021
Last week, I profiled six books published in the second quarter of 2021. Here are six more, five of which debuted August through October, but I want to arrange them in three pairs to make a point about reading both (or all) sides of a subject to become fully informed. I certainly have my own point of view, which comes through in my writing; but I consult a balanced diet of sources, unlike most Americans, who seem trapped in an "echo chamber" of writers or speakers with similar belief systems, in one's "comfort zone."
For instance, I subscribe to about 10 magazines that have some sort of political slant on the markets or the economy (or book reviews), about half from the traditional right and half from the left. What you'll find here are dissonant pairings arranged by subject matter in a way that will help discern how to find truth.
First Pair: The Latest in a Valuable Series
Here are a pair of books that represent the latest in a series covering economics and markets, respectively. The first book is the second in a series that pits right vs. left in economics, with the scales slightly tilted to the left, while the second is the sixth in a series on investing by a more market-friendly economist.
Samuelson / Friedman: The Battle over the Free Market, by Nicholas Wapshott (published August 3, 2021, 384 pages) is a logical sequel to his 2012 book pitting John Maynard Keynes against Friedrich Hayek. Wapshott is a British journalist who previously profiled a more compatible political couple, "Ronald Reagan and Margaret Thatcher: A Political Marriage" (2007). All of his books are delightfully written in narrative (story) form rather than in statistical format or in deep philosophical debates.
Milton Friedman (1912-2006) and Paul Samuelson (1915-2009) were more compatible than Hayek and Keynes. Both were sons of Eastern European Jewish immigrants. Both lived to age 93 and were friends for over 60 years. Most importantly, they agreed to debate in public, in the popular press (Newsweek) in alternating regular columns for 18 years (1966 to 1984), allowing the general public to decide who made more sense. Much of this book is built on ideas raised in those Newsweek debates rather than their books.
Friedman is now out of favor (President Biden recently said, "Milton Friedman isn't running the show anymore"), so it's no surprise that Wapshott puts his thumb slightly on the scales in favor of Samuelson's centralized (Keynesian) solutions while dismissing Friedman's signature "monetarist" theories at the very time we're seeing post-COVID "fiat" (unbacked) paper money creating a major new round of inflation.
It was a particularly low blow to read the author's speculation that Friedman was partly to blame for the January 6 insurrection. I interviewed Friedman three times for over an hour each time from 1985 to 2002, and he was far more thoughtful, careful, and respectful than ever to encourage or abet any such acts. I would counter that Samuelson abetted the socialism rampant in America by praising the Soviet system.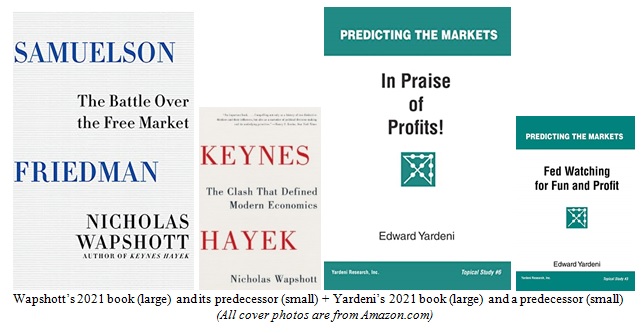 In Praise of Profits, by Edward Yardeni (October 25, 2021, 226 pages) is the sixth in his series of books for investors which began in 2019 with "The Yield Curve: What is it Really Predicting?" and then "Stock Buybacks: The True Story." These e-books are short enough to read in one or two sittings, and then you can use them as reference works. They each contain surprising results, fully supported by the research. For instance, the "stock buyback" story isn't about a diminishing supply of shares, since buy-backs most often replace the company's supply of shares to parcel out to employees in profit-sharing plans.
"In Praise of Profits" also goes down several unexpected alleys, including the debunking of myths about "stagnating wages" or "the expanding income inequality gap," since we must take into account income mobility, while also accounting for post-tax and benefit income, and shrinking household sizes. To top it off, you can buy these books for less than a cup of designer coffee – just $1.99 at most electronic outlets.
Second Book Pairing: How to Discern Statistical Misuses and Logical Fallacies
The Data Detective: Ten Easy Rules to Make Sense of Statistics by Tim Harford (February 2, 2021, 324 pages) is the latest in a long series of books (I think I've read them all) in the spirit of Darrell Huff's classic 1954 words-and-picture classic, "How to Lie with Statistics," which I bought in high school and still own. Huff's book got me interested in dissecting the journalistic misuse of numbers so much that I was designated "the elder stats-man" in our magazine staff at age 25. (Authors hated my numerical edits.)
In this book, Harford (who hosts a British TV series on statistics!) believes in the well-tended statistic, which he defines as "human behavior seen through the prism of numbers," representing "the only way of grasping much of what is going on." His 10 rules seem obvious, on the surface, but they can be hard to put into practice, since the deceivers are so many and so clever. Some samples are embedded in Rule #3: "Make sure you understand what is being counted" (definitions vary on what is a bean, or what is a crime, etc.); Rule #6: "Ask who or what is missing from the data" or Rule #9: "Overlook the beauty of the chart" to see what the X and Y axis truly represent. It's a lifelong battle, but it's certainly worth the effort.
Rationality: What It Is. Why It Seems Scarce. Why it Matters, by Steven Pinker (September 28, 2021, 432 pages) goes deeper than just statistics into the details of logical inferences and the vital "evidence from silence," which is very valuable in the next "Case Study" I've prepared. Pinker is one of my favorite authors for debunking the Doomsday cro wd, especially his 2011 book, "The Better Angels of Our Nature: Why Violence Has Declined." Not many seem to believe that the world has become extremely better off in nearly every metric in the last 50 years, but Pinker has the proof. I recommend this for his easy style and self-effacing manner, unlike any professor you may recall from logic classes in college days.
A Final Case Study: How to Understand the 2020 Election

Now I'll move into a practical case study. Left and right disagree violently over the last (2020) election – over the candidates and whether it was fair or not. How do we find a semblance of truth without all the ideological blinders? As difficult as it seems, we must listen to the best voices from both sides, as in a courtroom, defense vs. prosecutor, or as a well-run college debate would present both sides fairly.
PERIL, by Bob Woodward and Robert Costa (September 21, 2021, 506 pages) interviewed participants in a "first draft of history," woven into a readable story, but there should have been some push-back from the reporters. Why would they suspect that the only President in the last 40 years not to invade a foreign country suddenly wanted to invade China or Iran? Why would U.S. generals fall for this overreaction of enemy leaders? And why only interview the enemies of Trump? And why paint candidates Biden and Harris as angels, and Trump as constantly deranged? For instance, they paint Biden as being tireless in digging into the "granularity" of policy details in endless meetings, and Kamala Harris is "confident and athletic, with an easy laugh." Does any of this ring true? In my opinion, this is not reporting, it is cheerleading.
RIGGED: How the Media, Big Tech and Democrats Seized Our Elections, by Mollie Hemingway (October 12, 2021, 333 pages) covers the whole four years preceding November 3, 2020. For those who denigrate Trump and his team questioning the election results, she cites the Democrats challenging 2000, 2004, and especially 2016 results, with 86% of Democratic voters believing Trump had colluded with the Russian government to gain his victory. The media gave great credence to fabricated opposition research in the Steele Dossier, now discredited. Social media and nearly all TV outlets spiked any anti-Biden or pro-Trump news until after the election, so Hemingway is not saying the ballot boxes were stuffed as much as she claims that a consortium of elite power players rigged the outcome.
After the election, TIME confirmed that "a well-funded cabal of powerful people" funded the results. The most shocking allegation in the book is that Jeff Zuckerberg spent nearly half a billion "Zuck bucks" to "get out the vote," targeted about 5-to-1 in key precincts in swing states to swing the tide toward Biden.
This wraps up my top 12 books of 2021. Please note that four of the six books this week (all but Yardeni and Hemingway) are written by authors with a left-of-center bias, so there's no "echo chamber" here.
All content above represents the opinion of Gary Alexander of Navellier & Associates, Inc.
Marketmail Survey #13 is now closed.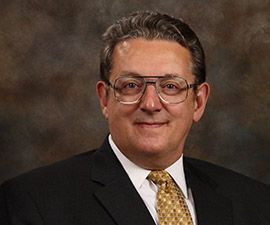 Gary Alexander
SENIOR EDITOR
Gary Alexander has been Senior Writer at Navellier since 2009.  He edits Navellier's weekly Marketmail and writes a weekly Growth Mail column, in which he uses market history to support the case for growth stocks.  For the previous 20 years before joining Navellier, he was Senior Executive Editor at InvestorPlace Media (formerly Phillips Publishing), where he worked with several leading investment analysts, including Louis Navellier (since 1997), helping launch Louis Navellier's Blue Chip Growth and Global Growth newsletters.
Prior to that, Gary edited Wealth Magazine and Gold Newsletter and wrote various investment research reports for Jefferson Financial in New Orleans in the 1980s.  He began his financial newsletter career with KCI Communications in 1980, where he served as consulting editor for Personal Finance newsletter while serving as general manager of KCI's Alexandria House book division.  Before that, he covered the economics beat for news magazines. All content of "Growth Mail" represents the opinion of Gary Alexander
Important Disclosures:
Although information in these reports has been obtained from and is based upon sources that Navellier believes to be reliable, Navellier does not guarantee its accuracy and it may be incomplete or condensed. All opinions and estimates constitute Navellier's judgment as of the date the report was created and are subject to change without notice. These reports are for informational purposes only and are not a solicitation for the purchase or sale of a security. Any decision to purchase securities mentioned in these reports must take into account existing public information on such securities or any registered prospectus.To the extent permitted by law, neither Navellier & Associates, Inc., nor any of its affiliates, agents, or service providers assumes any liability or responsibility nor owes any duty of care for any consequences of any person acting or refraining to act in reliance on the information contained in this communication or for any decision based on it.
Past performance is no indication of future results. Investment in securities involves significant risk and has the potential for partial or complete loss of funds invested. It should not be assumed that any securities recommendations made by Navellier. in the future will be profitable or equal the performance of securities made in this report. Dividend payments are not guaranteed. The amount of a dividend payment, if any, can vary over time and issuers may reduce dividends paid on securities in the event of a recession or adverse event affecting a specific industry or issuer.
None of the stock information, data, and company information presented herein constitutes a recommendation by Navellier or a solicitation to buy or sell any securities. Any specific securities identified and described do not represent all of the securities purchased, sold, or recommended for advisory clients. The holdings identified do not represent all of the securities purchased, sold, or recommended for advisory clients and the reader should not assume that investments in the securities identified and discussed were or will be profitable.
Information presented is general information that does not take into account your individual circumstances, financial situation, or needs, nor does it present a personalized recommendation to you. Individual stocks presented may not be suitable for every investor. Investment in securities involves significant risk and has the potential for partial or complete loss of funds invested. Investment in fixed income securities has the potential for the investment return and principal value of an investment to fluctuate so that an investor's holdings, when redeemed, may be worth less than their original cost.
One cannot invest directly in an index. Index is unmanaged and index performance does not reflect deduction of fees, expenses, or taxes. Presentation of Index data does not reflect a belief by Navellier that any stock index constitutes an investment alternative to any Navellier equity strategy or is necessarily comparable to such strategies. Among the most important differences between the Indices and Navellier strategies are that the Navellier equity strategies may (1) incur material management fees, (2) concentrate its investments in relatively few stocks, industries, or sectors, (3) have significantly greater trading activity and related costs, and (4) be significantly more or less volatile than the Indices.
ETF Risk: We may invest in exchange traded funds ("ETFs") and some of our investment strategies are generally fully invested in ETFs. Like traditional mutual funds, ETFs charge asset-based fees, but they generally do not charge initial sales charges or redemption fees and investors typically pay only customary brokerage fees to buy and sell ETF shares. The fees and costs charged by ETFs held in client accounts will not be deducted from the compensation the client pays Navellier. ETF prices can fluctuate up or down, and a client account could lose money investing in an ETF if the prices of the securities owned by the ETF go down. ETFs are subject to additional risks:
ETF shares may trade above or below their net asset value;
An active trading market for an ETF's shares may not develop or be maintained;
The value of an ETF may be more volatile than the underlying portfolio of securities the ETF is designed to track;
The cost of owning shares of the ETF may exceed those a client would incur by directly investing in the underlying securities; and
Trading of an ETF's shares may be halted if the listing exchange's officials deem it appropriate, the shares are delisted from the exchange, or the activation of market-wide "circuit breakers" (which are tied to large decreases in stock prices) halts stock trading generally.
Grader Disclosures: Investment in equity strategies involves substantial risk and has the potential for partial or complete loss of funds invested. The sample portfolio and any accompanying charts are for informational purposes only and are not to be construed as a solicitation to buy or sell any financial instrument and should not be relied upon as the sole factor in an investment making decision. As a matter of normal and important disclosures to you, as a potential investor, please consider the following: The performance presented is not based on any actual securities trading, portfolio, or accounts, and the reported performance of the A, B, C, D, and F portfolios (collectively the "model portfolios") should be considered mere "paper" or pro forma performance results based on Navellier's research.
Investors evaluating any of Navellier & Associates, Inc.'s, (or its affiliates') Investment Products must not use any information presented here, including the performance figures of the model portfolios, in their evaluation of any Navellier Investment Products. Navellier Investment Products include the firm's mutual funds and managed accounts. The model portfolios, charts, and other information presented do not represent actual funded trades and are not actual funded portfolios. There are material differences between Navellier Investment Products' portfolios and the model portfolios, research, and performance figures presented here. The model portfolios and the research results (1) may contain stocks or ETFs that are illiquid and difficult to trade; (2) may contain stock or ETF holdings materially different from actual funded Navellier Investment Product portfolios; (3) include the reinvestment of all dividends and other earnings, estimated trading costs, commissions, or management fees; and, (4) may not reflect prices obtained in an actual funded Navellier Investment Product portfolio. For these and other reasons, the reported performances of model portfolios do not reflect the performance results of Navellier's actually funded and traded Investment Products. In most cases, Navellier's Investment Products have materially lower performance results than the performances of the model portfolios presented.
This report contains statements that are, or may be considered to be, forward-looking statements. All statements that are not historical facts, including statements about our beliefs or expectations, are "forward-looking statements" within the meaning of The U.S. Private Securities Litigation Reform Act of 1995. These statements may be identified by such forward-looking terminology as "expect," "estimate," "plan," "intend," "believe," "anticipate," "may," "will," "should," "could," "continue," "project," or similar statements or variations of such terms. Our forward-looking statements are based on a series of expectations, assumptions, and projections, are not guarantees of future results or performance, and involve substantial risks and uncertainty as described in Form ADV Part 2A of our filing with the Securities and Exchange Commission (SEC), which is available at www.adviserinfo.sec.gov or by requesting a copy by emailing info@navellier.com. All of our forward-looking statements are as of the date of this report only. We can give no assurance that such expectations or forward-looking statements will prove to be correct. Actual results may differ materially. You are urged to carefully consider all such factors.
FEDERAL TAX ADVICE DISCLAIMER: As required by U.S. Treasury Regulations, you are informed that, to the extent this presentation includes any federal tax advice, the presentation is not written by Navellier to be used, and cannot be used, for the purpose of avoiding federal tax penalties. Navellier does not advise on any income tax requirements or issues. Use of any information presented by Navellier is for general information only and does not represent tax advice either express or implied. You are encouraged to seek professional tax advice for income tax questions and assistance.
IMPORTANT NEWSLETTER DISCLOSURE:The hypothetical performance results for investment newsletters that are authored or edited by Louis Navellier, including Louis Navellier's Growth Investor, Louis Navellier's Breakthrough Stocks, Louis Navellier's Accelerated Profits, and Louis Navellier's Platinum Club, are not based on any actual securities trading, portfolio, or accounts, and the newsletters' reported hypothetical performances should be considered mere "paper" or proforma hypothetical performance results and are not actual performance of real world trades.  Navellier & Associates, Inc. does not have any relation to or affiliation with the owner of these newsletters. There are material differences between Navellier Investment Products' portfolios and the InvestorPlace Media, LLC newsletter portfolios authored by Louis Navellier. The InvestorPlace Media, LLC newsletters contain hypothetical performance that do not include transaction costs, advisory fees, or other fees a client might incur if actual investments and trades were being made by an investor. As a result, newsletter performance should not be used to evaluate Navellier Investment services which are separate and different from the newsletters. The owner of the newsletters is InvestorPlace Media, LLC and any questions concerning the newsletters, including any newsletter advertising or hypothetical Newsletter performance claims, (which are calculated solely by Investor Place Media and not Navellier) should be referred to InvestorPlace Media, LLC at (800) 718-8289.
Please note that Navellier & Associates and the Navellier Private Client Group are managed completely independent of the newsletters owned and published by InvestorPlace Media, LLC and written and edited by Louis Navellier, and investment performance of the newsletters should in no way be considered indicative of potential future investment performance for any Navellier & Associates separately managed account portfolio. Potential investors should consult with their financial advisor before investing in any Navellier Investment Product.
Navellier claims compliance with Global Investment Performance Standards (GIPS). To receive a complete list and descriptions of Navellier's composites and/or a presentation that adheres to the GIPS standards, please contact Navellier or click here. It should not be assumed that any securities recommendations made by Navellier & Associates, Inc. in the future will be profitable or equal the performance of securities made in this report.
FactSet Disclosure: Navellier does not independently calculate the statistical information included in the attached report. The calculation and the information are provided by FactSet, a company not related to Navellier. Although information contained in the report has been obtained from FactSet and is based on sources Navellier believes to be reliable, Navellier does not guarantee its accuracy, and it may be incomplete or condensed. The report and the related FactSet sourced information are provided on an "as is" basis. The user assumes the entire risk of any use made of this information. Investors should consider the report as only a single factor in making their investment decision. The report is for informational purposes only and is not intended as an offer or solicitation for the purchase or sale of a security. FactSet sourced information is the exclusive property of FactSet. Without prior written permission of FactSet, this information may not be reproduced, disseminated or used to create any financial products. All indices are unmanaged and performance of the indices include reinvestment of dividends and interest income, unless otherwise noted, are not illustrative of any particular investment and an investment cannot be made in any index. Past performance is no guarantee of future results.