by Gary Alexander
December 6, 2022
This column may end up continuing my "Thanksgiving" streak into Part VI: Inflation is decelerating fast!
All through 2021, the Federal Reserve Board of Governors, led by Chairman Jerome Powell, along with Treasury Secretary Janet Yellen and President Biden's Amen Chorus, sang from the same hymnal page, that inflation was "transitory" and it was actually good for the economy. That didn't resonate well with millions of struggling families facing double-digit increases in necessary food, fuel, and housing costs.
These PhD pundits were wrong, of course, unless you define "transitory" as two years, because inflation will probably settle down early next year, because the Fed is doing what they should have done a lot sooner – vacuuming up much of the vast infusion of money supply to "fight COVID" or "stimulate" an economy that was already at warp speed (+5.6%) in 2021. Only in March 2022 did they start raising rates and then sop up $95 billion per month in "quantitative tightening" to reduce the Fed's balance sheet.
Graphs are for illustrative and discussion purposes only. Please read important disclosures at the end of this commentary.
Let us pause to define inflation. For far too long, "inflation" has meant "rising prices" to most Americans, but the term originally meant "rising money supply," as in the inflating of a balloon with a rising amount of air – like "inflating a tire." This is still the classic "Austrian" economic definition of inflation. The leading 20th Century Austrian economist, Ludwig von Mises, said in a lecture in West Virginia in 1951:
"Inflation, as this term was always used everywhere and especially in this country, means increasing the quantity of money and bank notes in circulation and the quantity of bank deposits subject to check. But people today use the term 'inflation' to refer to the phenomenon that is an inevitable consequence of inflation, that is the tendency of all prices and wage rates to rise. The result of this deplorable confusion is that there is no term left to signify the cause of this rise in prices and wages."
– Ludwig von Mises (1951).
About a decade later, two noted American economists reworded Mises' classic definition of inflation:
"The word 'inflation' originally applied solely to the quantity of money. It meant that the volume of money was inflated, blown up, overextended. It is not mere pedantry to insist that the word should be used only in its original meaning. To use it to mean 'a rise in prices' is to deflect attention away from the real cause of inflation and the real cure for it."
– Henry Hazlitt, in "What You Should Know About Inflation" (1960)
"Inflation is always and everywhere a monetary phenomenon, in the sense that it is and can be produced only by a more rapid increase in the quantity of money than in output."
– Milton Friedman (1963)
The cause-and-effect of printing and spending money is not immediate. The effect of money in the system to cause price increases generally takes 6-9 months. The same is true for deflationary policies, so the beginning of the Fed's decline in money supply in April 2022 should be felt around the start of 2023.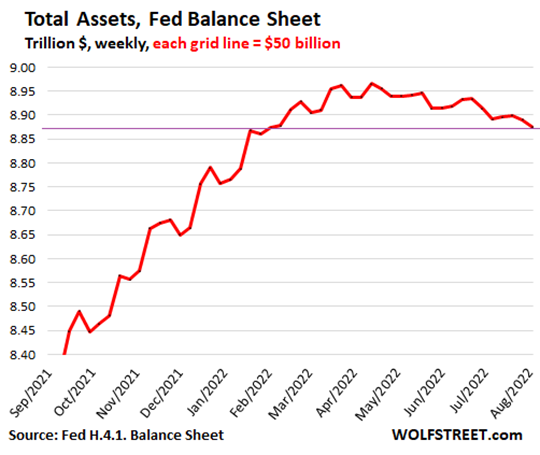 Graphs are for illustrative and discussion purposes only. Please read important disclosures at the end of this commentary.
So far, it looks like the Consumer Price Index for goods peaked at 14.2% (year over year) in March and is most recently at 8.6% in October. Price increases for durable goods peaked at 18.7% (y/y) in February and fell to 4.8% in October. With these peaks in mind, year-over-year figures could turn negative soon.
Graphs are for illustrative and discussion purposes only. Please read important disclosures at the end of this commentary.
Declines in prices of services will be stickier and more stubborn, but the Zillow Rent Index peaked at 17.1% y/y last February before falling to 9.6% in October, so rent growth rates might also slow next year. Wages and Social Security benefits are already slated to rise in 2023, but that is already baked in the cake.
Why Many Huge Long-Term Price Increases Are Illusory – or Even Deflationary
Consumer price complainers seldom cite prices that decline dramatically, but let me rehearse a few.
I recall flying coast-to-coast in 1975 for about $900 a ticket. It's half that now. A long-distance phone call could cost $2 a minute in prime time. Now, it's essentially free. I paid $475 for a new Encyclopedia Brittanica set in 1972. A far more complete Wikipedia online is essentially free. I paid $3,000 plus $500 for a printer for an in 1984 and it blew up every time I wrote eight pages or more. Now, I can buy a $399 laptop that stores gigabytes (with all these charts, too). An early calculator cost $500. The first cellphones felt like a brick (2 pounds), lasted 30 minutes without re-charging, and cost $3,995.
Need I go on?
But let me cite some items that have risen in price. You hear complaints about them all the time, but I'll give you the rest of the story, courtesy of a new book, "Superabundance" by Marian L. Tupy and Gale L. Pooley. They measure the amount of time it takes a median-salaried worker to buy a certain product.
Before I cite these examples, let me quote three all-important words at the end of Milton Friedman's definition of inflation as a "monetary phenomenon" (above). He refers to inflation as "a more rapid increase in the quantity of money than in output." Our wealth and output have grown so much in the last 50 years that you can't measure prices in a vacuum. You must measure our ability to pay those prices.
Here are some widely complained-about price increases of the last year (or the last 25 to 50 years):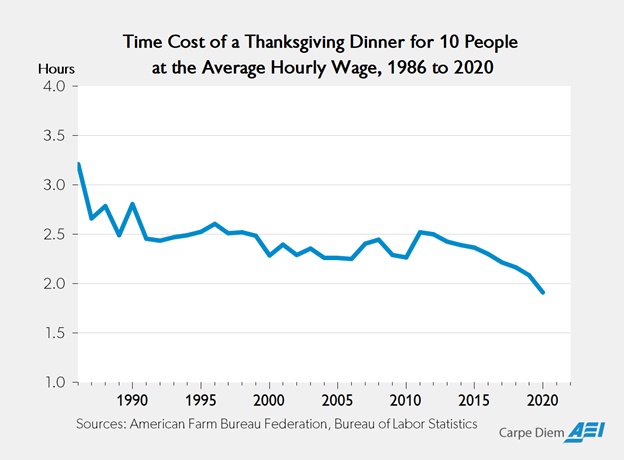 Graphs are for illustrative and discussion purposes only. Please read important disclosures at the end of this commentary.
#1: The Cost of a Thanksgiving Dinner. Unless you were on a remote desert island with no Internet service, you heard stories in the last month about the rapid rise in the cost of a traditional Thanksgiving dinner – this year, and over time. Since 1986, the American Farm Bureau Federation has conducted an annual price survey of food items in a typical Thanksgiving dinner designed for 10 people with plenty of leftovers, including a 16-pound turkey, a 30-ounce pumpkin pie mix, and lots of other goodies. In nominal terms, the cost of that dinner rose from $28.74 in 1986 to $46.90 in 2020, up 63.2%. In the same 34 years, inflation rose 135%, so the dinner rose less than half as fast as inflation, but the average unskilled worker put in 3.27 hours of labor for that dinner in 1986, and only 1.67 hours in 2020, or 40.3% less time. Blue-collar workers put in 38% less time for the turkey repast, and skilled workers put in 74.8% fewer hours! *
#2: Housing costs are incredibly higher, aren't they? Superabundance authors say: "Bill Bonner noted that 'it cost $23,000 in 1970 to put a roof over [one's] head. Today it's $240,000.' What he forgot to mention is that the average house in 1970 was 1,500 square feet. Today it's closer to 2,700 square feet…. The nominal price of a square foot of house in 1970 was $15.33 and the U.S. blue-collar hourly compensation rate was $3.93, indicating a time price (TP) of 3.9 hours per square foot. In 2019, the nominal price of a square foot of housing was $88.89, and the U.S. blue-collar hourly compensation rate was $32.36, indicating a TP of 2.75 hours per square foot. Those figures indicate that the price of housing declined by almost 30% between 1970 and 2019." For skilled workers, the time price decline was 67%. *
#3: Television and other electronic prices. Here's where the math gets crazy. I paid $500** for my first color TV console set in 1982, and it was a pretty rotten picture by today's standards. For much less than $500, I can get a fairly large HDTV flat screen now. In 1997, Sharp and Sony introduced their first 42-inch flat-screen TVs for about $15,000 each. That year the U.S. blue-collar hourly pay rate was $18.12 per hour, which works out to 828 hours to afford this early flat screen. In 2019, a large discount retail store advertised a 43-inch LCD set for $149, with the blue-collar hourly rate averaging $32.36, so it took just 4.6 hours of work to buy that set. It's 99.45% cheaper, a compounded savings of 26.7% per year. *
Using Moore's law, the transaction costs and storage rates in our computers are falling at similar rates.
So, tell me once again how fast prices are rising.
---
*These three examples are from pages 372, 431, and 465, respectively, of "Superabundance" by Tupy and Pooley
** I won the TV in a bank promotional contest, but the bank and the IRS told me the taxable retail value was $500.
All content above represents the opinion of Gary Alexander of Navellier & Associates, Inc.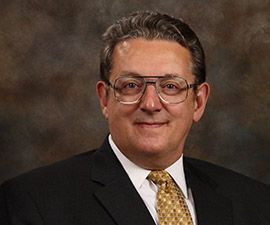 Gary Alexander
SENIOR EDITOR
Gary Alexander has been Senior Writer at Navellier since 2009.  He edits Navellier's weekly Marketmail and writes a weekly Growth Mail column, in which he uses market history to support the case for growth stocks.  For the previous 20 years before joining Navellier, he was Senior Executive Editor at InvestorPlace Media (formerly Phillips Publishing), where he worked with several leading investment analysts, including Louis Navellier (since 1997), helping launch Louis Navellier's Blue Chip Growth and Global Growth newsletters.
Prior to that, Gary edited Wealth Magazine and Gold Newsletter and wrote various investment research reports for Jefferson Financial in New Orleans in the 1980s.  He began his financial newsletter career with KCI Communications in 1980, where he served as consulting editor for Personal Finance newsletter while serving as general manager of KCI's Alexandria House book division.  Before that, he covered the economics beat for news magazines. All content of "Growth Mail" represents the opinion of Gary Alexander
Important Disclosures:
Although information in these reports has been obtained from and is based upon sources that Navellier believes to be reliable, Navellier does not guarantee its accuracy and it may be incomplete or condensed. All opinions and estimates constitute Navellier's judgment as of the date the report was created and are subject to change without notice. These reports are for informational purposes only and are not a solicitation for the purchase or sale of a security. Any decision to purchase securities mentioned in these reports must take into account existing public information on such securities or any registered prospectus.To the extent permitted by law, neither Navellier & Associates, Inc., nor any of its affiliates, agents, or service providers assumes any liability or responsibility nor owes any duty of care for any consequences of any person acting or refraining to act in reliance on the information contained in this communication or for any decision based on it.
Past performance is no indication of future results. Investment in securities involves significant risk and has the potential for partial or complete loss of funds invested. It should not be assumed that any securities recommendations made by Navellier. in the future will be profitable or equal the performance of securities made in this report. Dividend payments are not guaranteed. The amount of a dividend payment, if any, can vary over time and issuers may reduce dividends paid on securities in the event of a recession or adverse event affecting a specific industry or issuer.
None of the stock information, data, and company information presented herein constitutes a recommendation by Navellier or a solicitation to buy or sell any securities. Any specific securities identified and described do not represent all of the securities purchased, sold, or recommended for advisory clients. The holdings identified do not represent all of the securities purchased, sold, or recommended for advisory clients and the reader should not assume that investments in the securities identified and discussed were or will be profitable.
Information presented is general information that does not take into account your individual circumstances, financial situation, or needs, nor does it present a personalized recommendation to you. Individual stocks presented may not be suitable for every investor. Investment in securities involves significant risk and has the potential for partial or complete loss of funds invested. Investment in fixed income securities has the potential for the investment return and principal value of an investment to fluctuate so that an investor's holdings, when redeemed, may be worth less than their original cost.
One cannot invest directly in an index. Index is unmanaged and index performance does not reflect deduction of fees, expenses, or taxes. Presentation of Index data does not reflect a belief by Navellier that any stock index constitutes an investment alternative to any Navellier equity strategy or is necessarily comparable to such strategies. Among the most important differences between the Indices and Navellier strategies are that the Navellier equity strategies may (1) incur material management fees, (2) concentrate its investments in relatively few stocks, industries, or sectors, (3) have significantly greater trading activity and related costs, and (4) be significantly more or less volatile than the Indices.
ETF Risk: We may invest in exchange traded funds ("ETFs") and some of our investment strategies are generally fully invested in ETFs. Like traditional mutual funds, ETFs charge asset-based fees, but they generally do not charge initial sales charges or redemption fees and investors typically pay only customary brokerage fees to buy and sell ETF shares. The fees and costs charged by ETFs held in client accounts will not be deducted from the compensation the client pays Navellier. ETF prices can fluctuate up or down, and a client account could lose money investing in an ETF if the prices of the securities owned by the ETF go down. ETFs are subject to additional risks:
ETF shares may trade above or below their net asset value;
An active trading market for an ETF's shares may not develop or be maintained;
The value of an ETF may be more volatile than the underlying portfolio of securities the ETF is designed to track;
The cost of owning shares of the ETF may exceed those a client would incur by directly investing in the underlying securities; and
Trading of an ETF's shares may be halted if the listing exchange's officials deem it appropriate, the shares are delisted from the exchange, or the activation of market-wide "circuit breakers" (which are tied to large decreases in stock prices) halts stock trading generally.
Grader Disclosures: Investment in equity strategies involves substantial risk and has the potential for partial or complete loss of funds invested. The sample portfolio and any accompanying charts are for informational purposes only and are not to be construed as a solicitation to buy or sell any financial instrument and should not be relied upon as the sole factor in an investment making decision. As a matter of normal and important disclosures to you, as a potential investor, please consider the following: The performance presented is not based on any actual securities trading, portfolio, or accounts, and the reported performance of the A, B, C, D, and F portfolios (collectively the "model portfolios") should be considered mere "paper" or pro forma performance results based on Navellier's research.
Investors evaluating any of Navellier & Associates, Inc.'s, (or its affiliates') Investment Products must not use any information presented here, including the performance figures of the model portfolios, in their evaluation of any Navellier Investment Products. Navellier Investment Products include the firm's mutual funds and managed accounts. The model portfolios, charts, and other information presented do not represent actual funded trades and are not actual funded portfolios. There are material differences between Navellier Investment Products' portfolios and the model portfolios, research, and performance figures presented here. The model portfolios and the research results (1) may contain stocks or ETFs that are illiquid and difficult to trade; (2) may contain stock or ETF holdings materially different from actual funded Navellier Investment Product portfolios; (3) include the reinvestment of all dividends and other earnings, estimated trading costs, commissions, or management fees; and, (4) may not reflect prices obtained in an actual funded Navellier Investment Product portfolio. For these and other reasons, the reported performances of model portfolios do not reflect the performance results of Navellier's actually funded and traded Investment Products. In most cases, Navellier's Investment Products have materially lower performance results than the performances of the model portfolios presented.
This report contains statements that are, or may be considered to be, forward-looking statements. All statements that are not historical facts, including statements about our beliefs or expectations, are "forward-looking statements" within the meaning of The U.S. Private Securities Litigation Reform Act of 1995. These statements may be identified by such forward-looking terminology as "expect," "estimate," "plan," "intend," "believe," "anticipate," "may," "will," "should," "could," "continue," "project," or similar statements or variations of such terms. Our forward-looking statements are based on a series of expectations, assumptions, and projections, are not guarantees of future results or performance, and involve substantial risks and uncertainty as described in Form ADV Part 2A of our filing with the Securities and Exchange Commission (SEC), which is available at www.adviserinfo.sec.gov or by requesting a copy by emailing info@navellier.com. All of our forward-looking statements are as of the date of this report only. We can give no assurance that such expectations or forward-looking statements will prove to be correct. Actual results may differ materially. You are urged to carefully consider all such factors.
FEDERAL TAX ADVICE DISCLAIMER: As required by U.S. Treasury Regulations, you are informed that, to the extent this presentation includes any federal tax advice, the presentation is not written by Navellier to be used, and cannot be used, for the purpose of avoiding federal tax penalties. Navellier does not advise on any income tax requirements or issues. Use of any information presented by Navellier is for general information only and does not represent tax advice either express or implied. You are encouraged to seek professional tax advice for income tax questions and assistance.
IMPORTANT NEWSLETTER DISCLOSURE:The hypothetical performance results for investment newsletters that are authored or edited by Louis Navellier, including Louis Navellier's Growth Investor, Louis Navellier's Breakthrough Stocks, Louis Navellier's Accelerated Profits, and Louis Navellier's Platinum Club, are not based on any actual securities trading, portfolio, or accounts, and the newsletters' reported hypothetical performances should be considered mere "paper" or proforma hypothetical performance results and are not actual performance of real world trades.  Navellier & Associates, Inc. does not have any relation to or affiliation with the owner of these newsletters. There are material differences between Navellier Investment Products' portfolios and the InvestorPlace Media, LLC newsletter portfolios authored by Louis Navellier. The InvestorPlace Media, LLC newsletters contain hypothetical performance that do not include transaction costs, advisory fees, or other fees a client might incur if actual investments and trades were being made by an investor. As a result, newsletter performance should not be used to evaluate Navellier Investment services which are separate and different from the newsletters. The owner of the newsletters is InvestorPlace Media, LLC and any questions concerning the newsletters, including any newsletter advertising or hypothetical Newsletter performance claims, (which are calculated solely by Investor Place Media and not Navellier) should be referred to InvestorPlace Media, LLC at (800) 718-8289.
Please note that Navellier & Associates and the Navellier Private Client Group are managed completely independent of the newsletters owned and published by InvestorPlace Media, LLC and written and edited by Louis Navellier, and investment performance of the newsletters should in no way be considered indicative of potential future investment performance for any Navellier & Associates separately managed account portfolio. Potential investors should consult with their financial advisor before investing in any Navellier Investment Product.
Navellier claims compliance with Global Investment Performance Standards (GIPS). To receive a complete list and descriptions of Navellier's composites and/or a presentation that adheres to the GIPS standards, please contact Navellier or click here. It should not be assumed that any securities recommendations made by Navellier & Associates, Inc. in the future will be profitable or equal the performance of securities made in this report.
FactSet Disclosure: Navellier does not independently calculate the statistical information included in the attached report. The calculation and the information are provided by FactSet, a company not related to Navellier. Although information contained in the report has been obtained from FactSet and is based on sources Navellier believes to be reliable, Navellier does not guarantee its accuracy, and it may be incomplete or condensed. The report and the related FactSet sourced information are provided on an "as is" basis. The user assumes the entire risk of any use made of this information. Investors should consider the report as only a single factor in making their investment decision. The report is for informational purposes only and is not intended as an offer or solicitation for the purchase or sale of a security. FactSet sourced information is the exclusive property of FactSet. Without prior written permission of FactSet, this information may not be reproduced, disseminated or used to create any financial products. All indices are unmanaged and performance of the indices include reinvestment of dividends and interest income, unless otherwise noted, are not illustrative of any particular investment and an investment cannot be made in any index. Past performance is no guarantee of future results.