December 31, 2019
I have a much more pleasant task at the end of this year than last – when stocks closed 2018 on a dismal note, with the S&P and Dow down about 6% for the year and the Russell 2000 down 12.2%. But now, since their intra-day lows on December 26, 2018, the Dow is up 31.6%, the S&P 500 is up 38.2%, and NASDAQ has risen from barely 6190 to 9006 (+45.5%) as of Friday, December 27. In the 130 months since March 2009, this bull market is up 387% from a beastly low of 666 to 3240 in the S&P 500. It's the longest bull market in time, although not the largest gain in percentage terms, which goes to the 1990s bull, which gained 417%.
Now let me turn to the "defining event" or trend of the 2010s – like 9/11 or the 2008 financial crisis was to the previous decade, or the end of the Cold War and the rise of the Internet was to the 1990s. Quick: Name one or two defining events of the 2010s to rank with the gravity of previous decades. When I scanned five or six news services for their defining events of the decade now ending, they named (1) the capture and death of Osama bin Laden, (2) the election of Donald Trump, (3) Brexit, or (4) impeachment (neither consummated). They named various hurricanes, earthquakes, or disasters, but none out of the ordinary in historical terms.
Let's face it: This past decade was only newsworthy because a half-dozen cable news networks are on the air 24/7 telling us that every trivial event is newsworthy – and sadly, quite a few nut cases came out of their caves to try to create a name for themselves by going out in a blaze of fire – but there was nothing like a Cold War ending, or Internet invention, or 9/11, or 2008 crisis. We had Greek bond bailouts, but Greece is a third-rate euro-economy. We also had "Occupy Wall Street" for a season, but it was much ado about nothing.
By comparison, the 1910s had World War I and a global flu epidemic, and the 1810s had the Napoleonic wars and our War of 1812. The 2010s had Anthony Weiner, AOC, and a non-stop parade of other media celebrities.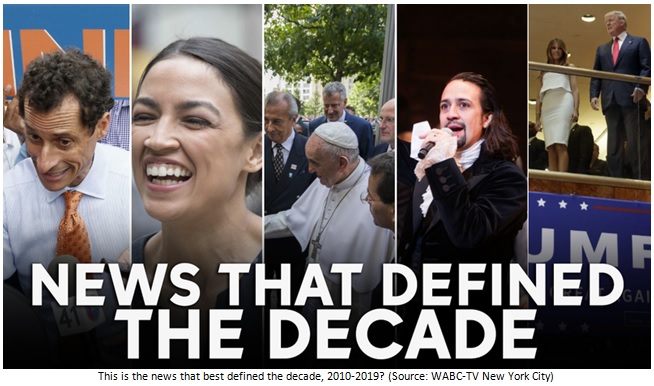 In economic terms, the 2010s were the Goldilocks decade. The 1980s delivered supercharged economic growth and the 1990s delivered the best decade ever in real stock market returns, while the opening decade of the New Millennium was the opposite – the worst decade ever, in terms of real total stock market returns. (The 1930s were a deflationary decade, so the losses were ameliorated by zero inflation and high dividends.)
On December 20, 2009, The Wall Street Journal confirmed this sad fact, writing, "Since the end of 1999, the Standard & Poor's 500-stock index has lost an average of 3.3% a year on an inflation-adjusted basis, compared with a 1.8% average annual gain during the 1930s when deflation afflicted the economy, according to data compiled by Charles Jones, finance professor at North Carolina State University."
Graphs are for illustrative and discussion purposes only. Please read important disclosures at the end of this commentary.
By contrast, the 2010 decade was a "Goldilocks" decade, with moderate GDP growth and moderate stock market gains, the 4th best stock market gains in the Dow's 12-decade history. We have been able to sustain the longest economic recovery, precisely because it has been a modest recovery with no great peaks or valleys.
The Dow's "Long Wave" Points Toward Continued Growth in the 2020s
In the 90 years since the stock market crash of 1929, we've seen roughly five down and up periods of 18 years each, although the breakdown is not precise. The following logarithmic chart shows a down market from 1929 to 1946, then a long post-war bull market from 1946 to 1966, an inflationary bear market until 1982, then El Toro Grande for 18 years, 1982-2000, and then a vague starting date of green around 2013.
The market bottom was clearly March 6-9, 2009, but there were near-20% declines in the summer of 2011, January-February 2016, and December 2018, so you could date bull markets from those bottoms as well.
Graphs are for illustrative and discussion purposes only. Please read important disclosures at the end of this commentary.
If you wanted to slice market history into six fairly even 16-18-year periods, it's amazing how different the returns would be, with the stock market only beginning to soar at the start of 2016, less than four years ago:
By most measures, the current bull market is approaching 11 years of age, so it may have about seven years left to reach the 18-year average length of the 1911-1929, 1947-1966, or 1982-2000 bull markets, but it may last even longer if you date its beginning later. We'll take up that question in 2027. For now, enjoy the ride.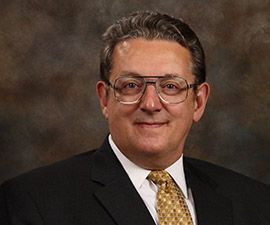 Gary Alexander
SENIOR EDITOR
Gary Alexander has been Senior Writer at Navellier since 2009.  He edits Navellier's weekly Marketmail and writes a weekly Growth Mail column, in which he uses market history to support the case for growth stocks.  For the previous 20 years before joining Navellier, he was Senior Executive Editor at InvestorPlace Media (formerly Phillips Publishing), where he worked with several leading investment analysts, including Louis Navellier (since 1997), helping launch Louis Navellier's Blue Chip Growth and Global Growth newsletters.
Prior to that, Gary edited Wealth Magazine and Gold Newsletter and wrote various investment research reports for Jefferson Financial in New Orleans in the 1980s.  He began his financial newsletter career with KCI Communications in 1980, where he served as consulting editor for Personal Finance newsletter while serving as general manager of KCI's Alexandria House book division.  Before that, he covered the economics beat for news magazines. All content of "Growth Mail" represents the opinion of Gary Alexander