December 3, 2019
I have raised some eyebrows lately with my forecast of 40,000 for the Dow Industrials by year-end 2020, but consider that President Trump will be on a perpetual promotion campaign for the stock market in 2020, commencing with his State of the Union speech. As a cheerleader for the U.S. economy, he simply has no peer. Even when his Democratic opponent is finalized at the National Convention in mid-July, I doubt that his opponent can match President Trump's economic enthusiasm and energy in campaigning.
In addition to having a "Cheerleader in Chief" propelling the stock market higher, improving earnings and positive guidance bode well for the stock market in 2020. Furthermore, the rush to buy high-dividend stocks bodes especially well for the Dow Industrials, which are loaded with reliable dividend growth stocks, like Apple, Boeing, Home Depot, Intel, McDonalds, Microsoft, Nike, Procter & Gamble, United Healthcare, Verizon Communications, Visa, Walmart and Walt Disney. All these stocks have boosted their dividends in the past couple of years and more dividend hikes are anticipated in 2020.
Navellier & Associates does not own Boeing, Nike, Procter & Gamble, United Healthcare, Verizon Communications, or Walmart in managed accounts or a sub-advised mutual fund but does own Apple, Home Depot, Intel, McDonalds, Microsoft, Visa and Walt Disney.  Louis Navellier and his family do own Apple, Boeing, Home Depot, and United Healthcare, in private accounts but do not own Intel, McDonalds, Microsoft, Nike, Procter & Gamble, United Healthcare, Verizon Communications, Visa, Walmart and Walt Disney.
I should add that the Dow Industrials have trailed the S&P 500 and NASDAQ this year, but the Dow 30 stocks currently yield a robust 2.73%, while the 10-year Treasury bond yields much less, approximately 1.78%, so in theory, even if the Dow Industrials rose 50%, its dividend yield would still exceed the current yield on 10-year Treasury bonds. Furthermore, since the Dow dividends keep steadily rising, the dividend yield would likely stay above the 10-year Treasury bond. As a result, my forecast of 40,000 on the Dow Industrials in 2020 is very possible, since yield hungry investors are still chasing quality dividends as well as a favorable 23.8% maximum federal tax rate on qualified dividends vs. a higher rate for bond income!
Economic Indicators Remain Mixed – For Now
The economic indicators are "mixed" for now, which means the Fed will likely stand pat on interest rates.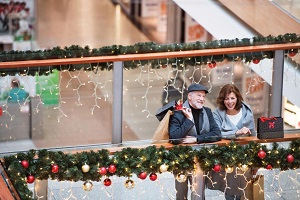 Last Tuesday, the Conference Board announced that its consumer confidence index dipped slightly to 125.5 in November, down from 126.1 in October, the fourth straight month that consumer confidence has declined and a bit of a surprise, since economists were expecting the index to rise to 126.6. However, Lynn Franco, senior director of economic indicators at The Conference Board, said that "short-term expectations improved modestly, and growth in early 2020 is likely to remain at around 2%. Overall, confidence levels are still high and should support solid spending during this holiday season."
Also on Tuesday, the Commerce Department announced that new home sales declined 0.7% in October to an annual pace of 733,000, substantially better than economists' consensus estimate of 705,000, but the good news was that September's new home sales were revised up to an annual pace of 738,000 from 701,000 previously reported. This is the first time since 2007 that new home sales were above 700,000 for three consecutive months. Furthermore, September's revised new home sales were running at the fastest pace in over 12 years. The median new home price is now $316,700 and there is now a 5.3-month supply at the current annual sales pace. This tight inventory bodes well for more new home starts ahead.
The Commerce Department announced on Wednesday that durable goods orders rose 0.6% in October, which was a pleasant surprise, since economists forecasted a 1.1% decline. Commercial aircraft orders rose 11%. Orders for new vehicles and parts declined 1.9% in October, so despite booming aircraft orders, excluding the transportation sector, durable goods orders still rose 0.6% in October. Business investment, which excludes defense and commercial aircraft orders, rose 1.2% in October, which is the biggest monthly gain since January. This dramatic uptick in core business orders is very encouraging, since these orders have fallen over the past year and has been indicative of weak business spending.
Business investment in the third quarter was revised up to a 1% decline from a 1.3% decline previously estimated, so third quarter GDP growth was revised up to a 2.1% annual gain, up from 1.9% previously reported. Consumer spending remained unchanged at a 2.9% annual pace in the third quarter and continued strong consumer spending will be crucial to fourth quarter GDP growth.
Black Friday and Cyber Monday sales provide some insight into consumer spending this holiday season. According to Adobe Analytics, Black Friday's online sales were $6.22 billion, up 23.6% compared to a year ago. This raises expectations for Cyber Monday sales. Since Thanksgiving was late this year, the holiday shopping comparisons are expected to be especially favorable. Overall, consumer spending remains strong, which bodes well for this holiday shopping season as well continued strong GDP growth!
Louis Navellier
CHIEF INVESTMENT OFFICER
Louis Navellier is Founder, Chairman of the Board, Chief Investment Officer and Chief Compliance Officer of Navellier & Associates, Inc., located in Reno, Nevada. With decades of experience translating what had been purely academic techniques into real market applications, he believes that disciplined, quantitative analysis can select stocks that will significantly outperform the overall market. All content in this "A Look Ahead" section of Market Mail represents the opinion of Louis Navellier of Navellier & Associates, Inc.