December 24, 2019
Last Christmas Eve, Santa was in a funk. Retail sales were down 2.2% for the month and the S&P 500 was down 15% through the 24th. (This year, the S&P is up 2.5% through the 20th and +37% in 12 months)
It's a story of naughty vs. nice Federal Reserve policies. Last year, the Fed raised interest rates one time too many in early December. This year, they cut rates three times. In the Depression, the Fed kept a throttle on the money supply, choking off commerce, while the Smoot-Hawley trade bill choked off global trade.
Please pardon the following musical discursion on Christmas Eve (but feel free to sing along, if you wish…)
In the depth of the Depression, the only hope was to spur sales – and maybe Christmas was the answer. On Thanksgiving 1934, Eddie Cantor sang on the radio, "You better watch out, you better not cry, you better not pout, I'm telling you why…" and Santa Claus became an instant hit, with orders for 500,000 copies of the sheet music and more than 30,000 records selling within 24 hours! The song created our first Black Friday sales event! It has since been recorded by over 200 artists – a hit that promotes gift buying for good children:
He's making a list, he's checking it twice
He's gonna find out who's naughty or nice…
Then it got sorta creepy – like a foretaste of Orwell's Big Brother:
He sees you when you're sleeping
He knows when you're awake
He knows if you've been bad or good
So be good for goodness' sake.
 —Lyrics by Haven Gillespie, whose mother gave her nine impoverished children these same warnings.
In 1934, Ray Evans played clarinet and sax in the University of Pennsylvania band with pianist Jay Livingston. Ray was studying economics at the Wharton School of Business. His senior thesis was "the relation between the central bank, member banks and the money market." Years later, Ray and Jay wrote Silver Bells, which promoted commerce, romanticized shopping for gifts, and even glorified gridlock:
Strings of streetlights, even stop lights
blink a bright red and green,
As the Shoppers rush home with their treasures.
— from "Silver Bells" (1950), by economist Ray Evans.
Enough entertainment! (I'm a weekend radio DJ, and yesterday I presented a 500-year three-hour history of Christmas music. This is just part of the final hour, the commercial slice.) Now, let's return to economics.
When it comes to Santa's bailiwick, retail sales, last December brought a dismal -2.2% drop, partly due to the huge stock market losses then, but the first 11 months of 2019 have brought us cumulative 5.7% gains.
Graphs are for illustrative and discussion purposes only. Please read important disclosures at the end of this commentary.
Much is made of the sub-par 0.2% rise in November, but Thanksgiving came on the latest possible date in the month, November 28, pushing Cyber Monday into December, so we're liable to close 2019 with over 6% compounded retail sales growth in 2019, making it the best year since 2011, so Santa Claus is jolly again.
2020 Global Growth May Revive – Due to Two New Trade Deals
As the year ends, we can also be thankful that Phase One of the U.S. trade deal with China has avoided an escalation of tariffs, for now, and Congress has finally passed the USMCA (NAFTA replacement) bill to open  trade barriers with our two biggest trading partners, Mexico and Canada. It's not a perfect bill (it favors the job protectionism Trump savors), but it greases the skids of cross-border trade going into the New Year.
That's one reason the major stock market indexes kept hitting one new high after another on each Friday in December. U.S. business activity (in the Purchasing Managers Index) just reached a five-month high in December, and that survey was conducted December 5-13, before the big trade agreements were reached.
Graphs are for illustrative and discussion purposes only. Please read important disclosures at the end of this commentary.
Canada and Mexico are our two biggest trading partners and most of our China trade is imported, not exported. The U.S. exports five times more to Mexico and Canada than to China. Experts say that the new USMCA deal will create hundreds of thousands of new jobs and usher in a wave of prosperity for all three neighbor nations.
Global surveys show that global growth should revive in 2020 after a year of "slowdown" warnings in major publications. Figures released last Monday by China's National Bureau of Statistics showed industrial output in November was 6.2% higher than a year earlier, up from 4.7% in October. China's retail sales climbed 8% in November from a year earlier, according to a separate report. The IMF now sees global growth at +3.4% next year, although the European Central Bank (ECB) sees Eurozone growth mired at the +1.1% level in 2020.
It is likely that President Trump will put his most flaming trade war rhetoric on the back burner as he tries to keep GDP growth and the stock market humming in 2020. GDP has been stuck in a 1%-4% channel since 2010, but that's good news, in the sense that we haven't had a blow-out inflationary boom, which usually leads to a recession. We've clearly tailed off in Trump's third year after his economic honeymoon in 2017-18.
Behold the 2010s: The First Decade in American History Without a Recession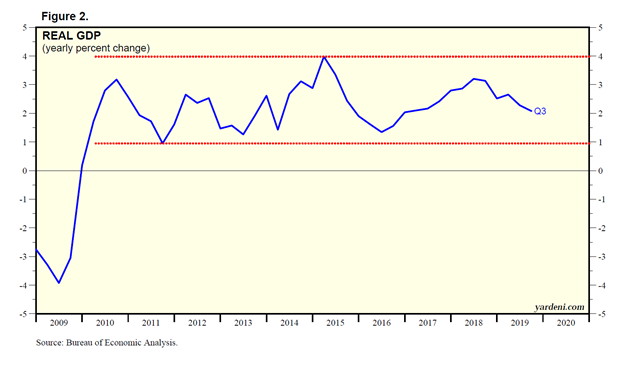 Graphs are for illustrative and discussion purposes only. Please read important disclosures at the end of this commentary.
A Goldilocks economy is "neither too hot nor too cold," or in seasonal musical terms, "Every valley shall be exalted, and every mountain and hill made low; the crooked shall be made straight, and the rough places plain" (Handel's Messiah). Chart source: Yardeni Research
The recent rise in real wages and savings rate, along with the growing pile of cash on the sidelines should fuel stock market expansion and rising retail sales in 2020. It's rational to expect real consumer spending to increase 2.5% in 2020, the same as 2019, with similar GDP numbers, unless new trade disputes arise. A tight labor market should boost productivity, which would allow nominal wages to continue increasing faster than consumer prices, boosting consumers' purchasing power and spending growth. Historically, incumbents win when voters feel financially secure, with full pockets of buying power … but then, these aren't normal times.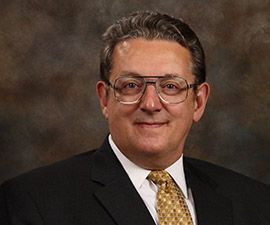 Gary Alexander
SENIOR EDITOR
Gary Alexander has been Senior Writer at Navellier since 2009.  He edits Navellier's weekly Marketmail and writes a weekly Growth Mail column, in which he uses market history to support the case for growth stocks.  For the previous 20 years before joining Navellier, he was Senior Executive Editor at InvestorPlace Media (formerly Phillips Publishing), where he worked with several leading investment analysts, including Louis Navellier (since 1997), helping launch Louis Navellier's Blue Chip Growth and Global Growth newsletters.
Prior to that, Gary edited Wealth Magazine and Gold Newsletter and wrote various investment research reports for Jefferson Financial in New Orleans in the 1980s.  He began his financial newsletter career with KCI Communications in 1980, where he served as consulting editor for Personal Finance newsletter while serving as general manager of KCI's Alexandria House book division.  Before that, he covered the economics beat for news magazines. All content of "Growth Mail" represents the opinion of Gary Alexander