by Gary Alexander
December 20, 2022
For several decades, I've read at least 100 good books a year, since I know that the Internet and Cable TV keep trying to trivialize our minds with meaningless chatter. Of the 115 books I've read in 2022, these were my favorites touching on business trends that influence investing strategies, in order of publication:
Peter Schweitzer's "Red-Handed: How American Elites Get Rich Helping China Win" (published on January 25, 2022) is an important beginning, because we need to stop compromising business values in order to import cheap "made in China" products as our primary cost-cutting metric. What good will it do to save a few pennies in labor costs to lose it all to choking trade delays, compromised national security, stolen trade secrets, lost domestic jobs, and a host of other ills? Unfortunately, the "elite" here go far beyond widget-makers to include Silicon Valley royalty, diplomats, retired military, NBA superstars, and even Presidential families and Cabinet members. It's time for these elite to declare what team they're on.
Arthur Brooks' "From Strength to Strength: Finding Success, Happiness and Deep Purpose in the Second Half of Life" (February 15) is a warmer bath after that severe workout of outrage in January. I remember first hearing from Brooks when he gave up a secure post in the Barcelona Symphony Orchestra playing French horn. Like me, he grew up in Seattle with a first love in music. He landed a plum post in Europe, the closest thing to lifetime job security you will ever find. A horn player literally can't be fired, even if a split lip keeps him from blowing his horn, but he gave it up to study economics and went on to head the American Enterprise Institute (AEI). He writes here with the same warmth with which he once played his horn. This book covers his switch from head of that think tank to his final chapter of life, but more than that; it's about how anyone can discover bliss (amidst the inevitable pain) in our Third Act.
Steve Forbes, Nathan Lewis, and Elizabeth Ames wrote "Inflation: What it Is, Why It's Bad, and How to Fix It" (published April 19, shortly before the inflation rate supposedly "peaked," at least for now.) The principles they write about here are so familiar (to me) that I wondered why they bothered writing a book so elementary, but then I realized that the 400 PhD economists at the Federal Reserve don't "get it" yet. Neither does the Secretary of the Treasury, the President, nor his leading economic advisory team, so it's good that this Forbes' team is on the barricades reminding us that the Fed's emperor "has no clothes." The Fed's clueless behavior of fueling a falsely "transitory" hyper-inflation for two years, then suddenly choking it off and rapidly raising rates while talking up recession makes me pine for Maestro Greenspan.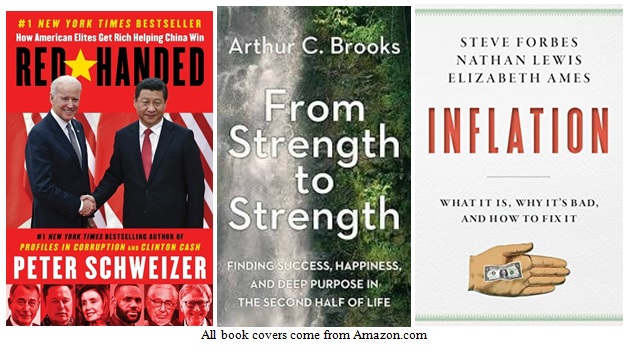 Vaclav SMIL's "How the World Really Works: The Science Behind How We Got Here, and Where We're Going" (May 10) focuses on our energy-centered economy. He argues (like the next book) that it will be a long time before we move away from fossil fuels. Smil, a Canadian environmental scientist, explains how fossil fuels deliver far more than gas to our cars, by producing core materials, such as cement, ammonia-based fertilizer, plastics, and steel – which are essential to feeding us and building our world. He admits we will eventually move away from these fuels, but that requires far more than the 10 or 12 years, or even two or three decades, demanded by the Green zealots. (These books also validate Louis Navellier's big bet on the energy sector this year and the next few years.)
Alex EPSTEIN's "Fossil Future: Why Global Human Flourishing Requires More Oil, Coal, and Natural Gas – Not Less" (May 24) takes the same position as Vaclav Smil, but from a philosophical posture, in harmony with his 2014 book, "The Moral Case for Fossil Fuels." Epstein believes that prosperity provides the greatest good for the greatest number of people, and that a sensible approach toward the cleaner use of fossil fuels would provide the necessary platform of prosperity we need to discover new solutions. Any effort to ban such fuels is not just anti-prosperity but anti-human in that it destroys, eventually kills, millions of lives while ending any dreams of a better life for billions. He does not deny climate change but weighs the impact of such change against the impact of criminalizing energy.
"The Myth of American Inequality: How Government Biases Policy Debate," by economist and former Senator Phil Gramm, along with economists Robert Ekelund and John Early (September 15) is the most important economics book of the year, in my view, well worth reading by anyone under the illusion that "the income gap is growing." This book was largely ignored by the mainstream press, although The Wall Street Journal would publish excerpts of the trio's research. Basically, the Census Bureau does not include most of the transfer payments received and spent by low-income Americans, including Medicaid, food stamps, jobless claims, temporary assistance, and literally 100 other programs. Once you include these programs, the income gap shrinks, as does the poverty level.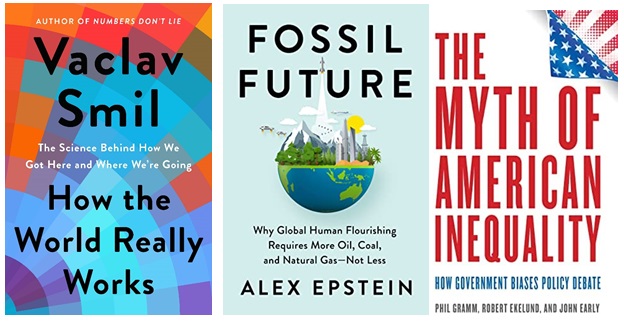 Vivek RAMASWAMY's "A Nation of Victims: Identity Politics, the Death of Merit, and the Path Back to Excellence" (September 13) is written by a man whose experience and nationality certainly entitles him to the roll call of victim categories. He cites the example of fellow Indian Americans who had perfect SAT scores and admirable community service credentials but were denied admission to every one of the top 15 universities, while minorities with weaker scores and no particular community service were readily accepted. But Ramaswamy is a championship tennis player, a virtuoso pianist, a charming speaker, a handsome devil, and a gifted entrepreneur, so he was accepted at Harvard and Yale. Despite the presence of bias, he counsels against playing the victim card, no matter your circumstances. We've all seen victims succeed without playing the victim card in our personal lives.
Richard REEVES' "Of Boys and Men: Why the Modern Male is Struggling, Why it Matters and What to Do About it" (September 27) recites an astounding array of counter-intuitive statistics – which took even the author by surprise – that women and girls have surpassed boys in nearly EVERY academic and economic category, including math scores, over the last 50 years since Title IX took effect. "Most scientists are now women," he says. Every one of the 16 major university law journals is edited by women, he says. "Very few men teach" in K-12, he says, "and that number is shrinking." Women receive 60% more college degrees than men. Men are not only "on strike" in the labor force (see my September 7 review of "Men Without Work") but they are also bypassing college. The mining and forestry jobs are disappearing, so men often settle for being waiters, retail clerks, truck drivers, or taxi drivers.
Steve CASE's "The Rise of the Rest: How Entrepreneurs in Surprising Places are Building the New American Dream" (September 27) chronicles the adventures of AOL's founder traveling the middle of America in a bus since 2014, looking in on hundreds of American success stories outside the familiar centers of venture capitalism. About 75% of all start-up capital is concentrated in three states, he says – California, New York, and Massachusetts – yet so many great ideas emerge in the other 47 states, and those smart business minds don't want to move to the coast to raise the necessary capital, so Case is taking the VCs to middle America – a great idea for him and them; so great that he intends to keep on the road in his Opportunity Bus for the foreseeable future. Case shares great tales from eastern Kentucky, Nashville, Tulsa/Oklahoma City, and points north – proving that the American Dream still lives.
"The Titanium Economy: How Industrial Technology Can Create a Better, Faster, Stronger America" by Asutosh Padhi, Gaurav Batra, and Nick Santhanam (October 25, 2022) is a parallel book to Steve Case and his bus tour of unknown small businesses in America. The "titanium economy" is the title the authors give to lesser-known and largely unfollowed manufacturing businesses that remains strong in America. Silicon Valley dominates the headlines, but these smaller start-ups are making aerospace parts or recycled plastic lumber substitutes. These three McKinsey analysts cover this healthy industrial sector that few of us likely follow. In the process, they deliver some fascinating stories, and some potential stocks to follow.
You have about a week to order some of these books for yourself, or as Christmas gifts for others.
Enjoy and profit.
All content above represents the opinion of Gary Alexander of Navellier & Associates, Inc.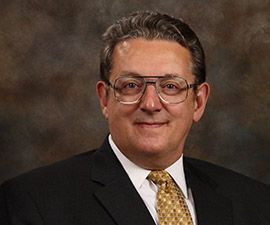 Gary Alexander
SENIOR EDITOR
Gary Alexander has been Senior Writer at Navellier since 2009.  He edits Navellier's weekly Marketmail and writes a weekly Growth Mail column, in which he uses market history to support the case for growth stocks.  For the previous 20 years before joining Navellier, he was Senior Executive Editor at InvestorPlace Media (formerly Phillips Publishing), where he worked with several leading investment analysts, including Louis Navellier (since 1997), helping launch Louis Navellier's Blue Chip Growth and Global Growth newsletters.
Prior to that, Gary edited Wealth Magazine and Gold Newsletter and wrote various investment research reports for Jefferson Financial in New Orleans in the 1980s.  He began his financial newsletter career with KCI Communications in 1980, where he served as consulting editor for Personal Finance newsletter while serving as general manager of KCI's Alexandria House book division.  Before that, he covered the economics beat for news magazines. All content of "Growth Mail" represents the opinion of Gary Alexander
Important Disclosures:
Although information in these reports has been obtained from and is based upon sources that Navellier believes to be reliable, Navellier does not guarantee its accuracy and it may be incomplete or condensed. All opinions and estimates constitute Navellier's judgment as of the date the report was created and are subject to change without notice. These reports are for informational purposes only and are not a solicitation for the purchase or sale of a security. Any decision to purchase securities mentioned in these reports must take into account existing public information on such securities or any registered prospectus.To the extent permitted by law, neither Navellier & Associates, Inc., nor any of its affiliates, agents, or service providers assumes any liability or responsibility nor owes any duty of care for any consequences of any person acting or refraining to act in reliance on the information contained in this communication or for any decision based on it.
Past performance is no indication of future results. Investment in securities involves significant risk and has the potential for partial or complete loss of funds invested. It should not be assumed that any securities recommendations made by Navellier. in the future will be profitable or equal the performance of securities made in this report. Dividend payments are not guaranteed. The amount of a dividend payment, if any, can vary over time and issuers may reduce dividends paid on securities in the event of a recession or adverse event affecting a specific industry or issuer.
None of the stock information, data, and company information presented herein constitutes a recommendation by Navellier or a solicitation to buy or sell any securities. Any specific securities identified and described do not represent all of the securities purchased, sold, or recommended for advisory clients. The holdings identified do not represent all of the securities purchased, sold, or recommended for advisory clients and the reader should not assume that investments in the securities identified and discussed were or will be profitable.
Information presented is general information that does not take into account your individual circumstances, financial situation, or needs, nor does it present a personalized recommendation to you. Individual stocks presented may not be suitable for every investor. Investment in securities involves significant risk and has the potential for partial or complete loss of funds invested. Investment in fixed income securities has the potential for the investment return and principal value of an investment to fluctuate so that an investor's holdings, when redeemed, may be worth less than their original cost.
One cannot invest directly in an index. Index is unmanaged and index performance does not reflect deduction of fees, expenses, or taxes. Presentation of Index data does not reflect a belief by Navellier that any stock index constitutes an investment alternative to any Navellier equity strategy or is necessarily comparable to such strategies. Among the most important differences between the Indices and Navellier strategies are that the Navellier equity strategies may (1) incur material management fees, (2) concentrate its investments in relatively few stocks, industries, or sectors, (3) have significantly greater trading activity and related costs, and (4) be significantly more or less volatile than the Indices.
ETF Risk: We may invest in exchange traded funds ("ETFs") and some of our investment strategies are generally fully invested in ETFs. Like traditional mutual funds, ETFs charge asset-based fees, but they generally do not charge initial sales charges or redemption fees and investors typically pay only customary brokerage fees to buy and sell ETF shares. The fees and costs charged by ETFs held in client accounts will not be deducted from the compensation the client pays Navellier. ETF prices can fluctuate up or down, and a client account could lose money investing in an ETF if the prices of the securities owned by the ETF go down. ETFs are subject to additional risks:
ETF shares may trade above or below their net asset value;
An active trading market for an ETF's shares may not develop or be maintained;
The value of an ETF may be more volatile than the underlying portfolio of securities the ETF is designed to track;
The cost of owning shares of the ETF may exceed those a client would incur by directly investing in the underlying securities; and
Trading of an ETF's shares may be halted if the listing exchange's officials deem it appropriate, the shares are delisted from the exchange, or the activation of market-wide "circuit breakers" (which are tied to large decreases in stock prices) halts stock trading generally.
Grader Disclosures: Investment in equity strategies involves substantial risk and has the potential for partial or complete loss of funds invested. The sample portfolio and any accompanying charts are for informational purposes only and are not to be construed as a solicitation to buy or sell any financial instrument and should not be relied upon as the sole factor in an investment making decision. As a matter of normal and important disclosures to you, as a potential investor, please consider the following: The performance presented is not based on any actual securities trading, portfolio, or accounts, and the reported performance of the A, B, C, D, and F portfolios (collectively the "model portfolios") should be considered mere "paper" or pro forma performance results based on Navellier's research.
Investors evaluating any of Navellier & Associates, Inc.'s, (or its affiliates') Investment Products must not use any information presented here, including the performance figures of the model portfolios, in their evaluation of any Navellier Investment Products. Navellier Investment Products include the firm's mutual funds and managed accounts. The model portfolios, charts, and other information presented do not represent actual funded trades and are not actual funded portfolios. There are material differences between Navellier Investment Products' portfolios and the model portfolios, research, and performance figures presented here. The model portfolios and the research results (1) may contain stocks or ETFs that are illiquid and difficult to trade; (2) may contain stock or ETF holdings materially different from actual funded Navellier Investment Product portfolios; (3) include the reinvestment of all dividends and other earnings, estimated trading costs, commissions, or management fees; and, (4) may not reflect prices obtained in an actual funded Navellier Investment Product portfolio. For these and other reasons, the reported performances of model portfolios do not reflect the performance results of Navellier's actually funded and traded Investment Products. In most cases, Navellier's Investment Products have materially lower performance results than the performances of the model portfolios presented.
This report contains statements that are, or may be considered to be, forward-looking statements. All statements that are not historical facts, including statements about our beliefs or expectations, are "forward-looking statements" within the meaning of The U.S. Private Securities Litigation Reform Act of 1995. These statements may be identified by such forward-looking terminology as "expect," "estimate," "plan," "intend," "believe," "anticipate," "may," "will," "should," "could," "continue," "project," or similar statements or variations of such terms. Our forward-looking statements are based on a series of expectations, assumptions, and projections, are not guarantees of future results or performance, and involve substantial risks and uncertainty as described in Form ADV Part 2A of our filing with the Securities and Exchange Commission (SEC), which is available at www.adviserinfo.sec.gov or by requesting a copy by emailing info@navellier.com. All of our forward-looking statements are as of the date of this report only. We can give no assurance that such expectations or forward-looking statements will prove to be correct. Actual results may differ materially. You are urged to carefully consider all such factors.
FEDERAL TAX ADVICE DISCLAIMER: As required by U.S. Treasury Regulations, you are informed that, to the extent this presentation includes any federal tax advice, the presentation is not written by Navellier to be used, and cannot be used, for the purpose of avoiding federal tax penalties. Navellier does not advise on any income tax requirements or issues. Use of any information presented by Navellier is for general information only and does not represent tax advice either express or implied. You are encouraged to seek professional tax advice for income tax questions and assistance.
IMPORTANT NEWSLETTER DISCLOSURE:The hypothetical performance results for investment newsletters that are authored or edited by Louis Navellier, including Louis Navellier's Growth Investor, Louis Navellier's Breakthrough Stocks, Louis Navellier's Accelerated Profits, and Louis Navellier's Platinum Club, are not based on any actual securities trading, portfolio, or accounts, and the newsletters' reported hypothetical performances should be considered mere "paper" or proforma hypothetical performance results and are not actual performance of real world trades.  Navellier & Associates, Inc. does not have any relation to or affiliation with the owner of these newsletters. There are material differences between Navellier Investment Products' portfolios and the InvestorPlace Media, LLC newsletter portfolios authored by Louis Navellier. The InvestorPlace Media, LLC newsletters contain hypothetical performance that do not include transaction costs, advisory fees, or other fees a client might incur if actual investments and trades were being made by an investor. As a result, newsletter performance should not be used to evaluate Navellier Investment services which are separate and different from the newsletters. The owner of the newsletters is InvestorPlace Media, LLC and any questions concerning the newsletters, including any newsletter advertising or hypothetical Newsletter performance claims, (which are calculated solely by Investor Place Media and not Navellier) should be referred to InvestorPlace Media, LLC at (800) 718-8289.
Please note that Navellier & Associates and the Navellier Private Client Group are managed completely independent of the newsletters owned and published by InvestorPlace Media, LLC and written and edited by Louis Navellier, and investment performance of the newsletters should in no way be considered indicative of potential future investment performance for any Navellier & Associates separately managed account portfolio. Potential investors should consult with their financial advisor before investing in any Navellier Investment Product.
Navellier claims compliance with Global Investment Performance Standards (GIPS). To receive a complete list and descriptions of Navellier's composites and/or a presentation that adheres to the GIPS standards, please contact Navellier or click here. It should not be assumed that any securities recommendations made by Navellier & Associates, Inc. in the future will be profitable or equal the performance of securities made in this report.
FactSet Disclosure: Navellier does not independently calculate the statistical information included in the attached report. The calculation and the information are provided by FactSet, a company not related to Navellier. Although information contained in the report has been obtained from FactSet and is based on sources Navellier believes to be reliable, Navellier does not guarantee its accuracy, and it may be incomplete or condensed. The report and the related FactSet sourced information are provided on an "as is" basis. The user assumes the entire risk of any use made of this information. Investors should consider the report as only a single factor in making their investment decision. The report is for informational purposes only and is not intended as an offer or solicitation for the purchase or sale of a security. FactSet sourced information is the exclusive property of FactSet. Without prior written permission of FactSet, this information may not be reproduced, disseminated or used to create any financial products. All indices are unmanaged and performance of the indices include reinvestment of dividends and interest income, unless otherwise noted, are not illustrative of any particular investment and an investment cannot be made in any index. Past performance is no guarantee of future results.