December 10, 2019
This late in a long recovery, you don't expect to see over 200,000 jobs added in a month, much less what we saw last Friday for the November totals: 266,000. So far this year, the average has been 180,000 jobs, far fewer than the 233,000 average last year but par for the course in an unprecedented 11th year of an economic expansion. Economists had expected to see 187,000 new jobs, but we topped that by 42%.
This big leap came about because more non-workers got off their couches and re-entered the work force. The number of Americans able to work but not actively seeking jobs fell by 432,000 (-27%) over the last year. Most workers who are laid off can find work quickly. Only one-fifth of the 3.5% jobless have been out of work for 27 weeks vs. 45% of the jobless who were out of work that long in 2011. The Wall Street Journal reported in the weekend edition that "Employers desperate for workers are recruiting from prisons, high schools and among the able-bodied in Puerto Rico… despite untold illegal immigration."
With less than two months to the Iowa caucuses, it must be depressing to Democratic challengers that the unemployment rate in Ames, Iowa, is just 1.3%. Rust Belt cities are attracting new businesses in health care and related industries. Overall, wages are up 3.1% from a year ago. Wages for production workers are up 3.7%, and wages in leisure and hospitality are up 4.3%. Household income is up 4.8% this year.
That's why I was puzzled to pick up my December 2019 FORTUNE Magazine "2020 Investment Guide" to find that the Editor-in-Chief, Clifton Leaf, wrote his introductory column, titled "The Trump Slump," and Senior Editor-at-Large Geoff Colvin titled his 12-page feature, "Why Trump is Bad for Business."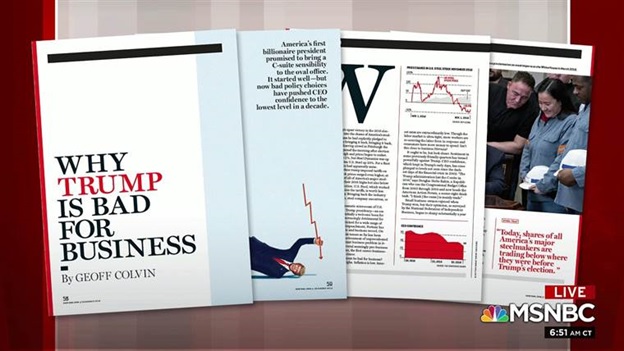 Colvin's article was festooned with charts pointing down, including a toppled President, a falling chart of steel stock prices and dipping CEO confidence (above). It was very selective in industries, like steel, since the President impetuously promised great things for that industry. Overall, FORTUNE is the magazine of Big Business, which has not profited as much as small- and medium-sized firms, where Fortune admitted, "regulators became less adversarial. Getting permits and approvals is quicker and easier." But Fortune is certainly correct that CEO Confidence has fallen sharply, while Consumer Confidence has plateaued.
Graphs are for illustrative and discussion purposes only. Please read important disclosures at the end of this commentary.
Colvin went on to list several concerns about Trump's leadership, which deserve assessment in 2020:
TRADE WARS, according to a former Republican cabinet member, "are smashing supply chains" by disrupting China trade, but I would counter that the President has a 'long game' of forcing China into fair trade practices. This is not a global trade war, like the 1930s, but a rifle-shot across China's bow. Global growth may slow to 3% in 2020, but this is a cost some businesses must pay for greater growth later on.
LEGAL IMMIGRATION is slowing to about 200,000 last year, and we need a lot more skilled (and even unskilled) labor to meet demands ranging from farm labor to high tech in Silicon Valley. The U.S. birth rate dropped to 1.73 births per woman in 2018, the lowest ever and far below replacement levels. Our population will shrink without new blood. We need more immigrant workers to grow our economy.
UNCERTAINTY is usually bad for markets, and the President admitted in his book, Crippled America, that "I don't want people to know exactly what I'm doing – or thinking. I like being unpredictable. It keeps them off balance." Lower taxes and fewer regulations are a "certainty" under Trump, and it is also fairly certain they will rise under the Democrats, but otherwise we could use some more policy certainty.
DEBT and DEFICITS are rising back to the $1 trillion annual rate, without even a passing nod to a "debt ceiling." When the next recession comes (and it will), these deficit levels could skyrocket. Both Parties are to blame, of course, but neither Party seems the least concerned now with cutting spending.
Still, with Trump's obvious flaws, business seems more concerned with what FORTUNE calls "Renegades-in-Waiting" – "As much as Trump's on-the-fly policymaking scares business leaders, many are more frightened by some of his rivals' stated positions. Indeed, the four highest-polling Democratic candidates [Biden, Warren, Sanders, Buttigieg] have laid out policies that would profoundly affect business. If the billionaire entrepreneur and former New York City mayor enters the race, big business might switch sides."
It's the Economy (not Politics), Stupid
Overriding all of this analysis, it's the economy more than politics that moves most markets. Last week, I described President Ford's speech late-1974 talk on the triple threat of inflation, recession and crude oil shortages. That's why the stock market fell to its nadir of the last 57 years, to Dow 577.6 on December 6, 1974. It had little to do with Nixon's resignation. The next week, 45 years ago today, December 10, 1974, the long-time (1958-74) Chairman of the House Ways and Means Committee, Wilbur Mills, resigned in shame after a sex scandal with stripper Fanne Foxe. He was deemed "the most powerful in Washington" under five Presidents, yet alcohol brought him down in a 2 am arrest with a stripper in the Tidal Basin.

Did the market collapse after Mills' resignation? No, the Dow rose 2.4% that day and +6.3% in the last three weeks of 1974. In the longer run, the Dow rose 75.7% from December 6, 1974 to September 21, 1976, mostly because the U.S. temporarily emerged from the triple threat of inflation, recession and oil shortages. We also began to emerge from our post-Vietnam funk to celebrate the nation's Bicentennial.
In the end, it pays to focus on corporate fundamentals and economic trends more than political scandals.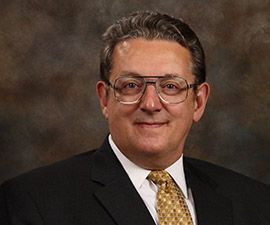 Gary Alexander
SENIOR EDITOR
Gary Alexander has been Senior Writer at Navellier since 2009.  He edits Navellier's weekly Marketmail and writes a weekly Growth Mail column, in which he uses market history to support the case for growth stocks.  For the previous 20 years before joining Navellier, he was Senior Executive Editor at InvestorPlace Media (formerly Phillips Publishing), where he worked with several leading investment analysts, including Louis Navellier (since 1997), helping launch Louis Navellier's Blue Chip Growth and Global Growth newsletters.
Prior to that, Gary edited Wealth Magazine and Gold Newsletter and wrote various investment research reports for Jefferson Financial in New Orleans in the 1980s.  He began his financial newsletter career with KCI Communications in 1980, where he served as consulting editor for Personal Finance newsletter while serving as general manager of KCI's Alexandria House book division.  Before that, he covered the economics beat for news magazines. All content of "Growth Mail" represents the opinion of Gary Alexander