December 10, 2019
November's stock market rally is now reasserting itself in December with broad sector representation. It started with semiconductors breaking out, then industrials, followed by financials, then healthcare and finally metals and mining. The source of funds has been spread among utilities, REITs, consumer staples and definitely energy – which has also been getting drilled from year-end tax loss selling.
Only two of the FAANG stocks are trading at new all-time highs (Apple and Alphabet), so leadership has certainly changed to reflect the powerful rallies in stocks like JP Morgan, Microsoft, Walt Disney, Bristol Meyers and Nike – to name just a few. Seeing such big-cap representation from a wide array of sectors, and not just tech leading the way, sends a strong message that the level of buying conviction in Friday's big up session is a green light for more market gains.
Navellier & Associates owns APPL and MSFT in managed accounts but does not own JPM, DIS, NKE, BMY, or GOOGL.  Bryan Perry does not own APPL, MSFT, JPM, DIS, BMY, NKE or GOOGL in personal accounts.
A quick look at the chart of the S&P 500 SPDR (SPY) shows key support at 310 and then down at 302. where the index cleared a triple top – very bullish. The technical picture supports the case that any bouts of selling will be mild and well-contained, with a maximum drawdown of 5% from here (to 302).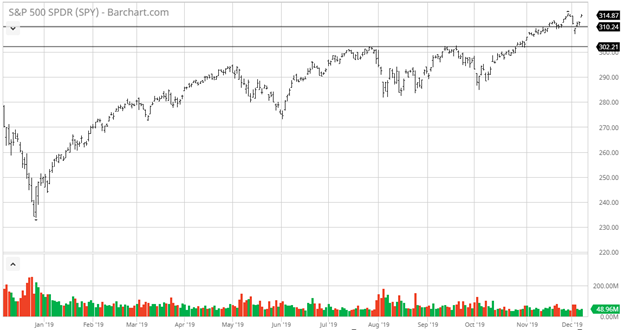 Graphs are for illustrative and discussion purposes only. Please read important disclosures at the end of this commentary.
What is even more compelling is that the trade war is not impacting the U.S. economy nearly as much as had been predicted and feared. Quite frankly, Friday's fantastic jobs report, where nonfarm payrolls for November spiked by 266,000, gives President Trump the upper hand in the trade negotiations with China. Even if additional tariffs are activated on the balance of Chinese imports ($156 billion) at midnight this coming Sunday, the market looks like it's not going to lose any sleep over it.
I noted last week that the economic calendar would provide the catalyst for a year-end rally and that due to China's bad behavior in several areas, the placement of future tariffs will remain 'indefinite' as to when they would be lifted. The first assumption came true with the jobs report, and by this time next week, I suspect the second assumption will also come to be reality. And while the market may take a small step back if additional tariffs are activated, I believe investors eager to up their equity exposure will step in.
A Few Dividend Gems in Deep Cyclical Stocks
One of the more obvious questions income investors are asking is which sectors and which blue-chip dividend stocks, outside of the defensive sectors, are poised to rock and roll. Well, one of the beautiful things about earnings season is that it clearly reveals where smart money is placing some of its bets in beaten down sectors and stocks that are showing initial signs of an earnings recovery and pricing power.
If the first quarter of 2020 is indeed the first quarter in five that S&P 500 earnings are set to rise, then rest assured that many blue-chip "deep cyclical" companies will be contributing to the earnings rebound. Whether its chemicals, paper, commodities or what I call "heavy metal" stocks, there are plenty of opportunities to buy some great high-yielding stocks that are trading way off their multi-year highs, not counting energy, which is in no man's land for the time being and stuck in the midst of a global oil glut.
Here's a sample list of some globally oriented deep cyclical stocks with market caps greater than $20 billion that pay annual dividend yields over 5%:
BHP Group Ltd. ADR (BHP) paying 5.14% (Metals and Mining)
Dow Inc. (DOW) 5.14% (Chemicals)
Rio Tinto Group (RIO) 5.98% (Materials)
Ternium S.A. ADR (TX) 5.54% (Steel)
Other than Dow Inc. (recently listed after splitting off from Dupont), BHP, Rio Tinto and Ternium are all trading 50% or more below their historic highs.
Navellier & Associates does not own BHP, DOW, RIO or TX.  Bryan Perry does not own BHP, DOW, RIO or TX in personal accounts.
Screening for deep cyclical stocks with lower market caps and lesser yields will reveal dozens more names, but these four highly liquid stocks are institutional darlings when they come under accumulation. (I currently have no position in these stocks, at least not yet, but they are on my watch list.)
As a group, it is still very early in the earnings recovery cycle, and thus these companies – and others in related sectors – should start to show some much-improved year-over-year comparable results in the next few quarters. But if one can lock in 4%-6% yields from qualified dividends that are taxed at a maximum of 15%, in stocks that offer a sound value proposition within the global economic recovery theme, then consider putting together a holiday shopping list. It might still be early, but I'd rather be early than late.
Bryan Perry
SENIOR DIRECTOR
Bryan Perry is a Senior Director with Navellier Private Client Group, advising and facilitating high net worth investors in the pursuit of their financial goals.
Bryan's financial services career spanning the past three decades includes over 20 years of wealth management experience with Wall Street firms that include Bear Stearns, Lehman Brothers and Paine Webber, working with both retail and institutional clients. Bryan earned a B.A. in Political Science from Virginia Polytechnic Institute & State University and currently holds a Series 65 license. All content of "Income Mail" represents the opinion of Bryan Perry