by Gary Alexander
November 30, 2021
For each of the last few years, I have profiled the best 10 to 12 books of the year at year's end. This is particularly appropriate during the COVID lockdown years, and now we have a new "Omicron" variant creeping up from South Africa, threating to lock us down going into Year #3. I usually read 100 book a year. In these two Covid years, I'm up to 140 or 150 per year… Maybe this all happened 100 years ago?
The "Spanish Flu" epidemic of 1918 lasted into 1920, but there were also widespread terrorist acts in 1920, usually blamed on "The Red Menace," perpetrated by swarthy "anarchists," often immigrants from Eastern Europe, which scared people off the streets. Sound familiar? We also had an absentee invalid President in Woodrow Wilson, felled by a stroke, with his wife Edith as our de facto chief. There was also a huge (-36%) stock market crash and a deep recession with high unemployment through most of 1921.
1922 brought a nervous country a cornucopia of new books, and a very special new magazine. Chronicle America reported, "Some say 1922 is a banner year in the history of Western art; others mutter prayers to the gods of decency." The roll call of titles is epic, and chilling – James Joyce's turgid Ulysses debuted on February 2nd; F. Scott Fitzgerald's The Beautiful and the Damned dropped in March, and his Jazz Age in September captured the new era in rhythm. Also in September came a long dystopian poem, The Waste Land, by T.S. Eliot of London (via St. Louis and Harvard), while Sinclair Lewis satirized capitalist excess in Babbitt. Thankfully, Emily Post's Etiquette in Society also debuted, defending the norms of decency.
New magazines that stood the test of time debuted about one per year – Barron's in 1921, Reader's Digest in 1922, and TIME in 1923, but one deserves a special focus for meeting the new needs of a busy nation.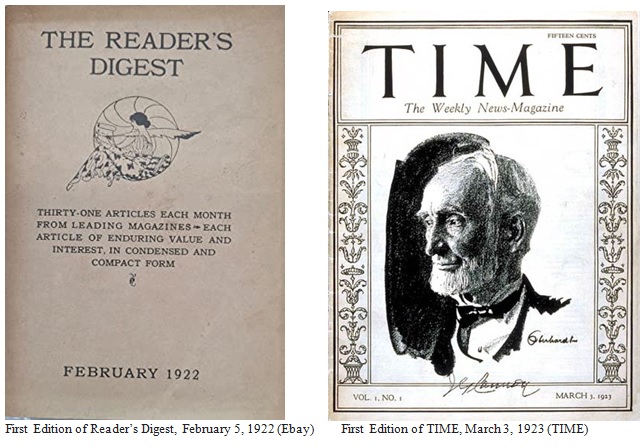 A century ago, a multinational newlywed couple surveyed, selected, and summarized the best magazine articles and digested 31 of them each month, turning the result into the best-selling consumer magazine in the world in the last century. DeWitt Wallace (1889-1981) hailed from St. Paul, Minnesota, where his father was on the faculty (and later president) of Macalester College. DeWitt attended Macalaster and Cal Berkeley. After working in publishing a few years, he enlisted in the U.S. Army when America entered World War I and was wounded in action. During his four months in a French hospital, he would read articles in American magazines, imagining how he could shorten or tighten them. Upon returning to Minneapolis, he spent every day for six months at the Minneapolis Public Library reading and condensing what he thought were the best magazine pieces, attempting to fashion a pocket digest anyone could read.
Wallace showed his sample magazine to Lila Bell Acheson (1889-1984), sister of an old college friend, who responded enthusiastically. She came from Manitoba, Canada, daughter of a Presbyterian minister who brought the family "south" to North Dakota. She graduated from the University of Oregon in 1917 and taught school for two years before working for the YWCA. Dewitt proposed to Lila on October 15, 1921, and they soon married. Less than four months later, they decided to publish their first home-grown Reader's Digest at home and marketed it through the mails. The first issue came out on February 5, 1922.
Reader's Digest became #1 in U.S. circulation for over 50 years and is still #1 globally. Wallace was chief editor for 45 years, they were married nearly 60 years, and they donated over $60 million to charity in their lifetime. Who says gifted editors can't get rich meeting the needs of busy readers?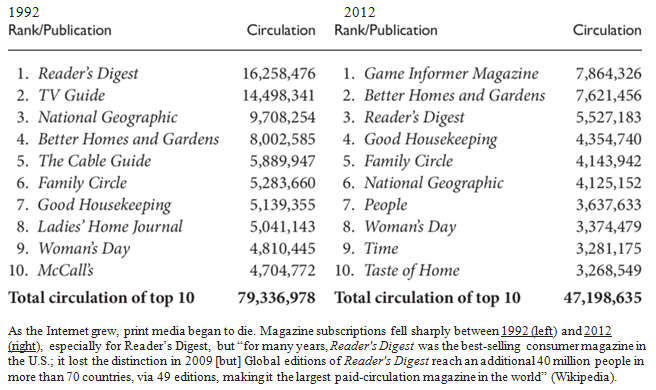 The First Six of My Top 10 (or Maybe 12) Books Published in 2021
In the spirit of Reader's Digest, soon to turn 100, let me digest six great books born in the second quarter of 2021, three of which I read in hardback and three on Kindle. Like DeWitt and Lila, I obviously prefer consequential non-fiction and history to the Waste Land of nihilistic poetry and fiction, so here goes:
The Gun, the Ship, and the Pen: Warfare, Constitutions and the Making of the Modern World, by Linda Colley (published March 30, 2021, 508 pages). I reviewed this book in an earlier Growth Mail in conjunction with our July 4th holiday celebrating our Constitution. I compared our American Revolution to similar revolutions in France and Haiti, which did not end so well. Ms. Colley begins her book even further back, in Corsica in 1755, tracing the history of Constitutions basically signed at gunpoint (hence "The Gun, the Ship") by military conquest, a far cry from "social contracts," but free to evolve later on.
Unsettled: What Climate Science Tells Us, What it Doesn't, and Why it Matters, by Steven Koonin (April 27, 316 page). The author is a former Undersecretary for Science at the U.S. Department of Energy in the Obama Administration, and he was Provost at Cal Tech for a decade. He was also once an advocate of political action resisting climate change. However, the data kept telling him different answers than what the "consensus" was telling him to tell us, so he felt compelled to write this book. Naturally, he came under criticism from his peer group for breaking out of the lockstep of the global warm-mongerers.
DOOM: The Politics of Catastrophe, by Niall Ferguson (May 4, 492 pages) has a similar tone to "Unsettled," but on a much wider canvas. Ferguson is one of our most eloquent, wide-ranging historians, and he uses the word "politics" with specific intent. He echoes President Obama's Chief of Staff, Rahm Emanuel, who once said, "Never let a good crisis go to waste," in the sense that threats must be raised to their maximum possible danger level to give the ruling party authority to install draconian measures that will last far beyond the initial threat. (Think of that the next time you take off your shoes in an airport.)
The Premonition: A Pandemic Story, by Michael Lewis (May 4, 319 pages) is another story about panics and pandemics but this is a thoroughly unique tale, as befits that unparalleled storyteller, Michael Lewis, who covers the waterfront on so many subjects. Lewis profiles a half-dozen mavericks outside of the mainstream government who basically got the big dogs in line. These are unforgettable personalities who deserve our eternal thanks for risking all with little or no reward. They rattled cages and made big changes happen when nobody was listening nor seemed to care. It's an old, old story, told very well.
MAVERICK: A Biography of Thomas Sowell, by Jason Riley (May 25, 249 pages) is not exactly a biography. I wish it contained more about Tom's youth as an orphan in North Carolina and as a teen in Harlem, and the miracle of how he came from such disadvantaged roots to become one of the greatest economists and social observers of the last 60 years. Instead, it is a literary overview of Sowell's superb 30+ books, and as such it is valuable. Riley penned a useful introduction to his views, and a guide for deciding which books to read first, but I would rather read Sowell himself than Riley's reviews. (Sowell turned 91 last June and I was on a July panel at Freedom Fest reviewing this book and his life, so I also re-read five of Sowell's best books over the summer in preparation for that panel, a delightful repast.)
War on Small Business: How the Government Used the Pandemic to Crush the Backbone of America, by Carol Roth (June 29, 352 pages). At last July's Freedom Fest in South Dakota, I reviewed many films that profiled real people running small businesses that were choked off by uneven regulations regarding Covid lockdowns – while big businesses skated, due to their powerful lobbies. (I am a senior reviewer at the Anthem Film Festival there.) It is a crying shame that the government has played favorites with big business and put up so many barriers to smaller businesses during the pandemic. You can see it in boarded up shops all across America. This book gives you many of the saddening, maddening details.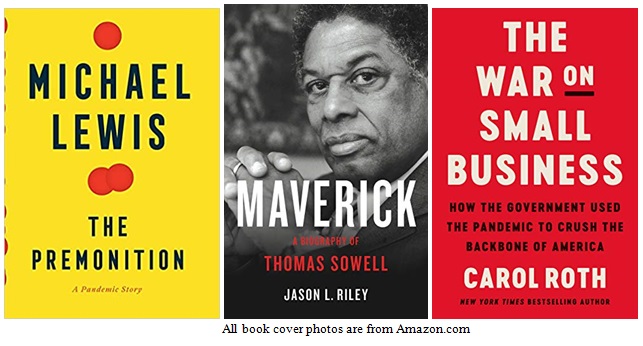 The Internet is vital and timely. Magazines are convenient – as Dewitt's good old Digest taught us – but Gutenberg's original book-printing mandate of 1453 still provides us with the most detailed, footnoted, concentrated, thoroughly reviewed information, often written by the best experts using the best sources.
All content above represents the opinion of Gary Alexander of Navellier & Associates, Inc.
Marketmail Survey #12 is now closed.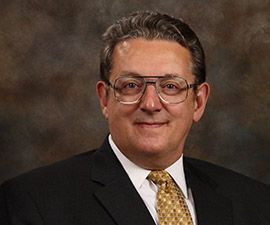 Gary Alexander
SENIOR EDITOR
Gary Alexander has been Senior Writer at Navellier since 2009.  He edits Navellier's weekly Marketmail and writes a weekly Growth Mail column, in which he uses market history to support the case for growth stocks.  For the previous 20 years before joining Navellier, he was Senior Executive Editor at InvestorPlace Media (formerly Phillips Publishing), where he worked with several leading investment analysts, including Louis Navellier (since 1997), helping launch Louis Navellier's Blue Chip Growth and Global Growth newsletters.
Prior to that, Gary edited Wealth Magazine and Gold Newsletter and wrote various investment research reports for Jefferson Financial in New Orleans in the 1980s.  He began his financial newsletter career with KCI Communications in 1980, where he served as consulting editor for Personal Finance newsletter while serving as general manager of KCI's Alexandria House book division.  Before that, he covered the economics beat for news magazines. All content of "Growth Mail" represents the opinion of Gary Alexander
Important Disclosures:
Although information in these reports has been obtained from and is based upon sources that Navellier believes to be reliable, Navellier does not guarantee its accuracy and it may be incomplete or condensed. All opinions and estimates constitute Navellier's judgment as of the date the report was created and are subject to change without notice. These reports are for informational purposes only and are not a solicitation for the purchase or sale of a security. Any decision to purchase securities mentioned in these reports must take into account existing public information on such securities or any registered prospectus.To the extent permitted by law, neither Navellier & Associates, Inc., nor any of its affiliates, agents, or service providers assumes any liability or responsibility nor owes any duty of care for any consequences of any person acting or refraining to act in reliance on the information contained in this communication or for any decision based on it.
Past performance is no indication of future results. Investment in securities involves significant risk and has the potential for partial or complete loss of funds invested. It should not be assumed that any securities recommendations made by Navellier. in the future will be profitable or equal the performance of securities made in this report. Dividend payments are not guaranteed. The amount of a dividend payment, if any, can vary over time and issuers may reduce dividends paid on securities in the event of a recession or adverse event affecting a specific industry or issuer.
None of the stock information, data, and company information presented herein constitutes a recommendation by Navellier or a solicitation to buy or sell any securities. Any specific securities identified and described do not represent all of the securities purchased, sold, or recommended for advisory clients. The holdings identified do not represent all of the securities purchased, sold, or recommended for advisory clients and the reader should not assume that investments in the securities identified and discussed were or will be profitable.
Information presented is general information that does not take into account your individual circumstances, financial situation, or needs, nor does it present a personalized recommendation to you. Individual stocks presented may not be suitable for every investor. Investment in securities involves significant risk and has the potential for partial or complete loss of funds invested. Investment in fixed income securities has the potential for the investment return and principal value of an investment to fluctuate so that an investor's holdings, when redeemed, may be worth less than their original cost.
One cannot invest directly in an index. Index is unmanaged and index performance does not reflect deduction of fees, expenses, or taxes. Presentation of Index data does not reflect a belief by Navellier that any stock index constitutes an investment alternative to any Navellier equity strategy or is necessarily comparable to such strategies. Among the most important differences between the Indices and Navellier strategies are that the Navellier equity strategies may (1) incur material management fees, (2) concentrate its investments in relatively few stocks, industries, or sectors, (3) have significantly greater trading activity and related costs, and (4) be significantly more or less volatile than the Indices.
ETF Risk: We may invest in exchange traded funds ("ETFs") and some of our investment strategies are generally fully invested in ETFs. Like traditional mutual funds, ETFs charge asset-based fees, but they generally do not charge initial sales charges or redemption fees and investors typically pay only customary brokerage fees to buy and sell ETF shares. The fees and costs charged by ETFs held in client accounts will not be deducted from the compensation the client pays Navellier. ETF prices can fluctuate up or down, and a client account could lose money investing in an ETF if the prices of the securities owned by the ETF go down. ETFs are subject to additional risks:
ETF shares may trade above or below their net asset value;
An active trading market for an ETF's shares may not develop or be maintained;
The value of an ETF may be more volatile than the underlying portfolio of securities the ETF is designed to track;
The cost of owning shares of the ETF may exceed those a client would incur by directly investing in the underlying securities; and
Trading of an ETF's shares may be halted if the listing exchange's officials deem it appropriate, the shares are delisted from the exchange, or the activation of market-wide "circuit breakers" (which are tied to large decreases in stock prices) halts stock trading generally.
Grader Disclosures: Investment in equity strategies involves substantial risk and has the potential for partial or complete loss of funds invested. The sample portfolio and any accompanying charts are for informational purposes only and are not to be construed as a solicitation to buy or sell any financial instrument and should not be relied upon as the sole factor in an investment making decision. As a matter of normal and important disclosures to you, as a potential investor, please consider the following: The performance presented is not based on any actual securities trading, portfolio, or accounts, and the reported performance of the A, B, C, D, and F portfolios (collectively the "model portfolios") should be considered mere "paper" or pro forma performance results based on Navellier's research.
Investors evaluating any of Navellier & Associates, Inc.'s, (or its affiliates') Investment Products must not use any information presented here, including the performance figures of the model portfolios, in their evaluation of any Navellier Investment Products. Navellier Investment Products include the firm's mutual funds and managed accounts. The model portfolios, charts, and other information presented do not represent actual funded trades and are not actual funded portfolios. There are material differences between Navellier Investment Products' portfolios and the model portfolios, research, and performance figures presented here. The model portfolios and the research results (1) may contain stocks or ETFs that are illiquid and difficult to trade; (2) may contain stock or ETF holdings materially different from actual funded Navellier Investment Product portfolios; (3) include the reinvestment of all dividends and other earnings, estimated trading costs, commissions, or management fees; and, (4) may not reflect prices obtained in an actual funded Navellier Investment Product portfolio. For these and other reasons, the reported performances of model portfolios do not reflect the performance results of Navellier's actually funded and traded Investment Products. In most cases, Navellier's Investment Products have materially lower performance results than the performances of the model portfolios presented.
This report contains statements that are, or may be considered to be, forward-looking statements. All statements that are not historical facts, including statements about our beliefs or expectations, are "forward-looking statements" within the meaning of The U.S. Private Securities Litigation Reform Act of 1995. These statements may be identified by such forward-looking terminology as "expect," "estimate," "plan," "intend," "believe," "anticipate," "may," "will," "should," "could," "continue," "project," or similar statements or variations of such terms. Our forward-looking statements are based on a series of expectations, assumptions, and projections, are not guarantees of future results or performance, and involve substantial risks and uncertainty as described in Form ADV Part 2A of our filing with the Securities and Exchange Commission (SEC), which is available at www.adviserinfo.sec.gov or by requesting a copy by emailing info@navellier.com. All of our forward-looking statements are as of the date of this report only. We can give no assurance that such expectations or forward-looking statements will prove to be correct. Actual results may differ materially. You are urged to carefully consider all such factors.
FEDERAL TAX ADVICE DISCLAIMER: As required by U.S. Treasury Regulations, you are informed that, to the extent this presentation includes any federal tax advice, the presentation is not written by Navellier to be used, and cannot be used, for the purpose of avoiding federal tax penalties. Navellier does not advise on any income tax requirements or issues. Use of any information presented by Navellier is for general information only and does not represent tax advice either express or implied. You are encouraged to seek professional tax advice for income tax questions and assistance.
IMPORTANT NEWSLETTER DISCLOSURE:The hypothetical performance results for investment newsletters that are authored or edited by Louis Navellier, including Louis Navellier's Growth Investor, Louis Navellier's Breakthrough Stocks, Louis Navellier's Accelerated Profits, and Louis Navellier's Platinum Club, are not based on any actual securities trading, portfolio, or accounts, and the newsletters' reported hypothetical performances should be considered mere "paper" or proforma hypothetical performance results and are not actual performance of real world trades.  Navellier & Associates, Inc. does not have any relation to or affiliation with the owner of these newsletters. There are material differences between Navellier Investment Products' portfolios and the InvestorPlace Media, LLC newsletter portfolios authored by Louis Navellier. The InvestorPlace Media, LLC newsletters contain hypothetical performance that do not include transaction costs, advisory fees, or other fees a client might incur if actual investments and trades were being made by an investor. As a result, newsletter performance should not be used to evaluate Navellier Investment services which are separate and different from the newsletters. The owner of the newsletters is InvestorPlace Media, LLC and any questions concerning the newsletters, including any newsletter advertising or hypothetical Newsletter performance claims, (which are calculated solely by Investor Place Media and not Navellier) should be referred to InvestorPlace Media, LLC at (800) 718-8289.
Please note that Navellier & Associates and the Navellier Private Client Group are managed completely independent of the newsletters owned and published by InvestorPlace Media, LLC and written and edited by Louis Navellier, and investment performance of the newsletters should in no way be considered indicative of potential future investment performance for any Navellier & Associates separately managed account portfolio. Potential investors should consult with their financial advisor before investing in any Navellier Investment Product.
Navellier claims compliance with Global Investment Performance Standards (GIPS). To receive a complete list and descriptions of Navellier's composites and/or a presentation that adheres to the GIPS standards, please contact Navellier or click here. It should not be assumed that any securities recommendations made by Navellier & Associates, Inc. in the future will be profitable or equal the performance of securities made in this report.
FactSet Disclosure: Navellier does not independently calculate the statistical information included in the attached report. The calculation and the information are provided by FactSet, a company not related to Navellier. Although information contained in the report has been obtained from FactSet and is based on sources Navellier believes to be reliable, Navellier does not guarantee its accuracy, and it may be incomplete or condensed. The report and the related FactSet sourced information are provided on an "as is" basis. The user assumes the entire risk of any use made of this information. Investors should consider the report as only a single factor in making their investment decision. The report is for informational purposes only and is not intended as an offer or solicitation for the purchase or sale of a security. FactSet sourced information is the exclusive property of FactSet. Without prior written permission of FactSet, this information may not be reproduced, disseminated or used to create any financial products. All indices are unmanaged and performance of the indices include reinvestment of dividends and interest income, unless otherwise noted, are not illustrative of any particular investment and an investment cannot be made in any index. Past performance is no guarantee of future results.