November 26, 2019
Depending on which media outlets you follow, the level of unrest around the world is widening in some key countries that investors should monitor closely. First, trade negotiations with China are happening even as protests and elections in Hong Kong are occurring amid threats of invasion by China's military.
The passage of the "Hong Kong Human Rights and Democracy Act" bill by Congress awaits President Trump's signature. If he signs it, that may well put "phase one" on ice and put into motion the next round of tariffs, an additional $155 billion in goods scheduled to be subject to the same 15% levy on December 15.
On Friday, President Trump said he had told China's president Xi Jinping that crushing the Hong Kong protesters would have "a tremendous negative impact" on efforts to reach an accord to end a 16-month trade war. At Bloomberg's New Economy Forum, held this past week in Beijing, the tone was that of uncertainty about the outcome of the trade war, with many high-profile attendees not willing to take sides.
Asked by CNN Business whether the United States should fight for the rights of the people in Hong Kong, for example, American hedge fund billionaire Ray Dalio demurred, calling it a "touchy issue."
On the other hand, former Clinton-era trade negotiator, Charlene Barshefsky, who helped work out China's entry to the World Trade Organization (WTO) in the late 1990s, said that the West is failing to meet the Chinese threat and accused Beijing of a shift "from decades of market-opening reform to mercantilism. … Today, the China model fuses the party, resurgent state planning, massive subsidies, protectionism and IP theft — all turbo-charged by scale." Barshefsky later said the relationship between the world's top two economies will remain fraught regardless of whether a trade deal comes to fruition.
Another geopolitical hotspot is Iran, where the government raised gas prices by 50% and shut down the country's internet service after reports of more than 100 deaths, according to Amnesty International, from massive protests over the fuel price increases. Fresh warnings of missile attacks by Iran on U.S. military bases are making headlines, but the concern and impact on the market is mostly due to rising oil prices.
Unlike China, where tens of thousands of U.S. companies do business and are caught in the middle of the trade conflict, hunkered down in negotiations, Iran offers little economic benefit to the U.S. and thus doesn't have Wall Street's attention. China is the short-term priority for market participants and, even if a "phase one" deal is made possible and the S&P sprints to new highs, it's my view that it won't change the long-term calculus of curbing China's behavior. It's a clash of cultures, and both sides are formidable.
U.S. Economy Powers Through the Trade War
Against a backdrop of negative reporting on how the trade war with China could drive the U.S. economy into recession, what we're actually seeing is data pointing towards a resumption of growth in 2020.
It seems that the U.S. consumer is doing quite well in light of the doom-and-gloom predictions. Housing data is one of the most important leading indicators of consumer confidence, and that is why the market pays close attention to these numbers when released. Household formation and solid home purchasing trends reflect rising confidence by consumers in their employment outlook and financial security.
In that light, the Commerce Department reported last week that new housing starts rose 3.8% in October to a 1.31 million annual pace, which makes it the second strongest month this year. Also notable is that building permits rose 5% in October to a 1.46 annual pace, which was substantially above economists' consensus estimate of a 1.39 million annual pace. This is the fastest pace for building permits in 12 years (since 2007) and clearly bodes well for homebuilders and the mortgage industry.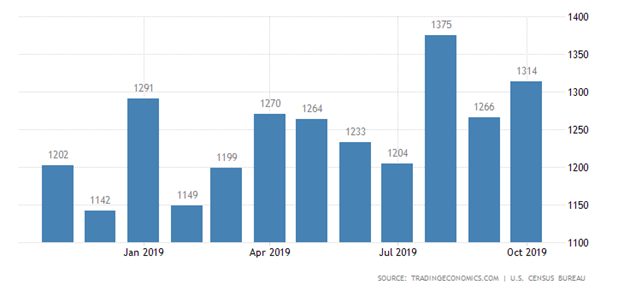 Graphs are for illustrative and discussion purposes only. Please read important disclosures at the end of this commentary.
As to how the market will likely trade if there is no China trade deal and further tariffs are imposed? Well, the S&P 500 is doing a nice job of consolidating its recent gains, with the rising 20-day moving average sitting just under 3,100, where (if violated) would test the 50-day m.a. at 3,020. A break of that level would invite a retest of the 200-day m.a. at 2,910, or 6.4% lower, where there is a strong support.
On the upside, 3,200 on the S&P looks very doable if the right headlines cross the tape. What seems more clear, heading into year-end, is that not cutting a deal with China won't derail the U.S. economy and could spur more businesses to relocate operations out of China to neighboring Asian countries or elsewhere. This is where the trade war could be won by America over the longer term–U.S. business investments leaving China, and the flight of Chinese private and commercial capital also leaving China.
It's already happening. Bloomberg reported on October 11, 2019 that China's hidden capital flight surged to a record high in the first half of this year, suggesting that residents wanting to move money abroad are using unrecorded transactions to evade tight capital controls. "Net errors and omissions" in China's balance of payments, widely seen as an indicator of concealed capital flight, rose to a record high of $131 billion in the first six months of his year, roughly 40% higher than the average over the past four years.
I think this capital flight is about the only thing China's ruling party will respect – they will fear that "giant sucking sound" of capital leaving their country.
China just celebrated the 70th anniversary of their victorious military control of the Chinese mainland in October 1949, and they are now coming up to the centennial of the birth of the Chinese Communist Party on July 1, 1921. As we near the "centennial moment" of the most powerful communist nation in history, we are witnessing a nation that is very vulnerable to financial calamity. President Trump, Congress and America should continue to support the undoing of China's global threat while it is still possible.
Bryan Perry
SENIOR DIRECTOR
Bryan Perry is a Senior Director with Navellier Private Client Group, advising and facilitating high net worth investors in the pursuit of their financial goals.
Bryan's financial services career spanning the past three decades includes over 20 years of wealth management experience with Wall Street firms that include Bear Stearns, Lehman Brothers and Paine Webber, working with both retail and institutional clients. Bryan earned a B.A. in Political Science from Virginia Polytechnic Institute & State University and currently holds a Series 65 license. All content of "Income Mail" represents the opinion of Bryan Perry