by Gary Alexander
November 24, 2020
Stop! Do not laugh. Don't throw tomatoes: 2020 is the year everyone loves to hate. I was ready to write a column of semi-despair about how we might revive Growth by opening up the economy again, but I knew that nobody in power would surrender to that desperate plea, so I'll retreat to the lesson my mother taught me long ago – "Nobody likes a complainer. Just be thankful for what you've got, Gary." So here goes:
#1: Thanks for a peaceful transfer of power to a decent man, Joe Biden. I for one will give him a Honeymoon to handle the heavy lifting awaiting him, wishing him well in all the challenges facing him.
#2: Thanks for a good leader in Donald J. Trump, who kept us out of foreign wars, protecting our security and the lives of our soldiers, growing our pre-Covid economy more than any president in this century, expanding jobs and wealth for minorities, all with no help from the media or powerful enemies.
#3: Thanks for all the hard-working poll workers who processed nearly 160 million ballots, some without pay and others without sleep, all night November 3, with no overt bias, in an honest election.
#4-Thanks for our Declaration of Independence, Constitution, and Bill of Rights, which guarantee our freedoms through crises like these. Whether most of us read them or not, they remain our fortress.
#5-Thanks that America is the strongest nation on earth, by far, and we are a good nation. We do not seek an empire, nor do we seek to destroy others, but we promote peace and commerce among allies.
#6-Thanks that we might bring our troops out of Afghanistan in our 20th year of occupation there.
Now, on to this rapidly recovering economy in a Covid-scarred year:
#7: Thanks for Covid forcing us to rethink our personal lives, especially how to work more efficiently at home, how to shop more efficiently online, and how to find ways to help our children learn at home.
#8: Thanks for Covid scaring us into paying off our credit card debt and storing up savings. For the first three quarters of 2020, consumers reduced credit card debt 13% ($120 billion). Savings reached $6 trillion at one point in a "come to Jesus" moment that never would have happened without a Covid scare.
#9: Thanks for the housing boom that pushed existing home sales to a 16-year high in October, reaching a 26.6% gain in the past 12 months. Our son in Portland, Oregon, rode that wave in a welcome home sale.
#10: Thanks for a "V" shaped economic recovery. In April, the bears were predicting an "L" shaped recession, with 40% unemployment and a decade-long 1930s malaise – a "Greater Depression," worse than the Great Depression. As it turned out, the peak jobless rate was 14.7%, and that rate fell rapidly.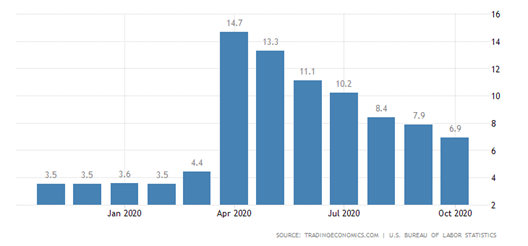 Graphs are for illustrative and discussion purposes only. Please read important disclosures at the end of this commentary.
Now, we move on to the Covid bug and its impact:
#11-Thanks for "Operation Warp Speed" that will bring at least two effective vaccines by year's end. One company expects to produce enough doses for 25 million Americans this year and 1.3 billion doses in 2021, and another company may match that volume, and both vaccines seem to be about 95% effective.
#12-Thanks that there are "only" about 260,000 U.S. Covid deaths (subject to revision due to multiple causes of death) rather than the 2.5 million originally projected, and future deaths may be preventable if we can isolate those most vulnerable by age and risk rather than putting all people in the same risk profile.
#13-Thanks to our responsive Federal Reserve and Congress for delivering checks to needy families this year. No matter the consequences in future years, that was the necessary thing to do at the time.
#14-Thanks for the stock market buying opportunity in March and a huge recovery to help us make a helpful amount of money if we had the courage to believe in the Great American Miracle once again.
#15-Thanks that competitive sports are back – NFL and college football in particular – but also a great World Series, NBA, and NHL finals just finished, MLS soccer playoffs, and tennis and golf tournaments.
Now I'll conclude with some personal sidelights to round the list up to 20:
#16: I'm spending less on travel and sending all the savings to those in need. There are many top-tier musicians in New York in danger of eviction due to job losses in the "gig" economy (a term that came from the jazz community). I'm sending my savings from the canceled Jazz Cruise to those musicians. (Can we all please consider sending a portion of our excess income to those now in greatest need?)
#17: Isolation has given me time to read all Shakespeare plays and movies of same and read 100+ books.
#18: With fitness center closed, I'm walking the open road and discovering some marvelous trails, resulting in 240 straight days of walking on my home island, discovering new beauties each day.
#19: I'm discovering chat rooms on Zoom with like-minded individuals in several marvelous fields. Even our family Thanksgiving dinner will be held by camera and with creative storytelling, and safety.
#20. I'm thankful to be writing Growth Mail for my 11th straight year writing for Navellier, and I'm especially thankful to be "fully in the market" since 1990, while encouraging you all to be fully invested.
And, living in the Pacific Northwest, I'm thankful to dodge the coming Cascadia Quake another year.
Songs About the NEW Thanksgiving
On my weekly radio shows (19 years and running), I play music from the Great American Songbook tied to composer birthdays. In Thanksgiving week, I often play songs with "thanks" in the title, but this week I will expand that theme to include Covid-related restrictions to dining table limitations of 10 outdoor seats.
This year, Thanksgiving is November 26, so I'm featuring songs by Arthur Schwartz (born November 25, 1900), starting with his first hit, "I Guess I'll Have to Change My Plan" about our new mandate for small groups dining outside, then his lonely songs – "Alone Together," "By Myself," and "Alone Too Long."
Jerry Bock, born on this date, also wrote the ideal song for social distancing: "Too Close for Comfort."
Irving Berlin had most American holidays cornered in his songs (White Christmas, Easter Parade, God Bless America), but his Thanksgiving song didn't contain the word thanks. It was Count your Blessings:
Count Your Blessings
When I'm worried and I can't sleep
I count my blessings instead of sheep
And I fall asleep counting my blessings
When my bankroll is getting small
I think of when I had none at all
And I fall asleep counting my blessings
I think about a nursery and I picture curly heads
And one by one I count them as they slumber in their beds
If you're worried and you can't sleep
Just count your blessings instead of sheep
And you'll fall asleep counting your blessings
–Words and music by Irving Berlin (in 1954)
That's what I've done today – I've counted 20 blessings in this otherwise cursed year of 2020.
Happy Thanksgiving!
All content above represents the opinion of Gary Alexander of Navellier & Associates, Inc.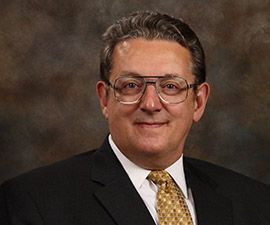 Gary Alexander
SENIOR EDITOR
Gary Alexander has been Senior Writer at Navellier since 2009.  He edits Navellier's weekly Marketmail and writes a weekly Growth Mail column, in which he uses market history to support the case for growth stocks.  For the previous 20 years before joining Navellier, he was Senior Executive Editor at InvestorPlace Media (formerly Phillips Publishing), where he worked with several leading investment analysts, including Louis Navellier (since 1997), helping launch Louis Navellier's Blue Chip Growth and Global Growth newsletters.
Prior to that, Gary edited Wealth Magazine and Gold Newsletter and wrote various investment research reports for Jefferson Financial in New Orleans in the 1980s.  He began his financial newsletter career with KCI Communications in 1980, where he served as consulting editor for Personal Finance newsletter while serving as general manager of KCI's Alexandria House book division.  Before that, he covered the economics beat for news magazines. All content of "Growth Mail" represents the opinion of Gary Alexander
Important Disclosures:
Although information in these reports has been obtained from and is based upon sources that Navellier believes to be reliable, Navellier does not guarantee its accuracy and it may be incomplete or condensed. All opinions and estimates constitute Navellier's judgment as of the date the report was created and are subject to change without notice. These reports are for informational purposes only and are not a solicitation for the purchase or sale of a security. Any decision to purchase securities mentioned in these reports must take into account existing public information on such securities or any registered prospectus.To the extent permitted by law, neither Navellier & Associates, Inc., nor any of its affiliates, agents, or service providers assumes any liability or responsibility nor owes any duty of care for any consequences of any person acting or refraining to act in reliance on the information contained in this communication or for any decision based on it.
Past performance is no indication of future results. Investment in securities involves significant risk and has the potential for partial or complete loss of funds invested. It should not be assumed that any securities recommendations made by Navellier. in the future will be profitable or equal the performance of securities made in this report. Dividend payments are not guaranteed. The amount of a dividend payment, if any, can vary over time and issuers may reduce dividends paid on securities in the event of a recession or adverse event affecting a specific industry or issuer.
None of the stock information, data, and company information presented herein constitutes a recommendation by Navellier or a solicitation to buy or sell any securities. Any specific securities identified and described do not represent all of the securities purchased, sold, or recommended for advisory clients. The holdings identified do not represent all of the securities purchased, sold, or recommended for advisory clients and the reader should not assume that investments in the securities identified and discussed were or will be profitable.
Information presented is general information that does not take into account your individual circumstances, financial situation, or needs, nor does it present a personalized recommendation to you. Individual stocks presented may not be suitable for every investor. Investment in securities involves significant risk and has the potential for partial or complete loss of funds invested. Investment in fixed income securities has the potential for the investment return and principal value of an investment to fluctuate so that an investor's holdings, when redeemed, may be worth less than their original cost.
One cannot invest directly in an index. Index is unmanaged and index performance does not reflect deduction of fees, expenses, or taxes. Presentation of Index data does not reflect a belief by Navellier that any stock index constitutes an investment alternative to any Navellier equity strategy or is necessarily comparable to such strategies. Among the most important differences between the Indices and Navellier strategies are that the Navellier equity strategies may (1) incur material management fees, (2) concentrate its investments in relatively few stocks, industries, or sectors, (3) have significantly greater trading activity and related costs, and (4) be significantly more or less volatile than the Indices.
ETF Risk: We may invest in exchange traded funds ("ETFs") and some of our investment strategies are generally fully invested in ETFs. Like traditional mutual funds, ETFs charge asset-based fees, but they generally do not charge initial sales charges or redemption fees and investors typically pay only customary brokerage fees to buy and sell ETF shares. The fees and costs charged by ETFs held in client accounts will not be deducted from the compensation the client pays Navellier. ETF prices can fluctuate up or down, and a client account could lose money investing in an ETF if the prices of the securities owned by the ETF go down. ETFs are subject to additional risks:
ETF shares may trade above or below their net asset value;
An active trading market for an ETF's shares may not develop or be maintained;
The value of an ETF may be more volatile than the underlying portfolio of securities the ETF is designed to track;
The cost of owning shares of the ETF may exceed those a client would incur by directly investing in the underlying securities; and
Trading of an ETF's shares may be halted if the listing exchange's officials deem it appropriate, the shares are delisted from the exchange, or the activation of market-wide "circuit breakers" (which are tied to large decreases in stock prices) halts stock trading generally.
Grader Disclosures: Investment in equity strategies involves substantial risk and has the potential for partial or complete loss of funds invested. The sample portfolio and any accompanying charts are for informational purposes only and are not to be construed as a solicitation to buy or sell any financial instrument and should not be relied upon as the sole factor in an investment making decision. As a matter of normal and important disclosures to you, as a potential investor, please consider the following: The performance presented is not based on any actual securities trading, portfolio, or accounts, and the reported performance of the A, B, C, D, and F portfolios (collectively the "model portfolios") should be considered mere "paper" or pro forma performance results based on Navellier's research.
Investors evaluating any of Navellier & Associates, Inc.'s, (or its affiliates') Investment Products must not use any information presented here, including the performance figures of the model portfolios, in their evaluation of any Navellier Investment Products. Navellier Investment Products include the firm's mutual funds and managed accounts. The model portfolios, charts, and other information presented do not represent actual funded trades and are not actual funded portfolios. There are material differences between Navellier Investment Products' portfolios and the model portfolios, research, and performance figures presented here. The model portfolios and the research results (1) may contain stocks or ETFs that are illiquid and difficult to trade; (2) may contain stock or ETF holdings materially different from actual funded Navellier Investment Product portfolios; (3) include the reinvestment of all dividends and other earnings, estimated trading costs, commissions, or management fees; and, (4) may not reflect prices obtained in an actual funded Navellier Investment Product portfolio. For these and other reasons, the reported performances of model portfolios do not reflect the performance results of Navellier's actually funded and traded Investment Products. In most cases, Navellier's Investment Products have materially lower performance results than the performances of the model portfolios presented.
This report contains statements that are, or may be considered to be, forward-looking statements. All statements that are not historical facts, including statements about our beliefs or expectations, are "forward-looking statements" within the meaning of The U.S. Private Securities Litigation Reform Act of 1995. These statements may be identified by such forward-looking terminology as "expect," "estimate," "plan," "intend," "believe," "anticipate," "may," "will," "should," "could," "continue," "project," or similar statements or variations of such terms. Our forward-looking statements are based on a series of expectations, assumptions, and projections, are not guarantees of future results or performance, and involve substantial risks and uncertainty as described in Form ADV Part 2A of our filing with the Securities and Exchange Commission (SEC), which is available at www.adviserinfo.sec.gov or by requesting a copy by emailing info@navellier.com. All of our forward-looking statements are as of the date of this report only. We can give no assurance that such expectations or forward-looking statements will prove to be correct. Actual results may differ materially. You are urged to carefully consider all such factors.
FEDERAL TAX ADVICE DISCLAIMER: As required by U.S. Treasury Regulations, you are informed that, to the extent this presentation includes any federal tax advice, the presentation is not written by Navellier to be used, and cannot be used, for the purpose of avoiding federal tax penalties. Navellier does not advise on any income tax requirements or issues. Use of any information presented by Navellier is for general information only and does not represent tax advice either express or implied. You are encouraged to seek professional tax advice for income tax questions and assistance.
IMPORTANT NEWSLETTER DISCLOSURE:The hypothetical performance results for investment newsletters that are authored or edited by Louis Navellier, including Louis Navellier's Growth Investor, Louis Navellier's Breakthrough Stocks, Louis Navellier's Accelerated Profits, and Louis Navellier's Platinum Club, are not based on any actual securities trading, portfolio, or accounts, and the newsletters' reported hypothetical performances should be considered mere "paper" or proforma hypothetical performance results and are not actual performance of real world trades.  Navellier & Associates, Inc. does not have any relation to or affiliation with the owner of these newsletters. There are material differences between Navellier Investment Products' portfolios and the InvestorPlace Media, LLC newsletter portfolios authored by Louis Navellier. The InvestorPlace Media, LLC newsletters contain hypothetical performance that do not include transaction costs, advisory fees, or other fees a client might incur if actual investments and trades were being made by an investor. As a result, newsletter performance should not be used to evaluate Navellier Investment services which are separate and different from the newsletters. The owner of the newsletters is InvestorPlace Media, LLC and any questions concerning the newsletters, including any newsletter advertising or hypothetical Newsletter performance claims, (which are calculated solely by Investor Place Media and not Navellier) should be referred to InvestorPlace Media, LLC at (800) 718-8289.
Please note that Navellier & Associates and the Navellier Private Client Group are managed completely independent of the newsletters owned and published by InvestorPlace Media, LLC and written and edited by Louis Navellier, and investment performance of the newsletters should in no way be considered indicative of potential future investment performance for any Navellier & Associates separately managed account portfolio. Potential investors should consult with their financial advisor before investing in any Navellier Investment Product.
Navellier claims compliance with Global Investment Performance Standards (GIPS). To receive a complete list and descriptions of Navellier's composites and/or a presentation that adheres to the GIPS standards, please contact Navellier or click here. It should not be assumed that any securities recommendations made by Navellier & Associates, Inc. in the future will be profitable or equal the performance of securities made in this report.
FactSet Disclosure: Navellier does not independently calculate the statistical information included in the attached report. The calculation and the information are provided by FactSet, a company not related to Navellier. Although information contained in the report has been obtained from FactSet and is based on sources Navellier believes to be reliable, Navellier does not guarantee its accuracy, and it may be incomplete or condensed. The report and the related FactSet sourced information are provided on an "as is" basis. The user assumes the entire risk of any use made of this information. Investors should consider the report as only a single factor in making their investment decision. The report is for informational purposes only and is not intended as an offer or solicitation for the purchase or sale of a security. FactSet sourced information is the exclusive property of FactSet. Without prior written permission of FactSet, this information may not be reproduced, disseminated or used to create any financial products. All indices are unmanaged and performance of the indices include reinvestment of dividends and interest income, unless otherwise noted, are not illustrative of any particular investment and an investment cannot be made in any index. Past performance is no guarantee of future results.