November 19, 2019
Suppose I said that cows are 20 times more deadly than sharks. You would spit out your burger laughing at me. But it's true, those docile cows, peacefully chewing their cud, kill more Americans each year than sharks, bears, alligators, snakes, and spiders – combined!
We think all sharks are like the monster in Jaws, and that poisonous spiders and snakes are out to get us. Bears lurk in the shed when we take out the trash, ready to maul us.
The truth is, they're all doing their natural thing and so are we. Humans are the biggest killers on earth. Usually, animals are peaceful, but fear rules because it sells. A friendly shark movie wouldn't make it past studio execs.  They know the Jaws franchise did the equivalent of $2 billion in today's dollars.
Turning to market imagery, the doomsday crowd might conjure images of big bad bear claws mauling your portfolio.  But reality says that the bulls are usually "large and in charge."
The Mapsignals Big Money Index measures unusual buying against selling.  Last week, it surged to 71.2%. A month ago, it was 51.9%. Buying like that, coming from nowhere, can be spooky. When professional money managers suddenly all go hard into stocks, it creates Fear of Missing Out (FOMO).
But how long can buying like that last? We're not likely getting into overbought territory this week (80%+ is overbought). We could stay this way for a while. We'd need several huge buying days in a row to get overbought. A few more days like last Friday, that is – a 92% buying day. Eventually the market will need to vent and pull back. But today, buyers are in control, so lets' focus on what they're buying.
What the Smart Money Was Buying Last Week
Friday gave us a good idea of what the smart money is buying now. It was the biggest day of Health Care buying since June 15th, 2018. Nearly 20% of the universe logged a buy in one day!
Graphs are for illustrative and discussion purposes only. Please read important disclosures at the end of this commentary.
The next set of charts shows a little context for the type of buying we are seeing in Health Care. The first chart shows net buys/sells for the Health Care sector. When there's more buying than selling – there's a green bar. A red bar denotes more selling.
The second chart shows a stretch of huge buying in the Biotech Industry (most of last week's buying was in Biotech). The green sticks appear when there is more than 150% buying on a 30-day moving average.
How do we use these charts to help us decide when to get in?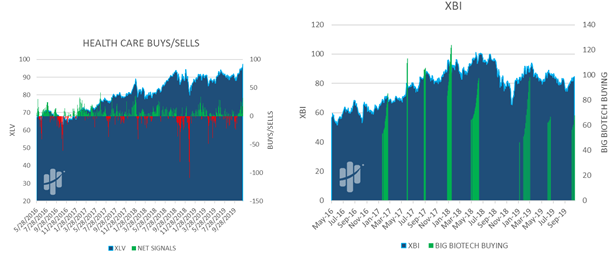 Graphs are for illustrative and discussion purposes only. Please read important disclosures at the end of this commentary.
On the XLV chart, those looking for a safer trend development will notice that when there's big buying (ramping green spikes), the longer term shows appreciation.  Those looking for bargains will notice that when there's a sea of red, it's a good time to grab a deal, but scarier.  Those looking for optimal timing and safety will notice the best time to pay attention is when we get green buying right after heavy selling.
The set-up in the last week or so is that we saw good-sized selling followed by a rush in, like air rushing into a vacuum. As I said above, the buying in Health Care was heavily tilted towards Biotech.  Fifty of the 82 buy signals last week were in Biotech. Looking at the XBI chart, just isolating biotech, you'll notice patches of heavy buying are often followed by higher prices. In fact, when buying ramped up in early 2017, it preceded a six-month +60% rally in XBI (the SPDR Biotech ETF).
Another place to pay attention is Tech. We see the same type of charts below. Net buying (green) has picked up in tech after a nasty patch of selling. This bodes well for future prices of the Infotech sector. Here we use XLK (the SPDR Tech ETF) as a gauge.
Again, we ask what exactly is getting bought in tech? Tech showed 68 buys for the week, and 21 of those were Semiconductors.  That's not surprising as we have been harping on that for a while.  What is more surprising is that Software showed 36 of those 68 buys. This is the Industry that got torched in late September into October. It was toxic, but again, the panic was not because the sector was fundamentally weak. We believe portfolio managers got the tap on the shoulder to sell their winners to pay for losers after a rough summer. Software was the biggest winner for a while, so it got dumped.
You can see this clearly in the IGV chart to the right. IGV is the iShares Expanded Software ETF. It basically serves as an index to track the software industry stocks. What's interesting is that when we see big buying (those green bars are 150% of the 30-day moving average of software buying), this kind of perking up means big gains. If you look closely at the bottom right of the chart, you'll see it just started.
After nasty selling last month, buyers are stepping in. Gun to my head: Software stocks are in for a rise.

Graphs are for illustrative and discussion purposes only. Please read important disclosures at the end of this commentary.
Bulls and bears can duke it out on CNBC. What really matters is the data: What's actually happening? The same goes for animals. Jaws got the bad rap, but statistically it's those cows you gotta watch out for.
Ultimately, it's you who must trust where your information comes from. Most of the time, those who feed it to you want you to perceive things the way they sell them, so you will buy what they sell. Arm yourself with data. Stephen King said it – all too sweetly: "The trust of the innocent is the liar's most useful tool."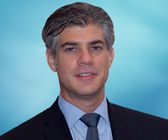 Jason Bodner
MARKETMAIL EDITOR FOR SECTOR SPOTLIGHT
Jason Bodner writes Sector Spotlight in the weekly Marketmail publication and has authored several white papers for the company. He is also Co-Founder of Macro Analytics for Professionals which produces proprietary equity accumulation/distribution research for its clients. Previously, Mr. Bodner served as Director of European Equity Derivatives for Cantor Fitzgerald Europe in London, then moved to the role of Head of Equity Derivatives North America for the same company in New York. He also served as S.V.P. Equity Derivatives for Jefferies, LLC. He received a B.S. in business administration in 1996, with honors, from Skidmore College as a member of the Periclean Honors Society. All content of "Sector Spotlight" represents the opinion of Jason Bodner