November 12, 2019
Almost out of nowhere, yields on bonds with maturities of seven years or longer have spiked almost 50 basis points in the past month, with the 10-year closing Friday at 1.93%, up against some minor resistance at 2.00%. From the chart below, the yield is still well off the 3.20% level seen at this time last year, when the Fed famously raised rates against the stock market's wishes, triggering a near-20% correction.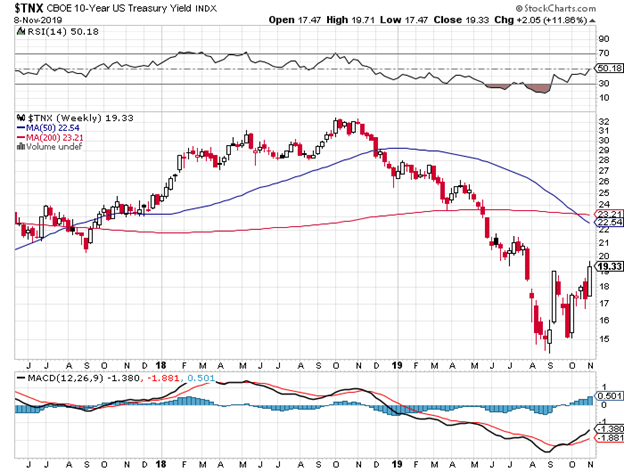 Graphs are for illustrative and discussion purposes only. Please read important disclosures at the end of this commentary.
Good, bad, or indifferent, the recent rotation into value stocks and cyclical sectors is turning heads and putting great pressure on fund managers to rebalance portfolios so as to participate in this trade – even if just for the sake of chasing momentum because "that's what's working now." There is also a great deal of faith being laid on a yet-to-be-signed-sealed-and-delivered "Phase One" trade deal with China, with a large dose of almost total disregard for the brewing tensions in Hong Kong, Iran and Brexit in Europe.
Thankfully, market participants have centered their focus on earnings. According to the latest data from FactSet Earnings Insight: For Q3 2019, the blended earnings decline for the S&P 500 is -2.7%, but on September 30, the estimated earnings decline for Q3 2019 was -4.1%. This is a nice upward revision.
Q4 guidance has earnings declining for a fourth straight quarter, but only by -1.1% followed by a sharp rebound in earnings growth in the first quarter of 2020 to +5.3%, then +6.6% earnings growth for Q2 and +9.7% growth for the full calendar year. This "hockey-stick" boost in S&P earnings is what the market is hanging its hat on and why it trades with a forward P/E of 17.4x that is above the 5- and 10-year averages.
Forward Earnings Estimates
For Q4 2019, analysts are projecting a decline in earnings of -1.1% and revenue growth of 2.6%.
For CY 2019, analysts are projecting earnings growth of 0.1% and revenue growth of 4.0%.
For Q1 2020, analysts are projecting earnings growth of 5.3% and revenue growth of 4.5%.
For Q2 2020, analysts are projecting earnings growth of 6.6% and revenue growth of 5.0%.
For CY 2020, analysts are projecting earnings growth of 9.7% and revenue growth of 5.4%.
(Source: FactSet – November 8, 2019)
Assuming these estimates are anywhere close to being right, investors should expect bond yields to rise over the next 12 months, reflecting the improving economic and revenue/earnings data. Bullish prospects for 2020 don't get nearly enough play on CNBC, Bloomberg and Fox Business – or the other financial media in general – but this outlook should easily take the S&P 500 up to 3,500 (or 13% higher) in 2020.
What to Buy for High-Yield Income When Bond Yields Rise (and Bond Prices Fall)

For income investors seeking high yields where the underlying assets are set to outperform in market, convertible securities and stocks in business development companies (BDCs) offer unique opportunities.
Convertible bonds, whether owned by closed-end funds, open-end funds or ETFs, are a niche in and of themselves, allowing investors to buy a company's bonds with the ability to convert them later into stock, if the price takes off. Convertibles appeal to the kind of investor who wants the ability to have fixed income with the option of participating in the underlying stock. Some closed-end convertible securities funds pay out monthly with yields of 7% to 9%, depending on the amount of leverage being utilized.
If the company's stock does well, the investor can later convert their holdings into common or preferred shares of stock at an agreed upon conversion price. Convertible bonds also have the reputation of performing well in volatile markets, holding their value better than traditional bonds as interest rates rise.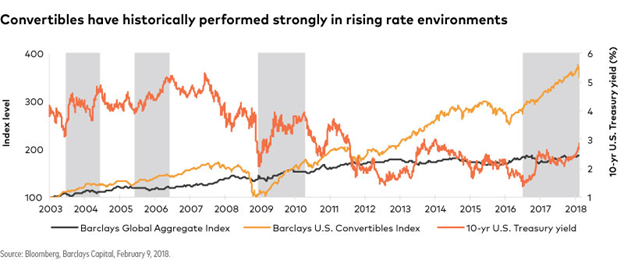 Graphs are for illustrative and discussion purposes only. Please read important disclosures at the end of this commentary.
Business Development Companies (BDCs) also tend to perform well in rising-rate markets, where the economy is expanding. Tight lending standards by banks haven't kept pace with the demand by small-to-medium-sized businesses for capital to expand. It has been a Catch 22 for banks that are awash in cash – but after getting shell-shocked by the recession aren't willing to put that cash in the system for new small business loans as the Fed had intended. This conundrum drives businesses to borrow from BDCs at 10% to 15% rates with equity kickers attached to every deal, translating into fat dividends for investors who get 90% of the income generated because they are regulated investment companies, like REITs.
BDCs are investment pools that get special treatment from the Securities and Exchange Commission (SEC), mainly because they provide financing to thousands of companies that many big banks wouldn't touch. The gene pool of talent working for publicly traded BDCs is cutting-edge, and we want it that way because a successful fund manager can take home a rock star-sized paycheck tied to strong performance.
The demand curve for middle ("mezzanine" level) market financing has legs. The growth in the number of mid-sized companies during the current economic upturn has provided BDCs with a new "sweet spot" of opportunity. Right now, the trends in place are showing good visibility and investors are getting a great yield of 7% to 10% in companies that are raking in outsized cash flow and delivering capital gains.
Convertibles and BDCs are high-yield opportunities that are here and now.
Bryan Perry
SENIOR DIRECTOR
Bryan Perry is a Senior Director with Navellier Private Client Group, advising and facilitating high net worth investors in the pursuit of their financial goals.
Bryan's financial services career spanning the past three decades includes over 20 years of wealth management experience with Wall Street firms that include Bear Stearns, Lehman Brothers and Paine Webber, working with both retail and institutional clients. Bryan earned a B.A. in Political Science from Virginia Polytechnic Institute & State University and currently holds a Series 65 license. All content of "Income Mail" represents the opinion of Bryan Perry