November 5, 2019
This question marked the opening of the 45th annual New Orleans Investment Conference, just concluded.
At 4:30 m Central Time on Friday, just 90 minutes after the S&P 500 closed at a new all-time high, you would think that the "biggest bull market of the last 120 years" would be the U.S. stock market, but Brien Lundin, president and CEO of Jefferson Financial Inc., and producer of this venerable conference, gave a different answer. He clicked his power point presentation to the next slide. The answer: U.S. Public Debt.
From the end of 1899 to late 2019, he said, the U.S. federal debt rose from a few billion in 1899 to $22.72 trillion, or +11,360-fold, an internal rate of return of 8.7377% per year, by his calculation. The Dow Jones Industrial Average, the only stock market index that has been intact for 120 years, traded around 75 in late 1899, so it has "only" risen about 365-fold, making U.S. deficit spending the biggest bull market by far.
Even if you look at the last 100 years, the Dow peaked at 119.62 on November 3, 1919, and the federal debt ballooned to $27.4 billion after World War I (it then declined to $16.2 billion by 1930), so in the last 100 years, the Dow has grown 229-fold and the debt has grown 829-fold – almost four times as fast.
The Treasury's 2019 fiscal year ended September 30 sporting a deficit of $984 billion, 26% higher than FY-2018 and the highest in seven years. Obama's delivered four straight trillion-dollar deficits (2009 to 2012), but he was coming out of a Great Recession while today we're over-spending during boom times.
The Congressional Budget Office (CBO) estimated in August that the latest budget deal (an agreement to not cut spending or worry about a debt ceiling until 2021 or later) would push the shortfall over $1 trillion in fiscal 2020 and in every other year of the 2020s, pushing the public debt to $29.3 trillion by 2029:
Graphs are for illustrative and discussion purposes only. Please read important disclosures at the end of this commentary.
You can't blame these deficits on Trump's tax cut alone. Tax receipts are growing faster than GDP. Tax receipts rose 4% in fiscal 2019, including a 6.2% increase in payroll taxes due to full employment. Even though corporate tax rates were cut most sharply, corporate income tax receipts rose 12.5% to $230 billion, since it's a proven historical fact that lower marginal tax rates generate more reportable income.
One of the largest sources of 2019 spending increase was the rise in debt service due to Fed rate increases from 2015 to 2018. Net interest paid soared 15.7% year-over-year to $376 billon, a $51 billion increase, accounting for 33% of the total increase in the fiscal 2019 budget deficit. Note from this chart (below) how the debt service cost was basically flat at around $200 billion from 1990 to 2015 due to lower deficits, rate cuts and then near-zero interest rates, but the Fed's rate increases from 2015 to 2018 caused a near-doubling in the cost of debt service 2015 to 2019 – perhaps to be stemmed by recent rate cuts.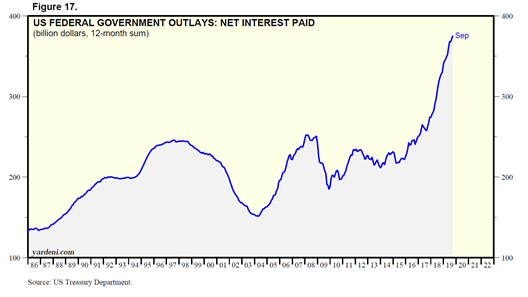 Graphs are for illustrative and discussion purposes only. Please read important disclosures at the end of this commentary.
The other cause of the huge growth in deficits is the cost of income redistribution, which rose 5% (in full employment) to a record $2.9 trillion through June. Income redistribution is about two-thirds of spending, and the plans announced by Democratic candidates indicate that those programs are likely to increase.
Graphs are for illustrative and discussion purposes only. Please read important disclosures at the end of this commentary.
With $17 trillion in global sovereign debt yielding negative returns and the Fed cutting rates again, negative "real" (after inflation) rates seem to be a permanent fixture, which makes gold a relatively safe parking place for cash and an attractive alternative to bonds. Like most New Orleans speakers, I have long advocated gold as a minority position of 5% to 10% of a portfolio. Some major banks agree. Societe Generale recommends a 5% gold position in its portfolios as an "alternative to cash." Major hedge funds are also adding gold positions, as are major central banks, who don't like the alternative currency options.
This year, gold is also up 18.2% in U.S. dollar terms (1% better than the Dow), and it is at, or near, record highs in terms of most global currencies, but due to a strong U.S. dollar, gold's rise is slower in America.
In America, gold still trades 20% below its 2011 peak, but in the last three months, gold has hit new highs in most other major currencies, including the British pound, Japanese yen, Canadian dollar, Australian dollar and Indian rupee, with near-highs in the euro and Chinese yuan. Here is a chart of gold in terms of the British pound, spiking in August 2019 (charts from several other major currencies look similar).
Graphs are for illustrative and discussion purposes only. Please read important disclosures at the end of this commentary.
The Other Side of the Debt Crisis – Government Assets
But what about those U.S. government debt concerns – that mega-bull market in runaway federal debt?
I've been involved with this New Orleans conference since 1981 and some regular speakers have been warning about the federal debt since it was under $1 trillion, much less $22 trillion. A couple of speakers I know have delivered the same basic talk for nearly 40 years, but Doomsday keeps being postponed.
There is another side of debt – it's called assets. They come together in a balance sheet. For instance, we Americans owe $9.64 trillion in home mortgages, but the net value of our homes is +$20 trillion. The same goes for auto loans. Americans owe a lot, but U.S. household net worth is +$115 trillion and rising.
The same is true for the federal government. "We the People" own dozens of National Parks like Grand Canyon, Yosemite or Yellowstone. The U.S. Navy owns 11 nuclear-powered aircraft carrier groups. The Department of the Interior controls one million square miles (640 million acres), mostly in the West, and mineral rights thereto. The U.S. government owns the land and buildings where federal employees work.
We're not going to sell the Grand Canyon any day soon, and we certainly don't want just anybody buying a nuclear-powered aircraft carrier and all the jets on its tarmac, but all those assets are worth many trillions.
This is not to minimize overspending by our federal government. Somebody, someday, needs to get serious about putting a lid on the spending addiction of the American people and their representatives in Congress, but that doesn't appear to be in the cards from either Party during the coming election cycle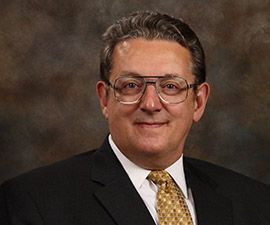 Gary Alexander
SENIOR EDITOR
Gary Alexander has been Senior Writer at Navellier since 2009.  He edits Navellier's weekly Marketmail and writes a weekly Growth Mail column, in which he uses market history to support the case for growth stocks.  For the previous 20 years before joining Navellier, he was Senior Executive Editor at InvestorPlace Media (formerly Phillips Publishing), where he worked with several leading investment analysts, including Louis Navellier (since 1997), helping launch Louis Navellier's Blue Chip Growth and Global Growth newsletters.
Prior to that, Gary edited Wealth Magazine and Gold Newsletter and wrote various investment research reports for Jefferson Financial in New Orleans in the 1980s.  He began his financial newsletter career with KCI Communications in 1980, where he served as consulting editor for Personal Finance newsletter while serving as general manager of KCI's Alexandria House book division.  Before that, he covered the economics beat for news magazines. All content of "Growth Mail" represents the opinion of Gary Alexander