October 8, 2019
Recent events involving the launching of an impeachment inquiry put a fresh wrinkle in the political optics of the China trade negotiations set to take place this Thursday and Friday in Washington DC. Leading up to this pivotal round of talks, there was widespread consensus that the U.S. was in a better position to command how a deal might be consummated to the satisfaction of the U.S. team's position.
As events would have it, the rhetoric from both Senate Intelligence Committee Chairman Adam Schiff and President Trump has reached a visceral level, sucking all the oxygen out of the room from any political momentum about inking a deal with China that would accomplish something no President has been able to manage since China joined the World Trade Organization (WTO) – to have China actually adhere to accountable measures that run counter to its current illegal and secretive practices. How this gets done, what measures of accountability are put in place, is largely unknown but is integral to any deal.
In a surprise development that opened up a new front on the trade war, reports of efforts to restrict China in its access to U.S. capital markets and possibly delist Chinese stocks caught the market fully off guard, triggering a wild sell-off. Though the White House denied the reports, there is gathering momentum on Capitol Hill that such capital controls on China would be a potentially powerful tool of leverage.
Time to Reset How China Does Business in the U.S.
Under the Obama administration, China signed a memorandum with the U.S. in 2013 that exempts Chinese companies from submitting to U.S. audits and Dodd-Frank regulations. This is outrageous. The current notion of capital controls being considered by Trump & Co. reflects a bipartisan legislative effort spearheaded by Senator Marco Rubio (R., Fla.).
In June, Rubio, along with senators Tom Cotton (R., Ark.), Bob Menendez (D., N.J.), and Kirsten Gillibrand (D., N.Y.), cosponsored the EQUITABLE Act, which would "delist foreign companies that do not comply with U.S. accounting and oversight regulations from American exchanges." That bill would, if implemented, give Chinese firms three years to either alter their financial reporting practices or be cut off from the world's largest capital market. To say this legislation is way overdue is an understatement.
So, the upcoming trade talks that have been framed out for the past month by both sides now have some new catalysts at work. On the one hand, it would seem President Trump is now more than ever motivated to strike a deal with China so as to maintain political momentum against a backdrop of rising skepticism surrounding the Ukraine affair, while China is facing a new and deeper threat to its economic future – being cut off from lucrative U.S. markets, as part of a larger goal of a "financial decoupling" with China.
With an impending tariff increase from 25% to 30% on $250 billion of Chinese goods planned for October 15 and further tariffs slated for December, the prospect of capital controls and access to U.S. financial markets adds a new dimension of uncertainty to the U.S.–China trade war — and sharply divided responses to this idea illustrate a rift between populist policymakers on the Trump team – like Lighthizer, Mnuchin, and Navarro – vs. the Wall Street/U.S. multinational business community that have sold out the American middle class to China for access and profits.
Equity markets rallied late last week on the "bad news for the economy is good news for further Fed easing" line of thinking. The odds of the Fed lowering the Fed Funds Rate from 1.75% to 1.50% at the upcoming October 30 FOMC meeting spiked from 39.4% a week ago to 76.4% last Friday. The weak PMI and ISM data triggered a trap door sell-off that took almost 1,000 points off the Dow over a two-day period, exposing just how sensitive the market is to negative news that signals cracks in the U.S. economy.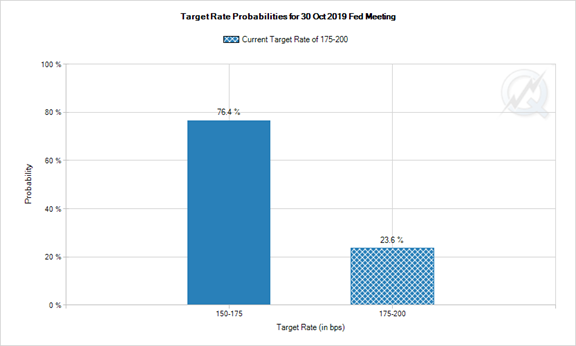 Graphs are for illustrative and discussion purposes only. Please read important disclosures at the end of this commentary.
I believe that because of the impeachment inquiry, the threat of more pending tariffs, the legislative momentum of new capital and listing standards on China, and the Fed conducting new overnight Repo operations in what is being viewed as liquidity stress within the banking system – the pressure to do a deal on U.S. and China trade has been ratcheted higher.
In fact, much higher – and I haven't even addressed how the whole protest movement in Hong Kong could impact the trade talks if that situation results in Chinese troops invading Hong Kong in a crackdown that would have a devastating effect on that country's economy and the surrounding territories.
Last week, China's President Xi proclaimed at the 70th anniversary of Communist party rule that "no force can shake the status of this great nation" – just as all hell is breaking loose in Hong Kong. So, while there may be a trade deal of sorts this week, to avoid further punitive actions and market volatility, there will be a lot of attention on China and how it conducts itself on the world stage, both here and at home.
Bryan Perry
SENIOR DIRECTOR
Bryan Perry is a Senior Director with Navellier Private Client Group, advising and facilitating high net worth investors in the pursuit of their financial goals.
Bryan's financial services career spanning the past three decades includes over 20 years of wealth management experience with Wall Street firms that include Bear Stearns, Lehman Brothers and Paine Webber, working with both retail and institutional clients. Bryan earned a B.A. in Political Science from Virginia Polytechnic Institute & State University and currently holds a Series 65 license. All content of "Income Mail" represents the opinion of Bryan Perry
Although information in these reports has been obtained from and is based upon sources that Navellier believes to be reliable, Navellier does not guarantee its accuracy and it may be incomplete or condensed. All opinions and estimates constitute Navellier's judgment as of the date the report was created and are subject to change without notice. These reports are for informational purposes only and are not intended as an offer or solicitation for the purchase or sale of a security. Any decision to purchase securities mentioned in these reports must take into account existing public information on such securities or any registered prospectus.
Past performance is no indication of future results. Investment in securities involves significant risk and has the potential for partial or complete loss of funds invested. It should not be assumed that any securities recommendations made by Navellier. in the future will be profitable or equal the performance of securities made in this report.
Dividend payments are not guaranteed. The amount of a dividend payment, if any, can vary over time and issuers may reduce dividends paid on securities in the event of a recession or adverse event affecting a specific industry or issuer.
None of the stock information, data, and company information presented herein constitutes a recommendation by Navellier or a solicitation of any offer to buy or sell any securities. Any specific securities identified and described do not represent all of the securities purchased, sold, or recommended for advisory clients. The reader should not assume that investments in the securities identified and discussed were or will be profitable.
Information presented is general information that does not take into account your individual circumstances, financial situation, or needs, nor does it present a personalized recommendation to you. Individual stocks presented may not be suitable for you. Investment in securities involves significant risk and has the potential for partial or complete loss of funds invested. Investment in fixed income securities has the potential for the investment return and principal value of an investment to fluctuate so that an investor's holdings, when redeemed, may be worth less than their original cost.
One cannot invest directly in an index. Results presented include the reinvestment of all dividends and other earnings.
Past performance is no indication of future results.
FEDERAL TAX ADVICE DISCLAIMER: As required by U.S. Treasury Regulations, you are informed that, to the extent this presentation includes any federal tax advice, the presentation is not intended or written by Navellier to be used, and cannot be used, for the purpose of avoiding federal tax penalties. Navellier does not advise on any income tax requirements or issues. Use of any information presented by Navellier is for general information only and does not represent tax advice either express or implied. You are encouraged to seek professional tax advice for income tax questions and assistance.
IMPORTANT NEWSLETTER DISCLOSURE: The hypothetical performance results for investment newsletters that are authored or edited by Louis Navellier, including Louis Navellier's Growth Investor, Louis Navellier's Breakthrough Stocks, Louis Navellier's Accelerated Profits, and Louis Navellier's Platinum Club, are not based on any actual securities trading, portfolio, or accounts, and the newsletters' reported hypothetical performances should be considered mere "paper" or proforma hypothetical performance results and are not actual performance of real world trades.  Navellier & Associates, Inc. does not have any relation to or affiliation with the owner of these newsletters. There are material differences between Navellier Investment Products' portfolios and the InvestorPlace Media, LLC newsletter portfolios authored by Louis Navellier. The InvestorPlace Media, LLC newsletters contain hypothetical performance that do not include transaction costs, advisory fees, or other fees a client might incur if actual investments and trades were being made by an investor. As a result, newsletter performance should not be used to evaluate Navellier Investment services which are separate and different from the newsletters. The owner of the newsletters is InvestorPlace Media, LLC and any questions concerning the newsletters, including any newsletter advertising or hypothetical Newsletter performance claims, (which are calculated solely by Investor Place Media and not Navellier) should be referred to InvestorPlace Media, LLC at (800) 718-8289.
Please note that Navellier & Associates and the Navellier Private Client Group are managed completely independent of the newsletters owned and published by InvestorPlace Media, LLC and written and edited by Louis Navellier, and investment performance of the newsletters should in no way be considered indicative of potential future investment performance for any Navellier & Associates separately managed account portfolio. Potential investors should consult with their financial advisor before investing in any Navellier Investment Product.
Navellier claims compliance with Global Investment Performance Standards (GIPS). To receive a complete list and descriptions of Navellier's composites and/or a presentation that adheres to the GIPS standards, please contact Navellier or click here. It should not be assumed that any securities recommendations made by Navellier & Associates, Inc. in the future will be profitable or equal the performance of securities made in this report. Request here a list of recommendations made by Navellier & Associates, Inc. for the preceding twelve months, please contact Tim Hope at (775) 785-9416.