October 22, 2019
Two weeks ago, President Trump's top economic advisors convinced him to compromise with China on that country's most egregious trade practices and resume trade in order to avoid a recession going into the 2020 election. On October 8, Larry Kudlow, director of the White House National Economic Council, along with economists Lawrence Lindsey and Stephen Moore "all agreed that the uncertainty about the trade situation is a negative," according to Moore, who will be one of my panelists on economic and geopolitical challenges at the upcoming New Orleans Investment Conference (meeting November 1-4).
Moore added that "There was a general consensus that the economy was really strong, the best economy we've had in 30 years, and that is what's going to get him re-elected." Moore told reporters that a truce with China would lead to "a nice rebound in 2020, and he'll be in a very strong position to get re-elected" (for details, see "China Truce Followed Oval Office Appeal," Wall Street Journal, October 19-20, 2019).
In a democracy, I suppose you have to make these trade-offs, but it would be a shame to give in to China when we are on the verge of enforcing product protection laws vital for our capitalist system and rule of law. Our trade volume with China has been declining since Trump took office, and our economy has done just fine. China was our leading trade partner in 2017, but not now. Mexico and Canada are #1 and #2:
Graphs are for illustrative and discussion purposes only. Please read important disclosures at the end of this commentary.
As Louis Naveller has often said, China needs the U.S. more than we need China. We export a small amount of trade toward China vs. a tsunami of exports they send our way, hence our huge trade deficit with China. We have imposed some kinds of tariffs on China for over two years now and we have not suffered – we have the best-ever peacetime employment, rising GDP and wages, along with negligible inflation. There's a whole wide world filled with law-abiding countries willing to fill any gap left by the China trade. Companies are willing to move out of China to neighboring Asian nations, while China seems committed to illegal theft of intellectual property rights, which our country should not condone.
Intellectual property theft is not limited to those American companies operating in China. Chinese agents are positioned all throughout America stealing corporate secrets. In July, FBI Director Christopher Wray said that the FBI has 1,000 active investigations into attempted intellectual property theft within America, mostly involving China. (For examples, see "China's Techno-Kleptomania," WSJ, October 15, 2019).
By contrast to America's growing economy, China is sputtering. It's vaunted GDP is slowing fast, and its inflation rate soared to a 3% annual pace in September, its highest level in six years, fueled by a 69% rise in pork prices as African swine fever severely curtailed pork production. China's pork imports soared at a 72% annual pace in September, after rising at a 76% rate in August. Their overall food prices rose 11%.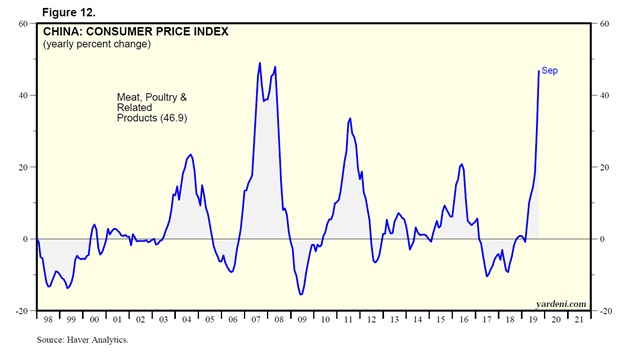 Graphs are for illustrative and discussion purposes only. Please read important disclosures at the end of this commentary.
Complicating matters further, a weak yuan is causing prices on all Chinese imports to rise, as their currency manipulation policy is backfiring. This makes China more desperate to adopt our "Phase One" trade deal so they can import our farm products and help squelch food price inflation within China.
Case in Point: Rare Earth Elements
A decade ago, the big argument was that China controlled 90% of "rare earth elements" (REE) that were vital for our national defense, so we had to treat them kindly or else they would withhold the supply of these minerals and choke off our defense capabilities. There were a few "rare earth" stock names being touted. I bought stocks that went up five-fold in price and then slowly evaporated into almost nothing.
What happened?
According to Andrew McAfee in "More is Less," a bundle of REE that sold for less than $10,000 in early 2010 soared to more than $42,000 by April of 2011. In September of that year, the U.S. House held a hearing called "China's Monopoly on Rare Earths: Implications for U.S. Foreign and Security Policy."
As it turns out, these elements aren't all that rare. They're just difficult to extract from ore, requiring a lot of acid and other polluting byproducts, which didn't bother China but bothered more responsible nations. In the years since 2011, however, technology has solved most of these problems, one after another, and "the companies using REE found many inexpensive and convenient alternatives. By the end of 2017. the same bundle of rare earths that had been trading above $42,000 in 2011 was available for about $1,000."
Graphs are for illustrative and discussion purposes only. Please read important disclosures at the end of this commentary.
Like a fool, I still hold these stocks I rode up five-fold and then rode down to crumbs, on a China myth!
The U.S. government also holds an ace in the hole in the form of strategic stockpiles, which can be used at any time, as well as domestic mines which can be reopened for strategic purposes. According to economist Mark Perry, "The best way to protect our national security and economy lies in adopting a strategy aimed at reopening domestic mines and taking advantage of the estimated $6.2 trillion in U.S. mineral resources. Demand for minerals is expected to soar as the production of electric vehicles and other mineral-intensive technologies increases. Solar panels, wind turbines, and lithium-ion batteries rely on minerals that we can produce in the U.S. For that to happen, Congress must commit to reducing the permitting barriers that have weakened the competitiveness of U.S. mining operations. The mine permitting process is so redundant and cumbersome, it often takes 10 years or more for a company to obtain a permit. In contrast, the process takes an average of three years or less in Canada and Australia."
We don't need to fear China. We just need to trade with the rest of the world and get out of our own way.
P.S. Thanks to MarketMail subscriber Patrick Doyle for suggesting this article topic.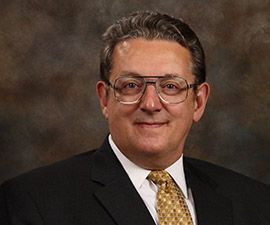 Gary Alexander
SENIOR EDITOR
Gary Alexander has been Senior Writer at Navellier since 2009.  He edits Navellier's weekly Marketmail and writes a weekly Growth Mail column, in which he uses market history to support the case for growth stocks.  For the previous 20 years before joining Navellier, he was Senior Executive Editor at InvestorPlace Media (formerly Phillips Publishing), where he worked with several leading investment analysts, including Louis Navellier (since 1997), helping launch Louis Navellier's Blue Chip Growth and Global Growth newsletters.
Prior to that, Gary edited Wealth Magazine and Gold Newsletter and wrote various investment research reports for Jefferson Financial in New Orleans in the 1980s.  He began his financial newsletter career with KCI Communications in 1980, where he served as consulting editor for Personal Finance newsletter while serving as general manager of KCI's Alexandria House book division.  Before that, he covered the economics beat for news magazines. All content of "Growth Mail" represents the opinion of Gary Alexander