October 22, 2019
Many people obsess over the news. It's like an intellectual game to know the absolute latest developments. Admittedly, I am usually a loser at this game. I just can't keep up. I also can't stand looking at the news. It is the ultimate downer. Just a look at last week's headlines prove my point: The Turkey-Syria conflict, Brexit, Impeachment, Hong Kong protests, Teen suicide rates explode, babies getting shot, Hotels collapsing, Tropical storms… I'll stop there. That's only a few days' worth.
I think I'm right to ignore it. A study published a few years back in the journal, "Proceedings of the National Academy of Sciences" agrees. It says that people with a positive outlook have an 11% to 15% longer lifespan, and 50% to 70% greater odds of reaching 85 years old compared to those without one. The study tracked 70,000 women for 10 years and 1,500 men for 30. Even considering health, alcohol use, diet, and exercise, researchers found that cheery people lived longer than the Debbie Downers.
The good news is that the market wasn't brought down by the news last week. It may have been held back, but the growth-heavy Russell 2000 surged 1.56%. Looking at the sectors, below – we saw strength in most sectors. Health Care was up over 2%. Real Estate, Financials, Communications, and Consumer Discretionary all had strong weeks, each running over +1.3%. In fact, most indexes were in the green.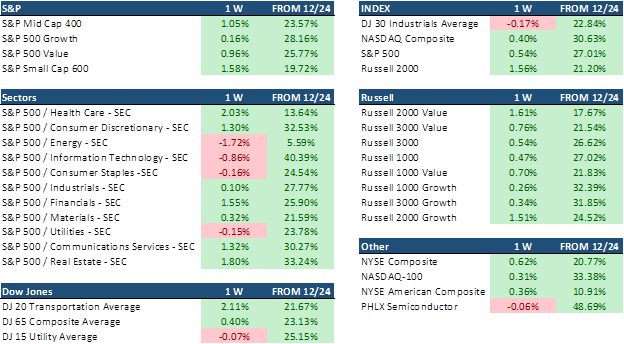 Graphs are for illustrative and discussion purposes only. Please read important disclosures at the end of this commentary.
Energy and info-tech were the notable downers. Those were the two pain points in the market. Crude oil's -14.6% fall from its September 16th peak surely has something to do with it. I saw big money sell signals on 18 Oil & Gas stocks this past week. As the selling continues, so do the woes of the energy sector, which fell 1.72% last week. It's also down 7% in a month and -9.3 % in three months. Ouch.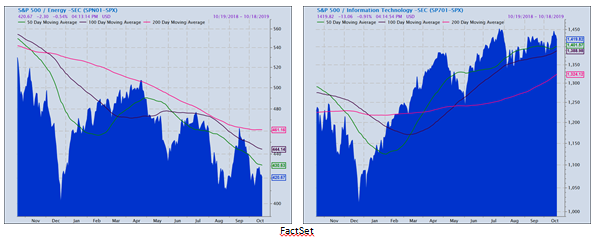 Graphs are for illustrative and discussion purposes only. Please read important disclosures at the end of this commentary.
Infotech is remarkably more resilient. Despite some ugliness recently (down -0.86% last week), it's up 0.7% in a month, and +0.3% in three months. The problem right now is software. Last week saw 32 big money sell signals in software stocks. Headlines are starting to surface about hedge funds suffering as their "software darlings" crumble. Personally, I think this is a good thing. When it hits the news, the market move is usually at or near the end. If the news had any predictive value, it wouldn't be an entertainment business. I believe there is opportunity lurking in software. Many companies make oodles of money, have huge profit margins and low debt, but the babies get thrown out with the bath water.
I'll explain.
I was speaking to Luke (co-founder of Mapsignals) last week. We were reviewing our growth-heavy portfolio against our long-term dividend reinvestment portfolio. Our conversation basically went like this:
For an outsider, it's a tale of two different portfolios. If you are in growth, like Software and Tech, you have weakness as reversion persists. But for dividend growth names… value groups like semis, athletic wear, big box retail, REITs, & Utilities, your portfolio is shining.
We happen to have both and can see the P&L swings are inverse at times.
After decades on Wall Street, we envision portfolio managers overweight Software and underweight value. Now they are getting squeezed. These are managers at big hedge funds that aren't allowed a -2% loss in a month. When they get close, the boss comes over and forces liquidation. This happens especially on crowded trades like last year's biggest winner, software stocks. Then the algo-traders smell blood and intensify the move, which forces other managers with looser loss-restrictions to get a tap on the shoulder.
Rinse and repeat.
You can see how quickly things can spiral. The crazy thing is that on the surface of the S&P 500, things look calm. But rest assured, momentum guys are getting pummeled. For us, this spells opportunity.
Positive Earnings & Revenue Surprises are Above Average So Far
As for the overall market, Q3 earnings season has just begun. With 15% of the companies in the S&P 500 having reported, 84% have beat earnings estimates so far – that's above the five-year average – and 64% have beat their sales estimates. That's also above the five-year average.
That said, positive earnings surprises from Health Care and Financials were offset by negative revisions for Energy. FactSet Earnings Insight says, "Four sectors are reporting (or are expected to report) year-over-year growth in earnings, led by the Real Estate and Utilities sectors. Seven sectors are reporting a year-over-year decline in earnings, led by the Energy, Information Technology, and Materials sectors."
Earnings started strong and the market doesn't seem to care about the Debbie Downer news media. And let's not forget, even with the overall market a kiss away from its highs, stocks are still the best place to put your money. Bond yields before and after tax are worse than the dividend yield of the S&P 500:
Graphs are for illustrative and discussion purposes only. Please read important disclosures at the end of this commentary.
As the late Bob Marley said: "You not supposed to feel down over whatever happen to you. I mean, you're supposed to use whatever happen to you as some type of upper, not a downer."
Don't be a Debbie Downer.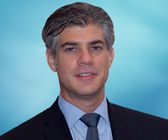 Jason Bodner
MARKETMAIL EDITOR FOR SECTOR SPOTLIGHT
Jason Bodner writes Sector Spotlight in the weekly Marketmail publication and has authored several white papers for the company. He is also Co-Founder of Macro Analytics for Professionals which produces proprietary equity accumulation/distribution research for its clients. Previously, Mr. Bodner served as Director of European Equity Derivatives for Cantor Fitzgerald Europe in London, then moved to the role of Head of Equity Derivatives North America for the same company in New York. He also served as S.V.P. Equity Derivatives for Jefferies, LLC. He received a B.S. in business administration in 1996, with honors, from Skidmore College as a member of the Periclean Honors Society. All content of "Sector Spotlight" represents the opinion of Jason Bodner