by Gary Alexander
October 19, 2021
I attended my first New Orleans Investment Conference in November 1981 as a free-lance reporter for DC-based Personal Finance and a New York financial publisher. Two years later, I was employed by the conference founder, James U. Blanchard III (through 1989), and I have been MC and/or panel moderator there ever since, so this marks my 40th anniversary there. Today is their opening day, as well as the 34th anniversary of "Black Monday," the worst one-day crash (in percentage terms) in history, down 22.6%.
Since 1987, October has had a reputation of being the month of market crashes, although that has only been true in 1907, 1929, and 1987, with the 2008 crash centered in September. As Jason Bodner wrote last week, the Doomsday press play up our fears of October. Sure enough, a best-selling financial author said on September 29 that we will soon face "the biggest crash in world history," and it won't be just stocks. The whole financial "house of cards is coming down," real estate along with stocks. He says you can only find safety in Gold, Silver, and Bitcoin. That will be sweet music to New Orleans attendees.
The problem is, this Doomsday author wrote a book predicting the same "biggest crash in history" in 2015, but that's far from the record for delayed gratification. One regular New Orleans speaker has predicted a "Greater Depression" for the last 40 years, another for 35 years. In 1929, Roger Babson was credited with predicting that crash, but he had predicted that crash since 1925, missing a 150% gain. Some modern bears have missed the last doubling (since 2015), or the last 4,000% gains since 1981.
Don't get me wrong, I still like gold, and I hold gold as a dollar hedge and alternative for most currencies and bonds, but I work with Louis Navellier because I believe even more in stocks, and Louis is one of the few stock-based advisors who also respects gold. (I'll report from the scene in New Orleans next week.)
The Crash of 1987 in Slow Motion – 6 Days of Collapse and 2 Days of Recovery
Pardon the length, but I don't think you'll find this level of detail anywhere else, and it's a dramatic tale:
Day 1: Wednesday, October 14, 1987, was the opening shot of the Crash of 1987. The Dow Jones index fell by a then-record 95.46 points (-3.8%), from 2508.16 to 2412.70. The Dow would set two larger all-time drops the following Friday and on Black Monday, but this was the starting gun. The Dow fell nearly 800 points (over 30%) in four days. What set off this worst four-day (and one-day) crash of all time?
Books have been written on this question, but the simple answer is that the Dow had risen too far, too fast, from 1895 on January 1, 1987, to 2722 on August 22, 1987 (+46.4% in under eight months). The market was overdue for a correction, but what turned a normal correction into a crash? For the first clues, The Nightly Business Report of October 14 gave this long litany of causes for that first big daily drop:
(1) The trade deficit was announced at $15.7 billion that day. This was the "proximate cause."
(2) Bond prices were at their lowest levels of the year, down 13.4% since February 9, 1987.
(3) The U.S. dollar had dropped 11% since its August high.
(4) Argentina announced a devaluation of the peso and a price freeze against 135% inflation.
(5) Chemical Bank reported a third-quarter loss and raised its prime rate from 9.25% to 9.75%.
(6) Car sales were dramatically down for the first 10 days of October: GM sales were down 43%, Ford was down 36%, and Chrysler down 41%, compared to the previous 10-day period.
(7) A tax bill was reported out of the House Ways and Means Committee, which would have severely limited tax deductions for interest paid on debt used to finance takeover activity – a war on mergers!
After a shell-shocked half-hour of such dismal facts, NBR announced that their commentary for the next night would be by Dr. Arthur Laffer, on "The Financial Collapse on the Way." But that would change…
Day 2: Thursday, October 15: Dr. Laffer thought better and changed his nightly PBS commentary to a more neutral topic: "Why public employees should not be able to strike." Others tried more positive talk as well, but none of this helped. The Dow careened down another 67.61 points (-2.39%) to 2,355.09.
Day 3: Friday, October 16 opened on a positive note, with the Dow up nine points. By 1 pm, however, the Dow was down 31. By 2:00, it dropped another 54 points, then recovered 29 points from 2:00 to 3:00, but in the last half hour, the Dow dropped 50 more points, to close down a record 108.35 points (-4%), from 2355 to 2246, on record volume of 338,500,000 shares, while Gold was on the rise, reaching $471.
There was nervous tension in the air on The Nightly Business Report of October 16, 1987, as host Paul Kangas expressed the majority view: "Prices cascaded down due to heavy program trading and portfolio insurance selling." NBR reporter Neil Cavuto said that the panic on Wall Street was mostly related to Salomon Brothers' decision to lay off 800 employees – but most investors were waiting for the calm and re-assuring voice of Louis Rukeyser, the long-time host of "Wall $treet Week With Louis Rukeyser."
Lou explained the week's losses as if they were suspects in a crime thriller, ranging from "scary lay-offs at two major firms," to "growing evidence that the mindless computer-driven program trading of institutions can turn worry into panic, and prudent selling into wholesale desertion." But it was one of Rukeyser's guest panelists, Martin Zweig, who became a prophetic voice on that dark and stormy night:
"I haven't been looking for a bear market, per se. I have been really in my own mind looking for a crash, but I didn't want to talk about it publicly because it's like shouting fire in a crowded theater, and there's other ways to play it. You just tilt your strategy negatively and you shut your mouth."
Yes it was a dark and stormy night on Friday, October 16, 1987: A storm hit London, the worst in 300 years. TV reporters said, "The storm took everyone by surprise, rolling into the British capital from the English Channel and plunging the City of London into darkness and chaos just before dawn." The storm was so bad that the Bank of England declared that Friday as a holiday. This was an eerie co-incidence:
On October 24, 1929, a storm also hit London while Winston Churchill was touring the New York Stock Exchange on Black Thursday, the first day of the 1929 Crash. But in 1987, the big 508-point drop on Black Monday would be caused by another kind of European thunderstorm – a "weekend war of words."
Day 4: Saturday, October 17: Markets were thankfully closed, but U.S. Secretary of the Treasury James Baker III was in Europe and told the Germans to "either inflate your mark, or we'll devalue the dollar."  Later, an unnamed Treasury official said that America would "drive the dollar down" if necessary.
Baker's reason for saying this was that the U.S. trade deficit figures were released on the previous Wednesday at record highs; the Prime Rate then shot up on Thursday, and the bond market got hit hard. On Friday, Treasury bond rates climbed over 10% and contributed to Friday's record down market day.
Day 5: Sunday, October 18, Treasury Secretary Baker went on the Sunday morning TV talk shows, where he said the U.S. "would not accept" the recent German interest rate increase. He repeated his threat to drive the dollar down. Some said Baker's rash words were the biggest cause of Black Monday's panic.
Jacques Delors, president of the European Commission, compared Baker's remarks to "a pyro-maniac fireman. When you're living on the edge of the volcano, you don't light matches."
Economist Pierre Rinfret said, "I think we have a Secretary of the Treasury that started one of the worst panics in the history of the stock market. I think he is a fool. I think he should resign immediately or be fired." After cooling down, he blamed Baker for "bombing his own currency."
Trader Jimmy Rogers, after seeing Baker's gaffe on TV, said, "I went in on Monday, ready to short the market, but there were no buyers. The crash had nothing to do with program trading or arbitrage or investment insurance. Greenspan and Baker simply panicked and blew it."
Day 6: "Black Monday," October 19 was entirely predictable, given what we have seen so far, but it didn't happen all at once, and it didn't start in New York. As always, the market day began in Asia, where Monday opened with a 33% drop in Singapore, a 17% loss in Tokyo, and 11% down in Hong Kong – which closed for the rest of the week. Europe fared no better, with a 22% drop in London, 14% in Zurich, and 13% in Frankfurt. Hearing this news over their breakfast coffee, New York traders were bearish from the start, as the Dow dropped 104 points in the first hour alone, while gold was up $10, to $481.70.
By the middle of the day, however, the New York market began to consolidate its losses, staying down between 100 and 200 Dow points, and brokers hoped for a single-digit percent loss. But after 2:00 p.m., the market began to lose 100 points each half hour, accelerating from a 376-point drop as of 3:30pm, to a 508 point drop at the closing bell. Most investors couldn't get through to their brokers to sell. All circuits were busy, so concerned investors kept their eyes glued to the Financial News Network (FNN), where one bullish ad featured a "Professor Gerald Gold," who predicted that the Dow would hit 2,987 by year's end!
Day 7: Tuesday, October 20 was the scariest time of all. Despite Monday's record 508-point loss, there was no buying at the opening. The Dow fell 100 points in early trading, but by the end of the day, it was up over 100 (+5.9%), the first-ever 100-point daily gain. The next day, that record was shattered with a +187-point day (+10.1%), the first 10% daily rise since 1933. Tuesday set a new volume record for the third straight day, at 608,120,000 shares. Much of the volume came from early panic selling, but at some mid-morning moment, everyone looked at each other and said, "Enough of this," and started buying.
On the dark side, the Toronto gold stock market index fell 22% on October 20 – Gold's Bloody Tuesday. On the previous day, Bloody Monday, gold rose. Nobody expected a gold stock crash the following day, but traders subject to margin calls on Monday or Tuesday morning sold anything that had held its value.
On that Tuesday, America was in the middle of a World Series (Minnesota vs. St. Louis). For the three mid-week games in St. Louis, Merrill Lynch pulled their regular TV ads and replaced them with a sober message that told baseball fans that, "Merrill Lynch is still 'bullish on America.'"
Day 8: Wednesday October 21 was the largest one-day percentage gain since 1933, by a wide margin. Three of the four biggest daily gains of the late 20th Century came in one 10-day spurt in October 1987:
| | | |
| --- | --- | --- |
| Tuesday | October 20: | +102.27 (+5.9%) |
| Wednesday | October 21: | +186.84 (+10.1%) |
| Thursday | October 29: | +91.51 (+5.0%) |
To summarize, the main cause of the 1987 crash was that the market soared too far, too fast. At the end of September 1986, the Dow was 1767.58. On August 25, 1987, it peaked at 2722.42, up 54%. There is no justification for that large of a rise in under 11 months. As for the "proximate cause," blunders by two political appointees caused the crash. First, the rookie chairman of the Federal Reserve, Alan Greenspan, made it his first order of business to raise the Discount Rate in early September 1987. That started the correction. Then, Secretary of the Treasury James Baker talked tough to the Germans about the dollar, pushing us into a crash. As in 1929, we must look to government first for the cause of the crash. Between Baker's currency wars, Greenspan's tight money, a new Congressional tax bill, and more threats of protectionist legislation, the problem was too much government intervention, not "computerized trading."
All content above represents the opinion of Gary Alexander of Navellier & Associates, Inc.
Marketmail Survey #9 is now closed.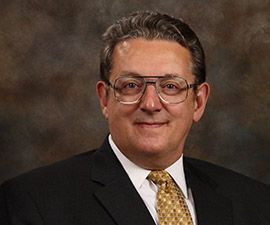 Gary Alexander
SENIOR EDITOR
Gary Alexander has been Senior Writer at Navellier since 2009.  He edits Navellier's weekly Marketmail and writes a weekly Growth Mail column, in which he uses market history to support the case for growth stocks.  For the previous 20 years before joining Navellier, he was Senior Executive Editor at InvestorPlace Media (formerly Phillips Publishing), where he worked with several leading investment analysts, including Louis Navellier (since 1997), helping launch Louis Navellier's Blue Chip Growth and Global Growth newsletters.
Prior to that, Gary edited Wealth Magazine and Gold Newsletter and wrote various investment research reports for Jefferson Financial in New Orleans in the 1980s.  He began his financial newsletter career with KCI Communications in 1980, where he served as consulting editor for Personal Finance newsletter while serving as general manager of KCI's Alexandria House book division.  Before that, he covered the economics beat for news magazines. All content of "Growth Mail" represents the opinion of Gary Alexander
Important Disclosures:
Although information in these reports has been obtained from and is based upon sources that Navellier believes to be reliable, Navellier does not guarantee its accuracy and it may be incomplete or condensed. All opinions and estimates constitute Navellier's judgment as of the date the report was created and are subject to change without notice. These reports are for informational purposes only and are not a solicitation for the purchase or sale of a security. Any decision to purchase securities mentioned in these reports must take into account existing public information on such securities or any registered prospectus.To the extent permitted by law, neither Navellier & Associates, Inc., nor any of its affiliates, agents, or service providers assumes any liability or responsibility nor owes any duty of care for any consequences of any person acting or refraining to act in reliance on the information contained in this communication or for any decision based on it.
Past performance is no indication of future results. Investment in securities involves significant risk and has the potential for partial or complete loss of funds invested. It should not be assumed that any securities recommendations made by Navellier. in the future will be profitable or equal the performance of securities made in this report. Dividend payments are not guaranteed. The amount of a dividend payment, if any, can vary over time and issuers may reduce dividends paid on securities in the event of a recession or adverse event affecting a specific industry or issuer.
None of the stock information, data, and company information presented herein constitutes a recommendation by Navellier or a solicitation to buy or sell any securities. Any specific securities identified and described do not represent all of the securities purchased, sold, or recommended for advisory clients. The holdings identified do not represent all of the securities purchased, sold, or recommended for advisory clients and the reader should not assume that investments in the securities identified and discussed were or will be profitable.
Information presented is general information that does not take into account your individual circumstances, financial situation, or needs, nor does it present a personalized recommendation to you. Individual stocks presented may not be suitable for every investor. Investment in securities involves significant risk and has the potential for partial or complete loss of funds invested. Investment in fixed income securities has the potential for the investment return and principal value of an investment to fluctuate so that an investor's holdings, when redeemed, may be worth less than their original cost.
One cannot invest directly in an index. Index is unmanaged and index performance does not reflect deduction of fees, expenses, or taxes. Presentation of Index data does not reflect a belief by Navellier that any stock index constitutes an investment alternative to any Navellier equity strategy or is necessarily comparable to such strategies. Among the most important differences between the Indices and Navellier strategies are that the Navellier equity strategies may (1) incur material management fees, (2) concentrate its investments in relatively few stocks, industries, or sectors, (3) have significantly greater trading activity and related costs, and (4) be significantly more or less volatile than the Indices.
ETF Risk: We may invest in exchange traded funds ("ETFs") and some of our investment strategies are generally fully invested in ETFs. Like traditional mutual funds, ETFs charge asset-based fees, but they generally do not charge initial sales charges or redemption fees and investors typically pay only customary brokerage fees to buy and sell ETF shares. The fees and costs charged by ETFs held in client accounts will not be deducted from the compensation the client pays Navellier. ETF prices can fluctuate up or down, and a client account could lose money investing in an ETF if the prices of the securities owned by the ETF go down. ETFs are subject to additional risks:
ETF shares may trade above or below their net asset value;
An active trading market for an ETF's shares may not develop or be maintained;
The value of an ETF may be more volatile than the underlying portfolio of securities the ETF is designed to track;
The cost of owning shares of the ETF may exceed those a client would incur by directly investing in the underlying securities; and
Trading of an ETF's shares may be halted if the listing exchange's officials deem it appropriate, the shares are delisted from the exchange, or the activation of market-wide "circuit breakers" (which are tied to large decreases in stock prices) halts stock trading generally.
Grader Disclosures: Investment in equity strategies involves substantial risk and has the potential for partial or complete loss of funds invested. The sample portfolio and any accompanying charts are for informational purposes only and are not to be construed as a solicitation to buy or sell any financial instrument and should not be relied upon as the sole factor in an investment making decision. As a matter of normal and important disclosures to you, as a potential investor, please consider the following: The performance presented is not based on any actual securities trading, portfolio, or accounts, and the reported performance of the A, B, C, D, and F portfolios (collectively the "model portfolios") should be considered mere "paper" or pro forma performance results based on Navellier's research.
Investors evaluating any of Navellier & Associates, Inc.'s, (or its affiliates') Investment Products must not use any information presented here, including the performance figures of the model portfolios, in their evaluation of any Navellier Investment Products. Navellier Investment Products include the firm's mutual funds and managed accounts. The model portfolios, charts, and other information presented do not represent actual funded trades and are not actual funded portfolios. There are material differences between Navellier Investment Products' portfolios and the model portfolios, research, and performance figures presented here. The model portfolios and the research results (1) may contain stocks or ETFs that are illiquid and difficult to trade; (2) may contain stock or ETF holdings materially different from actual funded Navellier Investment Product portfolios; (3) include the reinvestment of all dividends and other earnings, estimated trading costs, commissions, or management fees; and, (4) may not reflect prices obtained in an actual funded Navellier Investment Product portfolio. For these and other reasons, the reported performances of model portfolios do not reflect the performance results of Navellier's actually funded and traded Investment Products. In most cases, Navellier's Investment Products have materially lower performance results than the performances of the model portfolios presented.
This report contains statements that are, or may be considered to be, forward-looking statements. All statements that are not historical facts, including statements about our beliefs or expectations, are "forward-looking statements" within the meaning of The U.S. Private Securities Litigation Reform Act of 1995. These statements may be identified by such forward-looking terminology as "expect," "estimate," "plan," "intend," "believe," "anticipate," "may," "will," "should," "could," "continue," "project," or similar statements or variations of such terms. Our forward-looking statements are based on a series of expectations, assumptions, and projections, are not guarantees of future results or performance, and involve substantial risks and uncertainty as described in Form ADV Part 2A of our filing with the Securities and Exchange Commission (SEC), which is available at www.adviserinfo.sec.gov or by requesting a copy by emailing info@navellier.com. All of our forward-looking statements are as of the date of this report only. We can give no assurance that such expectations or forward-looking statements will prove to be correct. Actual results may differ materially. You are urged to carefully consider all such factors.
FEDERAL TAX ADVICE DISCLAIMER: As required by U.S. Treasury Regulations, you are informed that, to the extent this presentation includes any federal tax advice, the presentation is not written by Navellier to be used, and cannot be used, for the purpose of avoiding federal tax penalties. Navellier does not advise on any income tax requirements or issues. Use of any information presented by Navellier is for general information only and does not represent tax advice either express or implied. You are encouraged to seek professional tax advice for income tax questions and assistance.
IMPORTANT NEWSLETTER DISCLOSURE:The hypothetical performance results for investment newsletters that are authored or edited by Louis Navellier, including Louis Navellier's Growth Investor, Louis Navellier's Breakthrough Stocks, Louis Navellier's Accelerated Profits, and Louis Navellier's Platinum Club, are not based on any actual securities trading, portfolio, or accounts, and the newsletters' reported hypothetical performances should be considered mere "paper" or proforma hypothetical performance results and are not actual performance of real world trades.  Navellier & Associates, Inc. does not have any relation to or affiliation with the owner of these newsletters. There are material differences between Navellier Investment Products' portfolios and the InvestorPlace Media, LLC newsletter portfolios authored by Louis Navellier. The InvestorPlace Media, LLC newsletters contain hypothetical performance that do not include transaction costs, advisory fees, or other fees a client might incur if actual investments and trades were being made by an investor. As a result, newsletter performance should not be used to evaluate Navellier Investment services which are separate and different from the newsletters. The owner of the newsletters is InvestorPlace Media, LLC and any questions concerning the newsletters, including any newsletter advertising or hypothetical Newsletter performance claims, (which are calculated solely by Investor Place Media and not Navellier) should be referred to InvestorPlace Media, LLC at (800) 718-8289.
Please note that Navellier & Associates and the Navellier Private Client Group are managed completely independent of the newsletters owned and published by InvestorPlace Media, LLC and written and edited by Louis Navellier, and investment performance of the newsletters should in no way be considered indicative of potential future investment performance for any Navellier & Associates separately managed account portfolio. Potential investors should consult with their financial advisor before investing in any Navellier Investment Product.
Navellier claims compliance with Global Investment Performance Standards (GIPS). To receive a complete list and descriptions of Navellier's composites and/or a presentation that adheres to the GIPS standards, please contact Navellier or click here. It should not be assumed that any securities recommendations made by Navellier & Associates, Inc. in the future will be profitable or equal the performance of securities made in this report.
FactSet Disclosure: Navellier does not independently calculate the statistical information included in the attached report. The calculation and the information are provided by FactSet, a company not related to Navellier. Although information contained in the report has been obtained from FactSet and is based on sources Navellier believes to be reliable, Navellier does not guarantee its accuracy, and it may be incomplete or condensed. The report and the related FactSet sourced information are provided on an "as is" basis. The user assumes the entire risk of any use made of this information. Investors should consider the report as only a single factor in making their investment decision. The report is for informational purposes only and is not intended as an offer or solicitation for the purchase or sale of a security. FactSet sourced information is the exclusive property of FactSet. Without prior written permission of FactSet, this information may not be reproduced, disseminated or used to create any financial products. All indices are unmanaged and performance of the indices include reinvestment of dividends and interest income, unless otherwise noted, are not illustrative of any particular investment and an investment cannot be made in any index. Past performance is no guarantee of future results.