October 15, 2019
The great buildup to last week's trade talks to gain progress with China was in my estimation a "Swedish meatball served on a platter," designed to do nothing more than have the Chinese buy more American farm products if China will just dial back the practice of government-sponsored currency manipulation. As a reward of sorts, the proposed hike in existing tariffs set for October 15 will be suspended for now.
To correct President Trump's statement, I'd say there was nothing "very substantial" in this "Phase One" deal that I can see, and the devil is always in the details. Everything that went down last Thursday and Friday was by oral agreement. The terms of the deal will be written down over the next three to four weeks, right before the next set of tariffs, slated for December 15, are set to be activated. My take is that this U.S./Sino gathering was less on substance and more for optics, in order to appease global markets.
None of the hard structural issues were addressed during the talks – not cyber hacking, or cracking down on IP theft, or Huawei's blacklisted products, or forced transfer of technology to gain access to markets, or subsidizing state-owned companies, or the dumping of products and commodities at below market rates to sabotage U.S. companies, or the export of fentanyl that resembles the Opium Wars of the 1800s.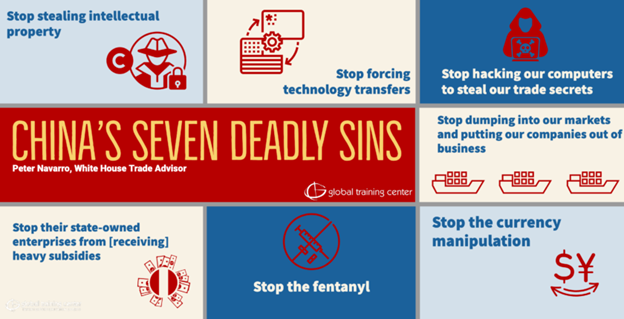 Graphs are for illustrative and discussion purposes only. Please read important disclosures at the end of this commentary.
There was also some nebulous language in the agreements that would strengthen Chinese protections for American intellectual property and give financial services companies more access to China's market, but there is no mention of transparency or accountability procedures or blueprints of how to realistically make this happen, as that would involve a change in China's rule of law; but Treasury Secretary Steve Mnuchin was found stating, "You know, we're very, very close to a deal on that," – but again, no outline or details.
Both President Trump and President Xi wanted a political victory, and the only way to attain that was to avoid talking about what got us into this trade war in the first place. I won't be the least bit surprised if we hear from China that they had a different understanding of the issues that emerged from the talks and then we're back to square one. For instance, when the topic of Chinese companies listed on U.S. exchanges being required to open their books or run the risk of being delisted and banned from U.S. pension funds, tensions will be back on the rise again – and this action is making its way through Congress right now.
Use This "Hopium" to Buy Defensive Dividend Stocks
You can call this hope of a China deal lifting the market as a sort of "hopium" for a new China deal. When one considers the confluence of a partial trade deal with China, a possible breakthrough in the Brexit negotiations between the UK and the EU, and the Fed announcing stepped up overnight Repo operations that will continue through January, one would think the stock market is on brand new footing for new all-time highs just ahead – and this might come to be, if earnings season delivers on the upside.
But let's take stock of what the market has yet to overcome. There is no timeline to remove any of the existing tariffs, there has been no progress on Chinese companies adhering to U.S. accounting standards, and the temporary trade war truce does little to change the narrative of slowing growth for 2020.
Chris Krueger, senior policy analyst at Cowen, said in a recent note to clients: "Tariffs have been the tip of the spear in Trump's trade wars," but "the next fronts — capital flows, [more] export controls, supply chain duress, industrial policy — are the global plumbing of the real economy." The impact of this next round, Krueger said, "can produce exogenous shocks to the global system that can dwarf the tariffs."
So, with the understanding that there is a lot more geopolitical wood to chop, there are a couple of things that stand out that investors can be confident of. First, under the slower-growth model, the Fed will likely keep cutting interest rates and boosting liquidity, of which a portion will find its way into equity markets. Second, bond yields will stay low and drive global capital flows into U.S. stocks with juicy dividend yields positioned in the defensive sectors – namely utilities, telcos, REITs, defense, and consumer staples.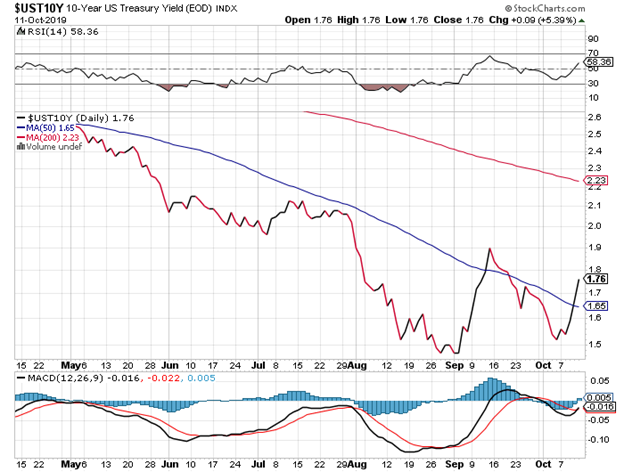 Graphs are for illustrative and discussion purposes only. Please read important disclosures at the end of this commentary.
Bond yields spiked last week. The benchmark 10-year Treasury Note moved from 1.54% on Wednesday up to 1.76% as of Friday's close. Hence, most high-dividend defensive stocks traded lower as "hopium" for a re-acceleration in profit growth and the high-beta growth stocks took temporary hold of investor sentiment. No one would welcome this rotation more than me, but my view is that it's premature and that a resumption of S&P earnings growth and P/E multiple expansion is much further out.
For the great majority of our client base at Navellier & Associates, who view dividends and yield as the most important aspect of their portfolios, we are getting another window of opportunity for attractive entry points on pullbacks, locking in solid yields in companies that have strong histories of raising dividends while being invested in sectors that are recession-resistant. While no one has a crystal ball as to what the road ahead will deliver, buying the current dip on defensive dividend stocks looks very timely.
Bryan Perry
SENIOR DIRECTOR
Bryan Perry is a Senior Director with Navellier Private Client Group, advising and facilitating high net worth investors in the pursuit of their financial goals.
Bryan's financial services career spanning the past three decades includes over 20 years of wealth management experience with Wall Street firms that include Bear Stearns, Lehman Brothers and Paine Webber, working with both retail and institutional clients. Bryan earned a B.A. in Political Science from Virginia Polytechnic Institute & State University and currently holds a Series 65 license. All content of "Income Mail" represents the opinion of Bryan Perry
Although information in these reports has been obtained from and is based upon sources that Navellier believes to be reliable, Navellier does not guarantee its accuracy and it may be incomplete or condensed. All opinions and estimates constitute Navellier's judgment as of the date the report was created and are subject to change without notice. These reports are for informational purposes only and are not intended as an offer or solicitation for the purchase or sale of a security. Any decision to purchase securities mentioned in these reports must take into account existing public information on such securities or any registered prospectus.
Past performance is no indication of future results. Investment in securities involves significant risk and has the potential for partial or complete loss of funds invested. It should not be assumed that any securities recommendations made by Navellier. in the future will be profitable or equal the performance of securities made in this report.
Dividend payments are not guaranteed. The amount of a dividend payment, if any, can vary over time and issuers may reduce dividends paid on securities in the event of a recession or adverse event affecting a specific industry or issuer.
None of the stock information, data, and company information presented herein constitutes a recommendation by Navellier or a solicitation of any offer to buy or sell any securities. Any specific securities identified and described do not represent all of the securities purchased, sold, or recommended for advisory clients. The reader should not assume that investments in the securities identified and discussed were or will be profitable.
Information presented is general information that does not take into account your individual circumstances, financial situation, or needs, nor does it present a personalized recommendation to you. Individual stocks presented may not be suitable for you. Investment in securities involves significant risk and has the potential for partial or complete loss of funds invested. Investment in fixed income securities has the potential for the investment return and principal value of an investment to fluctuate so that an investor's holdings, when redeemed, may be worth less than their original cost.
One cannot invest directly in an index. Results presented include the reinvestment of all dividends and other earnings.
Past performance is no indication of future results.
FEDERAL TAX ADVICE DISCLAIMER: As required by U.S. Treasury Regulations, you are informed that, to the extent this presentation includes any federal tax advice, the presentation is not intended or written by Navellier to be used, and cannot be used, for the purpose of avoiding federal tax penalties. Navellier does not advise on any income tax requirements or issues. Use of any information presented by Navellier is for general information only and does not represent tax advice either express or implied. You are encouraged to seek professional tax advice for income tax questions and assistance.
IMPORTANT NEWSLETTER DISCLOSURE: The hypothetical performance results for investment newsletters that are authored or edited by Louis Navellier, including Louis Navellier's Growth Investor, Louis Navellier's Breakthrough Stocks, Louis Navellier's Accelerated Profits, and Louis Navellier's Platinum Club, are not based on any actual securities trading, portfolio, or accounts, and the newsletters' reported hypothetical performances should be considered mere "paper" or proforma hypothetical performance results and are not actual performance of real world trades.  Navellier & Associates, Inc. does not have any relation to or affiliation with the owner of these newsletters. There are material differences between Navellier Investment Products' portfolios and the InvestorPlace Media, LLC newsletter portfolios authored by Louis Navellier. The InvestorPlace Media, LLC newsletters contain hypothetical performance that do not include transaction costs, advisory fees, or other fees a client might incur if actual investments and trades were being made by an investor. As a result, newsletter performance should not be used to evaluate Navellier Investment services which are separate and different from the newsletters. The owner of the newsletters is InvestorPlace Media, LLC and any questions concerning the newsletters, including any newsletter advertising or hypothetical Newsletter performance claims, (which are calculated solely by Investor Place Media and not Navellier) should be referred to InvestorPlace Media, LLC at (800) 718-8289.
Please note that Navellier & Associates and the Navellier Private Client Group are managed completely independent of the newsletters owned and published by InvestorPlace Media, LLC and written and edited by Louis Navellier, and investment performance of the newsletters should in no way be considered indicative of potential future investment performance for any Navellier & Associates separately managed account portfolio. Potential investors should consult with their financial advisor before investing in any Navellier Investment Product.
Navellier claims compliance with Global Investment Performance Standards (GIPS). To receive a complete list and descriptions of Navellier's composites and/or a presentation that adheres to the GIPS standards, please contact Navellier or click here. It should not be assumed that any securities recommendations made by Navellier & Associates, Inc. in the future will be profitable or equal the performance of securities made in this report. Request here a list of recommendations made by Navellier & Associates, Inc. for the preceding twelve months, please contact Tim Hope at (775) 785-9416.