January 7, 2020
It's a rare year when both stocks and gold rise by double digits, but everything seemed to rise in 2019, with gold scoring its best year since 2010, and U.S. stocks scoring their best year since 2013. Even the slow-growing European markets did well, led by France, Switzerland and Germany, with beleaguered Brazil leading the way among emerging markets. The U.S. dollar started strong and finished on a weak note, netting no real gain, so even the Russian ruble and Ukrainian hryvnia managed to beat the dollar.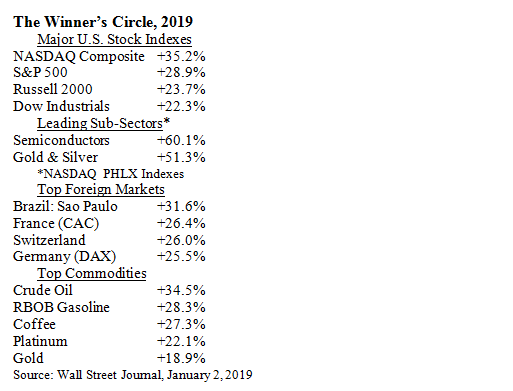 Under the radar, another precious metal, palladium, delivered a spectacular year, rising from $1,270 to $1,920 per ounce, up 51%, due to a very tight supply in a very narrow market. It is used for catalytic converters in gasoline-powered vehicles for their emission control systems, but it is not traded on a major exchange, so it didn't make the Wall Street Journal's Year-End Review of big winners and losers.
In all fairness, the biggest losers of the year were natural gas (-25.5%) and orange juice (-22.3%) in the commodity space, and the Argentine peso (-37.2%) in the Emerging Markets currency morass.
How about next year? Is there no end to the imagination of the bears? That same January 2, 2020 edition of the Wall Street Journal's "Year-End Review & Outlook" led with a downbeat article in which author Akane Otani compared the 30-year depression of the Tokyo economy and stock market after its all-time high at the end of 1989 with the possibility that the U.S. might now enter just such a 30-year malaise.
The author cited our demographics (low birth rate), the market's concentration on a select few mega-cap stocks, and low interest rates that could fall to zero. Ironically, the article began with a picture which took up the entire above-fold page, a giant photo of a huge crowd shot from that fateful day, December 29, 1989, when the Nikkei Tokyo market peaked – but the picture itself belies the arguments of the article.
The picture is a bit fuzzy, but I can assure you that the hundreds of faces are 99% male, 100% Japanese, in gray suits, white shirts and ties, applauding. Japan was (and still is) a homogenous nation which does not accept many immigrants from other nations on a path toward citizenship. Neither does it have many children. As a result, their population is slowly aging and dying off, a sure-fire formula for stagnation.
America is different. We accept more immigrants and have more children, but more importantly we are innovators. Nearly all the great technological inventions of both the Industrial Revolution and Information Revolution were developed here and usually invented here, too. Our interest rates, while low, are positive and slightly rising, unlike Japan's, and our GDP growth rate is much stronger than Japan's or Europe's.
No, we're not likely to go the way of Japan, but perhaps Europe faces dangers of long-term stagnation.
The Roaring 20s Revisited
The 2020s began with a targeted U.S. missile airstrike early Friday (January 2 in U.S. time), killing Qasem Soleimani, the head of Iran's elite Quds military force in Baghdad, Iraq.
The 1920s opened with a similar surprise attack. On January 2, 1920, Attorney General A. Mitchell Palmer arrested some 4,000 left-wing radicals, mostly immigrants, in the "Palmer Raids" in pool halls, bowling alleys, cafes, homes and offices. It was an example of the "Red Scare" of 1919-20. In Palmer's colorful language, "The Department of Justice has undertaken to tear out the radical seeds that have entangled the American ideas…the most radical socialists, the misguided anarchists…the moral perverts and the hysterical neurasthenic women who abound in Communism." The director of the newly-formed FBI, J. Edgar Hoover, promised at least 2,700 would be deported, since immigration laws of the day allowed deportation without trial. The press agreed. The Washington Post said: "There is no time to waste on hair-splitting over infringement of liberty." And you thought immigration was controversial today?
The Dow lost 33% in 1920, the fourth worst year of the 20th century (behind 1907, 1930 and 1931). Later on, the 1920s delivered huge gains of nearly 500% in eight years, rising from Dow 63.90 on August 24, 1921 to 381.17 on September 3, 1929, but the decade began with a recession starting in January 1920. It was an unusually sharp recession, with the Department of Commerce claiming that GDP declined 6.9%.
Graphs are for illustrative and discussion purposes only. Please read important disclosures at the end of this commentary.
Another shock was right around the corner. At 12:01 am January 17, 1920, prohibition officially took effect, so many threw parties to bid farewell to John Barleycorn. On January 16th, New York's Hotel Vanderbilt staged a party as "the good ship America entered Dry Dock." As the band played "Goodbye Forever," patrons were served 100 cases of the best champagne, taken away at the stroke of midnight, and poured down the gutter. Nationwide, liquor was seized by 1500 enforcement agents in the dark of night.
And that's how the Roaring Twenties began in America. Aren't you glad you live in 2020, and not 1920?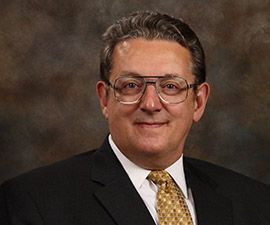 Gary Alexander
SENIOR EDITOR
Gary Alexander has been Senior Writer at Navellier since 2009.  He edits Navellier's weekly Marketmail and writes a weekly Growth Mail column, in which he uses market history to support the case for growth stocks.  For the previous 20 years before joining Navellier, he was Senior Executive Editor at InvestorPlace Media (formerly Phillips Publishing), where he worked with several leading investment analysts, including Louis Navellier (since 1997), helping launch Louis Navellier's Blue Chip Growth and Global Growth newsletters.
Prior to that, Gary edited Wealth Magazine and Gold Newsletter and wrote various investment research reports for Jefferson Financial in New Orleans in the 1980s.  He began his financial newsletter career with KCI Communications in 1980, where he served as consulting editor for Personal Finance newsletter while serving as general manager of KCI's Alexandria House book division.  Before that, he covered the economics beat for news magazines. All content of "Growth Mail" represents the opinion of Gary Alexander