July 23, 2019
It's no secret that, for the past five years, investing in energy MLPs has been a losing proposition, aside from collecting dividends while watching your principle erode. The energy boom in the U.S. has involved the building of massive networks of pipelines, storage facilities, transfer stations, and processing facilities, and yet the sector has sorely lagged the broader market by a wide margin.
Even as the price of crude and natural gas have steadily declined over the past couple of years, with the demand for natural gas being particularly strong for domestic and export in the form of LNG, the energy infrastructure sector could hardly find a pulse until just recently. And now, suddenly, out of nowhere and with little if any explanation, the energy MLP space has caught a strong, high-volume bid.
The chart of the Alerian MLP ETF (AMLP, below) shows a well-defined upside breakout this month that has gone fairly unnoticed, save for those of us that write about income investing. The performance of the sector has been like watching paint dry while inflicting cruel and unusual punishment on investors with the typically delayed sending of year-end K-1s that drive up the cost of preparing tax returns.
While there are roughly 50 notable energy MLPs that are publicly traded, only about 15 of them make up the lion's share of the trading and total market cap for the sector. Within AMLP, the top 10 holdings make up about 75% of the total market value of the shares, and the top five make up about half the holdings.
Graphs are for illustrative and discussion purposes only. Please read important disclosures at the end of this commentary.
So why the fresh breakout now? It's really hard to say. Some speculate that because some private equity MLPs have chosen to convert to the more institutionally acceptable C-corporation structure, the energy MLPs will do the same over the next couple of years, thereby unleashing higher valuations as investor clamor over the juicy 1099 dividend income in lieu of K-1 related distributions.
Kinder Morgan Inc. (KMI) and ONEOK Inc. (OKE), two former MLPs and now C-corps, set the table a couple years ago for what would now seem to be a movement by several others following the 2017 tax cuts. It wouldn't surprise me to see more MLPs convert, given how well the stocks trade after the change. Institutional investors and pension funds loathe K-1 investments, even if 5%-8% yields are available.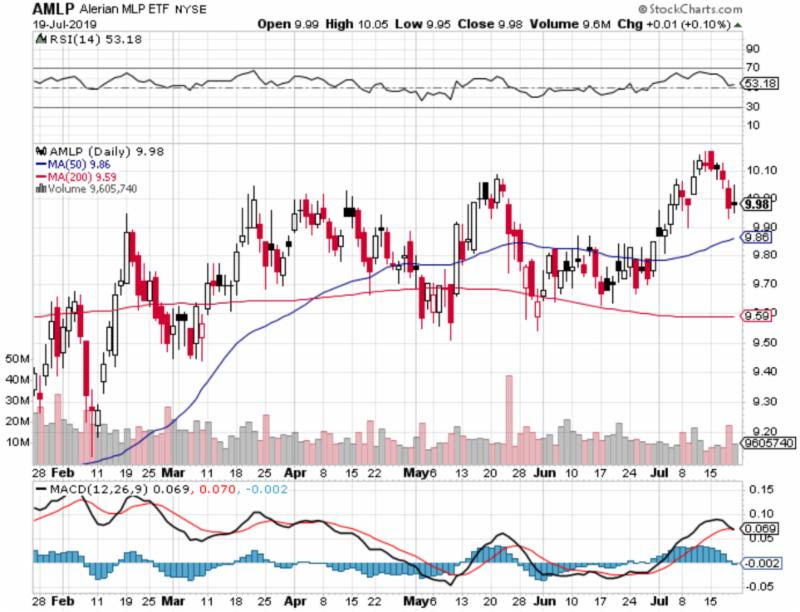 Graphs are for illustrative and discussion purposes only. Please read important disclosures at the end of this commentary.
Energy Infrastructure Offers Deep Value
I suspect that what might be underneath the recent bid for energy MLPs is the prospect of a wave of M&A deals that could bring about much higher stock valuations. Back on May 10 of this year, it was announced the Buckeye Partners LP (BPL) would be bought out for $5.6 billion by IFM Investors. That represented a 20% premium to where the stock was trading at the time.
A couple of things come to mind about this takeover. First, just about every MLP is seeing increased distribution coverage following years of slashing costs and streamlining operations. Some MLPs are approaching distribution coverage of 2x, something unheard of five years ago, when 1x was considered healthy, so distributable cash flows are increasing and with it the prospect of rising quarterly distributions.
Valuations are also dirt cheap, with the biggest names trading at around 10x forward P/E and around 1-2 times book value. As the stock market has rewarded nearly every sector of the market with great fanfare, and while bond and stock dividend yields have plunged, it's my view that yields on MLPs are about to get a big boost when they report second-quarter results with the announcement of serial distribution increases.
At a time when the hunt for yield in U.S. dollar-denominated assets is about as fierce as can get, this just might be the time when MLPs rise and shine after a long spell in the bear cave.
Navellier & Associates owns PAA and OKE in managed accounts but does not own MPLX, MMP, EPD, ET, BPL, WES, EQM, TGE, ANDX, KMI, or BPL. Bryan Perry does not own any of the above mentioned securities in personal accounts.
Bryan Perry
SENIOR DIRECTOR
Bryan Perry is a Senior Director with Navellier Private Client Group, advising and facilitating high net worth investors in the pursuit of their financial goals.
Bryan's financial services career spanning the past three decades includes over 20 years of wealth management experience with Wall Street firms that include Bear Stearns, Lehman Brothers and Paine Webber, working with both retail and institutional clients. Bryan earned a B.A. in Political Science from Virginia Polytechnic Institute & State University and currently holds a Series 65 license. All content of "Income Mail" represents the opinion of Bryan Perry
Although information in these reports has been obtained from and is based upon sources that Navellier believes to be reliable, Navellier does not guarantee its accuracy and it may be incomplete or condensed. All opinions and estimates constitute Navellier's judgment as of the date the report was created and are subject to change without notice. These reports are for informational purposes only and are not intended as an offer or solicitation for the purchase or sale of a security. Any decision to purchase securities mentioned in these reports must take into account existing public information on such securities or any registered prospectus.
Past performance is no indication of future results. Investment in securities involves significant risk and has the potential for partial or complete loss of funds invested. It should not be assumed that any securities recommendations made by Navellier. in the future will be profitable or equal the performance of securities made in this report.
Dividend payments are not guaranteed. The amount of a dividend payment, if any, can vary over time and issuers may reduce dividends paid on securities in the event of a recession or adverse event affecting a specific industry or issuer.
None of the stock information, data, and company information presented herein constitutes a recommendation by Navellier or a solicitation of any offer to buy or sell any securities. Any specific securities identified and described do not represent all of the securities purchased, sold, or recommended for advisory clients. The reader should not assume that investments in the securities identified and discussed were or will be profitable.
Information presented is general information that does not take into account your individual circumstances, financial situation, or needs, nor does it present a personalized recommendation to you. Individual stocks presented may not be suitable for you. Investment in securities involves significant risk and has the potential for partial or complete loss of funds invested. Investment in fixed income securities has the potential for the investment return and principal value of an investment to fluctuate so that an investor's holdings, when redeemed, may be worth less than their original cost.
One cannot invest directly in an index. Results presented include the reinvestment of all dividends and other earnings.
Past performance is no indication of future results.
FEDERAL TAX ADVICE DISCLAIMER: As required by U.S. Treasury Regulations, you are informed that, to the extent this presentation includes any federal tax advice, the presentation is not intended or written by Navellier to be used, and cannot be used, for the purpose of avoiding federal tax penalties. Navellier does not advise on any income tax requirements or issues. Use of any information presented by Navellier is for general information only and does not represent tax advice either express or implied. You are encouraged to seek professional tax advice for income tax questions and assistance.
IMPORTANT NEWSLETTER DISCLOSURE: The hypothetical performance results for investment newsletters that are authored or edited by Louis Navellier, including Louis Navellier's Growth Investor, Louis Navellier's Breakthrough Stocks, Louis Navellier's Accelerated Profits, and Louis Navellier's Platinum Club, are not based on any actual securities trading, portfolio, or accounts, and the newsletters' reported hypothetical performances should be considered mere "paper" or proforma hypothetical performance results and are not actual performance of real world trades.  Navellier & Associates, Inc. does not have any relation to or affiliation with the owner of these newsletters. There are material differences between Navellier Investment Products' portfolios and the InvestorPlace Media, LLC newsletter portfolios authored by Louis Navellier. The InvestorPlace Media, LLC newsletters contain hypothetical performance that do not include transaction costs, advisory fees, or other fees a client might incur if actual investments and trades were being made by an investor. As a result, newsletter performance should not be used to evaluate Navellier Investment services which are separate and different from the newsletters. The owner of the newsletters is InvestorPlace Media, LLC and any questions concerning the newsletters, including any newsletter advertising or hypothetical Newsletter performance claims, (which are calculated solely by Investor Place Media and not Navellier) should be referred to InvestorPlace Media, LLC at (800) 718-8289.
Please note that Navellier & Associates and the Navellier Private Client Group are managed completely independent of the newsletters owned and published by InvestorPlace Media, LLC and written and edited by Louis Navellier, and investment performance of the newsletters should in no way be considered indicative of potential future investment performance for any Navellier & Associates separately managed account portfolio. Potential investors should consult with their financial advisor before investing in any Navellier Investment Product.
Navellier claims compliance with Global Investment Performance Standards (GIPS). To receive a complete list and descriptions of Navellier's composites and/or a presentation that adheres to the GIPS standards, please contact Navellier or click here. It should not be assumed that any securities recommendations made by Navellier & Associates, Inc. in the future will be profitable or equal the performance of securities made in this report. Request here a list of recommendations made by Navellier & Associates, Inc. for the preceding twelve months, please contact Tim Hope at (775) 785-9416.