July 23, 2019
In the 1999 smash hit comedy, Analyze This, mob boss Paul Vitti (played by Robert De Niro) walks into the office of psychiatrist Dr. Ben Sobel (Billy Crystal) to seek help for his panic attacks. For the better part of the film, he refuses to accept the world "panic" to describe his psychiatric condition – as well as the fact that his condition is a direct consequence of his violent lifestyle. A hilarious sequence of events unfolds after which Vitti has a corrective emotional experience and lands happily at Sing Sing prison.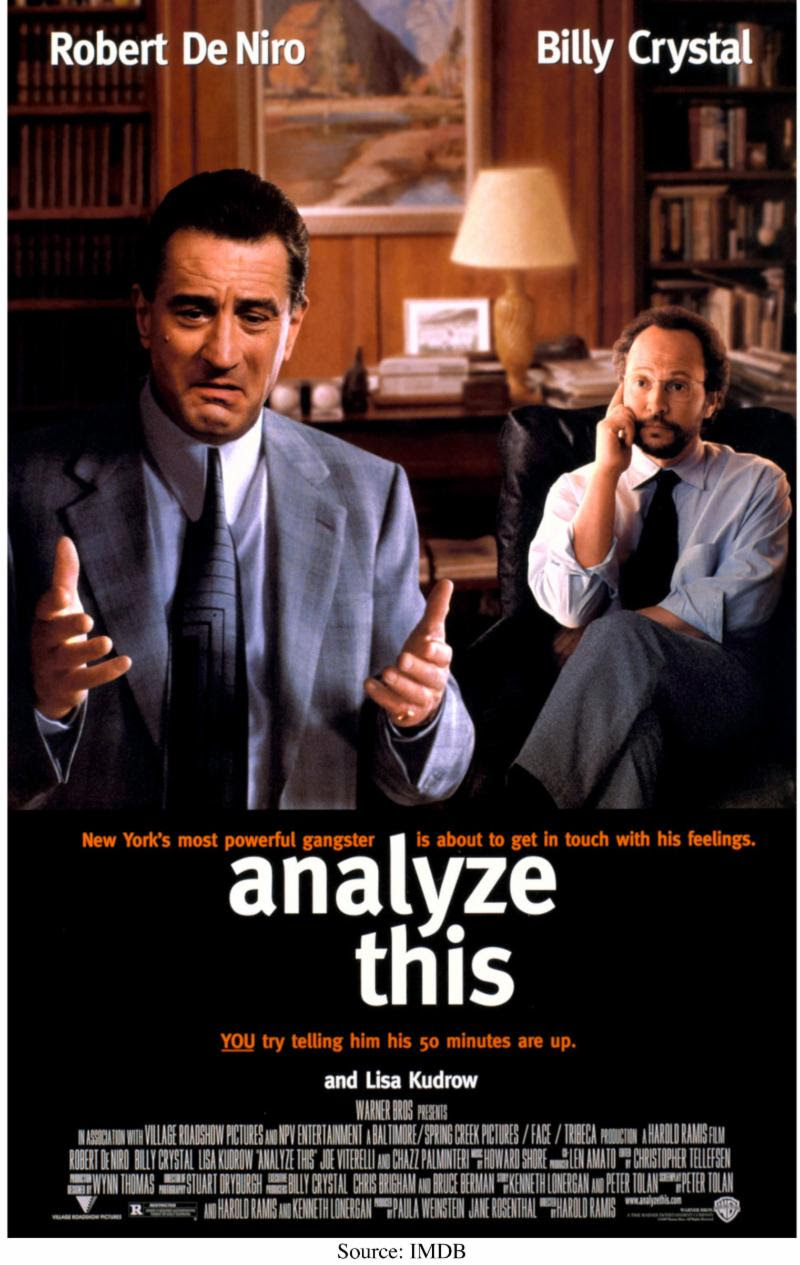 While there is hope in life, even for a diehard mobster like Paul Vitti, I am having trouble seeing light at the end of the tunnel for the great global experiment called quantitative easing. With $13 trillion of global government bonds now showing negative yields, the question that begs to be asked is how low is too low for interest rates and what is the end game? It is commendable that the Fed tried to normalize monetary policy, but such a maneuver is very difficult to do in a world where all of the other central banks are doing the opposite. Just as Fed policies affect the rest of the world – particularly due to the reserve currency status of the U.S. dollar – the opposite actions by other major world central banks also affect the U.S. economy, whether we like it or not.
Graphs are for illustrative and discussion purposes only. Please read important disclosures at the end of this commentary.
The 10-year Treasury note probably wouldn't be at 2.05% today if it were not for the growing pile of $13 trillion in negative-yielding world government bonds, where investors chasing risk-free yields end up in the U.S. Treasury market, as there is nowhere else to go for positive yields. That global bank QE activity supports the Treasury market and the U.S. dollar, despite rising federal deficits due to the Trump tax cuts and despite the Fed's QT. It would be difficult for the dollar to decline in an environment where QE policies are abundant globally while only the Fed is shrinking its balance sheet.
Quantitative easing is like printing money, but for financial institutions only. It differs from the Weimar Germany version of printing money as only banks have access to those electronic dollars, or euros or yen. As excess reserves are abundant in the system, they find shelter in government bond markets. In the U.S., QE worked as excess reserves first found homes in Treasuries and mortgage bonds and then trickled down to riskier fixed-income instruments. It's like pulling the economy out of a deflationary hole by the force-feeding of credit into an overleveraged system that was otherwise going to deleverage naturally.
As credit spreads get narrower interest rates remain suppressed under QE, which helped riskier borrowers, who otherwise might default on their debts or not be able to roll over their debts. Also, under QE the Fed did monetize Treasury debt – one degree removed from outright monetization. Even if primary dealers bought newly issued Treasuries, at one time they knew that 80% to 90% of those newly-issued Treasuries would be immediately taken on by the Fed. That dynamic facilitated federal government deficit spending.
The question on monetizing federal debt did come up in many public hearings that Fed Chairs Ben Bernanke and Janet Yellen were part of on many occasions, and the answer always was, "That's not why we are doing this!" Sure, that may not be why, but it did facilitate deficit spending at lower interest rates and with a guaranteed bid for new Treasury issuance.
The Stealth Credit Multiplier Effect
While excess reserves have no credit multiplier effect, due to the way they were never lent into the Fed funds market, they do have a de facto spending and credit multiplier effect. As deficit spending trickled down through the economy, people got paid, they deposited the money in their banks, banks lent much of that money out, it was spent again, and the credit multiplier cycle did help economic activity in the U.S.
Regrettably the same QE dynamic has not been able to produce similarly good results in Europe or Japan.
As the world awaits the Fed cutting the Fed funds rate by 25 basis points next week, the investor community, helped by global central bank QE policies, has already driven the 10-year Treasury yield from a high of 3.24% in early November to a low of 1.94% in June 2019, or a 130 basis point decline in just seven months. As far as I am concerned, the market has already delivered a heckuva cut in longer-term risk-free rates in the United States. One could say that the Treasury market is forcing the Federal Reserve to cut the Fed funds rate to become more in tune with market-driven rates, but are those rates really market-driven if global QE policies helped them get there?
Graphs are for illustrative and discussion purposes only. Please read important disclosures at the end of this commentary.
So far, there has not been a 10-year government bond that has printed a negative yield of a whole percentage point, although there is one that has come close at -0.76% in Switzerland. Closely related to the Swiss bonds are the German bunds, which closed last week at -0.32%. Other 10-year government bonds with negative yields include the Netherlands (-0.21%), Japan (-0.13%), and France (-0.07%).
Will more countries join the negative yield club? It sure is possible as the European central bank did a U-turn on balance sheet normalization and Spain and Portugal 10-year bonds closed at 0.39% and 0.46%. Italy, which after its populist government victory last year saw its 10-year bonds yield as high as 3.78% due to friction with the EU over deficit spending has seen interest rates plummet last week to 1.61%.
The moral here is that central banks policy has its limits. Europe and Japan have some very serious structural and demographic issues that central bank policy alone cannot solve. I am worried that trying to do too much QE will backfire in Europe and Japan as administering more monetary medicine on a sick patient after it has not yet worked is probably not the way to proceed. For the time being, the dollar is likely to remain strong and return from U.S. financial markets should continue to be better than anything in Europe or Japan.
Ivan Martchev
INVESTMENT STRATEGIST
Ivan Martchev is an investment strategist with Navellier.  Previously, Ivan served as editorial director at InvestorPlace Media. Ivan was editor of Louis Rukeyser's Mutual Funds and associate editor of Personal Finance. Ivan is also co-author of The Silk Road to Riches (Financial Times Press). The book provided analysis of geopolitical issues and investment strategy in natural resources and emerging markets with an emphasis on Asia. The book also correctly predicted the collapse in the U.S. real estate market, the rise of precious metals, and the resulting increased investor interest in emerging markets. Ivan's commentaries have been published by MSNBC, The Motley Fool, MarketWatch, and others. All content of "Global Mail" represents the opinion of Ivan Martchev

Although information in these reports has been obtained from and is based upon sources that Navellier believes to be reliable, Navellier does not guarantee its accuracy and it may be incomplete or condensed. All opinions and estimates constitute Navellier's judgment as of the date the report was created and are subject to change without notice. These reports are for informational purposes only and are not intended as an offer or solicitation for the purchase or sale of a security. Any decision to purchase securities mentioned in these reports must take into account existing public information on such securities or any registered prospectus.
Past performance is no indication of future results. Investment in securities involves significant risk and has the potential for partial or complete loss of funds invested. It should not be assumed that any securities recommendations made by Navellier. in the future will be profitable or equal the performance of securities made in this report.
Dividend payments are not guaranteed. The amount of a dividend payment, if any, can vary over time and issuers may reduce dividends paid on securities in the event of a recession or adverse event affecting a specific industry or issuer.
None of the stock information, data, and company information presented herein constitutes a recommendation by Navellier or a solicitation of any offer to buy or sell any securities. Any specific securities identified and described do not represent all of the securities purchased, sold, or recommended for advisory clients. The reader should not assume that investments in the securities identified and discussed were or will be profitable.
Information presented is general information that does not take into account your individual circumstances, financial situation, or needs, nor does it present a personalized recommendation to you. Individual stocks presented may not be suitable for you. Investment in securities involves significant risk and has the potential for partial or complete loss of funds invested. Investment in fixed income securities has the potential for the investment return and principal value of an investment to fluctuate so that an investor's holdings, when redeemed, may be worth less than their original cost.
One cannot invest directly in an index. Results presented include the reinvestment of all dividends and other earnings.
Past performance is no indication of future results.
FEDERAL TAX ADVICE DISCLAIMER: As required by U.S. Treasury Regulations, you are informed that, to the extent this presentation includes any federal tax advice, the presentation is not intended or written by Navellier to be used, and cannot be used, for the purpose of avoiding federal tax penalties. Navellier does not advise on any income tax requirements or issues. Use of any information presented by Navellier is for general information only and does not represent tax advice either express or implied. You are encouraged to seek professional tax advice for income tax questions and assistance.
IMPORTANT NEWSLETTER DISCLOSURE: The hypothetical performance results for investment newsletters that are authored or edited by Louis Navellier, including Louis Navellier's Growth Investor, Louis Navellier's Breakthrough Stocks, Louis Navellier's Accelerated Profits, and Louis Navellier's Platinum Club, are not based on any actual securities trading, portfolio, or accounts, and the newsletters' reported hypothetical performances should be considered mere "paper" or proforma hypothetical performance results and are not actual performance of real world trades.  Navellier & Associates, Inc. does not have any relation to or affiliation with the owner of these newsletters. There are material differences between Navellier Investment Products' portfolios and the InvestorPlace Media, LLC newsletter portfolios authored by Louis Navellier. The InvestorPlace Media, LLC newsletters contain hypothetical performance that do not include transaction costs, advisory fees, or other fees a client might incur if actual investments and trades were being made by an investor. As a result, newsletter performance should not be used to evaluate Navellier Investment services which are separate and different from the newsletters. The owner of the newsletters is InvestorPlace Media, LLC and any questions concerning the newsletters, including any newsletter advertising or hypothetical Newsletter performance claims, (which are calculated solely by Investor Place Media and not Navellier) should be referred to InvestorPlace Media, LLC at (800) 718-8289.
Please note that Navellier & Associates and the Navellier Private Client Group are managed completely independent of the newsletters owned and published by InvestorPlace Media, LLC and written and edited by Louis Navellier, and investment performance of the newsletters should in no way be considered indicative of potential future investment performance for any Navellier & Associates separately managed account portfolio. Potential investors should consult with their financial advisor before investing in any Navellier Investment Product.
Navellier claims compliance with Global Investment Performance Standards (GIPS). To receive a complete list and descriptions of Navellier's composites and/or a presentation that adheres to the GIPS standards, please contact Navellier or click here. It should not be assumed that any securities recommendations made by Navellier & Associates, Inc. in the future will be profitable or equal the performance of securities made in this report. Request here a list of recommendations made by Navellier & Associates, Inc. for the preceding twelve months, please contact Tim Hope at (775) 785-9416.