July 16, 2019
Stocks are hitting fresh all-time highs as earnings estimates are coming down. Go figure. Investment houses like Morgan Stanley have turned bearish on stocks, taking their global equity rating to its lowest level in five years. Andrew Sheets, their Chief Cross-Asset Strategist, who looks all of 29, yet somehow holds court over all the house of Morgan, proclaims a recession with a steep correction looming.
That's a bold call, considering the alternatives. Just for the record, when there are few places in the world to put vast amounts of institutional money – hundreds of billions of dollars seeking a positive return on bond yields, an economy with a strong pulse and a solid bid under the currency – why try to call a market top? Again, it's a bold call and one they hope to generate fame and fortune from, but it's probably early.
Quite frankly, the strong money flows into U.S. equities are an affirmation that the domestic economy is maintaining steady growth in light of slower growth around the globe. Most institutional money managers keep to themselves in edgy markets, preferring to stay nimble and not make vocal directional calls on the market. It's a tough call to go on record to predict the future when there is no historical playbook by which the world's most powerful central banks are operating in such a super-low-interest-rate environment.
Back in early December, the Fed raised the Fed Funds Rate by a quarter point and the market went into a hissy fit, correcting by nearly 20%. Since Christmas Eve, the Fed has "pivoted" and the S&P 500 has recovered by 28%. Last week, the Fed reinforced their commitment to sustain the economic expansion and the bull market has been elevated by a near-certain rate cut in two weeks. It is fascinating to see how global stock markets dictate to central banks to provide the stimulus it needs, on demand. We're now well into a decade of global QE and investors have become highly accustomed to expect central bank stimulus to support a healthy stock market. Based on the latest narrative, this remains the playbook of choice.
The "Lost Decade" for Markets Outside the U.S.
Going back to the last full pre-recession year, 2007, it is remarkable to compare the performance of the S&P 500 against that of the Emerging Markets, Europe, China, and Japan. Emerging Markets and the European market are literally at the same level today as they were back in 2007. Investors in these markets have made no money in 12 years. Japan's market has gained 27% during the past 12 years, averaging a compounded 2% per year. Investors long the Chinese market are down a whopping 50% from 2007 levels, while investors long the S&P are up roughly 150%, averaging a compounded 8% per year.
So, if all the quantitative easing of the past decade can't get these foreign indexes off the mat, I'm not sure what will work for them, given where we are in the economic cycle. All the central bank's efforts to restore inflation to a 2% rate have pretty much come up short, which makes the notion of deflationary forces that much more threatening in a global economic downturn, which Morgan Stanley sees coming.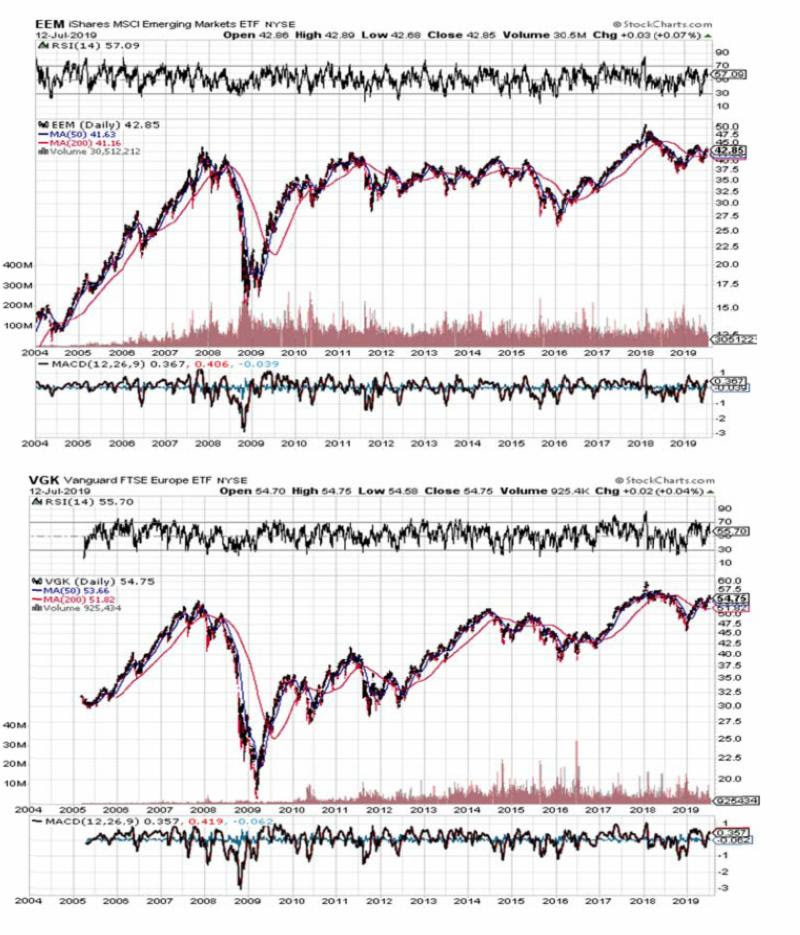 Graphs are for illustrative and discussion purposes only. Please read important disclosures at the end of this commentary.
A rising fear of the world outside the U.S. entering a deflationary period is a big part of the reason why 25% of total global debt is sporting negative yields. By definition, negative interest rates incentivize banks to aggressively lend money, since they are being charged negative interest. But negative interest is also considered a last-ditch effort to boost economic growth when conventional fiscal policy tools fail.
So far, negative yields have yet to stimulate loan demand that spurs sufficient investment and spending to where the central banks can dial back their QE. This is a quandary that has foreign institutions hoarding money, willing to pay the bank to keep it safe while also pouring capital into U.S. Treasuries and equities.
To assume that this pattern of money flow is going to somehow come to an abrupt end doesn't really add up, in my view. I believe that last week's market surge is a testament that foreign capital is fast running out of patience and is in desperate need of being in strong dollar-denominated stock and bond assets for yield and total return. As long as this condition persists, the higher the U.S. stock market will likely go.
Bryan Perry
SENIOR DIRECTOR
Bryan Perry is a Senior Director with Navellier Private Client Group, advising and facilitating high net worth investors in the pursuit of their financial goals.
Bryan's financial services career spanning the past three decades includes over 20 years of wealth management experience with Wall Street firms that include Bear Stearns, Lehman Brothers and Paine Webber, working with both retail and institutional clients. Bryan earned a B.A. in Political Science from Virginia Polytechnic Institute & State University and currently holds a Series 65 license. All content of "Income Mail" represents the opinion of Bryan Perry
Although information in these reports has been obtained from and is based upon sources that Navellier believes to be reliable, Navellier does not guarantee its accuracy and it may be incomplete or condensed. All opinions and estimates constitute Navellier's judgment as of the date the report was created and are subject to change without notice. These reports are for informational purposes only and are not intended as an offer or solicitation for the purchase or sale of a security. Any decision to purchase securities mentioned in these reports must take into account existing public information on such securities or any registered prospectus.
Past performance is no indication of future results. Investment in securities involves significant risk and has the potential for partial or complete loss of funds invested. It should not be assumed that any securities recommendations made by Navellier. in the future will be profitable or equal the performance of securities made in this report.
Dividend payments are not guaranteed. The amount of a dividend payment, if any, can vary over time and issuers may reduce dividends paid on securities in the event of a recession or adverse event affecting a specific industry or issuer.
None of the stock information, data, and company information presented herein constitutes a recommendation by Navellier or a solicitation of any offer to buy or sell any securities. Any specific securities identified and described do not represent all of the securities purchased, sold, or recommended for advisory clients. The reader should not assume that investments in the securities identified and discussed were or will be profitable.
Information presented is general information that does not take into account your individual circumstances, financial situation, or needs, nor does it present a personalized recommendation to you. Individual stocks presented may not be suitable for you. Investment in securities involves significant risk and has the potential for partial or complete loss of funds invested. Investment in fixed income securities has the potential for the investment return and principal value of an investment to fluctuate so that an investor's holdings, when redeemed, may be worth less than their original cost.
One cannot invest directly in an index. Results presented include the reinvestment of all dividends and other earnings.
Past performance is no indication of future results.
FEDERAL TAX ADVICE DISCLAIMER: As required by U.S. Treasury Regulations, you are informed that, to the extent this presentation includes any federal tax advice, the presentation is not intended or written by Navellier to be used, and cannot be used, for the purpose of avoiding federal tax penalties. Navellier does not advise on any income tax requirements or issues. Use of any information presented by Navellier is for general information only and does not represent tax advice either express or implied. You are encouraged to seek professional tax advice for income tax questions and assistance.
IMPORTANT NEWSLETTER DISCLOSURE: The hypothetical performance results for investment newsletters that are authored or edited by Louis Navellier, including Louis Navellier's Growth Investor, Louis Navellier's Breakthrough Stocks, Louis Navellier's Accelerated Profits, and Louis Navellier's Platinum Club, are not based on any actual securities trading, portfolio, or accounts, and the newsletters' reported hypothetical performances should be considered mere "paper" or proforma hypothetical performance results and are not actual performance of real world trades.  Navellier & Associates, Inc. does not have any relation to or affiliation with the owner of these newsletters. There are material differences between Navellier Investment Products' portfolios and the InvestorPlace Media, LLC newsletter portfolios authored by Louis Navellier. The InvestorPlace Media, LLC newsletters contain hypothetical performance that do not include transaction costs, advisory fees, or other fees a client might incur if actual investments and trades were being made by an investor. As a result, newsletter performance should not be used to evaluate Navellier Investment services which are separate and different from the newsletters. The owner of the newsletters is InvestorPlace Media, LLC and any questions concerning the newsletters, including any newsletter advertising or hypothetical Newsletter performance claims, (which are calculated solely by Investor Place Media and not Navellier) should be referred to InvestorPlace Media, LLC at (800) 718-8289.
Please note that Navellier & Associates and the Navellier Private Client Group are managed completely independent of the newsletters owned and published by InvestorPlace Media, LLC and written and edited by Louis Navellier, and investment performance of the newsletters should in no way be considered indicative of potential future investment performance for any Navellier & Associates separately managed account portfolio. Potential investors should consult with their financial advisor before investing in any Navellier Investment Product.
Navellier claims compliance with Global Investment Performance Standards (GIPS). To receive a complete list and descriptions of Navellier's composites and/or a presentation that adheres to the GIPS standards, please contact Navellier or click here. It should not be assumed that any securities recommendations made by Navellier & Associates, Inc. in the future will be profitable or equal the performance of securities made in this report. Request here a list of recommendations made by Navellier & Associates, Inc. for the preceding twelve months, please contact Tim Hope at (775) 785-9416.