July 16, 2019
Many remember the multiple Presidential tweets in the fourth quarter of 2018 targeting the Fed Chairman. The gist of them was: "It's not me pressuring the stock market, it's the Fed." It turns out Trump was right. The Fed was overtightening, but it has long since stopped doing so and has been accelerating the growth of high-powered money supply for the past seven months while the President is still tweeting at the Fed.
As is often the case with monetary policy moves, the Fed gave the world the raw data in nearly real time, but they neglected to explain what it meant, resulting in the present comical misunderstanding. It's an established fact from "Money and Banking 101" classes that money supply is controlled by the Federal Reserve. The Federal Reserve can increase the money supply with open market operations and decrease it at will. It's like infusing electronic cash into the system, but it's cash for financial institutions only.
There are three forms of money supply, ranging from narrow definitions to broad, namely M1, M2, and M3, which is no longer reported but possible to reconstitute as the individual components are still being reported. It turns out that there is a fourth category that combines all forms of money, most of which is in electronic format – like checking accounts and money market funds, that can be redeemed at par without delay. That category is called Money Zero Maturity, or MZM.
Graphs are for illustrative and discussion purposes only. Please read important disclosures at the end of this commentary.
In the chart above, the red line is the growth in year-over-year MZM money supply. The blue line is the Dow Jones Industrial Average. Notice the correlation? A downshift in money supply growth tends to rub off negatively in the stock market and vice versa. It's not perfect, nothing in life is, but the sharp deceleration in MZM growth in 2018 did see rising volatility in the stock market. In the span of a little over two years, the annual growth rate of MZM went from 7.08% from June 13, 2016 all the way down to 2.35% on December 10, 2018. That's how rapidly the Fed was slowing the growth of the MZM money supply, and in that regard the flow of credit in the U.S. economy. When people say that "money makes the world go around," in the 21st century that's electronic money and the flow of credit, not gold coins.
The biggest factor affecting the flow of credit is the Federal Reserve. Controlling the flow of credit is like holding the control knob on an oxygen bottle. Less flow will make a patient in need of oxygen feel worse.
What is particularly interesting is that the Fed can raise the fed fund's rate, as it did on December 19, 2018, and still accelerate the rate of growth of MZM, in effect infusing electronic cash into the system.
On December 10, MZM stood at $15,622.5 billion, while on the day of the stock market bottom on December 24, it stood at $15,755.9 billion. That's an electronic cash infusion, for financial institutions only, of $133.4 billion. (The latest level for MZM is another $516.7 billion higher, at $16,272.6 billion.)
I think the Fed made a dovish turn on December 10 – the lowest point in the MZM growth rate – without telling anyone, as they realized they were overtightening, but they hiked (as expected) the fed funds rate on December 19 as they did not want to be perceived to be bowing to pressure from the White House.
We find ourselves in the fascinating situation where the world is waiting for the Federal Reserve to cut the fed funds rate at the end of July while the Federal Reserve has been hitting the monetary accelerator pedal on the annual MZM growth rate, which rose from 2.35% on December 10, 2018 to 4.78% in early July 2019, before cutting the fed funds rate. In the brave new world of quantitative easing and quantitative tightening, Federal Reserve open market operations (repos, reverse repos, etc.) that infuse electronic cash into the system are at least as important as the fed funds rate, if not more important.
Money Supply is Not the Sole Driver of Stock Prices
Zero Maturity Money is not the only determinant of the direction of the stock market, but it does affect it. In 2008, after Lehman failed, MZM growth was running at much higher rates, as per the direction of the Federal Reserve, but because banks had stopped dealing between themselves and many funding markets were frozen, MZM took much longer to affect the stock and corporate debt markets. Monetary policy works with a lag, but the lag times can vary dramatically depending on economic and market conditions.
Furthermore, we have had an epic clash of fiscal and monetary policies since Trump took office. The only other such clash, albeit somewhat more civilized, was between Ronald Reagan's supply side economics and Paul Volker's hawkish Fed. Before the fiscal stimulus, which is what the Trump tax cut is, we had a lot of deregulation, since Trump won the election that was turbocharging business activity and lifting the stock market. Also, we have had record levels of stock buy-backs, which shrink the amount of available stock for sale as well as raising earnings per share, a clear-cut form of turbocharged financial engineering.
As they view their job as counter-cyclical, the Federal Reserve did lean against activities turbocharging the economy and the stock market. That much is evident by the accelerating run-off rate of the Fed balance sheet as well as the decline in MZM growth – until December 10, 2018.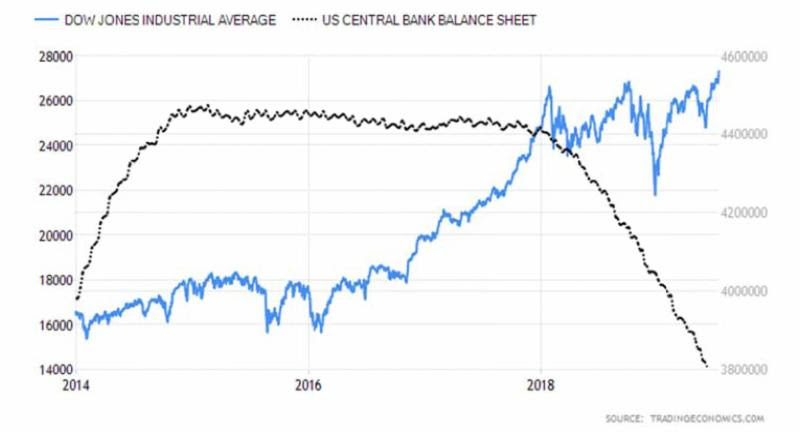 Graphs are for illustrative and discussion purposes only. Please read important disclosures at the end of this commentary.
Shrinking excess reserves, which the runoff rate of the Fed balance sheet results in, are part of MZM. Still, it has to be stressed that as excess reserves are shrinking, MZM is expanding because there are other types of open-market operations that affect MZM growth that are ongoing at present – in Donald Trump's favor – but he just hasn't been made aware of them, as is evident from his recent tweets.
A word of advice for the U.S. President: Fed Chairman Powell has been in your camp since December 10, 2018, so please leave him alone. Get the Chinese trade deal done and denuclearize North Korea and I think you may very well win the Nobel Peace Prize – and the next presidential election.
Ivan Martchev
INVESTMENT STRATEGIST
Ivan Martchev is an investment strategist with Navellier.  Previously, Ivan served as editorial director at InvestorPlace Media. Ivan was editor of Louis Rukeyser's Mutual Funds and associate editor of Personal Finance. Ivan is also co-author of The Silk Road to Riches (Financial Times Press). The book provided analysis of geopolitical issues and investment strategy in natural resources and emerging markets with an emphasis on Asia. The book also correctly predicted the collapse in the U.S. real estate market, the rise of precious metals, and the resulting increased investor interest in emerging markets. Ivan's commentaries have been published by MSNBC, The Motley Fool, MarketWatch, and others. All content of "Global Mail" represents the opinion of Ivan Martchev

Although information in these reports has been obtained from and is based upon sources that Navellier believes to be reliable, Navellier does not guarantee its accuracy and it may be incomplete or condensed. All opinions and estimates constitute Navellier's judgment as of the date the report was created and are subject to change without notice. These reports are for informational purposes only and are not intended as an offer or solicitation for the purchase or sale of a security. Any decision to purchase securities mentioned in these reports must take into account existing public information on such securities or any registered prospectus.
Past performance is no indication of future results. Investment in securities involves significant risk and has the potential for partial or complete loss of funds invested. It should not be assumed that any securities recommendations made by Navellier. in the future will be profitable or equal the performance of securities made in this report.
Dividend payments are not guaranteed. The amount of a dividend payment, if any, can vary over time and issuers may reduce dividends paid on securities in the event of a recession or adverse event affecting a specific industry or issuer.
None of the stock information, data, and company information presented herein constitutes a recommendation by Navellier or a solicitation of any offer to buy or sell any securities. Any specific securities identified and described do not represent all of the securities purchased, sold, or recommended for advisory clients. The reader should not assume that investments in the securities identified and discussed were or will be profitable.
Information presented is general information that does not take into account your individual circumstances, financial situation, or needs, nor does it present a personalized recommendation to you. Individual stocks presented may not be suitable for you. Investment in securities involves significant risk and has the potential for partial or complete loss of funds invested. Investment in fixed income securities has the potential for the investment return and principal value of an investment to fluctuate so that an investor's holdings, when redeemed, may be worth less than their original cost.
One cannot invest directly in an index. Results presented include the reinvestment of all dividends and other earnings.
Past performance is no indication of future results.
FEDERAL TAX ADVICE DISCLAIMER: As required by U.S. Treasury Regulations, you are informed that, to the extent this presentation includes any federal tax advice, the presentation is not intended or written by Navellier to be used, and cannot be used, for the purpose of avoiding federal tax penalties. Navellier does not advise on any income tax requirements or issues. Use of any information presented by Navellier is for general information only and does not represent tax advice either express or implied. You are encouraged to seek professional tax advice for income tax questions and assistance.
IMPORTANT NEWSLETTER DISCLOSURE: The hypothetical performance results for investment newsletters that are authored or edited by Louis Navellier, including Louis Navellier's Growth Investor, Louis Navellier's Breakthrough Stocks, Louis Navellier's Accelerated Profits, and Louis Navellier's Platinum Club, are not based on any actual securities trading, portfolio, or accounts, and the newsletters' reported hypothetical performances should be considered mere "paper" or proforma hypothetical performance results and are not actual performance of real world trades.  Navellier & Associates, Inc. does not have any relation to or affiliation with the owner of these newsletters. There are material differences between Navellier Investment Products' portfolios and the InvestorPlace Media, LLC newsletter portfolios authored by Louis Navellier. The InvestorPlace Media, LLC newsletters contain hypothetical performance that do not include transaction costs, advisory fees, or other fees a client might incur if actual investments and trades were being made by an investor. As a result, newsletter performance should not be used to evaluate Navellier Investment services which are separate and different from the newsletters. The owner of the newsletters is InvestorPlace Media, LLC and any questions concerning the newsletters, including any newsletter advertising or hypothetical Newsletter performance claims, (which are calculated solely by Investor Place Media and not Navellier) should be referred to InvestorPlace Media, LLC at (800) 718-8289.
Please note that Navellier & Associates and the Navellier Private Client Group are managed completely independent of the newsletters owned and published by InvestorPlace Media, LLC and written and edited by Louis Navellier, and investment performance of the newsletters should in no way be considered indicative of potential future investment performance for any Navellier & Associates separately managed account portfolio. Potential investors should consult with their financial advisor before investing in any Navellier Investment Product.
Navellier claims compliance with Global Investment Performance Standards (GIPS). To receive a complete list and descriptions of Navellier's composites and/or a presentation that adheres to the GIPS standards, please contact Navellier or click here. It should not be assumed that any securities recommendations made by Navellier & Associates, Inc. in the future will be profitable or equal the performance of securities made in this report. Request here a list of recommendations made by Navellier & Associates, Inc. for the preceding twelve months, please contact Tim Hope at (775) 785-9416.