July 16, 2019
Right before Independence Day 2019, The New York Times issued a stinging five-minute opinion video, titled, "Please Stop Telling Me America is Great," which concluded that America is not great; it's "Just OK." They point out the proliferation of other democracies that are doing better – like tiny Singapore or Hong Kong in Asia, or the Scandinavian countries in Europe. Of course, these small, homogenous nations can do better because U.S. power rescued them from Japanese or German occupation 74 years ago, NYT!
As you read this, I'm on a flight to Las Vegas for the 11th annual Freedom Fest, founded and run by Mark and Jo Ann Skousen. I've moderated dozens of panels (five this year) over the last decade and have been a film reviewer for the Anthem Film Festival from the beginning. I'll report on my panels next week, but I want to give you a brief review of six fascinating films this week. In all, I've reviewed 28 films, but 20 are short documentaries and narratives. The longer documentaries this year are exceptional. They include:
"The Creepy Line" (81 minutes), a 2018 documentary unveiling the hidden power Google and Facebook have on public opinion – far more than the Russians, I'd say. The title comes from a quote by Eric Schmidt (CEO or Chairman of Google or parent Alphabet from 2001 to 2017), who described Google's use of personal information as coming up to, but not crossing, "the creepy line." Viewers may think they already crossed it, as the data these monoliths control is not regulated or controlled by outside watchdogs.
Navellier & Associates does not own Google and Facebook in managed accounts or our sub-advised mutual fund. Gary Alexander does not own Google and Facebook in personal accounts.
"The Fight of Our Lives – Defeating the Ideological War Against the West" (66 minutes) is a long-term historical view of the many-faceted assaults on Western values. The documentary interviews authors such as Niall Ferguson, Victor Davis Hanson, and Melanie Phillips, who summarizes the film's view, saying, "There are two threats facing the West, and they are linked. There's the threat from within, and the threat from without, and the threat from without is made much more threatening by the threat from within."
"Invalidated" (50 minutes) is a shorter and more intimate film about average Americans who invent small things but are shafted by shady operators who steal their ideas, despite patent-pending protection. We learn about people like Josh Malone, a father of eight, who invents a way to fill 100 water balloons in 60 seconds. His "Bunch o'Balloons" was funded by Kickstarter, but a big telemarketer stole the idea before he could make a dime, and the patent court seems rigged in favor of big money, not the small inventor.
These first three films are available in many on-line outlets, for instance, at Amazon Prime Videos.
"In Money We Trust?" (57 minutes) is an investigation of sound money, available through PBS' website. It was aired on PBS last January. It is based on a book about money co-authored by financial publisher Steve Forbes and Elizabeth Ames. The film script is by Ames. It starts with the invention of money 2,500 years ago. Interviews include those with former Fed Chairmen Alan Greenspan and Paul Volcker, plus Adam Fergusson, author of "When Money Dies," a definitive history of the 1923 German hyperinflation.
"No Safe Places" (90 minutes) features parallel interviews and excerpts from a speaking tour by Adam Carolla and Dennis Prager on the subject of oppressive college speech codes, censorship of controversial speakers, and "safe spaces" for protecting students from uncomfortable ideas on campus. Some interesting segments feature re-enactments of the hosts' youthful experiences, like Prager's visit to the totalitarian Soviet Union and Carolla's frustration growing up in a single-parent welfare household.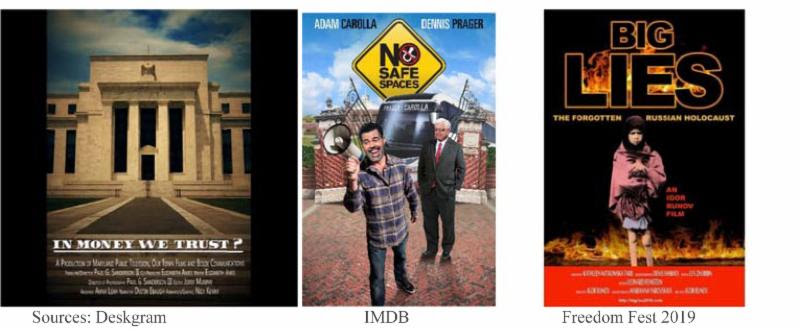 "Big Lies: The Forgotten Russian Holocaust" (39 minutes) is the subject of my opening panel at 1:00 tomorrow afternoon, along with the director, Igor Runov. In 2012, he interviewed three survivors of the 1932 Ukrainian famine, engineered by Stalin yet overlooked (even denied) by the Western press. New York Times reporter Walter Duranty even won a Pulitzer Prize for adamantly denying the famine there. Our panel will discuss selective reporting of global tragedies by the media from the 1930s to the present.
Put together, these films paint a somber picture of America's downward direction, from cultural values to our money, our media, privacy, education, and even our inventions. But documentaries, by their nature, present only one side of a story. At the same time, I'm reading books that paint a more hopeful picture.
The Myth of America's Decline…a Perennial Rerun
The good news is that there is time to turn these trends around, if we have the national will to wake up and face the music. In the last few weeks, I have brought you a few highlights from "The Myth of America's Decline," by Josef Josse, editor-publisher of Germany's Die Zeit. Myths range from the Missile Gap of 1960 to the present. In turn, Russia, Japan, and now China were supposed to surpass us.
Japan and the Four Tigers (Hong Kong, Singapore, South Korea, and Taiwan) all operated from top-down economic models which created artificially high GDP growth based on low labor costs, central planning, and a gospel of exports-first. Each grew fast at first then slowed down as this model inevitably fails when wages rise, a new low-cost production center emerges, and the fallacy of centralized planning is exposed.
In 2003, Goldman Sachs hailed the BRICs (Brazil, Russia, India, and China) as the leaders of tomorrow, but now the first two are in dismal shape and the latter two are sputtering. By 2010, the experts focused on the rapid growth curve of China from 1980 to 2010 as the lead horse. They believed China's growth arc would go on forever. They extrapolated that growth curve to predict that China's GDP would overtake America's by 2020, just as previous pundits had said that Japan would overtake America by 2000.
In the January-February 2010 issue of Foreign Policy, for instance, Nobel laureate Robert Fogel of the University of Chicago predicted, "In 2040, the Chinese economy will reach $123 trillion, or nearly three times the economic output of the entire globe in 2000. China's per capita income will hit $85,000, more than double the forecast for the European Union." Of course, it's easy to extrapolate 12% annual growth rates for 30 years, but it's virtually impossible for large economies to grow that fast for that long.
Bottom line, America is still great and still #1 in many ways, but we are on the road to losing that status if we slacken. Check out these films, and let's do our part to deflect these multiple attacks on America.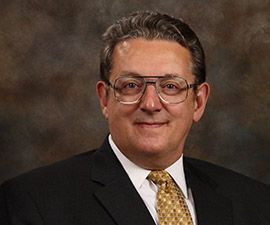 Gary Alexander
SENIOR EDITOR
Gary Alexander has been Senior Writer at Navellier since 2009.  He edits Navellier's weekly Marketmail and writes a weekly Growth Mail column, in which he uses market history to support the case for growth stocks.  For the previous 20 years before joining Navellier, he was Senior Executive Editor at InvestorPlace Media (formerly Phillips Publishing), where he worked with several leading investment analysts, including Louis Navellier (since 1997), helping launch Louis Navellier's Blue Chip Growth and Global Growth newsletters.
Prior to that, Gary edited Wealth Magazine and Gold Newsletter and wrote various investment research reports for Jefferson Financial in New Orleans in the 1980s.  He began his financial newsletter career with KCI Communications in 1980, where he served as consulting editor for Personal Finance newsletter while serving as general manager of KCI's Alexandria House book division.  Before that, he covered the economics beat for news magazines. All content of "Growth Mail" represents the opinion of Gary Alexander
Although information in these reports has been obtained from and is based upon sources that Navellier believes to be reliable, Navellier does not guarantee its accuracy and it may be incomplete or condensed. All opinions and estimates constitute Navellier's judgment as of the date the report was created and are subject to change without notice. These reports are for informational purposes only and are not intended as an offer or solicitation for the purchase or sale of a security. Any decision to purchase securities mentioned in these reports must take into account existing public information on such securities or any registered prospectus.
Past performance is no indication of future results. Investment in securities involves significant risk and has the potential for partial or complete loss of funds invested. It should not be assumed that any securities recommendations made by Navellier. in the future will be profitable or equal the performance of securities made in this report.
Dividend payments are not guaranteed. The amount of a dividend payment, if any, can vary over time and issuers may reduce dividends paid on securities in the event of a recession or adverse event affecting a specific industry or issuer.
None of the stock information, data, and company information presented herein constitutes a recommendation by Navellier or a solicitation of any offer to buy or sell any securities. Any specific securities identified and described do not represent all of the securities purchased, sold, or recommended for advisory clients. The reader should not assume that investments in the securities identified and discussed were or will be profitable.
Information presented is general information that does not take into account your individual circumstances, financial situation, or needs, nor does it present a personalized recommendation to you. Individual stocks presented may not be suitable for you. Investment in securities involves significant risk and has the potential for partial or complete loss of funds invested. Investment in fixed income securities has the potential for the investment return and principal value of an investment to fluctuate so that an investor's holdings, when redeemed, may be worth less than their original cost.
One cannot invest directly in an index. Results presented include the reinvestment of all dividends and other earnings.
Past performance is no indication of future results.
FEDERAL TAX ADVICE DISCLAIMER: As required by U.S. Treasury Regulations, you are informed that, to the extent this presentation includes any federal tax advice, the presentation is not intended or written by Navellier to be used, and cannot be used, for the purpose of avoiding federal tax penalties. Navellier does not advise on any income tax requirements or issues. Use of any information presented by Navellier is for general information only and does not represent tax advice either express or implied. You are encouraged to seek professional tax advice for income tax questions and assistance.
IMPORTANT NEWSLETTER DISCLOSURE: The hypothetical performance results for investment newsletters that are authored or edited by Louis Navellier, including Louis Navellier's Growth Investor, Louis Navellier's Breakthrough Stocks, Louis Navellier's Accelerated Profits, and Louis Navellier's Platinum Club, are not based on any actual securities trading, portfolio, or accounts, and the newsletters' reported hypothetical performances should be considered mere "paper" or proforma hypothetical performance results and are not actual performance of real world trades.  Navellier & Associates, Inc. does not have any relation to or affiliation with the owner of these newsletters. There are material differences between Navellier Investment Products' portfolios and the InvestorPlace Media, LLC newsletter portfolios authored by Louis Navellier. The InvestorPlace Media, LLC newsletters contain hypothetical performance that do not include transaction costs, advisory fees, or other fees a client might incur if actual investments and trades were being made by an investor. As a result, newsletter performance should not be used to evaluate Navellier Investment services which are separate and different from the newsletters. The owner of the newsletters is InvestorPlace Media, LLC and any questions concerning the newsletters, including any newsletter advertising or hypothetical Newsletter performance claims, (which are calculated solely by Investor Place Media and not Navellier) should be referred to InvestorPlace Media, LLC at (800) 718-8289.
Please note that Navellier & Associates and the Navellier Private Client Group are managed completely independent of the newsletters owned and published by InvestorPlace Media, LLC and written and edited by Louis Navellier, and investment performance of the newsletters should in no way be considered indicative of potential future investment performance for any Navellier & Associates separately managed account portfolio. Potential investors should consult with their financial advisor before investing in any Navellier Investment Product.
Navellier claims compliance with Global Investment Performance Standards (GIPS). To receive a complete list and descriptions of Navellier's composites and/or a presentation that adheres to the GIPS standards, please contact Navellier or click here. It should not be assumed that any securities recommendations made by Navellier & Associates, Inc. in the future will be profitable or equal the performance of securities made in this report. Request here a list of recommendations made by Navellier & Associates, Inc. for the preceding twelve months, please contact Tim Hope at (775) 785-9416.