July 9, 2019
The old Wall Street maxim of climbing the "wall of worry" has to do with the stock market surmounting a number of negative factors while ascending to new high ground. As of last week's holiday-shortened action, the market's resilience to any new stumbling blocks is to be admired, if not respected.
I've called for the S&P to hit 3,000 by year's end. We're there, or within 10 points of being there. Few expected Edmond Hilary to summit Mount Everest on his first attempt, but on May 29, 1953 he did it.
This impressive stand by the bulls has come at a time when skepticism about any further market gains is running high – leaving many to wonder how and why this torrid 10% rally for the S&P off the June 3 low came to be. After all, the current takeaway from the G20 Summit is that nothing has really changed. The current tariff structure remains in place and the U.S. gave in to corporate pressure to sell products to Huawei. Talk of new tariffs on European goods is getting traction and tensions with Iran are on the rise.
Much of the credit for the June rally is being awarded to Fed Chairman Jerome Powell and the other Fed officials by putting their oral stamp on the assumption that a rate cut of at least a quarter-point is a "done deal" at the upcoming FOMC meeting scheduled for July 30-31. The latest Fed language is that a rate cut will be for "insurance purposes" and not because the economy is faltering. Who said a good old-fashioned Twitter-lashing from the White House doesn't carry some weight?
Conversely, institutional bond investors would have nothing of it and are operating in lockstep by hoarding U.S. and other investment-grade sovereign debt as if the world were going to run out of newly issued debt. Global bond markets have rallied sharply in response to weakening economic data and a dovish fiscal narrative from leading central banks, which has taken the benchmark 10-year Treasury yield down to 2.05%, a level not seen since the fourth quarter of 2016.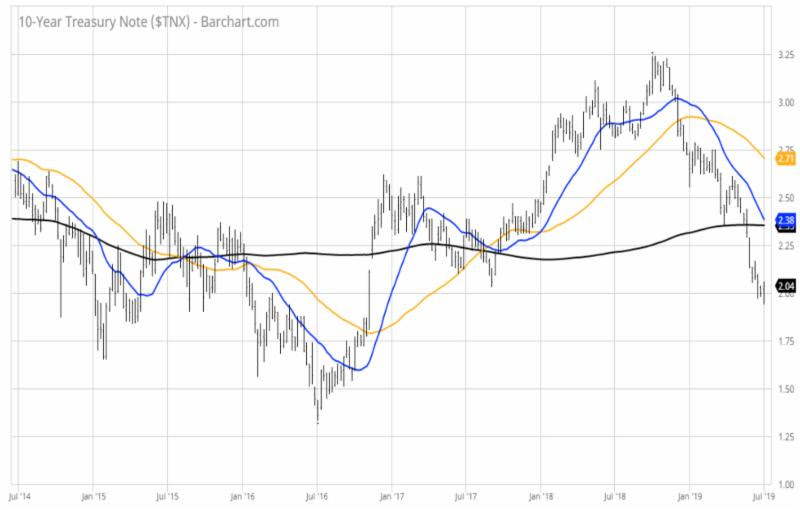 Graphs are for illustrative and discussion purposes only. Please read important disclosures at the end of this commentary.
Amazingly, 25% of all the government debt around the world now has negative yields, most of which is issued by 14 European nations. This is rather perplexing and underscores the level of rising worry among investors about a hard landing for the European economy.
This past week's Global PMI survey signaled that manufacturing further contracted during the month of May, posting its lowest reading since October 2012. The J.P. Morgan Global Manufacturing PMI – a composite index produced by J.P. Morgan and IHS Markit – fell to 49.8 in May, down from 50.4 in April. (Any number below 50.0 means that the world's factory output is contracting.)
More importantly, the ISM Manufacturing PMI in the U.S. fell to 51.7 in June from 52.1 in May, marking the slowest pace of expansion in the factory sector since October 2016. The U.S. economy accounts for 21.6% of global GDP, followed by China at 12.7%, Japan at 7.7%, Germany at 4.8%, and France at 3.6%. This group makes up 50.4% of global GDP, so when this group sneezes, the rest of the world gets a cold.
What raised a lot of eyebrows is that, according to the J.P. Morgan Global Manufacturing PMI report, "The downshift in growth in the U.S. was the main driver of the slowdown in global manufacturing, as the U.S. PMI slipped to its lowest level in almost a decade (since September 2009)." With this information in hand, it's safe to say that the Fed, the European Central Bank, and other global reserve banks will be cutting short-term interest rates in the weeks and months ahead.
Graphs are for illustrative and discussion purposes only. Please read important disclosures at the end of this commentary.
A Confluence of Factors – and Plenty of Confusion
Forget the short-term negative factors that would typically derail a market, which once had investors walking on eggshells. Instead, investors have bought into the macro argument that the Federal Reserve will begin aggressively cutting interest rates while central banks in China, Japan, and Europe will pursue more aggressive fiscal stimulus measures. It's believed that this coordinated central bank intervention among the most powerful central banks will provide a floor under the global economy, creating a second half reacceleration of growth that can be invested into. It's a conundrum for sure, and at the same time, the "fear of missing out" or FOMO, has underinvested professional and retail investors paying up for stocks that led to a melt-up of sorts this past week. So much for summer doldrums in the stock market.
That's the big picture. Investors love rate cuts, which provide the steroids for a higher stock market, even as the S&P trades at a forward P/E of 17x, above its 5- and 10-year historical averages. Additionally, with the world awash in low-to-negative bond yields, juicier yields from stock dividends that enjoy preferential tax treatment are driving capital flows into equity markets with less regard for earnings growth – at least for now. This might be why P/E multiples are expanding while earnings growth is decelerating.
I find this fluid situation one of the most interesting times in my investing career, and though I too ponder if the current slowdown is just temporary, I'm not about to fight the tape.
Bryan Perry
SENIOR DIRECTOR
Bryan Perry is a Senior Director with Navellier Private Client Group, advising and facilitating high net worth investors in the pursuit of their financial goals.
Bryan's financial services career spanning the past three decades includes over 20 years of wealth management experience with Wall Street firms that include Bear Stearns, Lehman Brothers and Paine Webber, working with both retail and institutional clients. Bryan earned a B.A. in Political Science from Virginia Polytechnic Institute & State University and currently holds a Series 65 license. All content of "Income Mail" represents the opinion of Bryan Perry
Although information in these reports has been obtained from and is based upon sources that Navellier believes to be reliable, Navellier does not guarantee its accuracy and it may be incomplete or condensed. All opinions and estimates constitute Navellier's judgment as of the date the report was created and are subject to change without notice. These reports are for informational purposes only and are not intended as an offer or solicitation for the purchase or sale of a security. Any decision to purchase securities mentioned in these reports must take into account existing public information on such securities or any registered prospectus.
Past performance is no indication of future results. Investment in securities involves significant risk and has the potential for partial or complete loss of funds invested. It should not be assumed that any securities recommendations made by Navellier. in the future will be profitable or equal the performance of securities made in this report.
Dividend payments are not guaranteed. The amount of a dividend payment, if any, can vary over time and issuers may reduce dividends paid on securities in the event of a recession or adverse event affecting a specific industry or issuer.
None of the stock information, data, and company information presented herein constitutes a recommendation by Navellier or a solicitation of any offer to buy or sell any securities. Any specific securities identified and described do not represent all of the securities purchased, sold, or recommended for advisory clients. The reader should not assume that investments in the securities identified and discussed were or will be profitable.
Information presented is general information that does not take into account your individual circumstances, financial situation, or needs, nor does it present a personalized recommendation to you. Individual stocks presented may not be suitable for you. Investment in securities involves significant risk and has the potential for partial or complete loss of funds invested. Investment in fixed income securities has the potential for the investment return and principal value of an investment to fluctuate so that an investor's holdings, when redeemed, may be worth less than their original cost.
One cannot invest directly in an index. Results presented include the reinvestment of all dividends and other earnings.
Past performance is no indication of future results.
FEDERAL TAX ADVICE DISCLAIMER: As required by U.S. Treasury Regulations, you are informed that, to the extent this presentation includes any federal tax advice, the presentation is not intended or written by Navellier to be used, and cannot be used, for the purpose of avoiding federal tax penalties. Navellier does not advise on any income tax requirements or issues. Use of any information presented by Navellier is for general information only and does not represent tax advice either express or implied. You are encouraged to seek professional tax advice for income tax questions and assistance.
IMPORTANT NEWSLETTER DISCLOSURE: The hypothetical performance results for investment newsletters that are authored or edited by Louis Navellier, including Louis Navellier's Growth Investor, Louis Navellier's Breakthrough Stocks, Louis Navellier's Accelerated Profits, and Louis Navellier's Platinum Club, are not based on any actual securities trading, portfolio, or accounts, and the newsletters' reported hypothetical performances should be considered mere "paper" or proforma hypothetical performance results and are not actual performance of real world trades.  Navellier & Associates, Inc. does not have any relation to or affiliation with the owner of these newsletters. There are material differences between Navellier Investment Products' portfolios and the InvestorPlace Media, LLC newsletter portfolios authored by Louis Navellier. The InvestorPlace Media, LLC newsletters contain hypothetical performance that do not include transaction costs, advisory fees, or other fees a client might incur if actual investments and trades were being made by an investor. As a result, newsletter performance should not be used to evaluate Navellier Investment services which are separate and different from the newsletters. The owner of the newsletters is InvestorPlace Media, LLC and any questions concerning the newsletters, including any newsletter advertising or hypothetical Newsletter performance claims, (which are calculated solely by Investor Place Media and not Navellier) should be referred to InvestorPlace Media, LLC at (800) 718-8289.
Please note that Navellier & Associates and the Navellier Private Client Group are managed completely independent of the newsletters owned and published by InvestorPlace Media, LLC and written and edited by Louis Navellier, and investment performance of the newsletters should in no way be considered indicative of potential future investment performance for any Navellier & Associates separately managed account portfolio. Potential investors should consult with their financial advisor before investing in any Navellier Investment Product.
Navellier claims compliance with Global Investment Performance Standards (GIPS). To receive a complete list and descriptions of Navellier's composites and/or a presentation that adheres to the GIPS standards, please contact Navellier or click here. It should not be assumed that any securities recommendations made by Navellier & Associates, Inc. in the future will be profitable or equal the performance of securities made in this report. Request here a list of recommendations made by Navellier & Associates, Inc. for the preceding twelve months, please contact Tim Hope at (775) 785-9416.