June 25, 2019
"The whole aim of practical politics is to keep the populace alarmed (and hence clamorous to be led to safety) by menacing it with an endless series of hobgoblins, all of them imaginary." – H.L. Mencken
Tomorrow night marks the first of what will soon seem like an endless series of debates by at least 20 Democratic hopefuls running for President in 2020, culminating in their National Convention July 13-16, 2020 in Milwaukee. Their purpose, as with most proceeding candidates, will be to exaggerate current problems beyond all rational bounds and then claim the sole proprietorship on their eventual solution.
The incumbent's job, by contrast, is to show how wonderful and problem-free our nation has become under his leadership and how everything will collapse if he is not re-elected. In launching his re-election campaign on June 15, President Trump followed that playbook well, tweeting "The Trump Economy is setting records, and has a long way up to go…However, if anyone but me takes over in 2020 (I know the competition very well), there will be a Market Crash the likes of which has not been seen before!"
By contrast, Trump's Inaugural address on January 20, 2017, portrayed dark visions of a nation in crisis, including rising crime (which had been falling), saying "This American carnage stops here and now." Like many past Republicans, he focused on "depletion of the military," which remained larger than the next nine nations combined, and repeated the myth of Democratic candidates, that the middle class was dying.
In "The Myth of America's Decline: Politics, Economics and a Half Century of False Prophecies" (2013), German author Josef Joffe (Die Zeit editor) recited a litany of election year false warnings since JFK's 1960 Missile Gap warnings, which I covered here three weeks ago. Ronald Reagan used the same strategy in 1980, citing a "Window of Vulnerability," including the USSR's 'heavier and more accurate' missiles.
In his Detroit nomination acceptance speech of July 17, 1980, Reagan said, "America's defense strength is at its lowest ebb in a generation, while the Soviet Union is vastly outspending us in both strategic and conventional arms." Neither of those latter claims were true, but they were credible since Brezhnev was capturing several nations around the globe under Carter's watch, so Reagan won in a landslide in 1980.
"The sky is falling" has always been a lucrative pitch, Joffe wrote. "The strategy is to paint the nation in hellish colors and then offer oneself as a guide to heaven. The country is on the skids, but tomorrow it will rise again – if only you, the people, will anoint me as your leader." Watch the debates tomorrow and (just for laughs) jot down all the times you hear miraculous promises (as Ed Yardeni imagined) to give Americans "free universal health care, free pre-kindergarten, free college education and full-time jobs … to forgive student loans and to provide a Universal Basic Income to anyone who gets out of bed (or not)."
The Vast Difference Between Wars and "Rumors of War"
"And ye shall hear of wars and rumors of wars: See that you be not troubled, for all these things must come to pass, but the end is not yet." – Matthew 24:6
When domestic problems or scandals arise, Shakespeare wrote the original script for manipulating public opinion – in Henry IV's advice to his son and successor: "Busy giddy minds with foreign quarrels."
Now that the Mueller report isn't the daily fodder of the scandal-hungry press, all of a sudden news from Iran, China, Venezuela, Europe, and elsewhere is suddenly more relevant. Those trouble spots have been there all along, but spurious rumors of 2016 collaboration with Russia have wasted two years of mental room and board with hundreds of Beltway scribes, to the utter boredom of 328 million other Americans.
How do markets react to wars? On this date 69 years ago, at dawn on Sunday, June 25, 1950, 200,000 North Korean troops stormed into South Korea. The next market day, Monday, June 26, the Dow went down a staggering 10.44 points (-4.7%), the largest one-day percentage drop in a 25-year span from 1937 to 1962. However, the Korean War sparked the market to outsized gains, rising 40% from 1950 to 1952.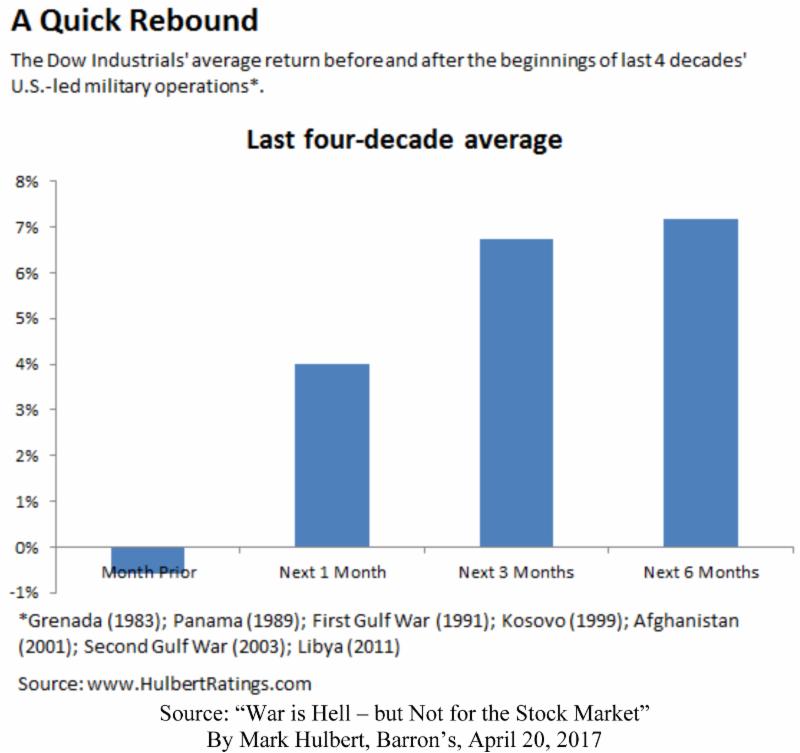 Graphs are for illustrative and discussion purposes only. Please read important disclosures at the end of this commentary.
Last Thursday, the Dow and S&P 500 reached all-time highs on the rumors of a U.S. military strike in Iran, but the market corrected on Friday after President Trump pulled back from those planned attacks.
Some things never change. Nearly 200 years ago, on June 1, 1822, the 79-year-old retired 3rd President, Thomas Jefferson of Virginia, wrote the 2nd President, John Adams, 86, of Massachusetts, "To turn to the news of the day, it seems the cannibals of Europe are going at one another again." TJ spoke of a "war between Russia and Turkey" and then proclaimed that "whichever destroys the other leaves a destroyer the less for the world." Jefferson later mused that "the life of the feeder is better than that of the fighter."
The lesson from those old sages: With the U.S. energy-independent now, perhaps we can leave defending the Straits of Hormuz to someone else. Maybe it's time for energy-dependent Europe and Asia to act.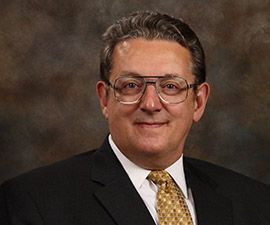 Gary Alexander
SENIOR EDITOR
Gary Alexander has been Senior Writer at Navellier since 2009.  He edits Navellier's weekly Marketmail and writes a weekly Growth Mail column, in which he uses market history to support the case for growth stocks.  For the previous 20 years before joining Navellier, he was Senior Executive Editor at InvestorPlace Media (formerly Phillips Publishing), where he worked with several leading investment analysts, including Louis Navellier (since 1997), helping launch Louis Navellier's Blue Chip Growth and Global Growth newsletters.
Prior to that, Gary edited Wealth Magazine and Gold Newsletter and wrote various investment research reports for Jefferson Financial in New Orleans in the 1980s.  He began his financial newsletter career with KCI Communications in 1980, where he served as consulting editor for Personal Finance newsletter while serving as general manager of KCI's Alexandria House book division.  Before that, he covered the economics beat for news magazines. All content of "Growth Mail" represents the opinion of Gary Alexander
Although information in these reports has been obtained from and is based upon sources that Navellier believes to be reliable, Navellier does not guarantee its accuracy and it may be incomplete or condensed. All opinions and estimates constitute Navellier's judgment as of the date the report was created and are subject to change without notice. These reports are for informational purposes only and are not intended as an offer or solicitation for the purchase or sale of a security. Any decision to purchase securities mentioned in these reports must take into account existing public information on such securities or any registered prospectus.
Past performance is no indication of future results. Investment in securities involves significant risk and has the potential for partial or complete loss of funds invested. It should not be assumed that any securities recommendations made by Navellier. in the future will be profitable or equal the performance of securities made in this report.
Dividend payments are not guaranteed. The amount of a dividend payment, if any, can vary over time and issuers may reduce dividends paid on securities in the event of a recession or adverse event affecting a specific industry or issuer.
None of the stock information, data, and company information presented herein constitutes a recommendation by Navellier or a solicitation of any offer to buy or sell any securities. Any specific securities identified and described do not represent all of the securities purchased, sold, or recommended for advisory clients. The reader should not assume that investments in the securities identified and discussed were or will be profitable.
Information presented is general information that does not take into account your individual circumstances, financial situation, or needs, nor does it present a personalized recommendation to you. Individual stocks presented may not be suitable for you. Investment in securities involves significant risk and has the potential for partial or complete loss of funds invested. Investment in fixed income securities has the potential for the investment return and principal value of an investment to fluctuate so that an investor's holdings, when redeemed, may be worth less than their original cost.
One cannot invest directly in an index. Results presented include the reinvestment of all dividends and other earnings.
Past performance is no indication of future results.
FEDERAL TAX ADVICE DISCLAIMER: As required by U.S. Treasury Regulations, you are informed that, to the extent this presentation includes any federal tax advice, the presentation is not intended or written by Navellier to be used, and cannot be used, for the purpose of avoiding federal tax penalties. Navellier does not advise on any income tax requirements or issues. Use of any information presented by Navellier is for general information only and does not represent tax advice either express or implied. You are encouraged to seek professional tax advice for income tax questions and assistance.
IMPORTANT NEWSLETTER DISCLOSURE: The hypothetical performance results for investment newsletters that are authored or edited by Louis Navellier, including Louis Navellier's Growth Investor, Louis Navellier's Breakthrough Stocks, Louis Navellier's Accelerated Profits, and Louis Navellier's Platinum Club, are not based on any actual securities trading, portfolio, or accounts, and the newsletters' reported hypothetical performances should be considered mere "paper" or proforma hypothetical performance results and are not actual performance of real world trades.  Navellier & Associates, Inc. does not have any relation to or affiliation with the owner of these newsletters. There are material differences between Navellier Investment Products' portfolios and the InvestorPlace Media, LLC newsletter portfolios authored by Louis Navellier. The InvestorPlace Media, LLC newsletters contain hypothetical performance that do not include transaction costs, advisory fees, or other fees a client might incur if actual investments and trades were being made by an investor. As a result, newsletter performance should not be used to evaluate Navellier Investment services which are separate and different from the newsletters. The owner of the newsletters is InvestorPlace Media, LLC and any questions concerning the newsletters, including any newsletter advertising or hypothetical Newsletter performance claims, (which are calculated solely by Investor Place Media and not Navellier) should be referred to InvestorPlace Media, LLC at (800) 718-8289.
Please note that Navellier & Associates and the Navellier Private Client Group are managed completely independent of the newsletters owned and published by InvestorPlace Media, LLC and written and edited by Louis Navellier, and investment performance of the newsletters should in no way be considered indicative of potential future investment performance for any Navellier & Associates separately managed account portfolio. Potential investors should consult with their financial advisor before investing in any Navellier Investment Product.
Navellier claims compliance with Global Investment Performance Standards (GIPS). To receive a complete list and descriptions of Navellier's composites and/or a presentation that adheres to the GIPS standards, please contact Navellier or click here. It should not be assumed that any securities recommendations made by Navellier & Associates, Inc. in the future will be profitable or equal the performance of securities made in this report. Request here a list of recommendations made by Navellier & Associates, Inc. for the preceding twelve months, please contact Tim Hope at (775) 785-9416.