Before the infamous tariff tweet on May 5 that announced to the world that the Chinese trade deal was in trouble, December 2019 fed fund futures settled at 97.735 (symbol ZQZ19). That number may not mean much to the average investor, but to a futures trader it implied that the market was expecting the fed funds rate to be 2.265% at the time of settlement of the fed fund futures contract in December 2019 (2.265 equals 100 minus the ZQZ19 price). At the close of trading last week, the same futures contract predicted a fed funds rate of 1.745%. That means the market is aggressively pricing three Fed interest rate cuts.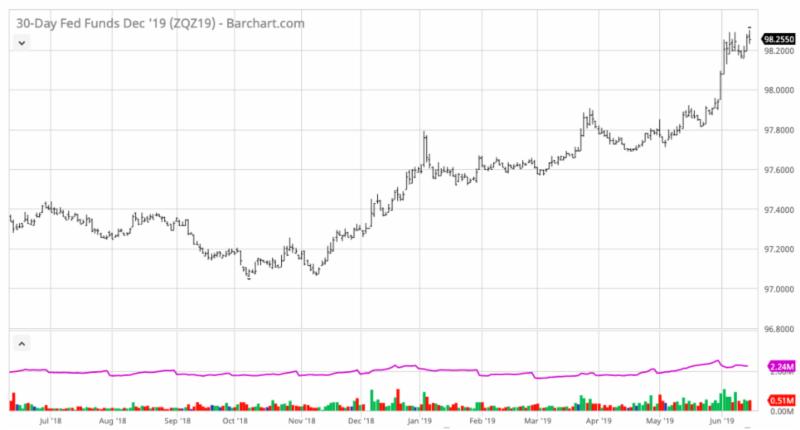 Graphs are for illustrative and discussion purposes only. Please read important disclosures at the end of this commentary.
The trillion-dollar question is: Will the market get these three cuts?
This question is worth trillions of dollars because in early November 2018, the 10-year Treasury yielded 3.25% near the low point of the ZQZ19 fed funds futures contract. Recently, that 10-year rate has been as low at 2.05%, so if one pressed a bet with maximum interest-rate sensitivity in the Treasury market with zero-coupon bonds, one would have seen the price of a zero-coupon ETF like ZROS go from $99 to $129 all while the stock market went down a lot and up a lot, but didn't make any net progress in the meantime.
The correlation between zeroes and fed funds futures is rather telling as to what caused Treasury yields to drop so precipitously.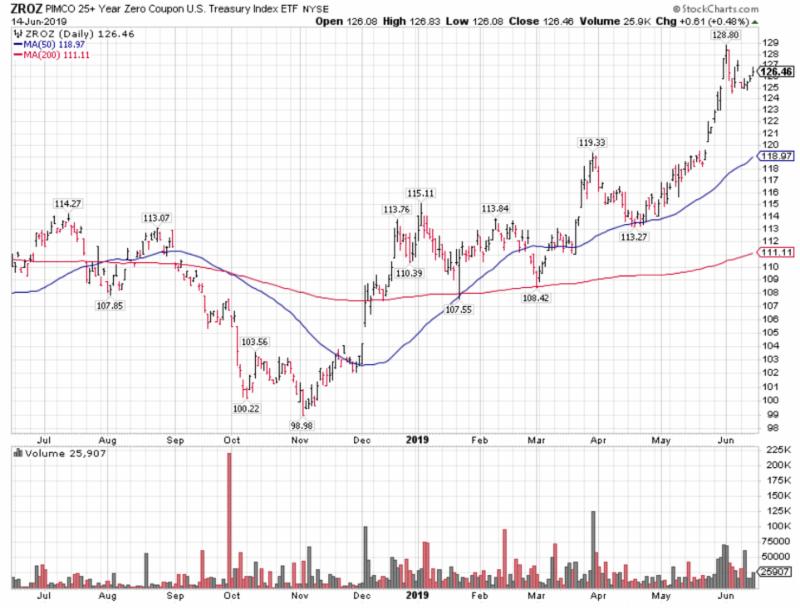 Graphs are for illustrative and discussion purposes only. Please read important disclosures at the end of this commentary.
Personally, I do not believe the stock market will see the three interest rate cuts if there is a Chinese trade deal. While I thought there would be a Chinese trade deal before that infamous May 5 tweet, because the Chinese economy would suffer tremendously under heavy debt loads without one, it very well may be that the Chinese have decided to ultimately devalue the yuan and go ahead without a trade deal.
If the domestic situation in China is much weaker than official Chinese government economic statistics indicate, then devaluing the yuan without a trade deal makes more sense for the Chinese, as they would kill two birds with one stone: They create the necessary domestic inflation to service their mountain of debts and counter the effects of a 25% tariff. A yuan devaluation is not a complete antidote to a tariff, but it would make things a lot better for the Chinese, as it also inflates away some of their mountain of debts.
It would be unthinkable for The Donald to levy a 50% tariff, as in that regard he will be seen as unhinged and the initiator of the Second Great Depression, as much higher tariffs will be a big disruptor to global trade and will be guaranteed to cause a global recession. Did the Sun Tzu disciples in Beijing pull a rabbit out of their hat with the calculated failure of trade talks? I think we will know before the end of summer.
Political Judo, Sun Tzu-Style
If there is a trade deal – and that's certainly a very big "if" – it is entirely possible that the present stock market volatility would have been just a trading range that digests the huge stock market gains from the Trump Presidency. This will very much be the case with the Fed on the sidelines and their balance sheet unwind coming to a close in 2019.
If there is no trade deal, it is also possible that the present trading range in the stock market is what they call in the trading business a "distribution top." Under that scenario, the May highs in the stock market could turn out to be the highs for this cycle. If so, it would appear that the Sun Tzu disciples in Beijing used Mr. Trump's own overselling of the likelihood of a trade deal against him, similar to the sport of judo, where one's main weapon is using one's opponent's weight against him.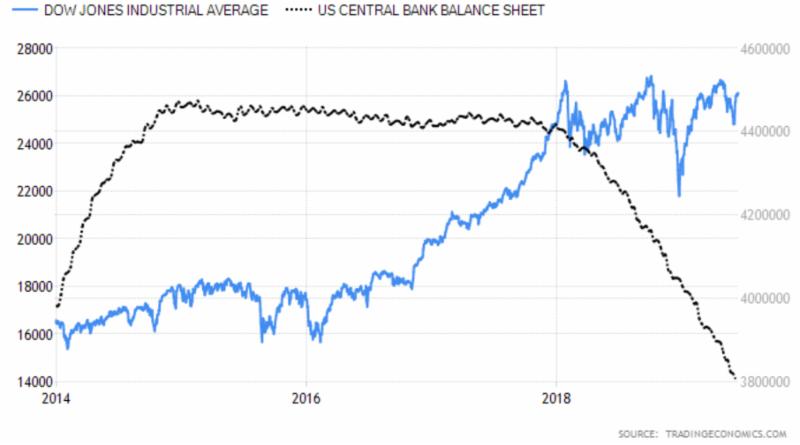 Graphs are for illustrative and discussion purposes only. Please read important disclosures at the end of this commentary.
To complicate matters further, there is a second geopolitical judo game being played out in the Persian Gulf. I would have felt a lot better if we did not have those tensions in the Persian Gulf so that the price of crude oil would reflect simple economic supply and demand dynamics and not the likelihood that the flow of oil from the Gulf could be choked off by exploding tankers and military activities against Iran. That way, crude oil prices would reflect the true situation in the Chinese economy, which the London Metals Exchange Index suggests is not all that great.
The owner of the damaged Japanese tanker reported drones just before the attack – not mines, as was previously reported in the press. Also, the damage to the tanker is above sea level, which is why it is still floating in the Gulf. Damage from a mine would have been below the waterline. While it certainly could be the Iranians, there are also a number of players in the Gulf region that would benefit from the U.S. striking Iran, so the theory that this is a "false flag attack" cannot be dismissed out of hand (see New York Times, June 14, 2019 "'Flying Object' Struck Tanker in Gulf of Oman, Operator Says, Not a Mine.")
All this Gulf drama reminds me of the 1997 spy drama, Tomorrow Never Dies, in which fictional news mogul Elliot Carver drives a British ship off course by rigging its guidance systems and sinks it in order to provoke a military response from the Royal Navy against the Chinese. Those exploding tankers surely invite convenient parallels with the 1987 Tanker War, when Iran did use mines in the Persian Gulf.
But what if the Iranians did not fly those exploding drones?
Ivan Martchev
INVESTMENT STRATEGIST
Ivan Martchev is an investment strategist with Navellier.  Previously, Ivan served as editorial director at InvestorPlace Media. Ivan was editor of Louis Rukeyser's Mutual Funds and associate editor of Personal Finance. Ivan is also co-author of The Silk Road to Riches (Financial Times Press). The book provided analysis of geopolitical issues and investment strategy in natural resources and emerging markets with an emphasis on Asia. The book also correctly predicted the collapse in the U.S. real estate market, the rise of precious metals, and the resulting increased investor interest in emerging markets. Ivan's commentaries have been published by MSNBC, The Motley Fool, MarketWatch, and others. All content of "Global Mail" represents the opinion of Ivan Martchev

Although information in these reports has been obtained from and is based upon sources that Navellier believes to be reliable, Navellier does not guarantee its accuracy and it may be incomplete or condensed. All opinions and estimates constitute Navellier's judgment as of the date the report was created and are subject to change without notice. These reports are for informational purposes only and are not intended as an offer or solicitation for the purchase or sale of a security. Any decision to purchase securities mentioned in these reports must take into account existing public information on such securities or any registered prospectus.
Past performance is no indication of future results. Investment in securities involves significant risk and has the potential for partial or complete loss of funds invested. It should not be assumed that any securities recommendations made by Navellier. in the future will be profitable or equal the performance of securities made in this report.
Dividend payments are not guaranteed. The amount of a dividend payment, if any, can vary over time and issuers may reduce dividends paid on securities in the event of a recession or adverse event affecting a specific industry or issuer.
None of the stock information, data, and company information presented herein constitutes a recommendation by Navellier or a solicitation of any offer to buy or sell any securities. Any specific securities identified and described do not represent all of the securities purchased, sold, or recommended for advisory clients. The reader should not assume that investments in the securities identified and discussed were or will be profitable.
Information presented is general information that does not take into account your individual circumstances, financial situation, or needs, nor does it present a personalized recommendation to you. Individual stocks presented may not be suitable for you. Investment in securities involves significant risk and has the potential for partial or complete loss of funds invested. Investment in fixed income securities has the potential for the investment return and principal value of an investment to fluctuate so that an investor's holdings, when redeemed, may be worth less than their original cost.
One cannot invest directly in an index. Results presented include the reinvestment of all dividends and other earnings.
Past performance is no indication of future results.
FEDERAL TAX ADVICE DISCLAIMER: As required by U.S. Treasury Regulations, you are informed that, to the extent this presentation includes any federal tax advice, the presentation is not intended or written by Navellier to be used, and cannot be used, for the purpose of avoiding federal tax penalties. Navellier does not advise on any income tax requirements or issues. Use of any information presented by Navellier is for general information only and does not represent tax advice either express or implied. You are encouraged to seek professional tax advice for income tax questions and assistance.
IMPORTANT NEWSLETTER DISCLOSURE: The hypothetical performance results for investment newsletters that are authored or edited by Louis Navellier, including Louis Navellier's Growth Investor, Louis Navellier's Breakthrough Stocks, Louis Navellier's Accelerated Profits, and Louis Navellier's Platinum Club, are not based on any actual securities trading, portfolio, or accounts, and the newsletters' reported hypothetical performances should be considered mere "paper" or proforma hypothetical performance results and are not actual performance of real world trades.  Navellier & Associates, Inc. does not have any relation to or affiliation with the owner of these newsletters. There are material differences between Navellier Investment Products' portfolios and the InvestorPlace Media, LLC newsletter portfolios authored by Louis Navellier. The InvestorPlace Media, LLC newsletters contain hypothetical performance that do not include transaction costs, advisory fees, or other fees a client might incur if actual investments and trades were being made by an investor. As a result, newsletter performance should not be used to evaluate Navellier Investment services which are separate and different from the newsletters. The owner of the newsletters is InvestorPlace Media, LLC and any questions concerning the newsletters, including any newsletter advertising or hypothetical Newsletter performance claims, (which are calculated solely by Investor Place Media and not Navellier) should be referred to InvestorPlace Media, LLC at (800) 718-8289.
Please note that Navellier & Associates and the Navellier Private Client Group are managed completely independent of the newsletters owned and published by InvestorPlace Media, LLC and written and edited by Louis Navellier, and investment performance of the newsletters should in no way be considered indicative of potential future investment performance for any Navellier & Associates separately managed account portfolio. Potential investors should consult with their financial advisor before investing in any Navellier Investment Product.
Navellier claims compliance with Global Investment Performance Standards (GIPS). To receive a complete list and descriptions of Navellier's composites and/or a presentation that adheres to the GIPS standards, please contact Navellier or click here. It should not be assumed that any securities recommendations made by Navellier & Associates, Inc. in the future will be profitable or equal the performance of securities made in this report. Request here a list of recommendations made by Navellier & Associates, Inc. for the preceding twelve months, please contact Tim Hope at (775) 785-9416.