June 18, 2019
One of my more exhilarating memories is riding in a hot convertible with the top down and the sound of a great engine with the wind in my hair. No music required. As a kid growing up in Palo Alto, Mom and Dad drove us around in a baby blue 1957 Chevy Bel Air convertible with dual antennas. Somehow when you're cruising in a ride like that, heading down to the Rexall drugstore soda fountain for a root beer float, there's not a worry in the world that can steal your joy in the moment. Not a chance.
This "top down, wind in your hair" attitude is how I would best describe the stock market of late. Despite the ongoing trade war with China, the slow train wreck of the European Union under way, unhinged toxic political rhetoric on Capitol Hill, trap-door tweets and unbearable gloom and doom in the financial media, and the slowing U.S. economy, most Americans feel pretty good about their "present situation."
Specifically, the reading on consumer confidence came in at 134.1 for the month of May, when markets were falling. The last time consumer confidence was this high was back in 2000, nearly a generation ago. When the unemployment rate is down to 3.6%, wages are rising at a rate that matches inflation, and the Fed is telegraphing two or three upcoming rate cuts, it's no wonder we're seeing more convertibles on the road. It's the American way! Prosperity breeds more sales of convertibles and trips to the soda fountain, which today translates into hitting the neighborhood Starbucks for a Vanilla Bean Crème Frappuccino.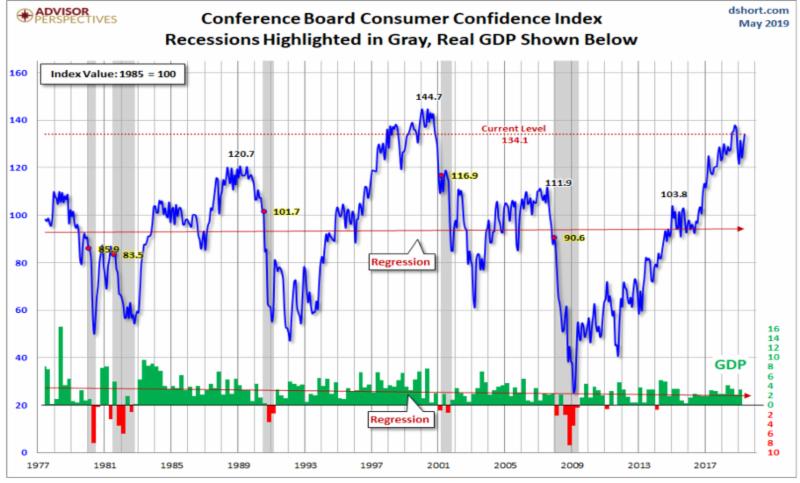 Graphs are for illustrative and discussion purposes only. Please read important disclosures at the end of this commentary.
Why am I talking about convertibles? Since this is a column targeting income in a world where yields are crashing, I want to examine the convertible securities sector since market conditions now favor this asset class: Interest rates are trending lower with stocks trading higher. These catalysts are what convertible securities thrive on and yet most investors have limited or no knowledge of the convertible market.
As the market is affected by a variety of forces – interest rates, inflation, rising and falling GDP rates, and volatile energy prices – it just makes sense to be flexible. Right now, this means we should be willing to move into the right asset classes when the investing landscape characteristics change.
A convertible security can be either a convertible bond or a convertible preferred stock. Very simply, a convertible bond or preferred stock can be converted into a company's common stock at a given strike price. That means you can exchange the bond for a predetermined number of shares. The conversion ratio is tied to the number of shares the debt instrument is being converted into. For example, a conversion ratio of 40-1 means that every bond of $1,000 par value you hold can be exchanged for 40 shares of stock.
Convertible bonds typically pay 2% to 4% yields and they also typically offer a lower yield than regular bonds, because there is the option to convert the shares into common stock and collect the capital gain.
A convertible preferred stock has features similar to a convertible bond, but it is subordinated to the convertible bond debt of the issuing company. It typically offers a coupon of 3% to 6%. A convertible preferred will normally pay a quarterly cash coupon. It is perpetual or has a long maturity, like 25 years.
Convertibles are an excellent choice for investors looking for capital appreciation, but who also want to protect their original investment in a bond equivalent. One risk associated with convertibles is that most are "callable." In other words, the company can force convertible bondholders to convert the bonds to common stock by calling the bonds — referred to as a "forced conversion." If the company's stock falls to a price that makes the convertible feature of the bond worthless (as long as the company is solvent), the bond will trade based on its yield just like any other bond. There is a price level to which a bond will drop and then fall no further, as long as the company can pay its interest and the principal upon maturity.
If a $1,000 convertible bond is convertible into 50 shares of stock, the parity price of the stock is $20. If the stock moves up to $25, then for the stock and bonds to remain at parity, the bonds would have to be trading at $1,250. Thus, a convertible bond can provide the performance attributes of common stock and a bond. This is like having your income cake and eating it too.
Buy Your Own Convertible (car) With Your Convertible Profits
The upside of the convertible bond comes from its common stock component, while downside protection comes from its cash coupon, fixed maturity, and its capital status, which is senior to common stock. The bottom line is that convertible bonds and convertible preferreds are paid before common stock dividends.
The most common method for buying convertible securities is to use a broker, either full-service or discount. The minimum investment for a convertible is typically $1,000 — the price of one bond. Convertible preferred stocks trade like regular shares, so the prices usually range from $25 to $100.
I like the convertible securities market because it addresses the desires of both bond and equity investors. For equity-oriented investors, convertibles can be viewed as a stock with a put option. The upside of the convertible comes from the underlying stock. The higher the price of the underlying stock goes, the higher the convertible price should go, without sacrificing the security of downside protection.
A convertible can also be viewed as a bond plus a call option. In this case, the upside of the convertible comes from the call represented by the conversion feature. Moreover, the downside protection also comes from the bond attributes of the security, including the generally higher-yield, fixed-maturity value.
Either way we have an asset designed to pay a handsome yield in a relatively safe investment vehicle with excellent upside potential. A few examples of widely-held convertible debt securities within some of the closed-end funds that pay current yields of 3% to 6% include:
Wells Fargo 7.5% due 12/31/2049
Bank of America 7.25% due 12/31/2049
Becton Dickenson 6.125% due 12.31/2049
Sempra Energy 6.00% due 12.31/2049
Crown Castle 6.875% due 12/31/2049
Navellier & Associates does not own Wells Fargo, Bank of America, Becton Dickenson, Sempra Energy, or Crown Castle in managed accounts and our sub-advised mutual fund. Bryan Perry does not own Wells Fargo, Bank of America, Becton Dickenson, Sempra Energy, or Crown Castle in personal accounts.
These companies and others of similar quality have pristine balance sheets and are instruments of choice with investors like Warren Buffett. It's how they get paid like a champ until the underlying stock gains in value to a point where converting the bond or preferred stock into common shares makes financial sense.
While I rode around in a 1957 Chevy Bel Air ragtop – now long out of production – I think the folks at GM have done a nice job with the 2019 Chevy Camaro convertible. When my four-month old grandson is able to enjoy his first root beer float, I'm looking forward to throwing the top back and sharing the same good time I had as a kid heading to the soda fountain – paid for in part with convertible securities.
Vroom!
Bryan Perry
SENIOR DIRECTOR
Bryan Perry is a Senior Director with Navellier Private Client Group, advising and facilitating high net worth investors in the pursuit of their financial goals.
Bryan's financial services career spanning the past three decades includes over 20 years of wealth management experience with Wall Street firms that include Bear Stearns, Lehman Brothers and Paine Webber, working with both retail and institutional clients. Bryan earned a B.A. in Political Science from Virginia Polytechnic Institute & State University and currently holds a Series 65 license. All content of "Income Mail" represents the opinion of Bryan Perry
Although information in these reports has been obtained from and is based upon sources that Navellier believes to be reliable, Navellier does not guarantee its accuracy and it may be incomplete or condensed. All opinions and estimates constitute Navellier's judgment as of the date the report was created and are subject to change without notice. These reports are for informational purposes only and are not intended as an offer or solicitation for the purchase or sale of a security. Any decision to purchase securities mentioned in these reports must take into account existing public information on such securities or any registered prospectus.
Past performance is no indication of future results. Investment in securities involves significant risk and has the potential for partial or complete loss of funds invested. It should not be assumed that any securities recommendations made by Navellier. in the future will be profitable or equal the performance of securities made in this report.
Dividend payments are not guaranteed. The amount of a dividend payment, if any, can vary over time and issuers may reduce dividends paid on securities in the event of a recession or adverse event affecting a specific industry or issuer.
None of the stock information, data, and company information presented herein constitutes a recommendation by Navellier or a solicitation of any offer to buy or sell any securities. Any specific securities identified and described do not represent all of the securities purchased, sold, or recommended for advisory clients. The reader should not assume that investments in the securities identified and discussed were or will be profitable.
Information presented is general information that does not take into account your individual circumstances, financial situation, or needs, nor does it present a personalized recommendation to you. Individual stocks presented may not be suitable for you. Investment in securities involves significant risk and has the potential for partial or complete loss of funds invested. Investment in fixed income securities has the potential for the investment return and principal value of an investment to fluctuate so that an investor's holdings, when redeemed, may be worth less than their original cost.
One cannot invest directly in an index. Results presented include the reinvestment of all dividends and other earnings.
Past performance is no indication of future results.
FEDERAL TAX ADVICE DISCLAIMER: As required by U.S. Treasury Regulations, you are informed that, to the extent this presentation includes any federal tax advice, the presentation is not intended or written by Navellier to be used, and cannot be used, for the purpose of avoiding federal tax penalties. Navellier does not advise on any income tax requirements or issues. Use of any information presented by Navellier is for general information only and does not represent tax advice either express or implied. You are encouraged to seek professional tax advice for income tax questions and assistance.
IMPORTANT NEWSLETTER DISCLOSURE: The hypothetical performance results for investment newsletters that are authored or edited by Louis Navellier, including Louis Navellier's Growth Investor, Louis Navellier's Breakthrough Stocks, Louis Navellier's Accelerated Profits, and Louis Navellier's Platinum Club, are not based on any actual securities trading, portfolio, or accounts, and the newsletters' reported hypothetical performances should be considered mere "paper" or proforma hypothetical performance results and are not actual performance of real world trades.  Navellier & Associates, Inc. does not have any relation to or affiliation with the owner of these newsletters. There are material differences between Navellier Investment Products' portfolios and the InvestorPlace Media, LLC newsletter portfolios authored by Louis Navellier. The InvestorPlace Media, LLC newsletters contain hypothetical performance that do not include transaction costs, advisory fees, or other fees a client might incur if actual investments and trades were being made by an investor. As a result, newsletter performance should not be used to evaluate Navellier Investment services which are separate and different from the newsletters. The owner of the newsletters is InvestorPlace Media, LLC and any questions concerning the newsletters, including any newsletter advertising or hypothetical Newsletter performance claims, (which are calculated solely by Investor Place Media and not Navellier) should be referred to InvestorPlace Media, LLC at (800) 718-8289.
Please note that Navellier & Associates and the Navellier Private Client Group are managed completely independent of the newsletters owned and published by InvestorPlace Media, LLC and written and edited by Louis Navellier, and investment performance of the newsletters should in no way be considered indicative of potential future investment performance for any Navellier & Associates separately managed account portfolio. Potential investors should consult with their financial advisor before investing in any Navellier Investment Product.
Navellier claims compliance with Global Investment Performance Standards (GIPS). To receive a complete list and descriptions of Navellier's composites and/or a presentation that adheres to the GIPS standards, please contact Navellier or click here. It should not be assumed that any securities recommendations made by Navellier & Associates, Inc. in the future will be profitable or equal the performance of securities made in this report. Request here a list of recommendations made by Navellier & Associates, Inc. for the preceding twelve months, please contact Tim Hope at (775) 785-9416.