June 18, 2019
This Friday marks the beginning of summer, the "Longest Day" in the Northern Hemisphere. At the end of this month, we will record a positive GDP for the second quarter, marking this as the longest economic recovery in the 240-year history of the United States. And we already have the longest bull market in the 227-year history of Wall Street, running 10.3 years, eclipsing the 9.5-year previous record in the 1990s.
Records are made to be broken, but this is getting slightly ridiculous, is it not? Isn't this market getting "long in the tooth" or "breathing too much ether gas" or "living on borrowed time"? Isn't this economy getting "late in the cycle" or "three minutes to midnight" or some such metaphor for almost cooked?
According to Jason Zweig, writing in the weekend Wall Street Journal's "Intelligent Investor" column ("How Long Can This Bull Market Run?"), "This bull market for U.S. stocks is by far the longest on record, and only a lunatic would think it could last indefinitely." He mentioned that in the past week, at least six professional investors have told him that it's late in the cycle. "This bull market is 3,750 days old, the oldest in the S&P 500's more than 90-year history. That's twice as long as the average bull market, according to Howard Silverblatt, senior index analyst at S&P Dow Jones Indices."
The problem with timing bull markets, or economic recoveries, is that the clock is the wrong measuring rod. It's the speed of the growth we need to be concerned with. Previous bull markets ended sooner than 10 years because they grew faster and blew a gasket from overheating. Same with economic recoveries.
Graphs are for illustrative and discussion purposes only. Please read important disclosures at the end of this commentary.
This bull market has enjoyed 327.4% appreciation in 10.3 years, but the shorter (9.4-year) bull market of the 1990s – the second-longest – gained 417% before ending. It only ended because the late 1990s blow-off became a tech-stock bubble in early 2000, but we haven't seen similar kinds of bubble gains recently.
It's the same with the economy. The rapid 5% growth rates of the mid-1980s and the late 1990s have not been repeated in the last decade, so we can enjoy a longer, slower recovery – dubbed Goldilocks, neither too hot nor too cold. I refer to this as "growth capitalization" (growth rate times years = growth cap).
What if recoveries tended to die after they grew by 50% of compounded growth, not by calendar years?
Examples:
5% average annual GDP growth for 8 years nets 47.8% compounded growth
4% average annual GDP growth for 10 years nets 48.0% compounded growth
3% average annual GDP growth for 13 years nets 46.8% compounded growth
2% average annual GDP growth for 20 years nets 48.6% compounded growth
The same (48%) growth rate takes from 8 to 20 years to unwind, depending on the annual growth rate. If 50% net growth is the target, the question is: Do you prefer eight years of "go-go growth," followed by a deep recession or 13-20 years of slower, more manageable growth, ending in a soft landing of no growth?
Growth Trumps Value This Year and This Decade
In the last 10 years of this bull market and writing this column, I have never bragged about the superiority of Growth Stocks over Value – since I believe that well-selected value stocks have their place in a well-balanced portfolio – but there is no contest in the aggregates. Growth stocks have whipped value stocks.
As Jason Bodner shows in his weekly scorecard, the last six months have shown an 8-9-point gap between Growth and Value in the Russell indexes over the last six-month recovery period:

This is not a new phenomenon. In the 10 years from July 2008 to July 2018, including the 2008-09 market meltdown, Growth stocks in the S&P index have gained over 50% more than Value stocks:
Graphs are for illustrative and discussion purposes only. Please read important disclosures at the end of this commentary.
Is this stock market about to tip over and die? According to economist Ed Yardeni, this record-setting bull market has endured 63 panic attacks in the last 10.3 years – or six per year. He has dubbed May's market swoon as Panic Attack #63, centered around the trade and tariff terrors with China and (briefly) Mexico.
Each of the previous 62 panic attacks resulted in a market recovery, and this Panic Attack #63 has also delivered a 5% recovery in the S&P 500 in the first two weeks of June. We're likely to see more panics and more rallies before this aging "El Toro Grande" finally goes out to pasture as a world-champion bull.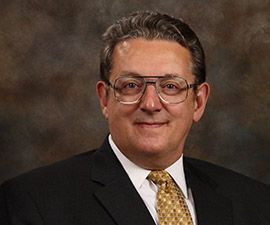 Gary Alexander
SENIOR EDITOR
Gary Alexander has been Senior Writer at Navellier since 2009.  He edits Navellier's weekly Marketmail and writes a weekly Growth Mail column, in which he uses market history to support the case for growth stocks.  For the previous 20 years before joining Navellier, he was Senior Executive Editor at InvestorPlace Media (formerly Phillips Publishing), where he worked with several leading investment analysts, including Louis Navellier (since 1997), helping launch Louis Navellier's Blue Chip Growth and Global Growth newsletters.
Prior to that, Gary edited Wealth Magazine and Gold Newsletter and wrote various investment research reports for Jefferson Financial in New Orleans in the 1980s.  He began his financial newsletter career with KCI Communications in 1980, where he served as consulting editor for Personal Finance newsletter while serving as general manager of KCI's Alexandria House book division.  Before that, he covered the economics beat for news magazines. All content of "Growth Mail" represents the opinion of Gary Alexander
Although information in these reports has been obtained from and is based upon sources that Navellier believes to be reliable, Navellier does not guarantee its accuracy and it may be incomplete or condensed. All opinions and estimates constitute Navellier's judgment as of the date the report was created and are subject to change without notice. These reports are for informational purposes only and are not intended as an offer or solicitation for the purchase or sale of a security. Any decision to purchase securities mentioned in these reports must take into account existing public information on such securities or any registered prospectus.
Past performance is no indication of future results. Investment in securities involves significant risk and has the potential for partial or complete loss of funds invested. It should not be assumed that any securities recommendations made by Navellier. in the future will be profitable or equal the performance of securities made in this report.
Dividend payments are not guaranteed. The amount of a dividend payment, if any, can vary over time and issuers may reduce dividends paid on securities in the event of a recession or adverse event affecting a specific industry or issuer.
None of the stock information, data, and company information presented herein constitutes a recommendation by Navellier or a solicitation of any offer to buy or sell any securities. Any specific securities identified and described do not represent all of the securities purchased, sold, or recommended for advisory clients. The reader should not assume that investments in the securities identified and discussed were or will be profitable.
Information presented is general information that does not take into account your individual circumstances, financial situation, or needs, nor does it present a personalized recommendation to you. Individual stocks presented may not be suitable for you. Investment in securities involves significant risk and has the potential for partial or complete loss of funds invested. Investment in fixed income securities has the potential for the investment return and principal value of an investment to fluctuate so that an investor's holdings, when redeemed, may be worth less than their original cost.
One cannot invest directly in an index. Results presented include the reinvestment of all dividends and other earnings.
Past performance is no indication of future results.
FEDERAL TAX ADVICE DISCLAIMER: As required by U.S. Treasury Regulations, you are informed that, to the extent this presentation includes any federal tax advice, the presentation is not intended or written by Navellier to be used, and cannot be used, for the purpose of avoiding federal tax penalties. Navellier does not advise on any income tax requirements or issues. Use of any information presented by Navellier is for general information only and does not represent tax advice either express or implied. You are encouraged to seek professional tax advice for income tax questions and assistance.
IMPORTANT NEWSLETTER DISCLOSURE: The hypothetical performance results for investment newsletters that are authored or edited by Louis Navellier, including Louis Navellier's Growth Investor, Louis Navellier's Breakthrough Stocks, Louis Navellier's Accelerated Profits, and Louis Navellier's Platinum Club, are not based on any actual securities trading, portfolio, or accounts, and the newsletters' reported hypothetical performances should be considered mere "paper" or proforma hypothetical performance results and are not actual performance of real world trades.  Navellier & Associates, Inc. does not have any relation to or affiliation with the owner of these newsletters. There are material differences between Navellier Investment Products' portfolios and the InvestorPlace Media, LLC newsletter portfolios authored by Louis Navellier. The InvestorPlace Media, LLC newsletters contain hypothetical performance that do not include transaction costs, advisory fees, or other fees a client might incur if actual investments and trades were being made by an investor. As a result, newsletter performance should not be used to evaluate Navellier Investment services which are separate and different from the newsletters. The owner of the newsletters is InvestorPlace Media, LLC and any questions concerning the newsletters, including any newsletter advertising or hypothetical Newsletter performance claims, (which are calculated solely by Investor Place Media and not Navellier) should be referred to InvestorPlace Media, LLC at (800) 718-8289.
Please note that Navellier & Associates and the Navellier Private Client Group are managed completely independent of the newsletters owned and published by InvestorPlace Media, LLC and written and edited by Louis Navellier, and investment performance of the newsletters should in no way be considered indicative of potential future investment performance for any Navellier & Associates separately managed account portfolio. Potential investors should consult with their financial advisor before investing in any Navellier Investment Product.
Navellier claims compliance with Global Investment Performance Standards (GIPS). To receive a complete list and descriptions of Navellier's composites and/or a presentation that adheres to the GIPS standards, please contact Navellier or click here. It should not be assumed that any securities recommendations made by Navellier & Associates, Inc. in the future will be profitable or equal the performance of securities made in this report. Request here a list of recommendations made by Navellier & Associates, Inc. for the preceding twelve months, please contact Tim Hope at (775) 785-9416.