June 4, 2019
"We choose to go to the Moon, in this decade, and do the other things, not because they are easy, but because they are hard, because that goal will serve to organize and measure the best of our energies…"
– President John F. Kennedy, Rice University, Houston, September 12, 1962
America has been in decline my whole life. In 7th grade science class in October 1957, Russia's Sputnik showed how Russia's science was better than ours. TIME made Nikita Khrushchev its 1957 Man of the Year and LIFE magazine (March 24, 1958, cost: 25-cents) had a 9-page spread on a "crisis in education," about how Russian kids were learning science and we weren't. It was time to step up … or surrender.
The economy was also in the tank then. Shortly after Sputnik was launched, the Dow bottomed out at 419.79 on October 22, 1957. In the fourth quarter of 1957, U.S. GDP contracted by 4%, and in the first quarter of 1958, GDP fell at an appalling 10% annual rate. In 1958, a top-secret government report, "Deterrence and Survival in the Nuclear Age" (commonly known as the Gaither Report) said that the Soviets had "probably" (meaning they didn't really know!) "surpassed us in ICBM development."
John F. Kennedy, a young Freshman Senator from Massachusetts, turned that secret Gaither Report into a winning 1958 Senatorial campaign, and then a winning 1960 Presidential campaign by promising to close the "Missile Gap," a gap which never existed. By 1960, the U.S. had 3,000 strategic warheads and 2,000 launchers as well as the world's first missile submarine, with 16 nuclear-tipped Polaris missiles, immune to a Soviet first strike. Any missile gap was in our favor, but Senator Kennedy warned (in Canton, Ohio, September 27, 1960) that "the United States has reached maturity…our High Noon has passed…our brightest days were earlier, and now we are going into the long slow afternoon." Harvard professor Henry Kissinger agreed, writing: "Only self-delusion can keep us from admitting our decline to ourselves."
At the time, the U.S. was in another steep recession with a 5% annualized GDP decline in the fall of 1960. That marked two deep recessions in a three-year period, similar to the double dip recessions of 1979-82.
America's space program was an obvious failure. The first Atlas rocket launched with a Mercury capsule exploded. The first Mercury-Redstone launch only went about four inches off the ground. But the young new President was undeterred. Just four months into office, JFK said, on May 25, 1961 – a month after a disastrous Bay of Pigs fiasco and 10 days before his embarrassing Vienna summit – that we would put a man on the moon and bring him back safely before the end of the decade. What? Is that man crazy? We had no idea about how to build a spaceship, no portable computers, no rockets capable of entering space.
This is when my family got drafted. Dad was already a rocket scientist working on the classified Bomarc missile program for Boeing in Seattle. He was sent to Huntsville, Alabama in June 1963 to work at the Marshall Space Flight Center and then to the NASA Michoud Assembly facility in New Orleans. (In the process, thousands of mostly white, liberal families entered a racial cauldron, but that is another story.)
Boeing was given overall authority for the creation of Saturn V, the largest and most powerful rocket ever launched. Dad worked with a team of brilliant engineers to build the first stage of Saturn V, the integrator for the entire Saturn rocket stack. There was a cluster of five engines in each of the first two stages of that three-stage rocket. Taller than a 36-story building, it had a total of three million parts, and each had to function reliably and in coordination with the other components. In all, 15 Saturn V rockets were built, and none failed. 50 years ago, the Saturn V delivered the Apollo 11 astronauts to a manned moon landing.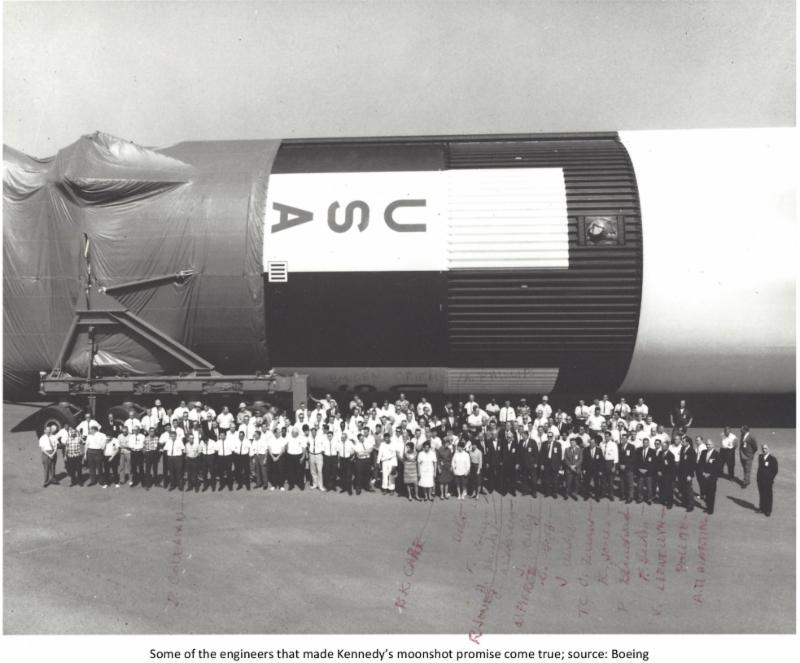 Navellier & Associates owns Boeing in managed accounts and our sub-advised mutual fund. Gary Alexander does not own Boeing in personal accounts.
Despite Our Growth, Success, and Power, Pessimism Still Rules
Going to the moon was never popular. In 1964, only 26% of Americans thought we should try to "beat the Russians in a manned flight to the moon." Even after a few successful moon landings, the most common complaint was, "We can put a man on the moon, but we can't…." (you complete the sentence).
There was no widespread joy in America over Neil Armstrong's "giant leap for mankind," which historian Arthur Schlesinger, Jr. called the most important event of the 20th Century. On the same weekend of the moon landing, the press was more consumed with Ted Kennedy's car careening off a small bridge in Chappaquiddick. The next month, headlines focused more on the Manson murders and Woodstock, along with atrocities in the seemingly endless Vietnam War, and rising protests against it.
Long-term pessimism was still in vogue in 1969. Paul Samuelson, who wrote the dominant economics textbook of the day, and who won the Nobel Prize in Economics in 1970, wrote in the 1967 edition of his textbook that the Soviet system was growing faster than the U.S. and the two systems would reach parity sometime between 1977 and 1995. In 1970, National Security Advisor Henry Kissinger told retired navy chief Elmo Zumwalt that the U.S. had "passed its historical high point like so many earlier civilizations."
In the 1980s, pundits said Japan would pass us by 2000. By 1991, the Soviet Union was dead, and Japan's economy was careening downward. Now they're saying that China will surpass us by 2030. Same song, third verse, probably with the same outcome. China is overspending on a centrally planned global outreach and domestic controlled economy and may come to the same screeching halt as the Soviets did.
Betting against America doesn't pay. One of the world's richest men tells the America-in-decline crowd:
"For 240 years it's been a terrible mistake to bet against America, and now is no time to start. America's golden goose of commerce and innovation will continue to lay more and larger eggs." – Warren Buffett.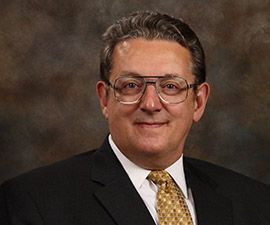 Gary Alexander
SENIOR EDITOR
Gary Alexander has been Senior Writer at Navellier since 2009.  He edits Navellier's weekly Marketmail and writes a weekly Growth Mail column, in which he uses market history to support the case for growth stocks.  For the previous 20 years before joining Navellier, he was Senior Executive Editor at InvestorPlace Media (formerly Phillips Publishing), where he worked with several leading investment analysts, including Louis Navellier (since 1997), helping launch Louis Navellier's Blue Chip Growth and Global Growth newsletters.
Prior to that, Gary edited Wealth Magazine and Gold Newsletter and wrote various investment research reports for Jefferson Financial in New Orleans in the 1980s.  He began his financial newsletter career with KCI Communications in 1980, where he served as consulting editor for Personal Finance newsletter while serving as general manager of KCI's Alexandria House book division.  Before that, he covered the economics beat for news magazines. All content of "Growth Mail" represents the opinion of Gary Alexander
Although information in these reports has been obtained from and is based upon sources that Navellier believes to be reliable, Navellier does not guarantee its accuracy and it may be incomplete or condensed. All opinions and estimates constitute Navellier's judgment as of the date the report was created and are subject to change without notice. These reports are for informational purposes only and are not intended as an offer or solicitation for the purchase or sale of a security. Any decision to purchase securities mentioned in these reports must take into account existing public information on such securities or any registered prospectus.
Past performance is no indication of future results. Investment in securities involves significant risk and has the potential for partial or complete loss of funds invested. It should not be assumed that any securities recommendations made by Navellier. in the future will be profitable or equal the performance of securities made in this report.
Dividend payments are not guaranteed. The amount of a dividend payment, if any, can vary over time and issuers may reduce dividends paid on securities in the event of a recession or adverse event affecting a specific industry or issuer.
None of the stock information, data, and company information presented herein constitutes a recommendation by Navellier or a solicitation of any offer to buy or sell any securities. Any specific securities identified and described do not represent all of the securities purchased, sold, or recommended for advisory clients. The reader should not assume that investments in the securities identified and discussed were or will be profitable.
Information presented is general information that does not take into account your individual circumstances, financial situation, or needs, nor does it present a personalized recommendation to you. Individual stocks presented may not be suitable for you. Investment in securities involves significant risk and has the potential for partial or complete loss of funds invested. Investment in fixed income securities has the potential for the investment return and principal value of an investment to fluctuate so that an investor's holdings, when redeemed, may be worth less than their original cost.
One cannot invest directly in an index. Results presented include the reinvestment of all dividends and other earnings.
Past performance is no indication of future results.
FEDERAL TAX ADVICE DISCLAIMER: As required by U.S. Treasury Regulations, you are informed that, to the extent this presentation includes any federal tax advice, the presentation is not intended or written by Navellier to be used, and cannot be used, for the purpose of avoiding federal tax penalties. Navellier does not advise on any income tax requirements or issues. Use of any information presented by Navellier is for general information only and does not represent tax advice either express or implied. You are encouraged to seek professional tax advice for income tax questions and assistance.
IMPORTANT NEWSLETTER DISCLOSURE: The hypothetical performance results for investment newsletters that are authored or edited by Louis Navellier, including Louis Navellier's Growth Investor, Louis Navellier's Breakthrough Stocks, Louis Navellier's Accelerated Profits, and Louis Navellier's Platinum Club, are not based on any actual securities trading, portfolio, or accounts, and the newsletters' reported hypothetical performances should be considered mere "paper" or proforma hypothetical performance results and are not actual performance of real world trades.  Navellier & Associates, Inc. does not have any relation to or affiliation with the owner of these newsletters. There are material differences between Navellier Investment Products' portfolios and the InvestorPlace Media, LLC newsletter portfolios authored by Louis Navellier. The InvestorPlace Media, LLC newsletters contain hypothetical performance that do not include transaction costs, advisory fees, or other fees a client might incur if actual investments and trades were being made by an investor. As a result, newsletter performance should not be used to evaluate Navellier Investment services which are separate and different from the newsletters. The owner of the newsletters is InvestorPlace Media, LLC and any questions concerning the newsletters, including any newsletter advertising or hypothetical Newsletter performance claims, (which are calculated solely by Investor Place Media and not Navellier) should be referred to InvestorPlace Media, LLC at (800) 718-8289.
Please note that Navellier & Associates and the Navellier Private Client Group are managed completely independent of the newsletters owned and published by InvestorPlace Media, LLC and written and edited by Louis Navellier, and investment performance of the newsletters should in no way be considered indicative of potential future investment performance for any Navellier & Associates separately managed account portfolio. Potential investors should consult with their financial advisor before investing in any Navellier Investment Product.
Navellier claims compliance with Global Investment Performance Standards (GIPS). To receive a complete list and descriptions of Navellier's composites and/or a presentation that adheres to the GIPS standards, please contact Navellier or click here. It should not be assumed that any securities recommendations made by Navellier & Associates, Inc. in the future will be profitable or equal the performance of securities made in this report. Request here a list of recommendations made by Navellier & Associates, Inc. for the preceding twelve months, please contact Tim Hope at (775) 785-9416.