June 4, 2019
It's funny, but when you get treated like trash, you want to come back for more – it's human nature. It's like the attraction some good girls have to bad boys. This is especially true for "luxury" stuff. In fact, a 2014 study found that for high-end luxury brands, truly snobby and rude sales staff got higher sales.

It reminds me of CNBC, to be honest. The more shocking and worrisome the headlines, the more people tune in. It's a model they thrive and rely on. That got me to thinking that Donald Trump must be great for media stocks. I dug into my data on 5500 stocks and looked up the average three-year sales growth for media stocks. I looked at around 100 or so media stocks and found that number to be +27.3% per year.
Since Trump's campaign began and his presidency took shape, he's been really good for media stocks. He may love to bash them in a tweetstorm, and they may act injured, but they secretly must love him.
Media companies sell advertising, and they don't do so very well selling stories of cute puppy dogs and moonbeams. They need to scare the heck out of you. And when they do, you tune in more!
And now, the media's all negative, the market is weak, there are fears of recession and trade wars, and so forth. But we've seen this all before. The latest is that Trump will slap a 5% tariff on goods coming from Mexico. Then he'll hike the tariffs every month until the migrant problem is "solved."
I'm not going to minimize this threat. China and Mexican tariffs are real. But the media is blowing the effects way out of proportion. Once again, look at the data: The blended Q1 sales growth for the S&P 500 was +5.3%. The first year of tariffs on China brought a price decrease. I still believe that China and the U.S. need each other as trading partners, but all we see is a lot of posturing. I believe we will get a resolution.
More Selling than Buying Generates Near-term Weakness
Selling in stocks has been gaining for weeks now, and our ratio measuring big buying versus selling has been falling in a straight line.
Graphs are for illustrative and discussion purposes only. Please read important disclosures at the end of this commentary.
So now what? Last week, we sent out an update saying our ratio fell below 45.6%. The several times it has done so in the past leads me to believe that we could see perhaps another 5% drop in the stock market.
Graphs are for illustrative and discussion purposes only. Please read important disclosures at the end of this commentary.
From the data above, it appears that Consumer Discretionary is the worrisome sector, but it turns out that selling was orderly and even across the whole sector. It's Energy we have to worry about. Crude Oil fell 10% last week. Most of the Energy selling is in Oil & Gas stocks. Having seen what happened with Oil & Gas in 2014, I suspect with a downward move so intense in the physical commodity, we will continue to see selling pressure on Oil & Gas stocks. The lower the price of oil, the more the margins evaporate.
Should these energy companies be heavily leveraged, watch out! In fact, out of 246 Oil & Gas-related stocks, the average Total Debt-to-Common Equity ratio is 183%. About 30% (75) of these Oil & Gas companies had over 100% Debt/Equity ratio. This spells pain for heavily-leveraged companies. When margins evaporate, they not only worry about profitability, but they have to worry about debt service.
Does that mean I think a crash is coming? Absolutely not. Does that mean I think a correction is going to provide great opportunities to pick up great stocks? Yes. We're getting our buy list ready.
Typically, when we see winning stocks with great sales and earnings growth, low debt, and other great fundamentals… and institutional holdings… they're the ones that bounce the highest, fastest, and furthest.
I expect more volatility. But I also expect another bounce. Now is the time to go shopping for great stocks that might be going on sale. That's exactly what I'm going to be doing.
We are in the middle of a rare pullback based on nasty headlines. Humans will make the same mistakes again and again. This price action is normal. Those who panic lose in the long run. Corrections make healthy markets. If prices keep rising, it never ends well. Corrective price behavior is important for long-term bull markets. As Voltaire said, "History never repeats itself; man always does." So just chill.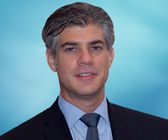 Jason Bodner
MARKETMAIL EDITOR FOR SECTOR SPOTLIGHT
Jason Bodner writes Sector Spotlight in the weekly Marketmail publication and has authored several white papers for the company. He is also Co-Founder of Macro Analytics for Professionals which produces proprietary equity accumulation/distribution research for its clients. Previously, Mr. Bodner served as Director of European Equity Derivatives for Cantor Fitzgerald Europe in London, then moved to the role of Head of Equity Derivatives North America for the same company in New York. He also served as S.V.P. Equity Derivatives for Jefferies, LLC. He received a B.S. in business administration in 1996, with honors, from Skidmore College as a member of the Periclean Honors Society. All content of "Sector Spotlight" represents the opinion of Jason Bodner
Although information in these reports has been obtained from and is based upon sources that Navellier believes to be reliable, Navellier does not guarantee its accuracy and it may be incomplete or condensed. All opinions and estimates constitute Navellier's judgment as of the date the report was created and are subject to change without notice. These reports are for informational purposes only and are not intended as an offer or solicitation for the purchase or sale of a security. Any decision to purchase securities mentioned in these reports must take into account existing public information on such securities or any registered prospectus.
Past performance is no indication of future results. Investment in securities involves significant risk and has the potential for partial or complete loss of funds invested. It should not be assumed that any securities recommendations made by Navellier. in the future will be profitable or equal the performance of securities made in this report.
Dividend payments are not guaranteed. The amount of a dividend payment, if any, can vary over time and issuers may reduce dividends paid on securities in the event of a recession or adverse event affecting a specific industry or issuer.
None of the stock information, data, and company information presented herein constitutes a recommendation by Navellier or a solicitation of any offer to buy or sell any securities. Any specific securities identified and described do not represent all of the securities purchased, sold, or recommended for advisory clients. The reader should not assume that investments in the securities identified and discussed were or will be profitable.
Information presented is general information that does not take into account your individual circumstances, financial situation, or needs, nor does it present a personalized recommendation to you. Individual stocks presented may not be suitable for you. Investment in securities involves significant risk and has the potential for partial or complete loss of funds invested. Investment in fixed income securities has the potential for the investment return and principal value of an investment to fluctuate so that an investor's holdings, when redeemed, may be worth less than their original cost.
One cannot invest directly in an index. Results presented include the reinvestment of all dividends and other earnings.
Past performance is no indication of future results.
FEDERAL TAX ADVICE DISCLAIMER: As required by U.S. Treasury Regulations, you are informed that, to the extent this presentation includes any federal tax advice, the presentation is not intended or written by Navellier to be used, and cannot be used, for the purpose of avoiding federal tax penalties. Navellier does not advise on any income tax requirements or issues. Use of any information presented by Navellier is for general information only and does not represent tax advice either express or implied. You are encouraged to seek professional tax advice for income tax questions and assistance.
IMPORTANT NEWSLETTER DISCLOSURE: The hypothetical performance results for investment newsletters that are authored or edited by Louis Navellier, including Louis Navellier's Growth Investor, Louis Navellier's Breakthrough Stocks, Louis Navellier's Accelerated Profits, and Louis Navellier's Platinum Club, are not based on any actual securities trading, portfolio, or accounts, and the newsletters' reported hypothetical performances should be considered mere "paper" or proforma hypothetical performance results and are not actual performance of real world trades.  Navellier & Associates, Inc. does not have any relation to or affiliation with the owner of these newsletters. There are material differences between Navellier Investment Products' portfolios and the InvestorPlace Media, LLC newsletter portfolios authored by Louis Navellier. The InvestorPlace Media, LLC newsletters contain hypothetical performance that do not include transaction costs, advisory fees, or other fees a client might incur if actual investments and trades were being made by an investor. As a result, newsletter performance should not be used to evaluate Navellier Investment services which are separate and different from the newsletters. The owner of the newsletters is InvestorPlace Media, LLC and any questions concerning the newsletters, including any newsletter advertising or hypothetical Newsletter performance claims, (which are calculated solely by Investor Place Media and not Navellier) should be referred to InvestorPlace Media, LLC at (800) 718-8289.
Please note that Navellier & Associates and the Navellier Private Client Group are managed completely independent of the newsletters owned and published by InvestorPlace Media, LLC and written and edited by Louis Navellier, and investment performance of the newsletters should in no way be considered indicative of potential future investment performance for any Navellier & Associates separately managed account portfolio. Potential investors should consult with their financial advisor before investing in any Navellier Investment Product.
Navellier claims compliance with Global Investment Performance Standards (GIPS). To receive a complete list and descriptions of Navellier's composites and/or a presentation that adheres to the GIPS standards, please contact Navellier or click here. It should not be assumed that any securities recommendations made by Navellier & Associates, Inc. in the future will be profitable or equal the performance of securities made in this report. Request here a list of recommendations made by Navellier & Associates, Inc. for the preceding twelve months, please contact Tim Hope at (775) 785-9416.